Philadelphia Eagles running back Miles Sanders (hamstring) has been ruled OUT for Sunday's Week 1 matchup with the Washington Football Team. The news comes after the second-year back practiced in a limited fashion all week. Sanders was officially listed as questionable on Friday.
This is obviously bad news for Sanders' fantasy investors. Coach Doug Pederson has tended to lean on committee backfields in recent seasons, so an injured version of Sanders likely won't be seeing a workhorse role anytime soon.
Just to be clear: Washington doesn't present anything resembling an easy matchup for this banged-up Eagles run game. Washington's defensive line is suddenly full of monsters:
– Chase Young: 2020 1.02 (second pick of the first round)
– Montez Sweat: 2019 1.26
– Da'Ron Payne: 2018 1.13
– Jonathan Allen: 2017 1.17
– Ryan Kerrigan: 2011 1.16 and longtime baller
Still, the news leaves us with two Eagles backs that suddenly warrant plenty of fantasy appeal.
Scott was heavily involved in the Eagles' offense during their final four games of the 2019 regular season:
– Week 14: 10-59-1 rushing, 6-69-0 receiving, PPR RB5
– Week 15: 6-26-0 rushing, 7-39-0 receiving, PPR RB23
– Week 16: 3-12-0 rushing, 6-7-0 receiving, PPR RB38
– Week 17: 19-54-3 rushing, 4-84-0 receiving, PPR RB2
The latter performance featured a season-high 74% snap rate when Sanders was injured early in the contest. This is the potential upside for Scott: a true three-down role with a high-end receiving floor.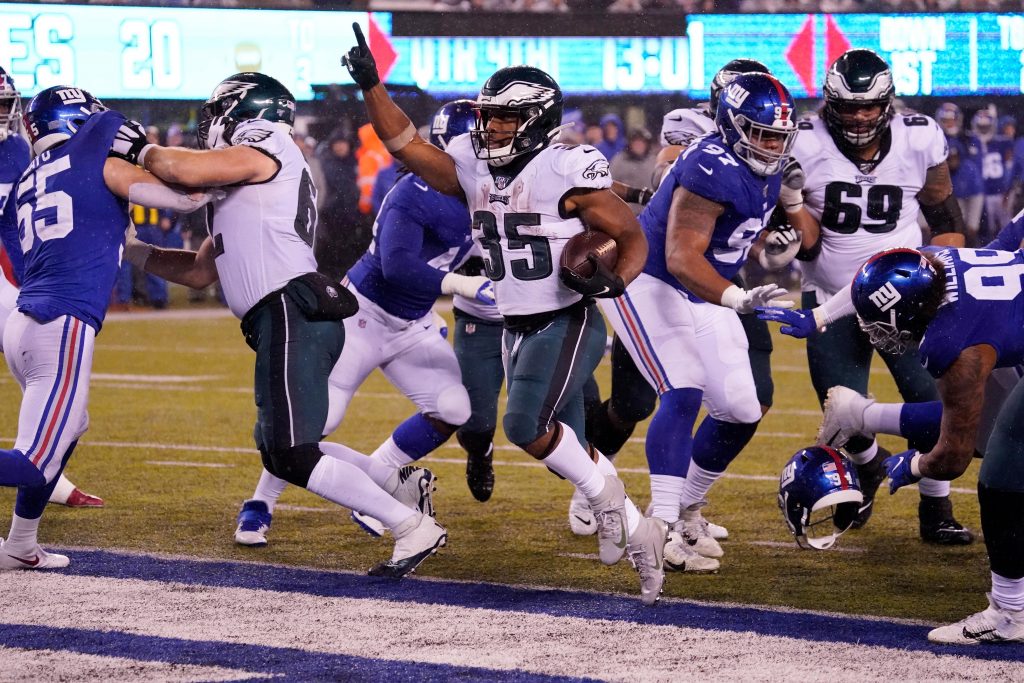 Flirting with 20 rush attempts seems unlikely now that the Eagles don't have to address the issue on the fly during the middle of the game. We also shouldn't necessarily expect six or more receptions considering the presence of the next RB we'll discuss. Still, Scott appears in line for at least 10-15 rush attempts with five-plus targets all but guaranteed in an offense with multiple injuries already at the WR position.
This is an incredible fantasy-friendly workload and warrants RB2-level exposure. I've slid in Scott as my PPR RB20 ahead of Week 1. This puts him just behind more-established lead backs like Raheem Mostert (RB18) and Todd Gurley (RB19) but ahead of more questionable workload options like Melvin Gordon (RB20), Mark Ingram (RB21), Cam Akers (RB22) and Jonathan Taylor (RB23)
Clement was a Super Bowl hero back in the 2017 season, catching 4-of-5 targets for 100 yards and a score against the Patriots. 2018 wasn't quite as productive, while 2019 resulted in zero offensive touches due to a combination of injuries and not-great performances (two fumbles on four total returns).
The training camp reports on Clement paint the picture of a back ready to rebound to some extent:
"The oft-injured running back looks healthy this summer. Clement, a Glassboro native, appears to have returned to his 2017 rookie form after spending the offseason in the weight room. He ran with the first-team offense regularly this week with Sanders (lower body) and Scott (lower body) sidelined with injuries. Clement is the team's clear third running back."
Double-digit touches could absolutely be in store for Clement, although his health is somewhat of a concern after he was a late addition to the injury report on Thursday with a quad injury. Clement didn't receive an injury designation and is good to go for Sunday, but Scott is clearly the starter.
I've bumped Clement up to RB45, one spot ahead of handcuffs like Latavius Murray (RB46) and Chase Edmonds (RB47) but behind likely more established No. 2 options like Justin Jackson (RB43) and D'Andre Swift (RB44)
The move also puts a damper on anyone that was hoping to roster Sanders in DFS. Luckily, there are two prime pivots off of Sanders ($6,300) on DraftKings in the same price range.
Walking boot-gate caused many prospective fantasy investors of Drake to take a step back and wonder how ready he was for Week 1. Well, the Cardinals' featured RB is apparently feeling just fine, as Drake wasn't even listed on the team's injury report to start the week.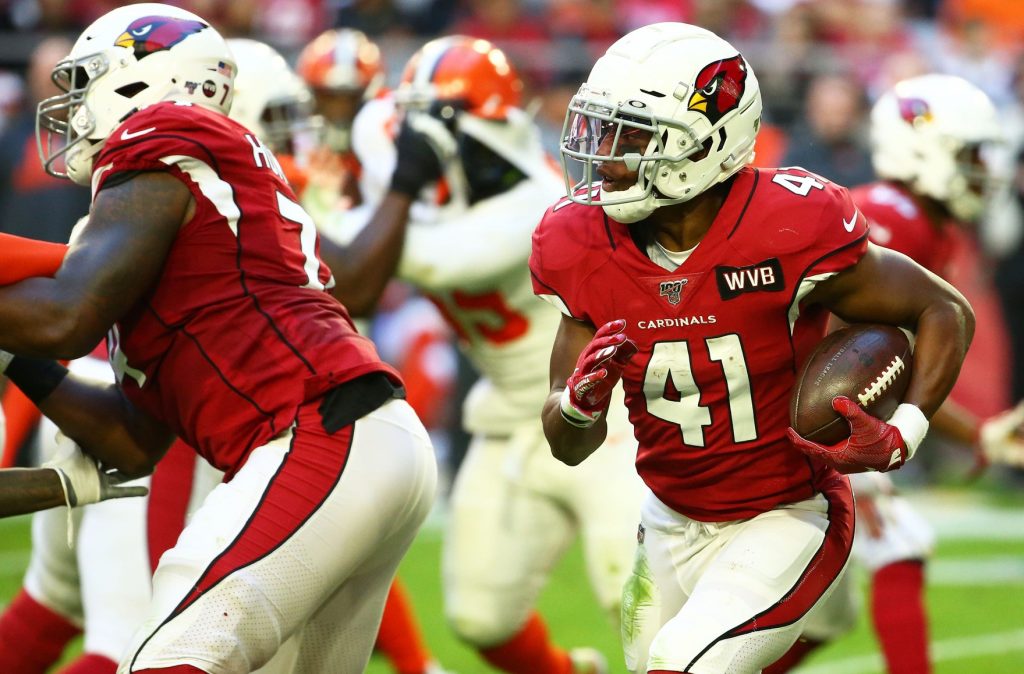 This was a one-RB backfield in 2019, regardless of who the starter happened to be:
Week 1: David Johnson (86% snaps)

Week 2: Johnson (60%)

Week 3: Johnson (87%)

Week 4: Johnson (86%)

Week 5: Johnson (69%)

Week 6: Johnson (75% – injured)

Week 7: Edmonds (94%)

Week 8: Edmonds (61% – injured)

Week 9: Drake (84%)

Week 10: Drake (64%)

Week 11: Drake (90%)

Week 12: Bye

Week 13: Drake (79%)

Week 14: Drake (66%)

Week 15: Drake (75%)

Week 16: Drake (81%)

Week 17: Drake (96%)
Overall, Drake worked as the PPR RB4 during Weeks 9-17. It remains to be seen if Drake will again have a near every-down role in 2020, but that's his proven ceiling inside of this offense.
Nick Bosa (muscle strain) and LB Fred Warner (COVID) arent' listed on the 49ers' injury report. Drake won't face off against a weakened version of the San Francisco defense come Sunday, although this still might be a situation worth attacking. Drake popped off for 242 total yards and a score in eight combined quarters against the 49ers in 2019, proving to be a problem around the edge and as a receiver.
The Cardinals' reigning league-best offense in yards before contact per rush scored 25 and 26 points against the 49ers last season. It won't be easy to sustain this success in 2020, but we also shouldn't discount the potential for this Cardinals' run game to keep cooking.
I've questioned throughout the offseason whether or not Gurley will even see a real three-down role with the Falcons. Injury concern aside, Devonta Freeman played at least 60% of the offense's snaps in just 14 of 36 games (39%) with Coleman and/or Smith healthy compared to 13 of 15 games (87%) with the Falcons' backup RB injured.
Of course, Freeman and Coleman alike still managed to put together plenty of impressive performances over the years despite the lack of a true workhorse role. Gurley's Week 1 spot might just be exactly what he needs in order to pop off in his debut when we take a look at the potential for this game to turn into a shootout:
Seahawks-Falcons joins Texans-Chiefs as the week's only matchups featuring two offenses with positive combined EPA. Check out my

Week 1 Mismatch Manifesto

for more matchup-specific stats from around the league.

The Seahawks-Falcons game total of 49 points is the highest mark in Sunday's main slate.

The presence of two high-end veteran QBs theoretically lends itself better to a high-scoring game in an offseason that has been short on in-person practices.
The Seahawks added safety Jamal Adams and CB Quinton Dunbar to their secondary but didn't exactly find a true replacement for Jadeveon Clowney. Getting past linebackers K.J. Wright and Bobby Wagner is never easy, although it's safe to say the Seahawks' front-seven is a bit weaker than their secondary these days. 
I'd be surprised if the Falcons' various backup RBs don't combine for close to 10 touches. Still, Gurley is seemingly in line for at least 15 touches himself in one of the week's highest-projected games.