There's finally clarity on Kareem Hunt's future, as the NFL announced Friday that the Cleveland Browns running back will be suspended for eight games for his violation of the league's personal conduct policy. So while the Browns have crushed the offseason, things aren't all sunshine and rainbows in Cleveland.
From a fantasy football standpoint, eight games is obviously a long time. Depending on where the Browns' bye week falls, Hunt will be eligible for return in either Week 9 or Week 10 of the NFL season. That puts him in play with roughly a month remaining in the fantasy football regular season.
A lot can certainly change in fantasy football over that span of time, but carrying a guy on your bench for two months is often too high of price to pay. Of course, everything depends on your league setup. In shallow bench leagues that carry four or five bench spots, Hunt is undraftable. In those formats, you can really only roster players who are on the field every week. That's especially true when the bye weeks roll around. I'd even be reluctant to carry Hunt in leagues with regular bench sizes. Hunt will really only be a draftable option in leagues with deep benches.
But maybe we're burying the lead a bit here. We now know that Hunt is going to be on the field for the Browns in 2019. We also know that the Browns have one of the league's most exciting young backs in Nick Chubb. Currently, Chubb is going off the board in the late second round as the No. 11 running back taken in best ball fantasy football drafts. While that's certainly a fair price to pay, we need to factor in Hunt's presence over the second half of the season in order to evaluate Chubb's value.
Lightly used over the first six weeks of last season, Chubb exploded into the fantasy consciousness following Carlos Hyde's trade to Jacksonville. From that point on, Chubb was the No. 8 fantasy running back. Only Ezekiel Elliott and Saquon Barkley had more carries than Chubb's 176 over that span. That's an average of 17.6 carries per game, which would put Chubb right up there with the league leaders on the season.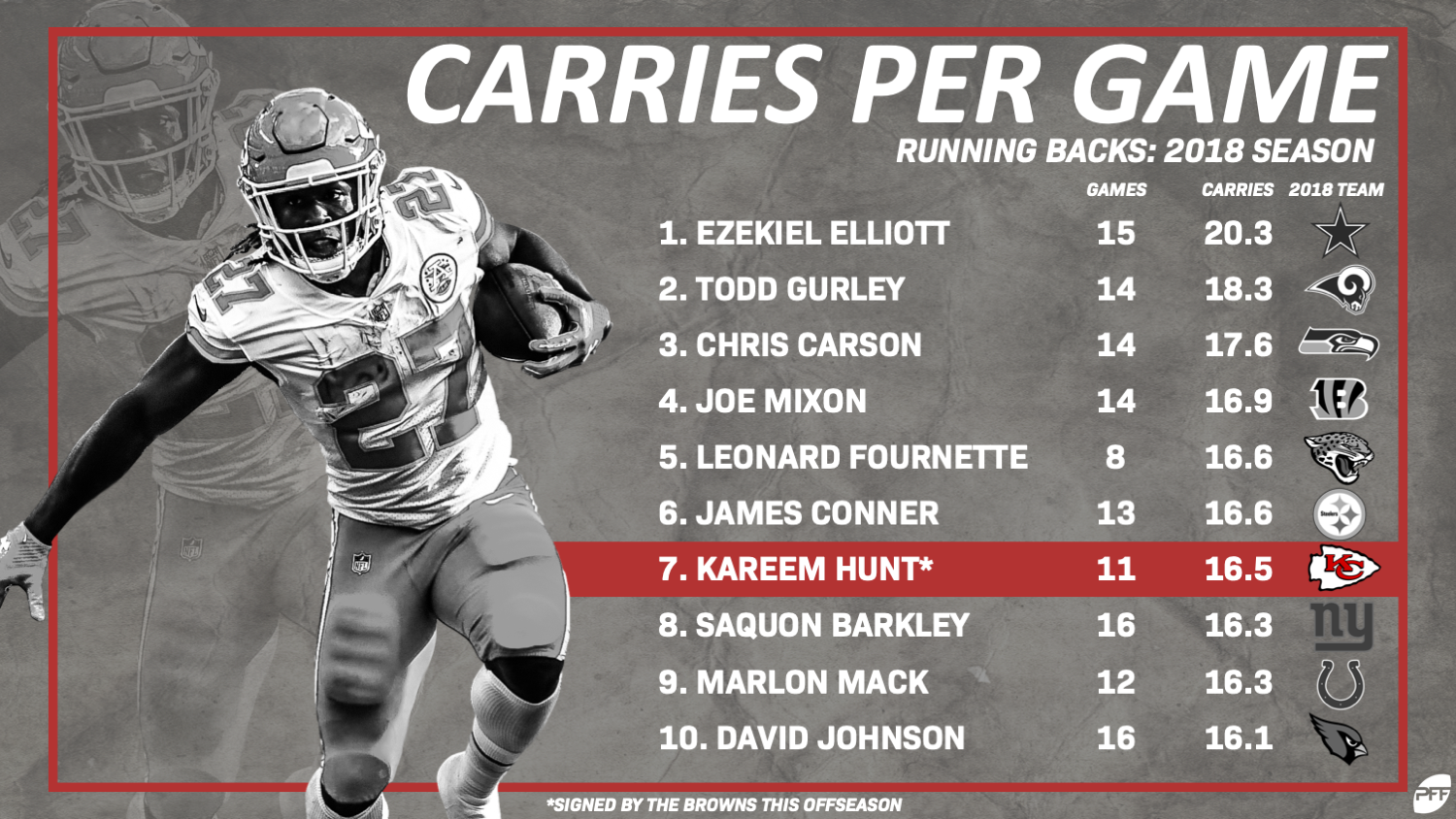 Of course, you'll notice another name on the list of most heavily used running backs on the ground is Hunt's. In 27 games with the Chiefs, Hunt averaged a healthy 16.5 carries per game. His ability to run between the tackles isn't likely to be overlooked by the Browns, which means we can't expect Chubb to be a 17-20 carry per game type of player when Hunt returns. Hunt is also certainly going to cannibalize some of Chubb's work when he returns from suspension.
With that said, Chubb will enter the season as the clear-cut lead back and should see a healthy workload for the first two months of the season. He's still worth considering as a top-15 fantasy running back, but it's important to keep in mind that his value will likely decline down the stretch. In some ways, this situation is similar to New Orleans last season. With Mark Ingram suspended for the first four weeks of the season, Alvin Kamara was the No. 1 fantasy running back. After Ingram returned, Kamara's production dipped. To be fair, he was still a top-five option. But the point is that we need to account for a dip in Chubb's numbers, even if it isn't a significant dip.
As for Hunt, we essentially have to view him as an upside option with RB2-plus capability when he returns. Although it's rare for teams to be able to sustain RB2-or-better production for two running backs, it isn't out of the question. The aforementioned Saints did so in 2017 when both Kamara and Ingram finished as RB1s. But as I mentioned above, drafting Hunt will really depend on whether or not you have room to do so. Even if you're in a league with a regular amount of bench spots, Hunt will be taking up prime real estate for two months, and that's likely to high of a cost to pay.
As for the Browns' other running back, Duke Johnson's scant value sees a slight bump with the news that he'll have some slight relevance during Hunt's suspension, but considering he'll become unrosterable after Hunt's return, he still isn't worth a lot in fantasy.
PODCAST: Jeff Ratcliffe breaks down the fallout of the Hunt news: