Fantasy football draft season is quickly coming to a close, and for most leagues, that means the waiver wires are open and primed for the picking. This is especially true for leagues in which your drafts took place earlier in the offseason, where many changes have since taken place in the landscape of the NFL. There are usually more options at this point in the season than at any other, as injuries, roster cuts and new signings have created a plentiful market for our IDP waiver wire.
DEFENSIVE LINE
Starting with the obvious, Jadeveon Clowney —for those who haven't been paying attention — was (finally) signed this week by the Tennessee Titans. Clowney's long-time free-agent status, especially in shallower leagues, has kept him from being drafted in a fair amount of leagues that I've seen, meaning he is out there and readily available to be added to your roster.
Another positive for Clowney heading into the 2020 season is that he will remain DE-eligible on Myfantasyleague.com and most other platforms, and not get hit with the dreaded 'LB' tag that we fear for so many of our edge rushers who play in a 3-4 base defense.
While it's possible the Titans ease Clowney into the lineup early in the season, that shouldn't deter you from adding some nice DE depth to your team for the rest of the year. Clowney's value has mostly come from his ability in the run game, which means he'll have the opportunity to play plenty of early downs and rack up some tackle numbers, while also flashing his athleticism when he needs to rush the passer on later downs.
DT-required leagues are soon going to become a lot more familiar with Taven Bryan, a former 2018 first-round pick out of Florida. Bryan has spent the past two seasons biding his time behind a fairly deep defensive line in Jacksonville, but he now has the opportunity to contribute as a full-time starter. As a part-time player last season, Bryan saw just under 500 snaps, with the majority of them coming later on in the season when he had more opportunities to prove his worth.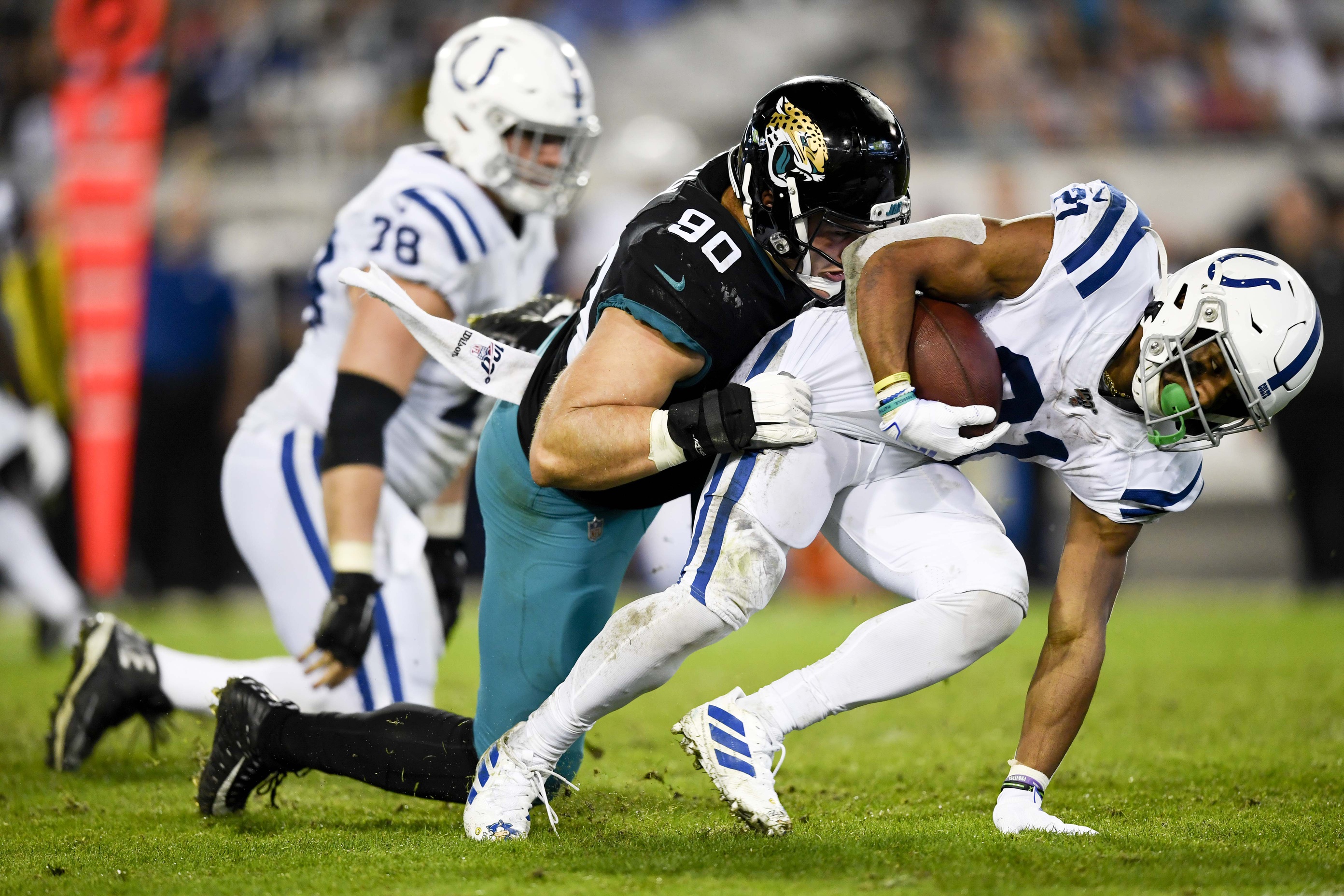 Obviously, the Jags like what they have in Bryan, who will now play a fantasy-relevant position previously manned by Calais Campbell and Malik Jackson. Bryan will look to get in work on early downs and utilize his talents as a run-defender, where he graded at 74.5 last season. He is also the best option to play the interior on third downs, with Abry Jones as more of a nose tackle who doesn't bring much in terms of pass-rush upside.
Subscribe to PFF Edge to continue reading
Already have a subscription? Sign In