As we head into the weekend of Week 13, it's time again to look at our top IDP streaming options for fantasy football. At long last, we're done with bye weeks and have all 32 teams back in action. Of course, as the season goes longer, we have more injuries piling up, which makes streaming still important.
But before we look at the final week of the fantasy regular season, let's review last week's streamers. We had a few big plays, as Eagles lineman Chris Long recorded a sack and Broncos safety Darian Stewart recovered a fumble. We had some acceptable performances, including Bengals ends Sam Hubbard and Jordan Willis recording five tackles between them and Ravens linebacker Za'Darius Smith recording only two tackles but one of them for a loss. Then we had some bad luck with Bengals linebacker Hardy Nickerson effectively being benched while 49ers safety Jimmie Ward broke his forearm four snaps in.
So, we move on to this week and a fresh batch of streamers below.
Defensive linemen
Despite the low sack totals this year, Golden has actually been Arizona's most effective pass-rusher. His 7.4% pass-rush productivity rating leads all Cardinals edge rushers since his return from a knee injury in the beginning of the season. He and the Cardinals now face the Packers, who are giving up an average 3.3 sacks per game, good for fifth-worst in the league. Golden's also performed extremely well against the run totaling 15 stops on 120 rushes for a 12.5% run-stop percentage. Granted, the Packers don't run the ball a ton — just 21.2 times per game — but Golden should be able to tack on some decent tackle numbers too.
Anderson isn't nearly as big a name as his fellow Jets lineman Leonard Williams, but he's been just as good an IDP player this season despite playing in 30% fewer snaps. Anderson has 2.5 sacks on the season compared to Williams three but on 70 fewer pass-rushes. His pass-rush productivity rating of 5.2 is also about the same as Williams' 5.4. Anderson now gets the Titans this week, who not only lead the league in 3.5 sacks allowed per game but are coming off a game in which they allowed six sacks to the Texans.
Anderson, like Golden above, also has a good run-stop percentage at 9.7, good for 21st in the whole league. But unlike Golden, he plays a team that does run the ball with the Titans averaging 28.4 runs per game, eighth-most in the league, giving him a great chance to record more tackles than usual.
Linebackers
We streamed Oluokun once before this season and he promptly recorded three tackles, his lowest total since his streak of seeing more than 50% of snaps started in Week 5. But since then, he's recorded double-digit tackle games, totaling 10 in each of Atlanta's Week 11 and 12 games. He and the Falcons now play Baltimore in Week 13 where he has a good chance to rack up the tackle numbers again.
Baltimore currently leads the league with 71.2 offensive plays per game, which will give Oluokun plenty of opportunities, since he's led all Falcons linebackers in snaps in three of their last four games. They've also given up double-digit tackles to linebackers in their last two games and three of their last four, including an impressive 15 to Raiders linebacker Tahir Whitehead last week.
Davis is another linebacker who has done well except when we streamed him. After serving a four-game suspension, he's played most of the defensive snaps and recorded a steady if unremarkable number of tackles, with five being his lowest total in any game this season (one of them being when we streamed him).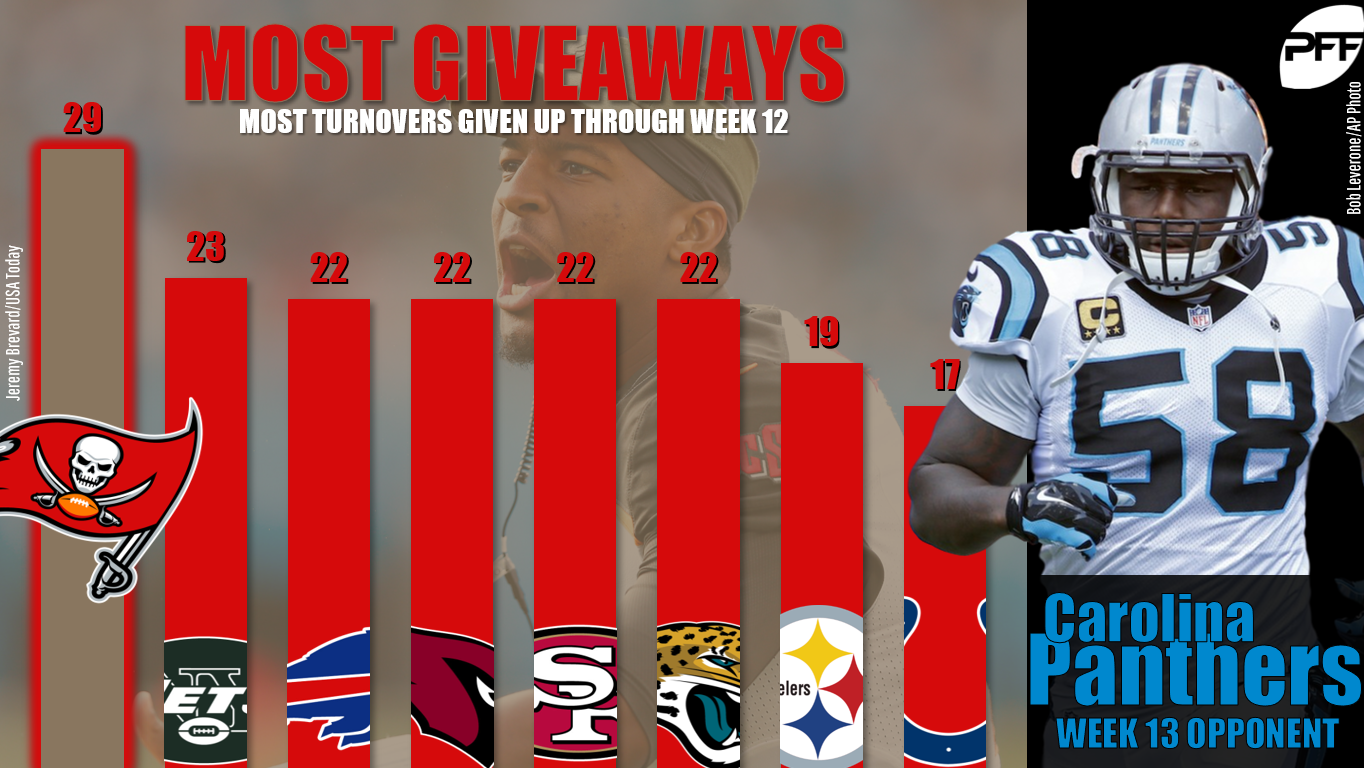 And while he's recorded five passes defensed, he has yet to record a sack or interception. However, that could change this week as he plays the gift that keeps on giving to IDP players, the Tampa Bay Buccaneers. The Bucs are currently second in the league with 68.5 offensive plays per game, which will give Davis plenty of chances to keep adding to his tackle count. He'll also be in a good position to record a turnover as the Bucs lead the league in giveaways at 2.6 per game, a half-turnover more than the second-worst team, the Jets.
Secondary
Despite not throwing a pick in a game last week for just the second time all season, Tampa Bay is still like catnip to defensive backs (and defenses in general, as noted above). This week, we'll stream Panthers safety Adams.
The combination of Tampa's passing game and Adams' steady fantasy stats is just too good to pass up. We start with what Tampa has to offer for fantasy defensive backs which includes 40.8 pass attempts per game, good for second in the league. It's great for Adams, who sees a healthy 14 snaps per target. Doing the math, he's on pace to see three targets from Tampa this week, which means three chances for a pass defensed or pick. And speaking of picks, Tampa also leads the league in interceptions per game, at 2.1, the only team to average two or more.
At the very least, Adams should rack up the tackles. He's recorded fewer than five in just two games this season and Tampa is second in the league in 68.5 offensive plays per game, giving Adams plenty of opportunity to add to his total.
Addae has shown flashes of the excellent season he had last year, when he set career highs in tackles (96) and passes defensed (7), but those flashes have been few and far between. However, if there's ever a game for him to flash again, it's this week against the Steelers.
The Steelers are fourth in the league when it comes to offensive plays, running 67.2 per game. This means Addae will have plenty of tackle opportunities — there have only been two games this season when he didn't play 100% of the defensive snaps. Even better for Addae is the Steelers leading the league in pass attempts per game with 43.4, plenty of chances for getting his hands on the ball. He also faces a quarterback who suddenly has a case of the picks with Ben Roethlisberger throwing five interceptions in his last two games after throwing just four in his previous eight.