Stack the Kansas City Chiefs:

While not cheap, the Chiefs dominate all the stack projections, as they have a significantly higher chance of being the top stack than any other team.

High-value RB-DST stack for Week 10: The Chicago Bears have a good chance of being the highest-scoring RB-DST stack at a much lower cost and roster allocation.
Estimated reading time: 8 minutes
---
This DFS main-slate stacks analysis is a variation of the methodology used in analyses on the single-game DraftKings showdown slates. It uses the combination of current projections, historical game results and similarity algorithms to simulate an upcoming game by looking back at the most similar historical matchups. In this analysis, I'm taking the same outline and applying it instead to the DFS main slate by projecting the likelihood each team's QB-WR, RB-DST, QB-WR-TE, QB-RB-WR stacks will be the highest scoring of the slate. These are some of the most popular stack combinations employed in DFS strategy.
The numbers below harness the unexpected connections and reactions between players that have happened over the past several years and thereby point to under/overvalued stacks that won't be identified through traditional projections and logical deduction.

---
QUARTERBACK/WIDE RECEIVER STACK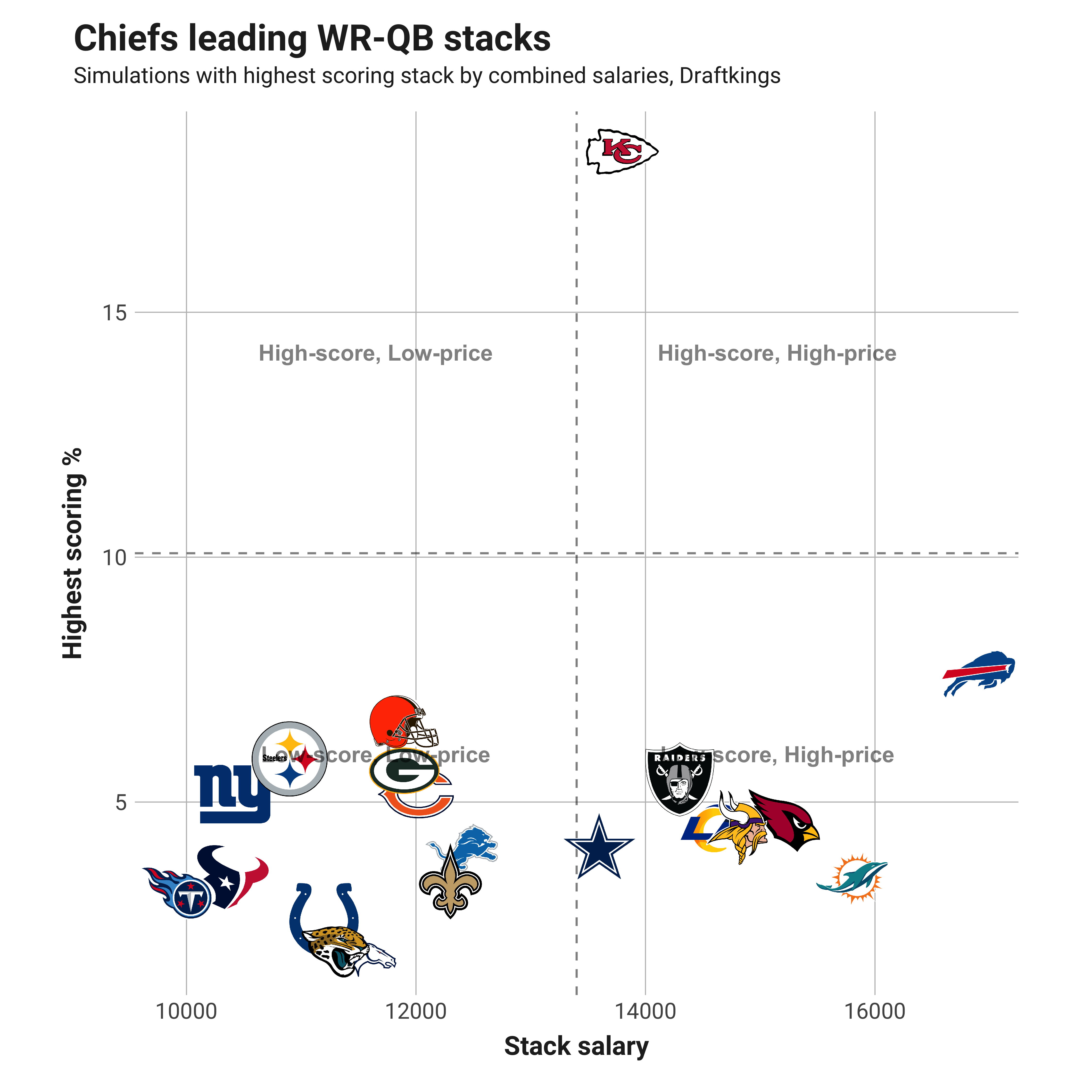 QB/WR players
| | | | | | | | | |
| --- | --- | --- | --- | --- | --- | --- | --- | --- |
| Team | Opponent | Highest % | Player | Pos | DK Fpts | DK Salary | FD Fpts | FD Salary |
| KC | JAX | 18.3 | Patrick Mahomes | QB | 25.9 | 7,800 | 25.9 | 7,800 |
| KC | JAX | 18.3 | JuJu Smith-Schuster | WR | 12.5 | 6,000 | 12.5 | 6,000 |
| BUF | MIN | 7.6 | Josh Allen | QB | 29.1 | 8,600 | 29.1 | 8,600 |
| BUF | MIN | 7.6 | Stefon Diggs | WR | 19.6 | 8,300 | 19.6 | 8,300 |
| CLV | MIA | 6.6 | Jacoby Brissett | QB | 18.0 | 5,400 | 18.0 | 5,400 |
| CLV | MIA | 6.6 | Amari Cooper | WR | 14.0 | 6,500 | 14.0 | 6,500 |
| PIT | NO | 5.9 | Kenny Pickett | QB | 17.3 | 5,100 | 17.3 | 5,100 |
| PIT | NO | 5.9 | Diontae Johnson | WR | 13.1 | 5,800 | 13.1 | 5,800 |
| GB | DAL | 5.6 | Aaron Rodgers | QB | 19.4 | 5,800 | 19.4 | 5,800 |
| GB | DAL | 5.6 | Allen Lazard | WR | 14.7 | 6,100 | 14.7 | 6,100 |
| LV | IND | 5.5 | Derek Carr | QB | 19.5 | 5,600 | 19.5 | 5,600 |
| LV | IND | 5.5 | Davante Adams | WR | 18.6 | 8,700 | 18.6 | 8,700 |
| CHI | DET | 5.2 | Justin Fields | QB | 18.5 | 6,500 | 18.5 | 6,500 |
| CHI | DET | 5.2 | Darnell Mooney | WR | 11.5 | 5,500 | 11.5 | 5,500 |
| NYG | HST | 5.2 | Daniel Jones | QB | 20.7 | 5,700 | 20.7 | 5,700 |
| NYG | HST | 5.2 | Wan'Dale Robinson | WR | 12.2 | 4,700 | 12.2 | 4,700 |
| ARZ | LA | 4.6 | Kyler Murray | QB | 20.3 | 7,200 | 20.3 | 7,200 |
| ARZ | LA | 4.6 | DeAndre Hopkins | WR | 18.1 | 8,000 | 18.1 | 8,000 |
| MIN | BUF | 4.5 | Kirk Cousins | QB | 16.9 | 6,000 | 16.9 | 6,000 |
| MIN | BUF | 4.5 | Justin Jefferson | WR | 18.5 | 8,800 | 18.5 | 8,800 |
| LA | ARZ | 4.5 | Matthew Stafford | QB | 20.9 | 5,600 | 20.9 | 5,600 |
| LA | ARZ | 4.5 | Cooper Kupp | WR | 23.0 | 9,000 | 23.0 | 9,000 |
| DAL | GB | 4.1 | Dak Prescott | QB | 18.5 | 6,600 | 18.5 | 6,600 |
| DAL | GB | 4.1 | CeeDee Lamb | WR | 15.2 | 7,000 | 15.2 | 7,000 |
| DET | CHI | 4.0 | Jared Goff | QB | 15.6 | 5,500 | 15.6 | 5,500 |
| DET | CHI | 4.0 | Amon-Ra St. Brown | WR | 13.3 | 6,900 | 13.3 | 6,900 |
| HST | NYG | 3.5 | Davis Mills | QB | 17.3 | 5,100 | 17.3 | 5,100 |
| HST | NYG | 3.5 | Brandin Cooks | WR | 15.0 | 5,300 | 15.0 | 5,300 |
| MIA | CLV | 3.4 | Tua Tagovailoa | QB | 20.6 | 6,700 | 20.6 | 6,700 |
| MIA | CLV | 3.4 | Tyreek Hill | WR | 22.1 | 9,100 | 22.1 | 9,100 |
| NO | PIT | 3.4 | Andy Dalton | QB | 16.7 | 5,500 | 16.7 | 5,500 |
| NO | PIT | 3.4 | Chris Olave | WR | 13.9 | 6,800 | 13.9 | 6,800 |
| TEN | DEN | 3.1 | Malik Willis | QB | 15.3 | 5,000 | 15.3 | 5,000 |
| TEN | DEN | 3.1 | Robert Woods | WR | 8.5 | 4,900 | 8.5 | 4,900 |
| IND | LV | 2.6 | Sam Ehlinger | QB | 17.2 | 5,000 | 17.2 | 5,000 |
| IND | LV | 2.6 | Michael Pittman Jr. | WR | 13.4 | 6,200 | 13.4 | 6,200 |
| JAX | KC | 1.9 | Trevor Lawrence | QB | 16.6 | 5,400 | 16.6 | 5,400 |
| JAX | KC | 1.9 | Christian Kirk | WR | 13.3 | 5,900 | 13.3 | 5,900 |
| DEN | TEN | 1.9 | Russell Wilson | QB | 17.1 | 5,900 | 17.1 | 5,900 |
| DEN | TEN | 1.9 | Courtland Sutton | WR | 12.2 | 5,600 | 12.2 | 5,600 |
---
RUNNING BACK/DST