(All offseason long, PFF Fantasy editor Daniel Kelley will attempt to figure out the solution to some of the biggest fantasy football draft conundrums for the 2019 season. This is The Decider.)
Rookie wide receivers, and in particular first-round rookie wide receivers, have been on a down stretch of late. The 2014 class (which included Odell Beckham Jr., Mike Evans, Brandin Cooks, and others) set a near-impossible standard, but the classes since would have disappointed by anyone's measure.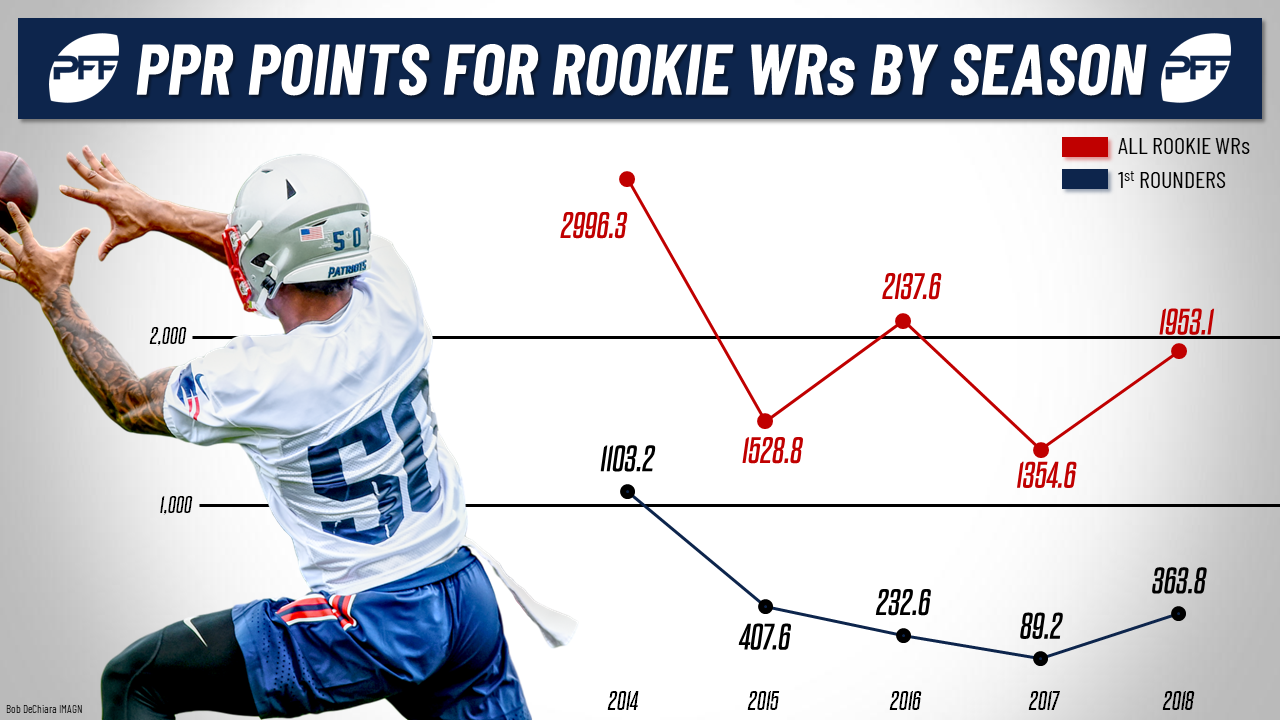 Still, with each new class of receivers comes a new font of hope, a new source of potential and drool-inducing upside. Two of this year's most intriguing rookie names belong to N'Keal Harry (who went to the Patriots with the last pick of the first round) and D.K. Metcalf (who concluded his own round, to the Seahawks with the last pick of the second). The two are the highest-drafted rookies by current ADP (according to Fantasy Football Calculator), with Harry going off the board as WR33 and Metcalf as WR35.
But which should you opt for in your redraft leagues in 2019?
The contenders
Harry and Metcalf came to their lofty statuses in different ways. Harry had the college production in spades, topped 1,000 receiving yards in each of 2017 and 2018 and totaling 17 touchdowns over the two years. His 86.1 PFF receiving grade in 2018 was ninth in the draft class. He was second in the draft class with 17 contested catches, and his 94.2 grade on intermediate targets (10-19 yards downfield) easily led the draft class. He was the No. 61 player on PFF's Big Board entering the draft.
Metcalf is far more about projection. Around injury, he totaled 1,215 yards the last two years at Ole Miss combined. He did produce the seventh-highest passer rating when targeted (135.4) among qualified receivers in this draft class in 2018, but he played only seven games on the year. Still, his combine performance and general athleticism had analysts drooling over his potential, and he entered the draft 17th on the PFF Big Board. If Metcalf can realize his tantalizing athletic projection, he can be an amazing pro receiver, but it hasn't been evident on the field yet.
Subscribe to PFF Edge to continue reading

Already have a subscription? Sign In