Average draft position is a useful tool this time of year. It helps us fine-tune our draft strategy to be able to know, within a reasonable estimation, where a player is likely to be selected. But it's also a mistake to allow public perception to guide your draft board. After all, you didn't spend all offseason combing our database, watching combine workouts, keeping tabs on player news, and compiling all of that research, just to default to the player with the highest ADP when you're on the clock. And it's certainly not why we worked so hard putting together an 80-plus page 2018 Fantasy Playbook (available now!).
With that context in mind, the premise of this piece is pretty simple: to identify where our playbook rankings differ most from current consensus ADP. Below are the players who offer the best and worst draft values.
(The Fantasy Playbook, our 2018 draft guide, is available now for Edge subscribers.)
Quarterback
ADP: QB2/Playbook rank: QB7
It's not that we weren't in awe of Watson's rookie season, in which he averaged a ridiculous 25.0 fantasy points through seven games before his unfortunate knee injury. But hidden behind his historic — and unsustainable — touchdown rate of 9.3 percent is a No. 30 PFF QB grade (75.1) that revealed some warts. Sure, there is plenty of upside given the perimeter weapons at Watson's disposal and the fact that he posted three No. 1 overall weekly finishes over his last four starts. But coming off an ACL injury with a small sample size, he also carries high volatility. Our playbook assigns a draft grade of Round 8 (wait on QB!) compared to his current ADP circa the Round 3-4 turn.
ADP: QB13/Playbook rank: QB8
Coming off a subpar 2016 campaign that prompted talk of retirement, Roethlisberger came back to post an 88.4 overall PFF grade that trailed only Tom Brady, Matt Ryan, and Drew Brees. In fact, Roethlisberger was the top-scoring fantasy QB Weeks 10-16. In that span, he averaged 312.7 YPG, which falls more in line with his league-leading 2014 (309.5) and 2015 (328.5) seasons. It's that prior sample size, along with a dangerous supporting cast, that makes Roethlisberger a strong bet to outperform his current draft stock as a fantasy backup.
ADP: QB20/Playbook rank: QB14
Smith effectively reinvented his game in 2017, going from a notorious game manager to a quarterback willing and able to take aggressive shots downfield. On passes targeted 20-plus yards downfield, Smith led all qualified QBs in completions (33), yards (1,344), touchdowns (12), adjusted completion percentage (56.5), and passer rating (131.4). Our analysts noted Smith's personal-best big-time throw percentage as a driving force behind his career-high 87.2 PFF grade. The public is weary of Smith repeating that success – after all, it's not often a QB "breaks out" in his 12th season and then changes teams. While another QB3 fantasy finish may not be in the cards, he'll have a strong enough supporting cast in Washington to be in the weekly streaming picture.
Running back
ADP: RB18/Playbook rank: RB26
Let's get right to the obvious: the Titans didn't go out and sign Dion Lewis to a four-year, $20 million contract to relegate him to spot duty. Not after he led all 28 qualified RBs in elusive rating (73.2) last season. Of his 180 carries, all but eight came on first or second down. And while Henry finished fifth in elusive rating (60.5) and outweighs Lewis by about 50 pounds, it's worth noting that both backs averaged 3.2 yards after contact. Our fantasy projection tool has Henry slated for just over 1,000 yards and nine TDs on the ground with virtually nothing in the receiving category, which would put him in flex territory in PPR formats rather than RB2.
ADP: RB33/Playbook rank: RB22
Jones posted PFF's top rushing grade in the nation last year (not just the draft class), and by a fairly wide margin. A personal favorite, Jones has a running style reminiscent of former Texas Longhorns' standout Jamaal Charles. The notable exception, of course, is in the passing game, as he averaged less than one catch per game during his three seasons at USC. Then again, it's tough to knock Jones too much for how the Trojans' offensive coaches deployed him. He did haul in 32-of-40 career targets and held his own in pass protection. Jones' receiving ability is the wild card for those drafting him as an upside flex.
ADP: RB44/Playbook rank: RB31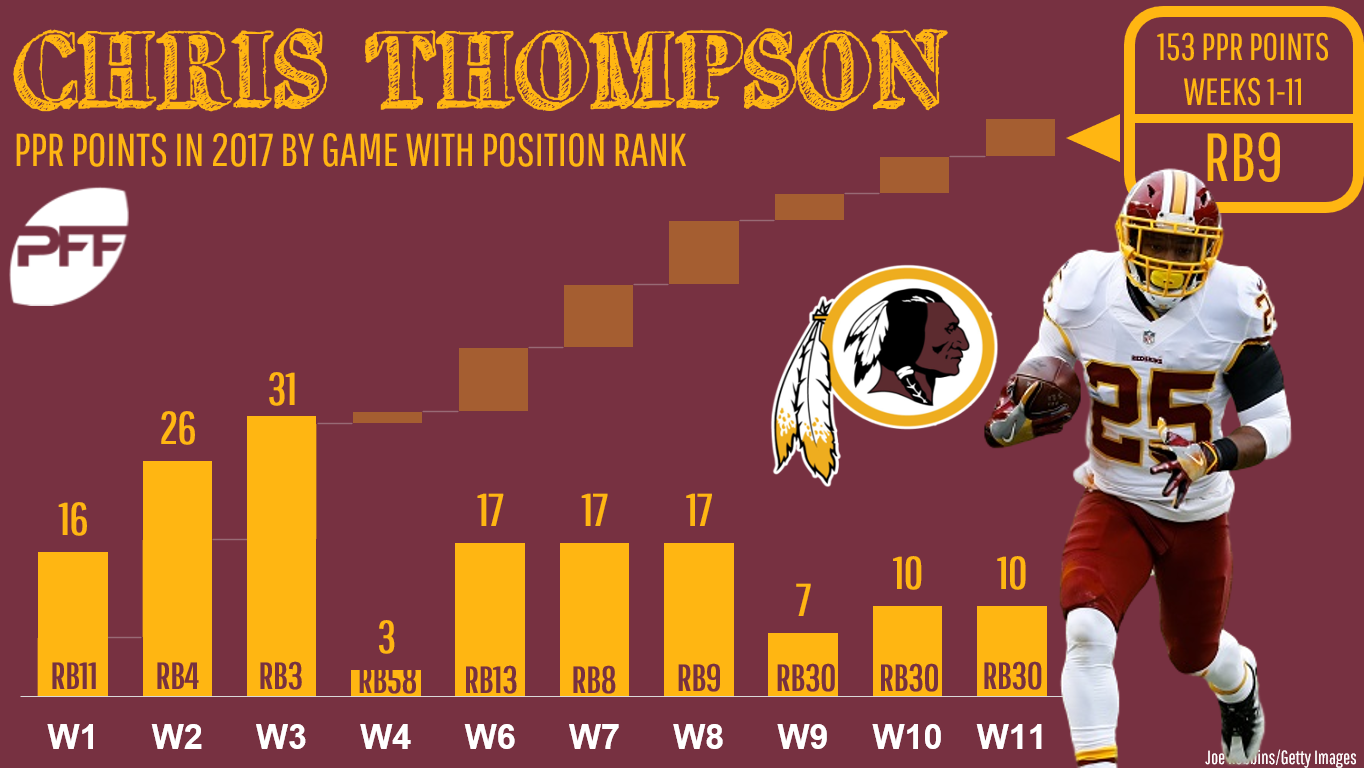 Like Jones, Derrius Guice showed well enough in the passing game in college but just wasn't asked to do much as a receiver at LSU. And like Jones, he was targeted 40 times over three seasons, catching 31 of them. The challenge for Guice is that he'll be sharing the backfield with one of the league's most dangerous pass-catching backs in Thompson, who finished 11th in PPR points per opportunity this past season. Not merely a third-down back, Thompson has averaged 5.2 yards on 170 career carries and was on the field for just over half of the offensive snaps in 2017. His ADP reflects that of a bench stash, but he'll be a useful weekly flex option with RB2 upside in PPR formats.
Wide receiver
ADP: WR35/Playbook rank: WR27
Only five receivers separate Marquise Goodwin and Garcon in ADP. That's not entirely surprising, given Goodwin's younger age and the rapport he and Jimmy Garoppolo displayed. However, ol' faithful Garcon shows up a full 20 spots higher in our playbook, and for good reason. Not only has Garcon posted back-to-back top-16 PFF WR grades, he was on pace for 80 catches and 1,000 yards through eight games last season — and that was with Brian Hoyer and C.J. Beathard slinging him the ball. Granted, Garcon doesn't have the ceiling to be drafted as anything more than a WR3, but he's got the kind of floor that makes owners think twice about fading him in any given week.
ADP: WR36/Playbook rank: WR28
The drafting public doesn't appear to be giving Sanders much benefit of the doubt for his disappointing 2017 campaign. Most notably, there was the ankle injury that cost him four games when it wasn't sapping his burst in others. There was also the fact that Sanders was catching passes from the feared triumvirate Brock Osweiler, Paxton Lynch, and Trevor Siemian. Of course, he'll now get a major upgrade in Case Keenum, who graded out as a top-10 passer last year with Minnesota. But really, we have sizeable enough sample size to go off for Sanders, who went for over 1,000 yards in each of the three previous seasons. He's being drafted outside the top-35 WRs, but our projection tool has him at the door of another 1,000-yard campaign, and a top-24 fantasy WR season to boot.
ADP: WR40/Playbook rank: WR32
Three years removed from his breakout season, it's easy to forget that Cobb is still just 27 years old. He's also still the No. 2 WR in an Aaron Rodgers-led unit. The Packers' offense sputtered as a whole with Rodgers sidelined for a chunk of last season, but with Rodgers back healthy and longtime favorite target Jordy Nelson now with Oakland, Cobb is a solid rebound candidate. After all, he's remained on a 16-game pace for 100 targets over the last two seasons while missing four games. Cobb's most clutch stat: he hasn't dropped a single pass on third or fourth down over the last two seasons.