A 26-year-old NFL running back threatens to hold out if he doesn't receive a new contract or a trade from his current team. Sound familiar? While Melvin Gordon's current situation isn't exactly like Le'Veon Bell's last season, the similarities are very real. And fantasy players who drafted Bell last year know all too well how that worked out.
While Gordon holding out an entire season would be an absolute worst-case scenario, that outcome is at least within the realm of possibility. So given this recent news, how should we handle the Gordon situation for fantasy purposes?
A player holding out the entire season once seemed unthinkable, but Bell set that precedent last year. If you drafted Bell and didn't have the foresight to also grab James Conner, you very left holding the bag. So with fantasy draft season now just a month away, we need to be prepared for all potential outcomes with Gordon.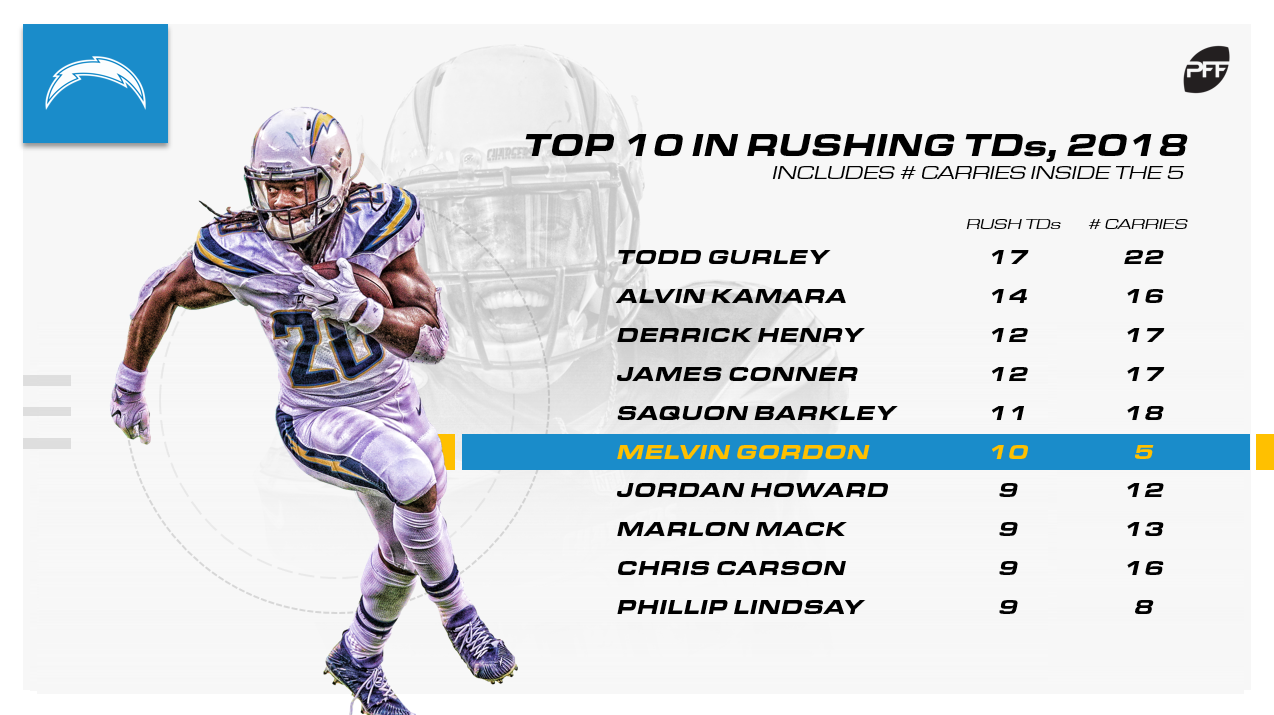 In a perfect world, the Los Angeles Chargers give Gordon a new contract in the next month and all is right with the world for fantasy purposes. However, recent trends in the NFL show that it's rare for teams to give out player-friendly deals to backs at Gordon's age. It's not that he's old per se, but ample research has shown that running back production tends to decline at around age 26-27. Likewise, our own Scott Barrett showed that running backs also start to drop off in their fifth season in the NFL. Gordon checks both of those boxes.
So our best bet is to prepare for the worst. Just a week ago, many had Gordon as the No. 5 player overall in fantasy drafts. Given the current news, it's tough to view him there going forward. That said, we also shouldn't dramatically drop Gordon in fantasy rankings. Whereas Gordon was previously at the top of the second tier in my 2019 running back tiers, he now moves toward the back of that group. That means he's best valued in the second round of 12-team leagues if we continue to operate on the current set of information.
Of course, if you draft Gordon, it's all but essential to handcuff him. Unlike with Conner, who was a slam dunk handcuff to Bell last year, there are two possible candidates in the Chargers backfield: Austin Ekeler and Justin Jackson. While some may look to Ekeler as the clear handcuff, his profile as more of a pass-catching back should give us at least some pause. The good news is that Gordon did miss time last year, so we at least have somewhat of a working idea of what to expect.
Injuries sidelined Gordon in Weeks 7, 13, 14, and 15 in 2018. In those four games, here are the snap counts for Ekeler and Jackson:
| | | | | |
| --- | --- | --- | --- | --- |
| Player | 7 | 13 | 14 | 15 |
| Austin Ekeler | 43 | 49 | 40 | – |
| Justin Jackson | 16 | 26 | 33 | 56 |
Ekeler also missed Week 15, which left Jackson to play the feature role, but before that point he was clearly out-snapping Jackson. That being said, Ekeler's snap average of 44 per game wasn't necessarily a huge uptick from the 35 per game he averaged with Gordon on the field. Conversely, Jackson was used almost exclusively as a special-teamer before Week 7 and again until Week 12. So his role grew much more dramatically in Gordon's absence.
But it isn't just about the snaps. We also need to consider usage. In Weeks 13 and 14, Jackson was barely used in the passing game with a combined 15 routes run. Ekeler ran a massive 34 routes in Week 13 and followed that up with 21 more in Week 14. That said, Jackson did see a solid amount of the work as a runner with 15 carries in those two games compared to 28 for Ekeler.
The takeaway here is fairly clear. Even though this is a small sample size, we know the Chargers are going to use Ekeler in the passing game. As they've shown over the last few seasons, there's a lot of meat on the bone for running backs catching the ball out of the backfield. That work alone makes Ekeler appealing if Gordon was to hold out. While he isn't likely to see as much volume in the run game as Gordon does, Ekeler was clearly on the right side of a 65:35 split with Jackson last season.
Given all this information, we have to bump Ekeler up into premium handcuff territory. That means we should be considering him in the same range as guys like Latavius Murray and Darrell Henderson, who are currently going in the sixth and seventh rounds of 12-team PPR drafts. That said, Ekeler showed last season that he can potentially miss time, so Jackson should also be considered as a secondary handcuff who you can potentially target in the late rounds of your drafts.
Hopefully this Gordon stuff ends up being nothing more than July posturing, but Gordon drafters need to have a strong plan in place given what Bell showed us last year.