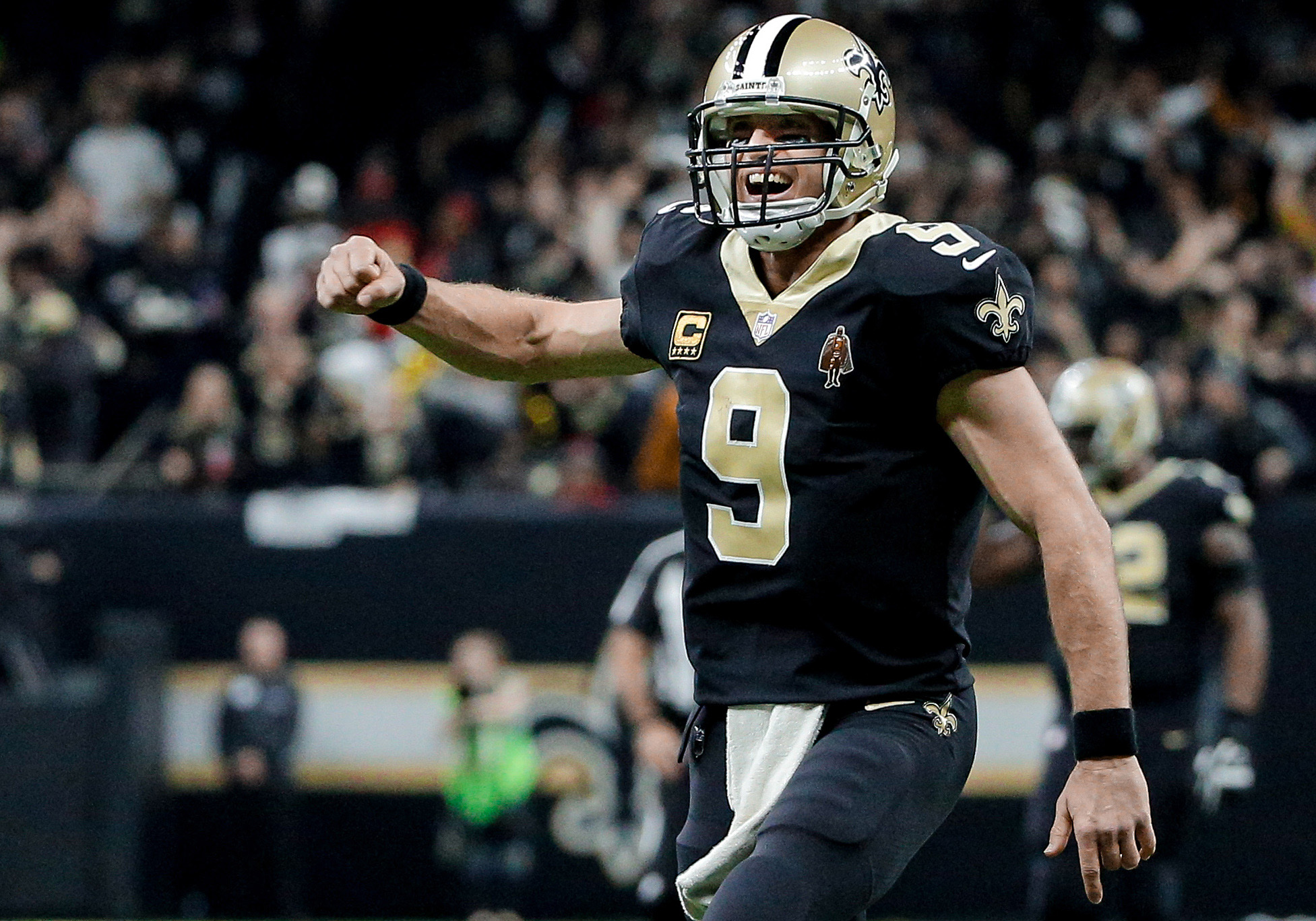 Dec 24, 2017; New Orleans, LA, USA; New Orleans Saints quarterback Drew Brees (9) celebrates after throwing a touchdown to wide receiver Ted Ginn (not pictured) during the second quarter against the Atlanta Falcons at the Mercedes-Benz Superdome. Mandatory Credit: Derick E. Hingle-USA TODAY Sports
Earlier this month, I shared observations and trends about the past five years of PPR top-12 running backs and wide receivers. Among the surprising takeaways were just 35 percent of running backs repeat as top-12 performers year-over-year and that there hasn't been a repeat overall PPR RB1 for 16 years! We also learned that the target bar for wide receivers is 120; 85 percent of top-12 finishers have hit that mark over the past five seasons.
What about quarterbacks?
The overwhelming drafting trend among fantasy analysts for the past several seasons has been late-round quarterback, and for good reason. However, just because many are opting for this route doesn't mean it's the only way to play. After all, somebody has to draft the first quarterback in every draft. If you happen to draft the eventual QB1 what is the value to your fantasy team? What kind of consistency is there at the position at the top spot, in the top-five, and in the top-12? Here's what I found:
Top-12 fantasy quarterbacks have been more consistent year-to-year over the past five years than running backs or wide receivers. An average of 52 percent of quarterbacks (6.2/12) repeated in the top-12 each season. This number was lower than what I thought it would be, however.
In the past five seasons, there have never been more than seven quarterbacks repeat in the top-12 in consecutive years. Repeat performances also appear to be trending down (slightly) over this period.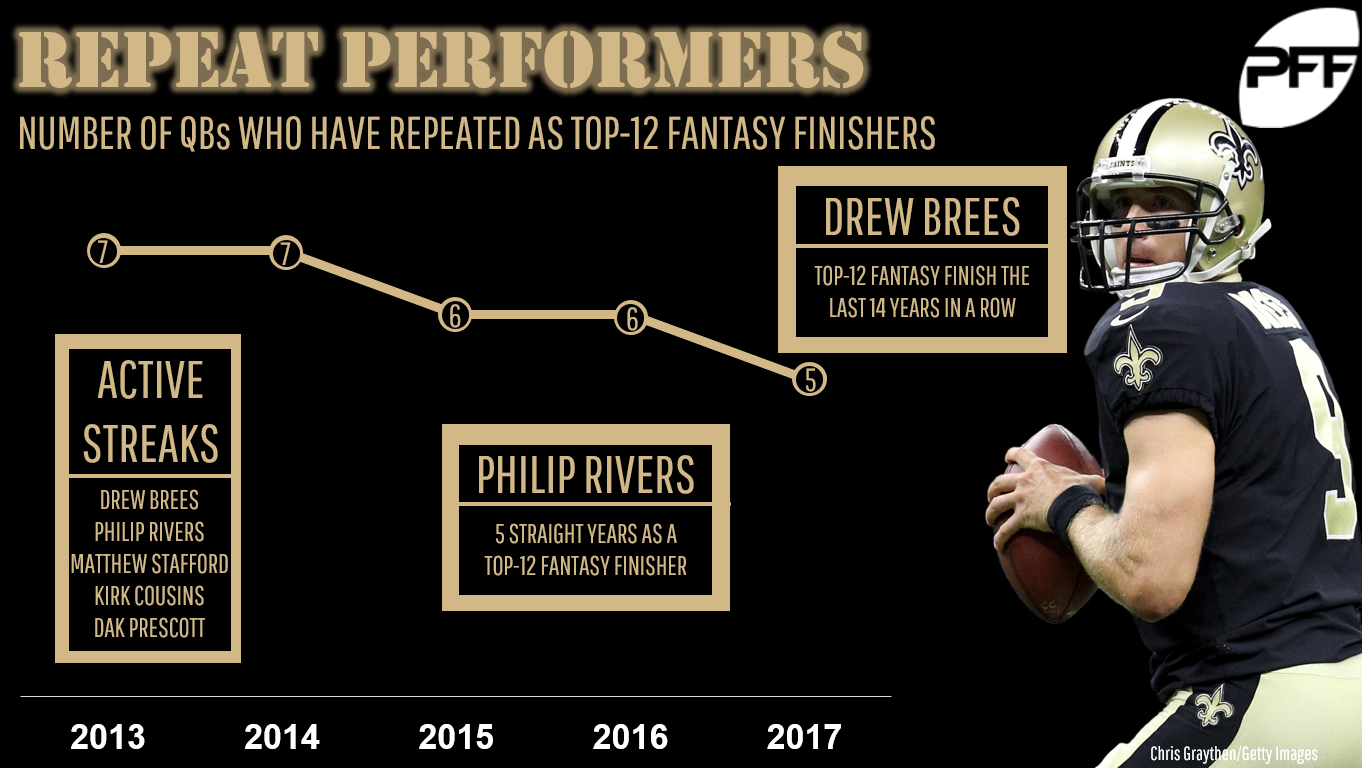 There hasn't been a repeat overall QB1 since Drew Brees in the 2011 and 2012 seasons.
There is immense value in owning the QB1 if you can successfully identify who it will be. Over the past five seasons, owning the QB1 versus the QB13 has netted an average of 119.2 additional fantasy points over the course of the season.
The positional fantasy advantage of owning the overall QB1 in 2017 was at its lowest in the past five years. Contextually, it's important to note that we did not get full seasons from Aaron Rodgers, Deshaun Watson, or Andrew Luck.
There has been a very minimal week-to-week benefit in owning the QB5 versus the QB13 over the past five years. The positional advantage has remained steady at between two and three fantasy points over this period.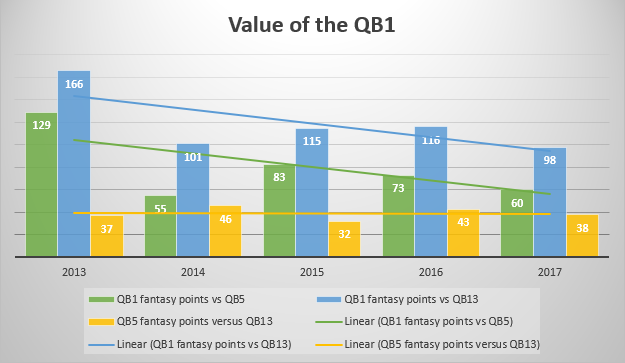 Locking in an extra seven or eight points per week versus a replacement-level quarterback sounds great. Unfortunately, it has been extremely difficult to even pick the right group of quarterbacks who could potentially finish as the QB1. In the past five seasons, there have been five different QB1s and 14 different top-five finishers.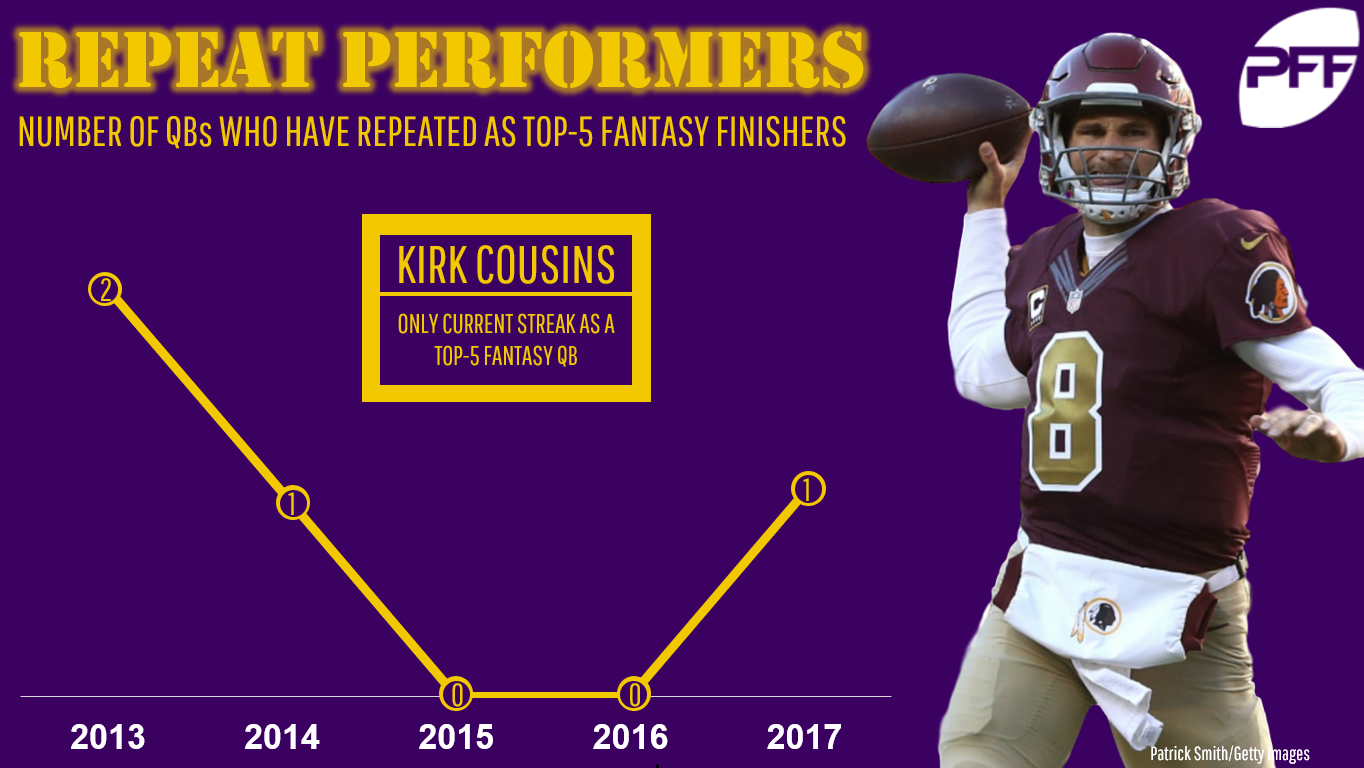 Cousins is the only quarterback with an active top-five streak, having finished fifth in fantasy points in both 2016 and 2017.
88 percent (22/25) of top-five fantasy quarterbacks over the past five seasons have thrown at least 25 touchdowns.
The only three quarterbacks to finish in the top-five with fewer than 25 passing touchdowns happened to lead the league in rushing touchdowns that season (more on this later).
There are five quarterbacks with active top-12 streaks: Dak Prescott has two consecutive top-12 finishes. Cousins and Matthew Stafford have three consecutive top-12 finishes. Philip Rivers has five consecutive top-12 finishes. Brees is on another level — he has a 14-year streak of top-12 finishes.
82 percent (49/60) of top-12 fantasy quarterbacks over the past five seasons have thrown for at least 25 touchdowns.
Of the 11 quarterbacks to finish in the top-12 without 25 passing touchdowns, 73 percent (8/11) rushed for at least 350 yards.
Only three quarterbacks have managed to finish in the top-12 in a season without posting at least 25 passing touchdowns or 350 rushing yards: Brees in 2017 (QB11), and Stafford (QB7) and Prescott (QB6) in 2016.
For five consecutive seasons the quarterback with the most rushing yards during the season has also finished with the most (or tied for most) rushing touchdowns during the season. In all five seasons, this player finished as a top-12 fantasy quarterback and in four out of five seasons the player finished as a top-five quarterback.
Quarterback rushing leaders (and fantasy finish) over the past five seasons:
What are the takeaways?
Quarterback has been slightly more consistent year-over-year in producing repeat top-12 finishers, but at an average of just 52 percent repeating each year, it's still only a little better than coin flip odds that any of last year's top-12 will repeat in 2018. In single-quarterback fantasy formats, it's just one more reason to wait on the position and draft several you can stream based on matchups each week. However, in some drafts, the top quarterbacks will slide so far that they become a value. Don't be so attached to the idea of being one of the last owners to draft a quarterback that you pass on chance to draft one of the players with the best shot at finishing as the overall QB1 (we did see a significant advantage to owning the QB1 versus a replacement-level quarterback).
My favorite targets if you want to pull the trigger a little early this season are Wilson and Newton. We've seen their rushing production prop up their fantasy floors and raise their fantasy ceilings year after year.
If you still prefer to wait on quarterback, there might not be a better target than Rivers. Five consecutive seasons as a top-12 quarterback is really impressive and he's priced a little below his floor. His ADP is currently QB14 in Draft and FFPC leagues, and QB12 in MFL10s. Another player to target if you want to wait is Matt Ryan. Prior to his 2017 QB14 finish, Ryan compiled seven consecutive top-12 fantasy seasons. His ADP is currently QB15 on Draft and QB17 in MFL10 and FFPC leagues.