• Jakobi Meyers: 9 receptions, 81 yards, 2 touchdowns
• Courtland Sutton: 4 receptions, 32 yards, 1 touchdown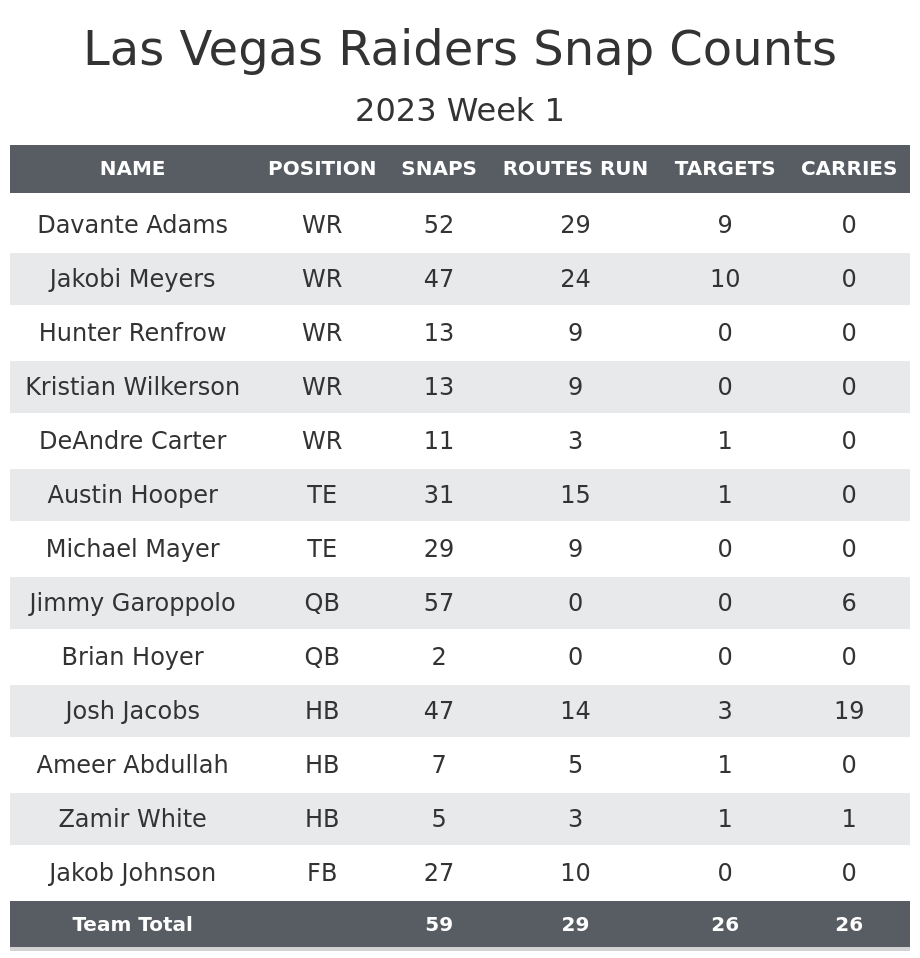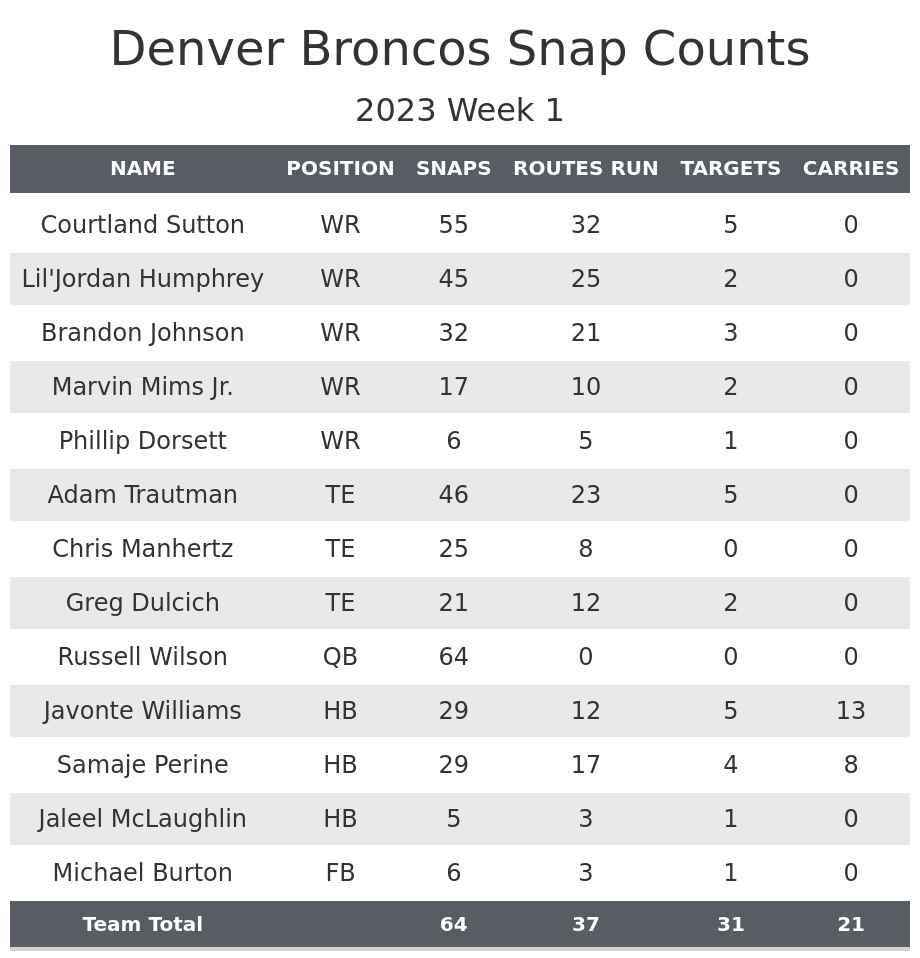 The Broncos' two-man backfield: Denver used Javonte Williams on early downs and Samaje Perine on passing downs.
Williams ended up with 52 rushing yards on 13 carries. He added four receptions for 5 yards.

Perine gained 41 yards on eight carries and led the team in receiving yards, with 37 yards off four receptions.

The Broncos used the running backs the same way in their one preseason game with the starters, and it appears they will keep using their running backs this way in the foreseeable future.

Williams should generally play more than Perine, but

Denver happened to have a lot of third-down plays and plays in the two-minute drill in Week 1.

The biggest concern from a fantasy perspective is that Perine took two snaps in goal-line situations while Williams took one. This could mean that Perine takes some touchdowns away from Williams at some point this season.

It's possible Williams sees an increased role as the season progresses, but this could also be the role we see for these two backs all season long.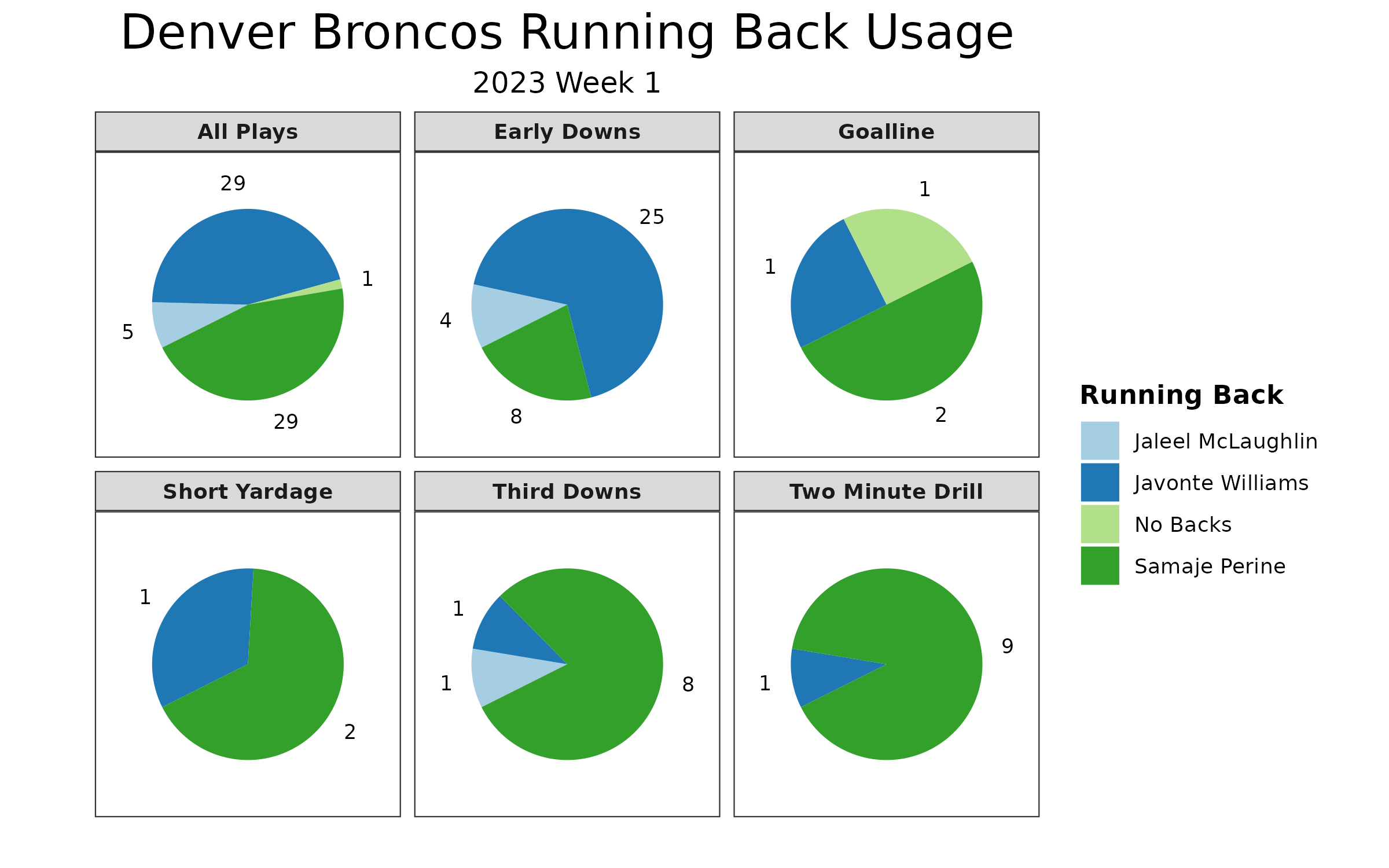 Marvin Mims Jr.'s quiet debut: Mims was expected to be a starter in this game. Instead, he was a backup.
Based on the preseason, Mims seemed set to emerge as the third on the Broncos depth chart. And because

Jerry Jeudy

missed this game due to injury, many expected Mims to take the field with the starters today.

Instead, it was

Courtland Sutton

and

Brandon Johnson

playing on the outside with

Lil'Jordan Humphrey

playing in the slot.

Humphrey will play fewer snaps once

Jerry Jeudy

returns. Johnson and Mims will get fewer chances, too.

Mims shared playing time with Johnson throughout the game, with Johnson playing roughly twice as many snaps and running roughly twice as many routes.

Mims caught just two passes for 9 yards. 

It's certainly fine to stash Mims on fantasy rosters in deeper leagues, but it would also be understandable to drop Mims for a different high-upside young player.
Monitor the health of Greg Dulcich: Dulcich suffered a leg injury late in the second quarter. He missed the rest of the game.
Dulcich played a larger role in the first half of this game than he did in the preseason.

He played in 10-of-17 snaps out of 11 personnel on first and second downs in the first half.

Adam Trautman

played 100% of the snaps in these situations with the starters during the preseason. 

Chris Manhertz

made his Broncos debut for this game, but he was a clear third on the depth chart prior to the injury.

Trautman played some snaps out of 11 personnel on third down, which was Dulcich's role in the preseason.

Dulcich ran a route on 13-of-25 passing plays in the first half, and Trautman ran a route on 11-of-25.

He caught two passes for 22 yards prior to the injury, while Trautman led the team in receptions with five.

Hopefully, Dulcich's injury isn't a long-term issue. Once he's back, it's still probably best to avoid Dulcich for fantasy football purposes.
Monitor the Jakobi Meyers injury: Meyers suffered a head injury late in the game and didn't return.
Davante Adamas and Meyers were the clear starters in this game, as expected.

Meyers typically played in the slot for the

New England Patriots

, but he mostly played on the outside in this game.

Hunter Renfrow

led the team in slot snaps with 13, followed by 12 by Adams and seven by Meyers.

Renfrow used to be a clear top receiver for the Raiders, but he led a three-man rotation for the Raiders' third receiver spot, fighting for time with

Kristian Wilkerson

and

De

Andre Carter

.

It's probably best to avoid the Raiders receivers not named Adams if Meyers misses a game since it will likely remain a rotation.
Avoid the Raiders tight ends: Las Vegas has a two-man rotation at tight end and is rarely using 12 personnel.
Las Vegas ran only two snaps out of 12 personnel compared to 16 snaps out of 21 personnel. This means we rarely saw 

Austin Hooper

and

Michael Mayer

on the field at the same time.

Of the seven times that they were both on the field, the team ran the ball six times.

Mayer was the clear primary tight end in 21 personnel, while Hooper was the tight end in 11 personnel on 75% of snaps.

This meant Hooper played roughly half of the Raiders' pass plays, and Mayer even less.

They combined for one target.

Ideally, Mayer can overtake Hooper in 11 personnel as the season progresses, but they might view him as too valuable a run-blocker to use his energy in too many 11-personnel plays.
Miscellaneous Notes
Josh Jacobs

continued to dominate offensive snaps in a way that no other running back in the NFL is doing, but he averaged only 2.5 yards per carry in this game.