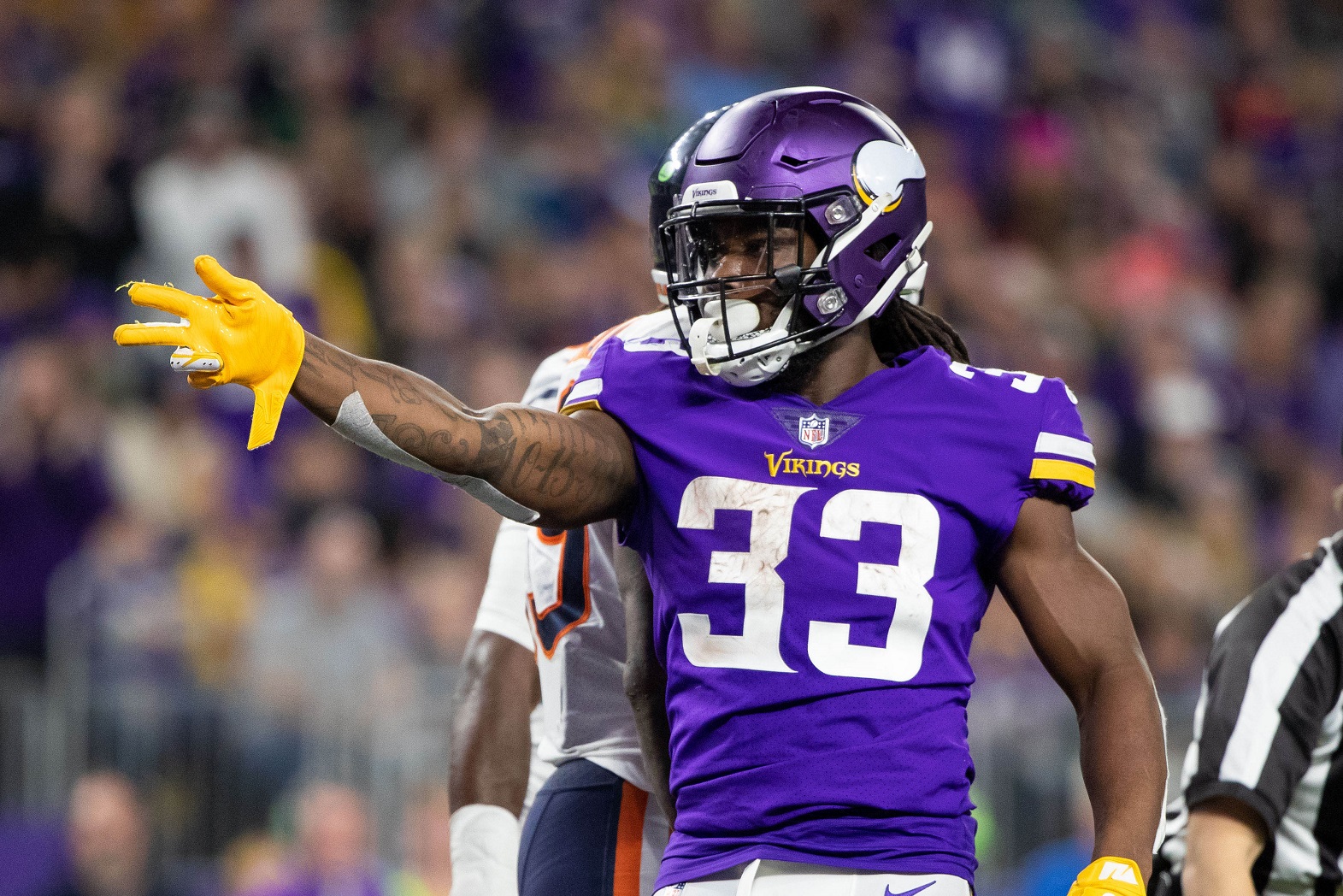 Dec 30, 2018; Minneapolis, MN, USA; Minnesota Vikings running back Dalvin Cook (33) celebrates a first down in the third quarter against Chicago Bears at U.S. Bank Stadium. Mandatory Credit: Brad Rempel-USA TODAY Sports
It's Wednesday and that means it's time to breakout the flex fantasy football rankings for Week 6 of the 2019 NFL season. If you're new to the concept of flex rankings, these are simply the combined overall rankings for running back, wide receiver, and tight end for each week during the fantasy football season. Remember that rankings change throughout the week, so be sure to check our staff rankings for updates.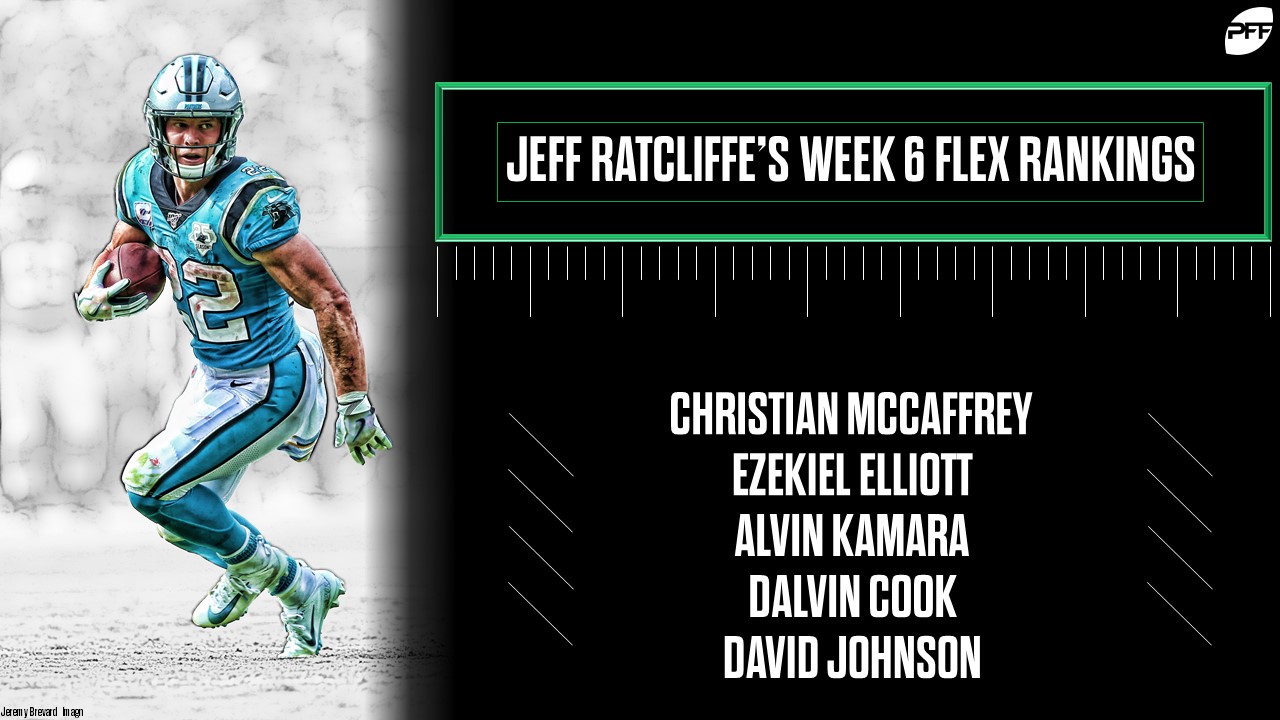 1. Christian McCaffrey, CAR @ TB (RB1) — He's averaging a massive 27.2 touches per game and is on a historic fantasy pace.
2. Ezekiel Elliott, DAL @ NYJ (RB2) — Gamescript should be in Elliott's favor this week.
3. Alvin Kamara, NO @ JAC (RB3) — Kamara didn't get in on the scoring bonanza last week, but he's still seeing a feature workload.
4. Dalvin Cook, MIN vs PHI (RB4) — This is a tough matchup for Cook, but there's no way we can take him out of the top five.
5. David Johnson, ARI vs ATL (RB5) — Johnson is a little dinged up but should be good to go in what should be a shootout game.
6. Julio Jones, ATL @ ARI (WR1) — Don't worry about last week. Jones bounces back in a plus matchup.
7. Nick Chubb, CLE vs SEA (RB6) — Look for the heavy volume to continue for Chubb this week.
8. Aaron Jones, GB vs DET (RB7) — What do we get as an encore after last week's Al Bundy-like performance against the Cowboys?
9. Chris Carson, SEA @ CLE (RB8) — The Seahawks have made it clear that they're going to continue to feed Carson this season.
10. DeAndre Hopkins, HOU @ KC (WR2) — It was Will Fuller last week, but Hopkins could easily be the top fantasy receiver this week.
11. Keenan Allen, LAC vs PIT (WR3) — Allen came back to earth last week, but don't panic. He remains a front-end WR1 option.
12. Leonard Fournette, JAC vs NO (RB9) — Fournette enters the week third among running backs in touches per game with an average of 23.0.
13. Mark Ingram, BAL vs CIN (RB10) — Ingram gets the cheat code matchup against the Bengals run defense this week.
14. Michael Thomas, NO @ JAC (WR4) — Even with Teddy Bridgewater under center, the volume continues to be there for Thomas.
15. Travis Kelce, KC vs HOU (TE1) — He's locked in as the No. 1 fantasy tight end until further notice.
16. Derrick Henry, TEN @ DEN (RB11) — It isn't sexy, but Henry's healthy workload keeps him on the fringes of the RB1 conversation.
17. Cooper Kupp, LAR vs SF (WR5) — The Rams wideout already has four 100-yard receiving performances this season.
18. Amari Cooper, DAL @ NYJ (WR6) — Cooper went nuts last week in a tough matchup. What's going to happen this week in a favorable matchup?
19. Todd Gurley, LAR vs SF (RB12) — He isn't the Gurley of last season, but fantasy owners can still use him as a back-end RB1.
20. Le'Veon Bell, NYJ vs DAL (RB13) — We saw Aaron Jones absolutely shred this matchup last week.
21. Kerryon Johnson, DET @ GB (RB14) — Back from bye and in a plus matchup.
22. Chris Godwin, TB vs CAR (WR7) — Even when the Bucs offense is struggling, Godwin still puts up points.
23. Odell Beckham Jr., CLE vs SEA (WR8) — It's going to get better for Beckham. Trust me.
24. Adam Thielen, MIN vs PHI (WR9) — Thielen performed when he was supposed to last week and gets another favorable matchup.
25. Tyler Lockett, SEA @ CLE (WR10) — Lockett made one of the catches of the year last week and has emerged as Russell Wilson's favorite target.
26. Julian Edelman, NE vs NYG (WR11) — The only thing that could hold Edelman back this week is gamescript.
27. Mike Evans, TB vs CAR (WR12) — Sure, he put up a goose egg last week, but Evans is still 14th among receivers in fantasy scoring.
28. James Conner, PIT @ LAC (RB15) — The entire Steelers offense gets a downgrade with Mason Rudolph out this week.
29. Joe Mixon, CIN @ BAL (RB16) — It's tough to trust Mixon as anything more than an RB2 until further notice.
30. Tyler Boyd, CIN @ BAL (WR13) — Boyd is coming off a strong performance and remains Andy Dalton's top target.
31. Josh Gordon, NE vs NYG (WR14)
32. Larry Fitzgerald, ARI vs ATL (WR15)
33. Brandin Cooks, LAR vs SF (WR16)
34. Austin Ekeler, LAC vs PIT (RB17)
35. Sony Michel, NE vs NYG (RB18)
36. Robert Woods, LAR vs SF (WR17)
37. Melvin Gordon, LAC vs PIT (RB19)
38. Kenny Golladay, DET @ GB (WR18)
39. Phillip Lindsay, DEN vs TEN (RB20)
40. Devonta Freeman, ATL @ ARI (RB21)
41. Damien Williams, KC vs HOU (RB22) — Last week wasn't optimal from Williams, but he was clearly the lead back in Kansas City. That makes him at least a back-end RB2.
42. JuJu Smith-Schuster, PIT @ LAC (WR19)
43. Will Fuller, HOU @ KC (WR20)
44. James White, NE vs NYG (RB23)
45. D.J. Chark, JAC vs NO (WR21)
46. George Kittle, SF @ LAR (TE2)
47. Stefon Diggs, MIN vs PHI (WR22)
48. Marquise Brown, BAL vs CIN (WR23)
49. Jordan Howard, PHI @ MIN (RB24)
50. Austin Hooper, ATL @ ARI (TE3)
51. Calvin Ridley, ATL @ ARI (WR24)
52. Zach Ertz, PHI @ MIN (TE4)
53. Mark Andrews, BAL vs CIN (TE5)
54. Tyreek Hill, KC vs HOU (WR25) — If Hill manages to get back on the field this week, his ranking will climb up into WR1 territory.
55. Courtland Sutton, DEN vs TEN (WR26)
56. Alshon Jeffery, PHI @ MIN (WR27)
57. Will Dissly, SEA @ CLE (TE6)
58. Michael Gallup, DAL @ NYJ (WR28)
59. Terry McLaurin, WAS @ MIA (WR29)
60. Curtis Samuel, CAR @ TB (WR30)
61. Jarvis Landry, CLE vs SEA (WR31)
62. D.J. Moore, CAR @ TB (WR32)
63. Davante Adams, GB vs DET (WR33)
64. Emmanuel Sanders, DEN vs TEN (WR34)
65. Mike Williams, LAC vs PIT (WR35) — Don't ignore the fact that Williams saw 13 targets last week.
66. Greg Olsen, CAR @ TB (TE7)
67. Marquez Valdes-Scantling, GB vs DET (WR36)
68. Demarcus Robinson, KC vs HOU (WR37)
69. Matt Breida, SF @ LAR (RB25)
70. D.K. Metcalf, SEA @ CLE (WR38)
71. Dede Westbrook, JAC vs NO (WR39)
72. Mohamed Sanu, ATL @ ARI (WR40)
73. Marvin Jones, DET @ GB (WR41)
74. Robby Anderson, NYJ vs DAL (WR42)
75. LeSean McCoy, KC vs HOU (RB26)
76. Carlos Hyde, HOU @ KC (RB27)
77. Mecole Hardman, KC vs HOU (WR43)
78. Jimmy Graham, GB vs DET (TE8)
79. Golden Tate, NYG @ NE (WR44) — Sterling Shepard isn't going to play, but it's tough to trust Tate in a brutal matchup against the Patriots.
80. Royce Freeman, DEN vs TEN (RB28)
81. Auden Tate, CIN @ BAL (WR45)
82. Geronimo Allison, GB vs DET (WR46)
83. Jamison Crowder, NYJ vs DAL (WR47)
84. Tevin Coleman, SF @ LAR (RB29)
85. Ronald Jones II, TB vs CAR (RB30)
86. Deebo Samuel, SF @ LAR (WR48)
87. Adrian Peterson, WAS @ MIA (RB31)
88. Chris Thompson, WAS @ MIA (RB32)
89. Miles Sanders, PHI @ MIN (RB33) — Jordan Howard is the preferred Eagles running back, but Sanders owners should continue to hold.
90. Kenyan Drake, MIA vs WAS (RB34)
91. A.J. Brown, TEN @ DEN (WR49)
92. Duke Johnson, HOU @ KC (RB35)
93. Corey Davis, TEN @ DEN (WR50)
94. Diontae Johnson, PIT @ LAC (WR51)
95. Keke Coutee, HOU @ KC (WR52)
96. Preston Williams, MIA vs WAS (WR53)
97. Peyton Barber, TB vs CAR (RB36)
98. Ito Smith, ATL @ ARI (RB37)
99. Rashaad Penny, SEA @ CLE (RB38)
100. Delanie Walker, TEN @ DEN (TE9)
101. Gerald Everett, LAR vs SF (TE10) — Everett is in play as one of the top tight end streamer options of the week.
102. KeeSean Johnson, ARI vs ATL (WR54)
103. Marquise Goodwin, SF @ LAR (WR55)
104. Nelson Agholor, PHI @ MIN (WR56)
105. Willie Snead, BAL vs CIN (WR57)
106. Randall Cobb, DAL @ NYJ (WR58)
107. Paul Richardson, WAS @ MIA (WR59)
108. Sammy Watkins, KC vs HOU (WR60)
109. Demaryius Thomas, NYJ vs DAL (WR61)
110. Darius Slayton, NYG @ NE (WR62) — The speedy receiver has big-play upside, but he is more of a DFS option Thursday night.
111. Dante Pettis, SF @ LAR (WR63)
112. Ted Ginn, NO @ JAC (WR64)
113. Phillip Dorsett, NE vs NYG (WR65)
114. Giovani Bernard, CIN @ BAL (RB39)
115. Chris Conley, JAC vs NO (WR66)
116. DeVante Parker, MIA vs WAS (WR67)
117. Antonio Callaway, CLE vs SEA (WR68)
118. Trey Quinn, WAS @ MIA (WR69)
119. Albert Wilson, MIA vs WAS (WR70)
120. Adam Humphries, TEN @ DEN (WR71)
121. O.J. Howard, TB vs CAR (TE11)
122. Danny Amendola, DET @ GB (WR72)
123. Jared Cook, NO @ JAC (TE12)
124. Jonathan Hilliman, NYG @ NE (RB40) — It looks like Hilliman will be the lead back, but it's almost impossible to trust him as anything more than a desperation flex.
125. James Washington, PIT @ LAC (WR73)
126. Tre'Quan Smith, NO @ JAC (WR74)
127. Miles Boykin, BAL vs CIN (WR75)
128. Gus Edwards, BAL vs CIN (RB41)
129. Byron Pringle, KC vs HOU (WR76)
130. Trent Sherfield, ARI vs ATL (WR77)
131. Chase Edmonds, ARI vs ATL (RB42)
132. Noah Fant, DEN vs TEN (TE13)
133. Jakobi Meyers, NE vs NYG (WR78)
134. Christian Kirk, ARI vs ATL (WR79)
135. Jason Witten, DAL @ NYJ (TE14)
136. Chris Herndon IV, NYJ vs DAL (TE15)
137. Vance McDonald, PIT @ LAC (TE16)
138. Raheem Mostert, SF @ LAR (RB43)
139. Tyler Eifert, CIN @ BAL (TE17)
140. David Moore, SEA @ CLE (WR80)
141. T.J. Hockenson, DET @ GB (TE18)
142. DaeSean Hamilton, DEN vs TEN (WR81)
143. Malcolm Brown, LAR vs SF (RB44)
144. Mack Hollins, PHI @ MIN (WR82)
145. Jaron Brown, SEA @ CLE (WR83)
146. Jakeem Grant, MIA vs WAS (WR84)
147. Dion Lewis, TEN @ DEN (RB45)
148. Andy Isabella, ARI vs ATL (WR85)
149. Tony Pollard, DAL @ NYJ (RB46)
150. Jordan Akins, HOU @ KC (TE19)