It's Wednesday and that means it's time to breakout the flex fantasy football rankings for Week 11 of the 2019 NFL season. If you're new to the concept of flex rankings, these are simply the combined overall rankings for running back, wide receiver, and tight end for each week during the fantasy football season.
This list is our initial rankings, but it will change a lot throughout the week. If you want all of the latest updates, then be sure to check our staff rankings page.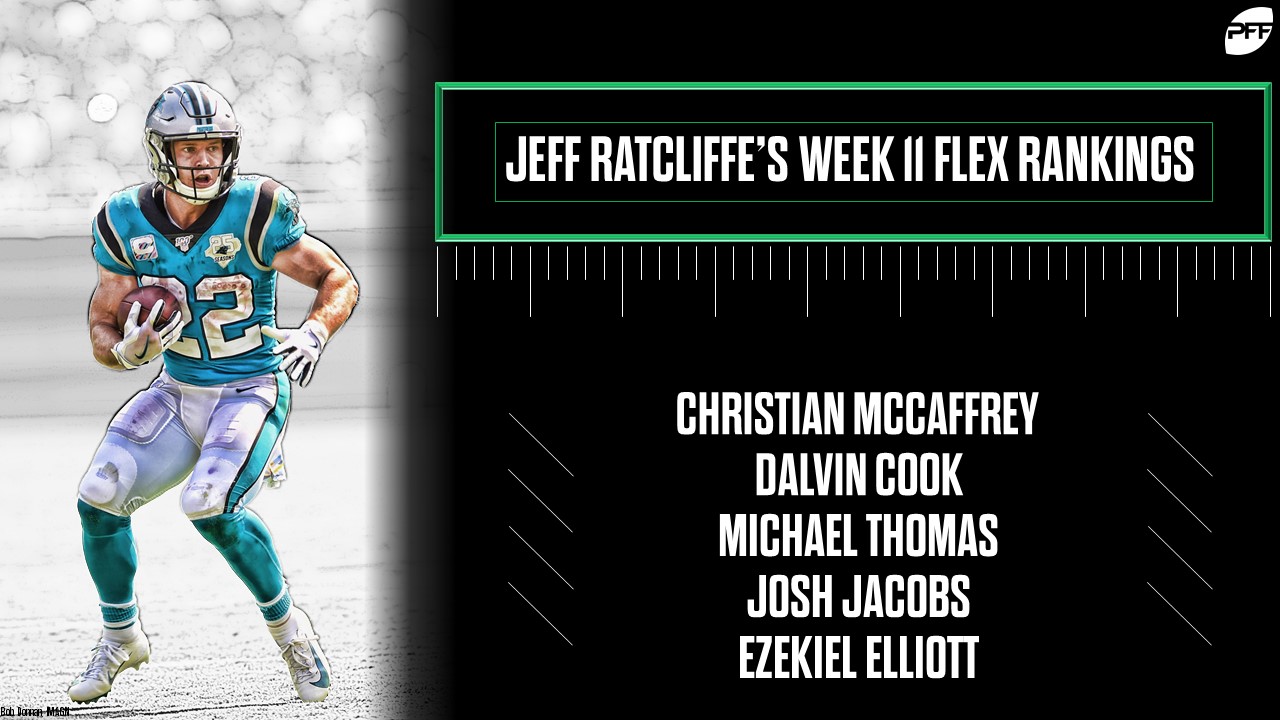 1. Christian McCaffrey, CAR vs ATL (RB1) — This one really doesn't need any explanation at this point.
2. Dalvin Cook, MIN vs DEN (RB2) — Denver is a tough run defense, but Cook's volume and efficiency are more than enough to negate the matchup.
3. Michael Thomas, NO @ TB (WR1) — Does he top 100 catches this week?
4. Josh Jacobs, OAK vs CIN (RB3) — Jacobs gets the cheat code matchup this week against the Bengals.
5. Ezekiel Elliott, DAL @ DET (RB4) — Last week was a down performance in a tough matchup, but Elliott bounces back in this one.
6. Leonard Fournette, JAC @ IND (RB5) — Expect the heavy volume to continue for Fournette with the Jags returning from bye.
7. Melvin Gordon, LAC vs KC (RB6) — We've seen the scales tip in Gordon's favor in the Chargers backfield. He's back to RB1 status.
8. Tyreek Hill, KC @ LAC (WR2) — Hill was a monster last week. Expect more of the same against the Chargers.
9. Julio Jones, ATL @ CAR (WR3) — It hasn't been the flashiest season, but Jones enters the week with 53 catches and an average of 14.9 yards per reception.
10. DeAndre Hopkins, HOU @ BAL (WR4) — Hopkins has seen double-digit targets in each of his last four games.
11. Alvin Kamara, NO @ TB (RB7) — The Bucs are tough against the run, but Kamara can also get it done as a receiver.
12. James Conner, PIT @ CLE (RB8) — The Steelers back will return this week and should see plenty of volume on Thursday night.
13. Le'Veon Bell, NYJ @ WAS (RB9) — He isn't a fantasy favorite, but Bell has been a top-12 running back in each of the last two weeks.
14. Mike Evans, TB vs NO (WR5) — No Marshon Lattimore means big-time upside from Evans this week.
15. Marlon Mack, IND vs JAC (RB10) — The Jags give up chunk yards to running backs, so expect a healthy total from Mack this week.
16. Chris Godwin, TB vs NO (WR6) — Godwin went off the last time he faced the Saints.
17. Nick Chubb, CLE vs PIT (RB11) — This is a rough matchup, but Chubb sees enough volume to slide into the back-end of the RB1s.
18. Tevin Coleman, SF vs ARI (RB12) — With Matt Breida banged up, Coleman gets a slight fantasy boost this week.
19. Travis Kelce, KC @ LAC (TE1) — Kelce is coming off one of his best fantasy performances of the season and continues to roll this week.
20. Amari Cooper, DAL @ DET (WR7) — The Cowboys passing game is clicking and Cooper is currently fantasy's No. 4 receiver.
21. Julian Edelman, NE @ PHI (WR8) — Philly's secondary has been giving up points in bunches to wideouts all season.
22. Damien Williams, KC @ LAC (RB13) — With LeSean McCoy on the outs, Williams is now the clear top dog in Kansas City.
23. Cooper Kupp, LAR vs CHI (WR9) — Don't worry about last week. Kupp bounces back against the Bears.
24. Brian Hill, ATL @ CAR (RB14) — With Devonta Freeman banged up, Hill is poised for a three-down workload.
25. D.J. Moore, CAR vs ATL (WR10) — Moore has topped 100 yards in each of his last two games and gets a plus matchup.
26. John Brown, BUF @ MIA (WR11) — Speaking of good matchups, we're upgrading Brown this week against the Dolphins.
27. Mark Ingram, BAL vs HOU (RB15) — He doesn't see a ton of volume, but Ingram is one of the league's most efficient backs from a fantasy standpoint.
28. Devin Singletary, BUF @ MIA (RB16) — Singletary came back to earth last week, but he's worth starting against Miami.
29. George Kittle, SF vs ARI (TE2) — Keep an eye on Kittle's status. If he plays, he's going to shred the Cardinals.
30. D.J. Chark, JAC @ IND (WR12) — Nick Foles under center should help Chark continue his breakout season.
31. Keenan Allen, LAC vs KC (WR13)
32. Joe Mixon, CIN @ OAK (RB17)
33. Todd Gurley, LAR vs CHI (RB18)
34. Austin Ekeler, LAC vs KC (RB19)
35. Stefon Diggs, MIN vs DEN (WR14)
36. Hunter Henry, LAC vs KC (TE3)
37. Odell Beckham Jr., CLE vs PIT (WR15) — It isn't a terrible matchup for Beckham, but it's tough to trust him as anything more than a WR2.
38. Marquise Brown, BAL vs HOU (WR16)
39. Allen Robinson, CHI @ LAR (WR17)
40. David Montgomery, CHI @ LAR (RB20)
41. Phillip Lindsay, DEN @ MIN (RB21)
42. Courtland Sutton, DEN @ MIN (WR18)
43. Michael Gallup, DAL @ DET (WR19)
44. Emmanuel Sanders, SF vs ARI (WR20) — Sanders is looking like a game-time decision. Deebo Samuel will move up to WR2 territory if Sanders can't play.
45. Ronald Jones II, TB vs NO (RB22)
46. Terry McLaurin, WAS vs NYJ (WR21)
47. Kenny Golladay, DET vs DAL (WR22)
48. Curtis Samuel, CAR vs ATL (WR23)
49. Mark Andrews, BAL vs HOU (TE4)
50. JuJu Smith-Schuster, PIT @ CLE (WR24) — How the mighty have fallen. Smith-Schuster is now just a back-end WR2 play.
51. Tyrell Williams, OAK vs CIN (WR25)
52. Jarvis Landry, CLE vs PIT (WR26)
53. Matt Breida, SF vs ARI (RB23)
54. James White, NE @ PHI (RB24)
55. Mike Williams, LAC vs KC (WR27)
56. Calvin Ridley, ATL @ CAR (WR28)
57. Robert Woods, LAR vs CHI (WR29)
58. Carlos Hyde, HOU @ BAL (RB25)
59. Christian Kirk, ARI @ SF (WR30)
60. Jamison Crowder, NYJ @ WAS (WR31)
61. Jordan Howard, PHI vs NE (RB26)
62. Darren Waller, OAK vs CIN (TE5)
63. Mohamed Sanu, NE @ PHI (WR32) — Sanu was trending up before the bye and slots in as a WR3 option against the Eagles.
64. Zach Ertz, PHI vs NE (TE6)
65. Kenyan Drake, ARI @ SF (RB27)
66. Sammy Watkins, KC @ LAC (WR33)
67. Sony Michel, NE @ PHI (RB28)
68. Tyler Boyd, CIN @ OAK (WR34)
69. Kalen Ballage, MIA vs BUF (RB29)
70. Royce Freeman, DEN @ MIN (RB30)
71. Marvin Jones, DET vs DAL (WR35)
72. DeVante Parker, MIA vs BUF (WR36)
73. Adrian Peterson, WAS vs NYJ (RB31)
74. J.D. McKissic, DET vs DAL (RB32) — With Ty Johnson banged up, McKissic could likely end up as a desperation flex play this week.
75. Miles Sanders, PHI vs NE (RB33)
76. David Johnson, ARI @ SF (RB34)
77. Kareem Hunt, CLE vs PIT (RB35)
78. Deebo Samuel, SF vs ARI (WR37)
79. Jared Cook, NO @ TB (TE7)
80. Raheem Mostert, SF vs ARI (RB36)
81. Latavius Murray, NO @ TB (RB37)
82. Zach Pascal, IND vs JAC (WR38)
83. Alshon Jeffery, PHI vs NE (WR39) — Jeffery is a WR2 most weeks, but a shadow from Stephon Gilmore makes it tough to trust the Eagles wideout.
84. Jaylen Samuels, PIT @ CLE (RB38)
85. Kenny Stills, HOU @ BAL (WR40)
86. Robby Anderson, NYJ @ WAS (WR41)
87. Dede Westbrook, JAC @ IND (WR42)
88. Phillip Dorsett, NE @ PHI (WR43)
89. Josh Reynolds, LAR vs CHI (WR44)
90. Frank Gore, BUF @ MIA (RB39)
91. Greg Olsen, CAR vs ATL (TE8)
92. Larry Fitzgerald, ARI @ SF (WR45)
93. Cole Beasley, BUF @ MIA (WR46)
94. Demaryius Thomas, NYJ @ WAS (WR47) — Thomas is trending up, but not quite enough to warrant starter consideration.
95. Auden Tate, CIN @ OAK (WR48)
96. Ted Ginn, NO @ TB (WR49)
97. Duke Johnson, HOU @ BAL (RB40)
98. Tarik Cohen, CHI @ LAR (RB41)
99. Gerald Everett, LAR vs CHI (TE9)
100. Eric Ebron, IND vs JAC (TE10)
101. Hunter Renfrow, OAK vs CIN (WR50)
102. Diontae Johnson, PIT @ CLE (WR51)
103. Derrius Guice, WAS vs NYJ (RB42)
104. Jack Doyle, IND vs JAC (TE11)
105. Randall Cobb, DAL @ DET (WR52)
106. O.J. Howard, TB vs NO (TE12) — Howard finally got in the end zone last week, but he's still just a streamer.
107. Chester Rogers, IND vs JAC (WR53)
108. Taylor Gabriel, CHI @ LAR (WR54)
109. Chris Conley, JAC @ IND (WR55)
110. Rex Burkhead, NE @ PHI (RB43)
111. James Washington, PIT @ CLE (WR56)
112. Olabisi Johnson, MIN vs DEN (WR57)
113. Russell Gage, ATL @ CAR (WR58)
114. Noah Fant, DEN @ MIN (TE13)
115. Mecole Hardman, KC @ LAC (WR59)
116. Nyheim Hines, IND vs JAC (RB44)
117. Nelson Agholor, PHI vs NE (WR60)
118. Danny Amendola, DET vs DAL (WR61)
119. Alexander Mattison, MIN vs DEN (RB45) — We aren't starting Mattison, but he absolutely needs to be owned.
120. LeSean McCoy, KC @ LAC (RB46)
121. Kyle Rudolph, MIN vs DEN (TE14)
122. Vance McDonald, PIT @ CLE (TE15)
123. Jakeem Grant, MIA vs BUF (WR62)
124. Darren Fells, HOU @ BAL (TE16)
125. Paul Richardson, WAS vs NYJ (WR63)
126. T.J. Hockenson, DET vs DAL (TE17)
127. Dallas Goedert, PHI vs NE (TE18)
128. Allen Hurns, MIA vs BUF (WR64)
129. Jason Witten, DAL @ DET (TE19)
130. Alex Erickson, CIN @ OAK (WR65)
131. Tyler Eifert, CIN @ OAK (TE20)
132. Irv Smith Jr., MIN vs DEN (TE21)
133. Jalen Richard, OAK vs CIN (RB47)
134. Tre'Quan Smith, NO @ TB (WR66)
135. Willie Snead, BAL vs HOU (WR67)
136. Mike Gesicki, MIA vs BUF (TE22)
137. Trey Quinn, WAS vs NYJ (WR68)
138. Demarcus Robinson, KC @ LAC (WR69)
139. Ty Johnson, DET vs DAL (RB48)
140. Anthony Miller, CHI @ LAR (WR70)
141. Luke Stocker, ATL @ CAR (TE23)
142. Rashard Higgins, CLE vs PIT (WR71)
143. Andy Isabella, ARI @ SF (WR72)
144. Albert Wilson, MIA vs BUF (WR73)
145. Zay Jones, OAK vs CIN (WR74)
146. Kendrick Bourne, SF vs ARI (WR75)
147. Isaiah McKenzie, BUF @ MIA (WR76)
148. Darrel Williams, KC @ LAC (RB49)
149. Peyton Barber, TB vs NO (RB50)
150. Paul Perkins, DET vs DAL (RB51)