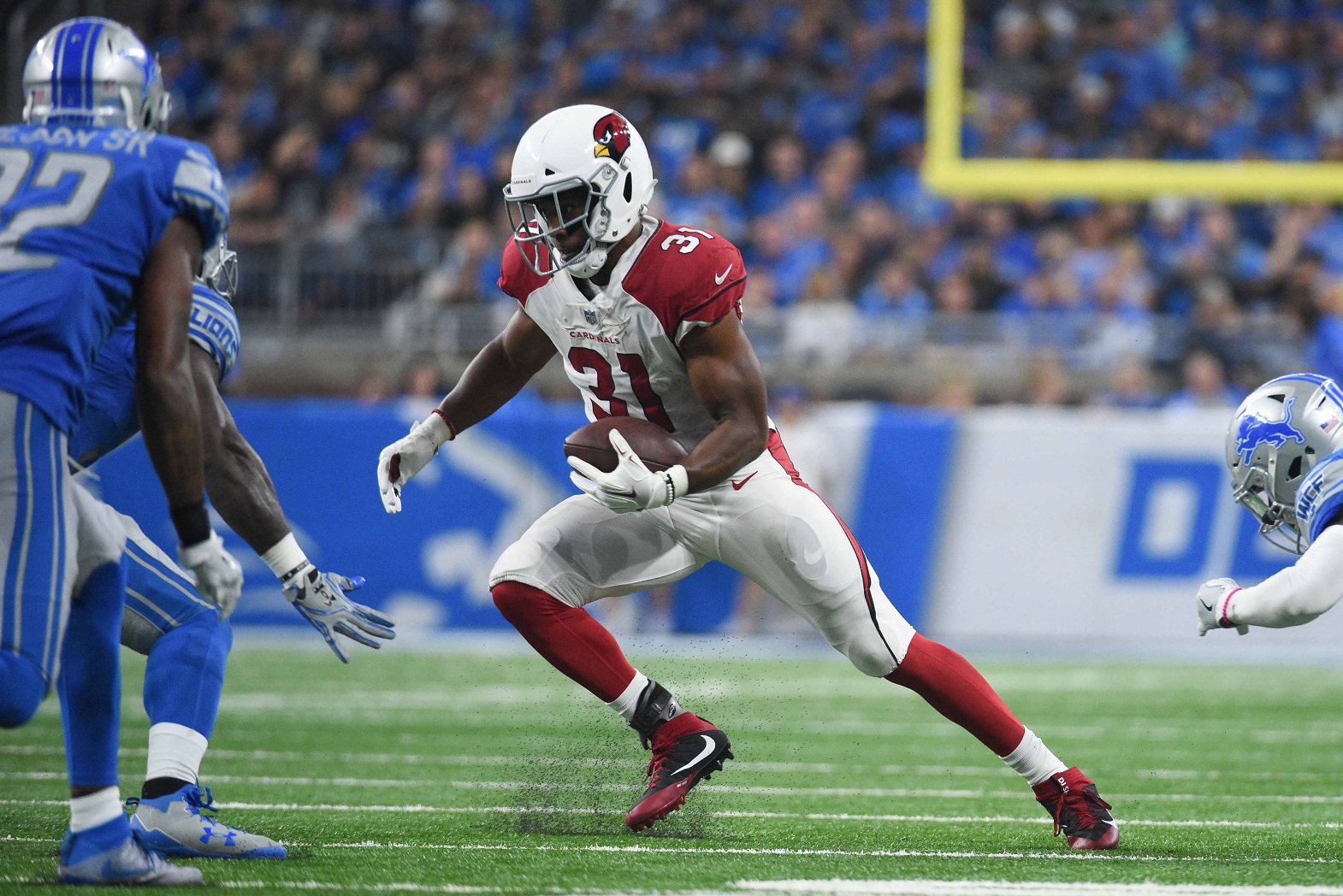 Sep 10, 2017; Detroit, MI, USA; Arizona Cardinals running back David Johnson (31) runs the ball during the third quarter against the Detroit Lions at Ford Field. Mandatory Credit: Tim Fuller-USA TODAY Sports
It's Wednesday and that means it's time to start making your start and sit decisions for your fantasy football lineups. One of the best resources to help you is our flex fantasy football rankings for Week 11 of the NFL season. Remember that rankings change throughout the week, so be sure to check our staff rankings for updates.
1. Todd Gurley, LAR vs KC (RB1) — Get ready for fireworks Monday night.
2. Melvin Gordon, LAC vs DEN (RB2) — Gordon is rolling and gets a plus matchup against a Broncos defense that has struggled against the run this season.
3. Saquon Barkley, NYG vs TB (RB3) — His ability as a receiver gives Barkley and enormous weekly floor.
4. Kareem Hunt, KC @ LAR (RB4) — Hunt is coming off somewhat of a down week, but he'll bounce back in a big way against the Rams.
5. Ezekiel Elliott, DAL @ ATL (RB5) — After shredding one of the league's best run defenses, Elliott gets to face one of the league's worst run defenses.
6. David Johnson, ARI vs OAK (RB6) — It took half the season, but Johnson is finally showing why he was a top-five fantasy pick this year.
7. Michael Thomas, NO vs PHI (WR1) — Thomas is on fire and faces a banged-up Eagles secondary. Giddy up.
8. Odell Beckham Jr., NYG vs TB (WR2) — He's coming off a two-score game and gets a matchup upgrade against the Bucs.
9. DeAndre Hopkins, HOU @ WAS (WR3) — Hopkins will see his share of Josh Norman, but it doesn't matter. He's an every-week elite play.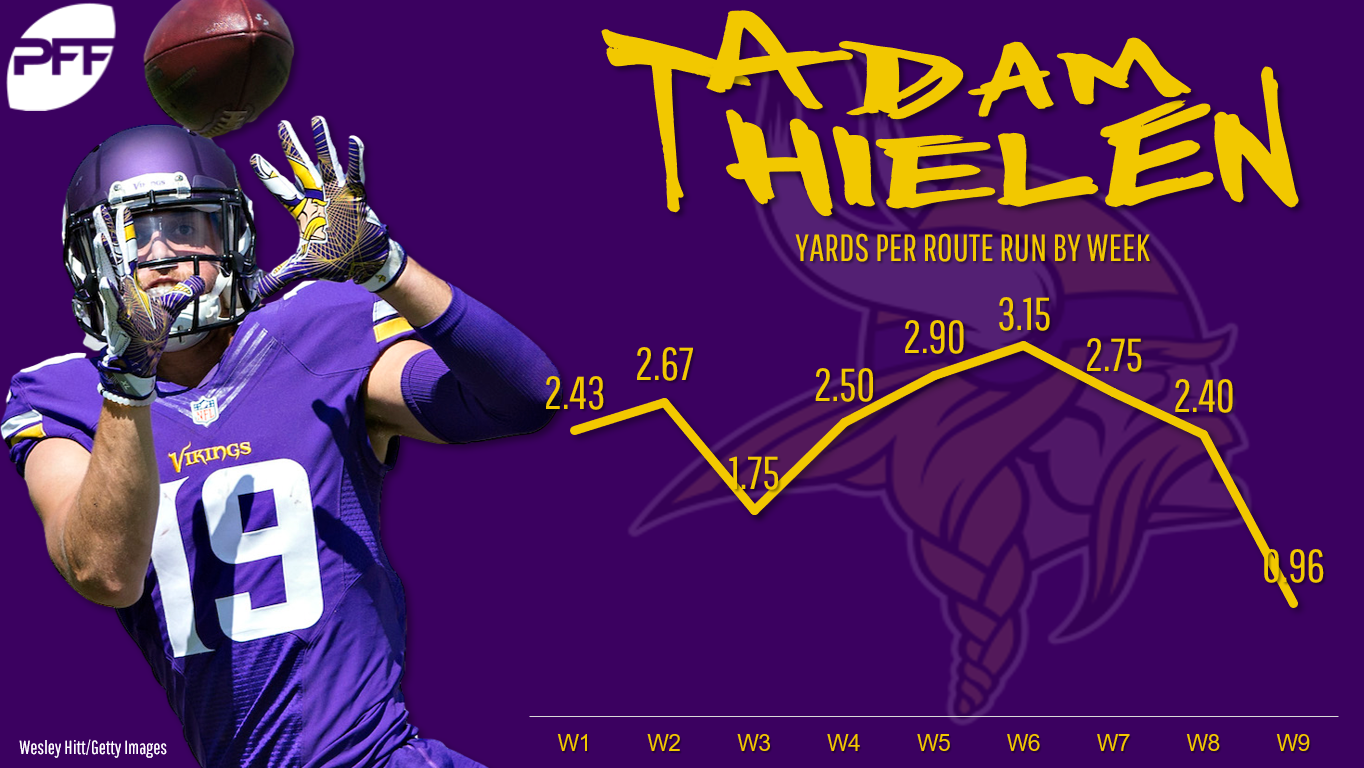 10. Adam Thielen, MIN @ CHI (WR4) — This is a tough matchup for Thielen, but he's still capable of putting up WR1 numbers.
11. Antonio Brown, PIT @ JAC (WR5) — Brown will likely see a shadow from Jalen Ramsey this week.
12. Alvin Kamara, NO vs PHI (RB7) — Kamara's volume has taken a hit with Mark Ingram back, but he's still a front-end RB1 play.
13. Christian McCaffrey, CAR @ DET (RB8) — McCaffrey has been a touchdown machine over his last two games.
14. James Conner, PIT @ JAC (RB9) — The Le'Veon Bell drama is over, but this is a relatively tough matchup for Conner.
15. Tyreek Hill, KC @ LAR (WR6) — Hill has explosive upside in this matchup with an enormous 63-point over/under.

16. Julio Jones, ATL vs DAL (WR7) — Jones has scored in back-to-back games.
17. Davante Adams, GB @ SEA (WR8) — He enters the week just one score away from notching his third-straight season with double-digit touchdowns.
18. Phillip Lindsay, DEN @ LAC (RB10) — Royce Freeman could be back this week, but Lindsay is still in the back-end RB1 conversation with a plus matchup on tap.
19. Travis Kelce, KC @ LAR (TE1) — If you own Kelce, you're one of the rare fantasy players who is sitting pretty at tight end.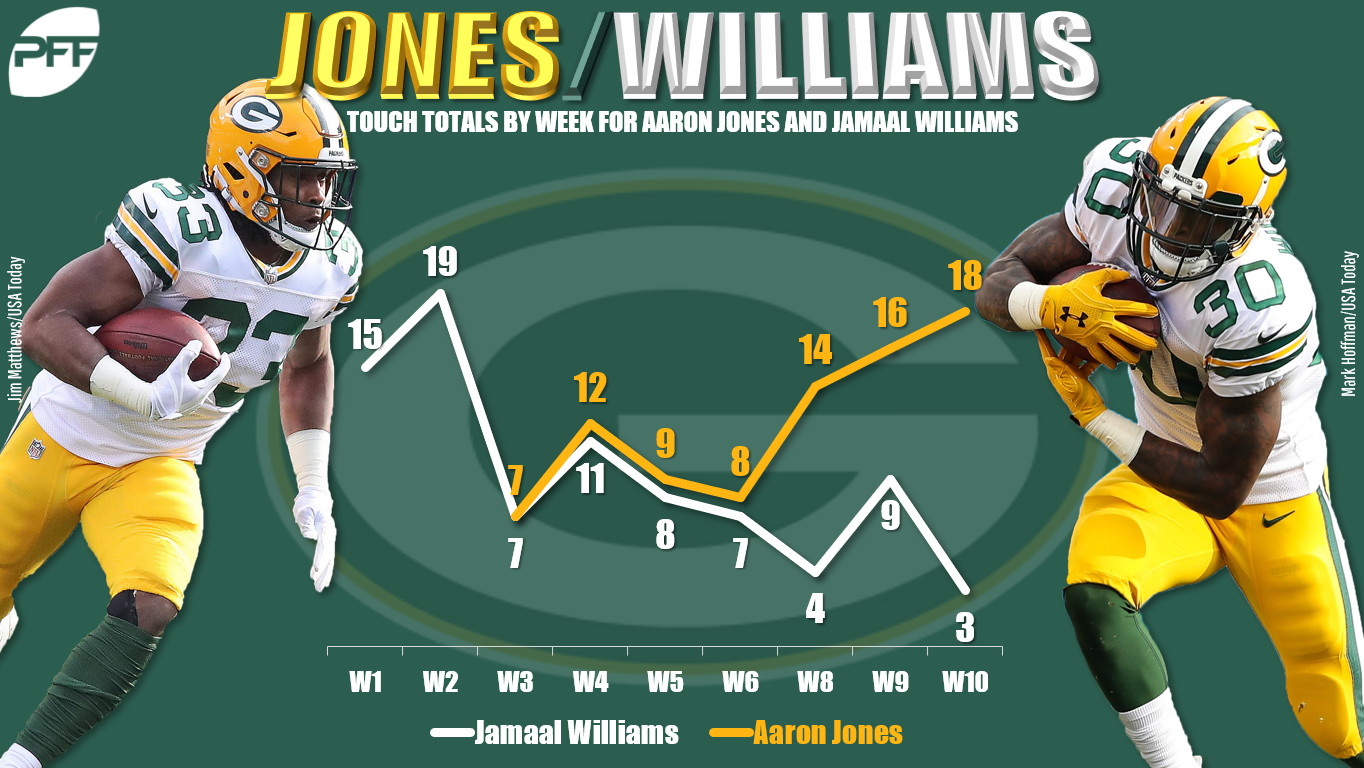 20. Aaron Jones, GB @ SEA (RB11) — The Packers finally unleashed Jones last week.
21. Tevin Coleman, ATL vs DAL (RB12) — Coleman is on a bit of a roll and is in play as a fringe RB1 this week.
22. Robert Woods, LAR vs KC (WR9) — Woods screeams upside in this explosive matchup…
23. Brandin Cooks, LAR vs KC (WR10) — …and so does Cooks.
24. Keenan Allen, LAC vs DEN (WR11) — He hasn't been able to recapture last season's upside, but Allen is surging at the right time for fantasy purposes.
25. Leonard Fournette, JAC vs PIT (RB13) — This isn't the best matchup, but Fournette stepped right back into a lead role last week.
26. Joe Mixon, CIN @ BAL (RB14) — Mixon get a terrible draw against the Ravens, but he's still in play as an RB2 option.
27. Dion Lewis, TEN @ IND (RB15) — Lewis remains the lead back ahead of Derrick Henry in Tennessee.
28. JuJu Smith-Schuster, PIT @ JAC (WR12) — Smith-Schuster could benefit from Jalen Ramsey being on Antonio Brown this week.
29. Emmanuel Sanders, DEN @ LAC (WR13) — Sanders is locked in as a fringe WR1 play going forward with Demaryius Thomas out of the mix.
30. Mike Evans, TB @ NYG (WR14) — Evans has been up and down this season, but his high ceiling keeps him in the front-end WR2 conversation.
31. Zach Ertz, PHI @ NO (TE2)
32. Stefon Diggs, MIN @ CHI (WR15)
33. Marlon Mack, IND vs TEN (RB16)
34. Mark Ingram, NO vs PHI (RB17)
35. Kenny Golladay, DET vs CAR (WR16)
36. T.Y. Hilton, IND vs TEN (WR17)
37. Tarik Cohen, CHI vs MIN (RB18)
38. Kerryon Johnson, DET vs CAR (RB19) — With Johnson's role continuing to expand, he's now an every-week RB2.
39. Tyler Boyd, CIN @ BAL (WR18)
40. Alex Collins, BAL vs CIN (RB20)
41. Marvin Jones, DET vs CAR (WR19)
42. Corey Davis, TEN @ IND (WR20)
43. Tyler Lockett, SEA vs GB (WR21)
44. Dalvin Cook, MIN @ CHI (RB21)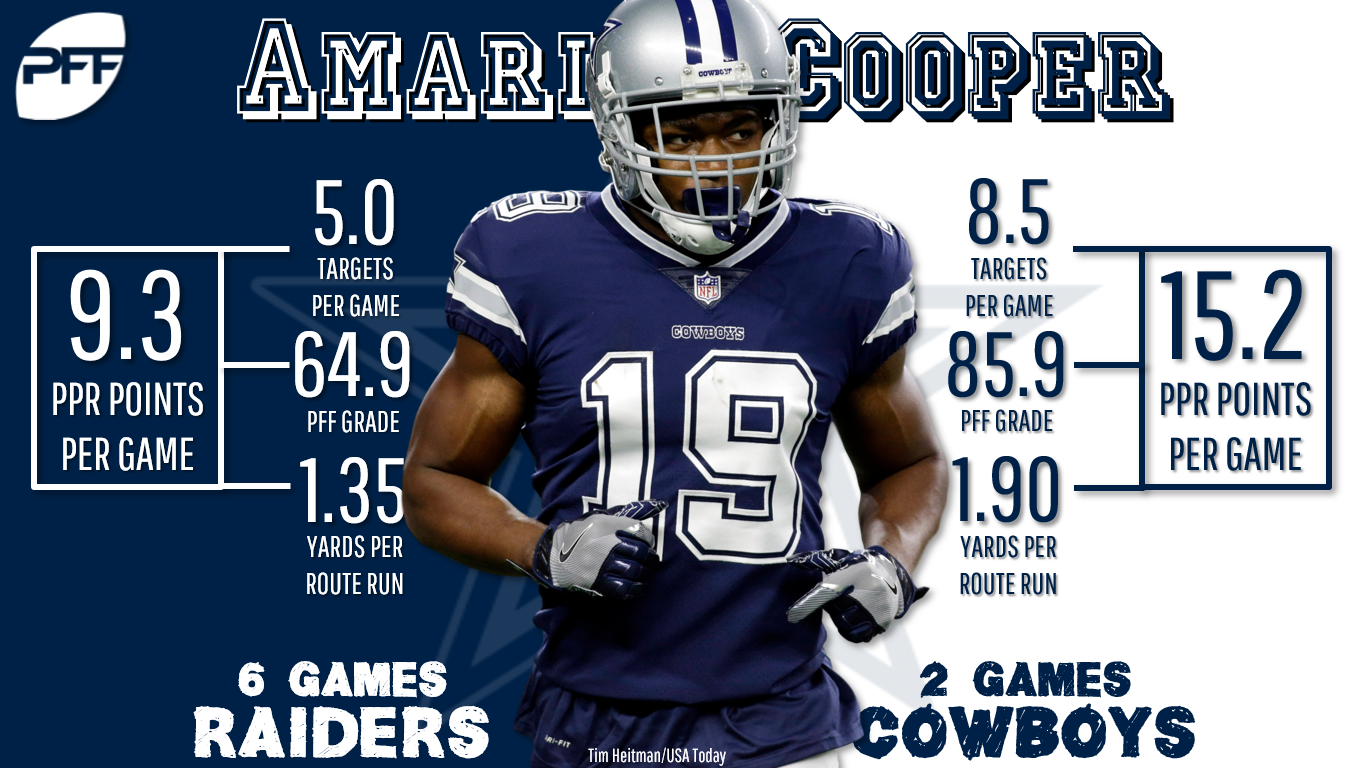 45. Amari Cooper, DAL @ ATL (WR22) — Cooper looks comfortable in the Dallas offense. His value is starting to creep up.
46. Greg Olsen, CAR @ DET (TE3)
47. O.J. Howard, TB @ NYG (TE4)
48. Adrian Peterson, WAS vs HOU (RB22)
49. John Brown, BAL vs CIN (WR23)
50. Larry Fitzgerald, ARI vs OAK (WR24)
51. Mike Davis, SEA vs GB (RB23)
52. Alshon Jeffery, PHI @ NO (WR25)
53. Sammy Watkins, KC @ LAR (WR26)
54. Lamar Miller, HOU @ WAS (RB24)
55. Marquez Valdes-Scantling, GB @ SEA (WR27) — Last week wasn't great for MVS, but he did equal Davante Adams in targets with seven.
56. DeSean Jackson, TB @ NYG (WR28)
57. Jimmy Graham, GB @ SEA (TE5)
58. Allen Robinson, CHI vs MIN (WR29)
59. Devin Funchess, CAR @ DET (WR30)
60. Doug Martin, OAK @ ARI (RB25)
61. Courtland Sutton, DEN @ LAC (WR31)
62. Jordan Howard, CHI vs MIN (RB26) — Howard's struggle on the ground is real. If he doesn't find the end zone, he's a good bet for a fantasy dud.
63. Ito Smith, ATL vs DAL (RB27)
64. Jalen Richard, OAK @ ARI (RB28)
65. Sterling Shepard, NYG vs TB (WR32)
66. Evan Engram, NYG vs TB (TE6)
67. Trey Burton, CHI vs MIN (TE7)
68. Jack Doyle, IND vs TEN (TE8)
69. Jared Cook, OAK @ ARI (TE9)
70. Doug Baldwin, SEA vs GB (WR33)
71. Michael Crabtree, BAL vs CIN (WR34)
72. Golden Tate, PHI @ NO (WR35) — Look for Tate's role to expand this week.
73. Peyton Barber, TB @ NYG (RB29)
74. Derrick Henry, TEN @ IND (RB30)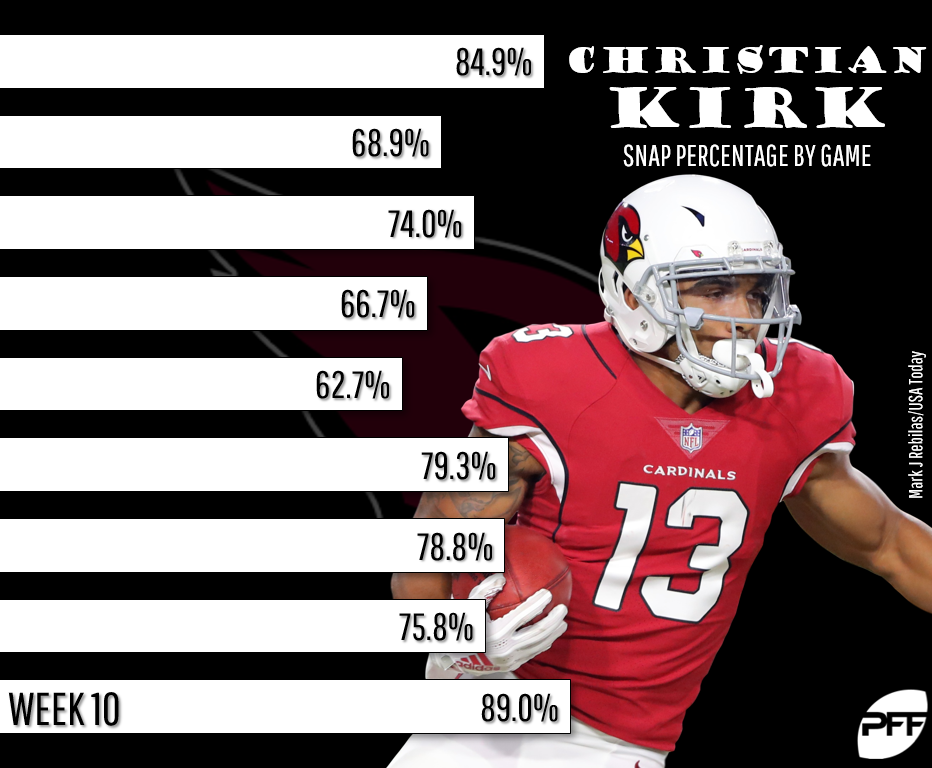 75. Christian Kirk, ARI vs OAK (WR36)
76. Rashaad Penny, SEA vs GB (RB31)
77. Austin Ekeler, LAC vs DEN (RB32)
78. Austin Hooper, ATL vs DAL (TE10)
79. Calvin Ridley, ATL vs DAL (WR37)
80. Latavius Murray, MIN @ CHI (RB33)
81. Jordan Reed, WAS vs HOU (TE11) — Reed isn't being targeted in the end zone, and that's putting a major damper on his fantasy value.
82. Eric Ebron, IND vs TEN (TE12)
83. Demaryius Thomas, HOU @ WAS (WR38)
84. C.J. Uzomah, CIN @ BAL (TE13)
85. Theo Riddick, DET vs CAR (RB34)
86. Anthony Miller, CHI vs MIN (WR39) — Miller is heating up and is worth a look as a flex option in deeper leagues.
87. Mohamed Sanu, ATL vs DAL (WR40)
88. Tyrell Williams, LAC vs DEN (WR41)
89. Wendell Smallwood, PHI @ NO (RB35)
90. T.J. Yeldon, JAC vs PIT (RB36)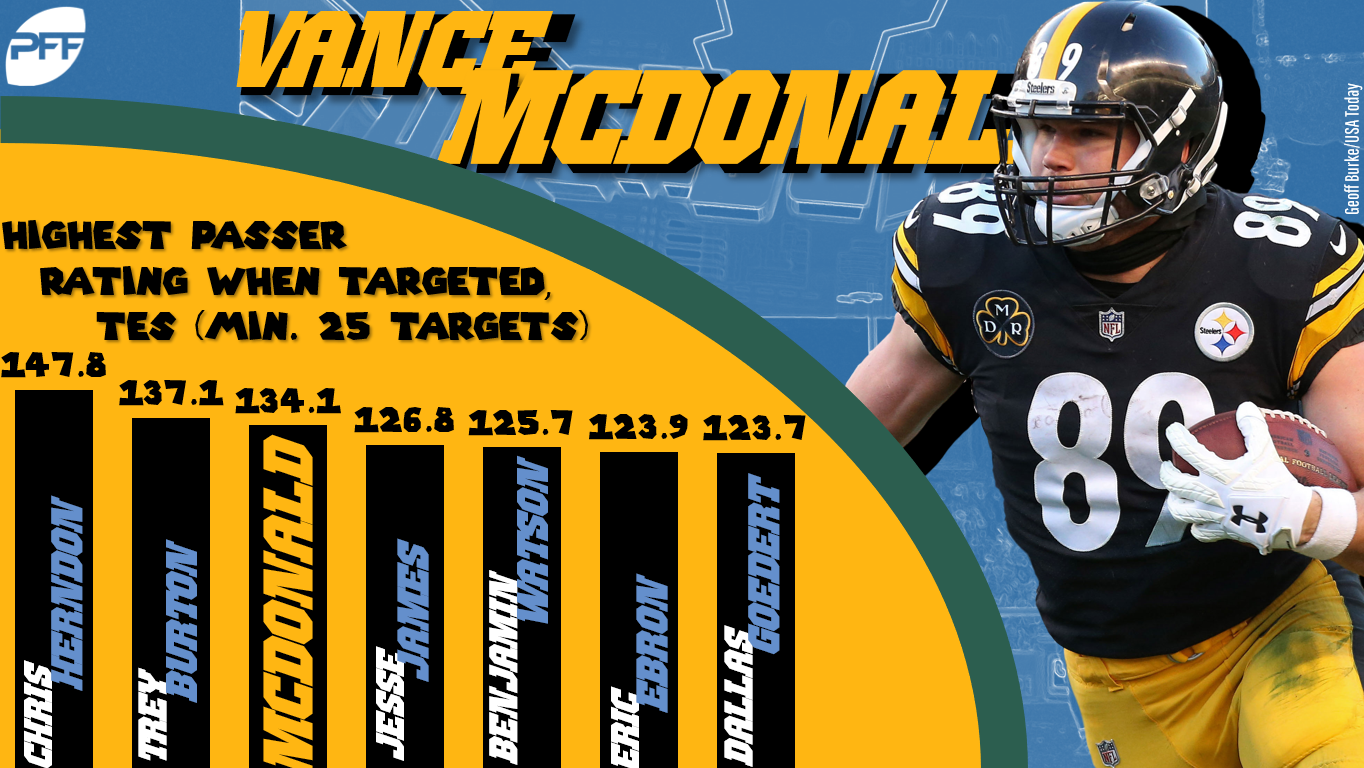 91. Vance McDonald, PIT @ JAC (TE14)
92. Donte Moncrief, JAC vs PIT (WR42)
93. Chris Godwin, TB @ NYG (WR43)
94. Royce Freeman, DEN @ LAC (RB37)
95. Nyheim Hines, IND vs TEN (RB38)
96. Kyle Rudolph, MIN @ CHI (TE15)
97. Giovani Bernard, CIN @ BAL (RB39)
98. Willie Snead, BAL vs CIN (WR44)
99. Jacquizz Rodgers, TB @ NYG (RB40) — Don't expect 100-plus yards out of Rodgers again, but he's worth adding in PPR leagues.
100. Dede Westbrook, JAC vs PIT (WR45)
101. Ricky Seals-Jones, ARI vs OAK (TE16)
102. Keke Coutee, HOU @ WAS (WR46)
103. Josh Reynolds, LAR vs KC (WR47)
104. Tre'Quan Smith, NO vs PHI (WR48)
105. Josh Adams, PHI @ NO (RB41) — Expect Adams to continue to see more work going forward.
106. David Moore, SEA vs GB (WR49)
107. D.J. Moore, CAR @ DET (WR50)
108. Taylor Gabriel, CHI vs MIN (WR51)
109. Jeff Heuerman, DEN @ LAC (TE17)
110. Cole Beasley, DAL @ ATL (WR52)
111. Kapri Bibbs, WAS vs HOU (RB42)
112. Mike Williams, LAC vs DEN (WR53)
113. Maurice Harris, WAS vs HOU (WR54)
114. John Ross, CIN @ BAL (WR55) — Ross got in the end zone last week, but only caught two balls on eight targets.
115. Nick Vannett, SEA vs GB (TE18)
116. Nelson Agholor, PHI @ NO (WR56)
117. Seth Roberts, OAK @ ARI (WR57)
118. Alfred Blue, HOU @ WAS (RB43)
119. Michael Gallup, DAL @ ATL (WR58)
120. Benjamin Watson, NO vs PHI (TE19)
121. Adam Humphries, TB @ NYG (WR59)
122. Josh Doctson, WAS vs HOU (WR60)
123. Brandon LaFell, OAK @ ARI (WR61)
124. Curtis Samuel, CAR @ DET (WR62)
125. Corey Clement, PHI @ NO (RB44)
126. Aldrick Robinson, MIN @ CHI (WR63)
127. Dontrelle Inman, IND vs TEN (WR64)
128. Laquon Treadwell, MIN @ CHI (WR65)
129. Ryan Grant, IND vs TEN (WR66)
130. Javorius Allen, BAL vs CIN (RB45)
131. D.J. Chark, JAC vs PIT (WR67)
132. Allen Hurns, DAL @ ATL (WR68)
133. Tajae Sharpe, TEN @ IND (WR69)
134. Bennie Fowler, NYG vs TB (WR70)
135. Chester Rogers, IND vs TEN (WR71)
136. Austin Carr, NO vs PHI (WR72)
137. Chris Conley, KC @ LAR (WR73)
138. TJ Jones, DET vs CAR (WR74)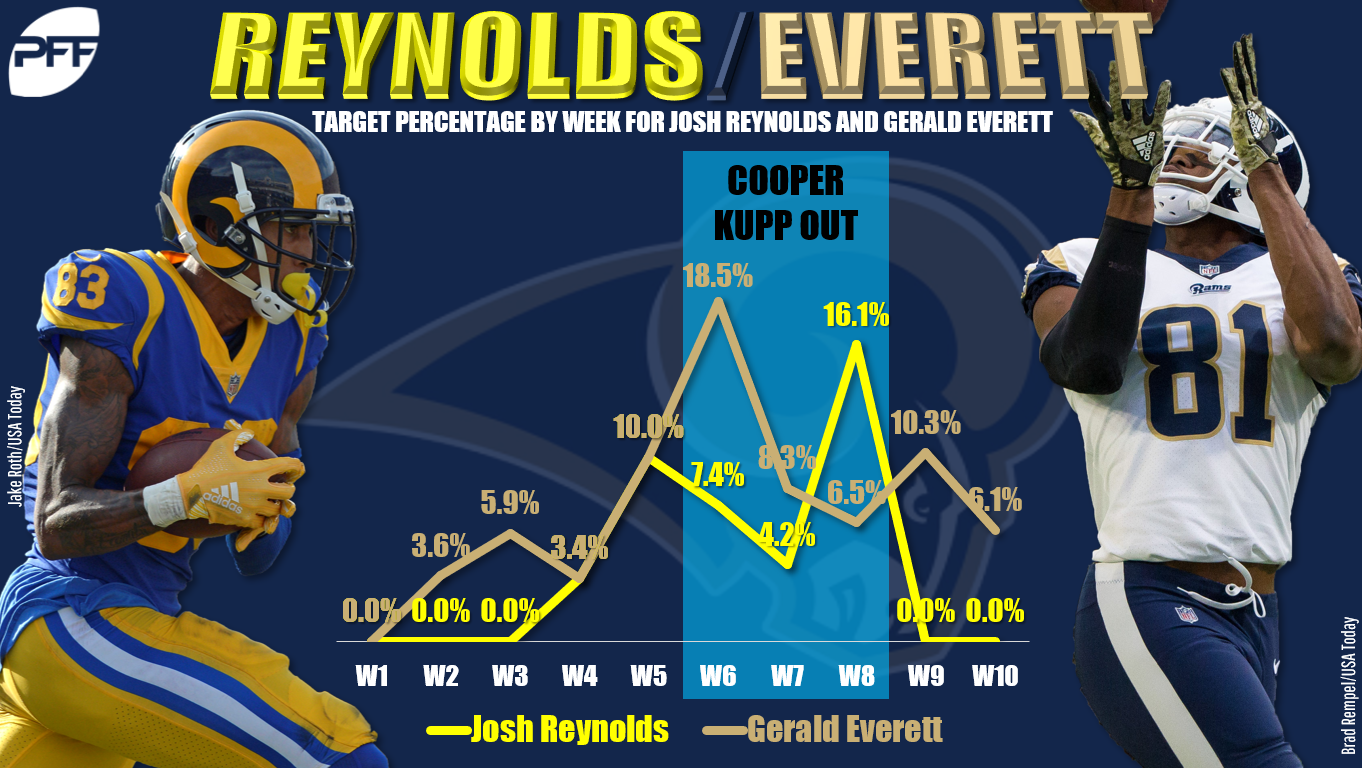 139. Gerald Everett, LAR vs KC (TE20)
140. Keelan Cole, JAC vs PIT (WR75)
141. Ty Montgomery, BAL vs CIN (RB46)
142. Devontae Booker, DEN @ LAC (RB47)
143. Jonnu Smith, TEN @ IND (TE21)
144. Equanimeous St. Brown, GB @ SEA (WR76)
145. Jamaal Williams, GB @ SEA (RB48)
146. James Washington, PIT @ JAC (WR77)
147. James O'Shaughnessy, JAC vs PIT (TE22)
148. Jesse James, PIT @ JAC (TE23)
149. Jarius Wright, CAR @ DET (WR78)
150. Geoff Swaim, DAL @ ATL (TE24)
(READ MORE: Scott Barrett takes a look at fantasy efficiency around the league. And Pat Thorman examines the Week 11 games from a snaps and pace perspective.)