We're back again with a look at trade candidates, fantasy football players you might want to add based on possible production heading into Week 5 of the NFL season.
The early-season suspensions of players like Julian Edelman and Mark Ingram have come to an end. That's great news if you have them on your benches but bad news if you missed your windows to trade for them. But even if you fall in that latter camp, there are still plenty of trades out there. This and every week, I'll suggest players to target based on the four sources of fantasy market inefficiency:
Future opponent tendencies
Limitations because of injuries or suspensions
Efficiency metrics that suggest likely gains or losses in opportunities
Affectations, or the artificial inflation or deflation of value because of fads.
Here are my FLEA market finds for Week 5.
Future opponents
Stafford sabotaged his season-so-far fantasy value with his four interceptions in Week 1, but he has rebounded with seven touchdowns against just one pick over his last three. His schedule is about to turn more favorable, as well. This week, he hosts the Green Bay Packers that allow 50 percent more passing touchdowns than a typical team. After a Week 6 bye, Stafford faces another plus passing touchdown opponent in the Dolphins in Miami. Then, he faces two formerly stingy pass defenses that appear to be on the downswing in Seattle and Minnesota, with both of those games coming in a dome. I expect Stafford to comfortably land in the top-10 among quarterbacks over those weeks.
If the impending bye rules out Stafford for you or you just need a deeper-league option, take a look at the rookie Darnold. I guess he's old news now that Baker Mayfield, Josh Allen, and Josh Rosen have all won starting jobs for their teams, but Darnold should experience a fantasy turnaround coming off back-to-back road games against the stout Cleveland and Jacksonville defenses. His next three games are at home against the Broncos, Colts, and Vikings. The Broncos might seem particularly scary, but their run defense has actually been stronger than their pass defense over the last year or so, which has actually made them a plus quarterback matchup.
Limitations
Fournette returned from his two-game absence in Week 4 only to re-aggravate his hamstring injury. It seems likely he'll miss another few weeks, which I expect will start up the chorus of concern for his potential proneness to injuries. I don't think there's a ton of evidence that supports that opinion. While there are some often-injured top backs like Darren McFadden and Ryan Mathews who missed similar amounts of time at the start of their careers as Fournette has, there are also several backs like Marshawn Lynch and Mark Ingram who got over their early-career injury issues and became reliable fantasy stars.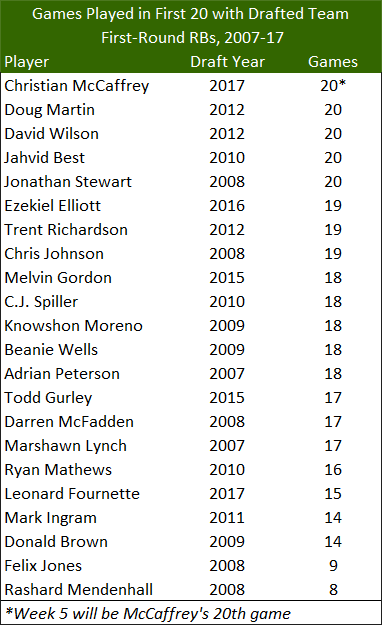 The one part of Fournette's fantasy proposition I'm confident in is his talent, and so I like the play to trade for him now while his perceived value is the lowest it's ever been.
Behind Jared Cook, Travis Kelce, George Kittle, and Zach Ertz, tight end has been a fantasy wasteland this season. And things are only getting worse with recent injuries to Evan Engram, O.J. Howard, Tyler Eifert, and Will Dissly. If you are in need of a body at the position, you could do worse than Kroft, Vannett, or Brate. I'm not sure any of them will see a ton of targets, but they should end up among the positional leaders in touchdowns, at least in the short term. Kroft and Brate themselves are among the tight end leaders in end-zone targets since the start of last season, and Vannett will replace, Dissly who replaced last year's No. 1 TE end-zone threat, Jimmy Graham.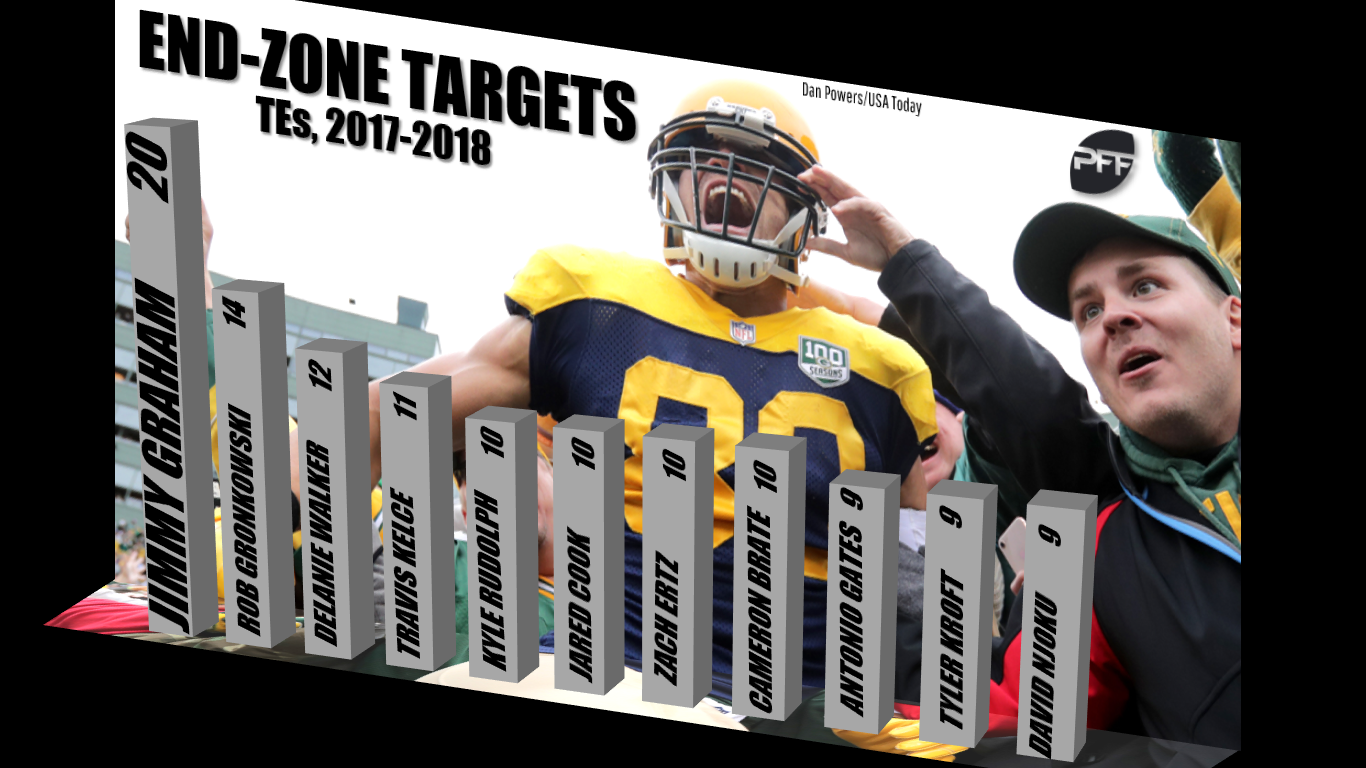 Brate is my preferred trade target of that bunch if you only need a short-term replacement. Kroft and Vannett are more likely to sustain their value the rest of the season.
Efficiency trends
Four weeks isn't enough time to evaluate rookies. By Yards Added, Nick Chubb looks like the best back in football thanks to a pair of breakaway runs on his 10 total carries, and Sony Michel looks like the worst thanks to two poor road performances in Weeks 2 and 3. Both of those players will have more time and opportunities to demonstrate their capabilities. However, I have been encouraged to see Johnson and Smith excel on their carries this season. In time shares on the Lions and Falcons, Johnson and Smith needed to make immediate impacts to carve out pieces of their teams' workloads, and they have both done that.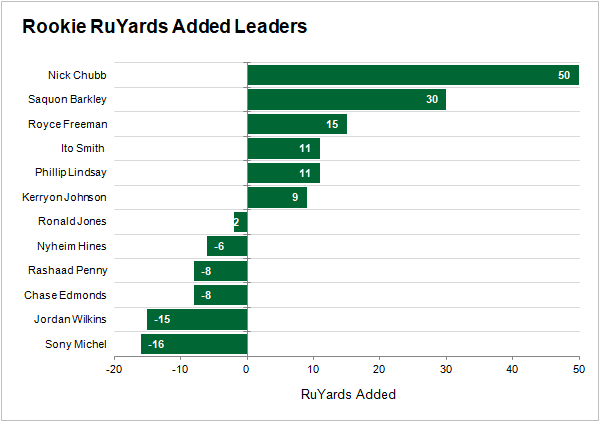 Yards Added has always been a big fan of LeGarrette Blount, but he is a specialized player. I expect Johnson to take more of the team's between-the-20s touches and threaten RB2 status. Smith would need another injury to either Devonta Freeman or Tevin Coleman to do the same, but don't be shy in grabbing him for your roster if that happens.
Andrew Luck has been one of the most conservative quarterbacks in football this season with a 6.8-yard average depth of throw, but that hasn't slowed down his fantasy production. Running back Nyheim Hines and tight end Eric Ebron have been the biggest fantasy beneficiaries of Luck's return and new approach, but I could see Grant joining them this Thursday and beyond. In the short term, T.Y. Hilton will likely miss this week's game with only three days to recover from his Week 4 hamstring injury. Grant is a natural fit to see a bump in his targets thanks to a team-best 16 Yards Added this season.
Affectations
I already mentioned how Stafford and the Lions' passing game should benefit from a favorable October schedule, but I expect most fantasy owners are keyed on receivers Golden Tate and Kenny Golladay rather than Jones. Yes, Jones (29) trails Tate (38) and Golladay (31) in targets, but he's still on pace for 116 for the season, 9 more than he had in his WR1 season in 2017. He's been very consistent with at least 6 targets and 50 yards every game this year, and he's shown the potential for a fantasy breakout. He is tied for the NFL lead with 9 end-zone targets but only has two scores. Try to trade for Jones now before his scoring matches up with his target schedule.