We're back again with a look at trade candidates, fantasy football players you might want to add based on possible production heading into Week 10 of the NFL season.
Amari Cooper paid early dividends for the Cowboys with a team-leading five catches, 58 yards, and a touchdown Monday night. And even though the real NFL trade deadline has passed, there are still several for you to improve you fantasy rosters with a deal. I've identified four sources of fantasy market inefficiency that provide opportunities to improve your team on the wire on in trades:
Future opponent tendencies
Limitations because of injuries or suspensions
Efficiency metrics that suggest likely gains or losses in opportunities
Affectations, or the artificial inflation or deflation of value because of fads.
With those in mind, here are my FLEA market finds for Week 10.
Future opponents
Real success and fantasy success aren't the same thing, so it isn't totally surprising that fantasy revelation Fitzpatrick got benched for a player the Buccaneers' still hoped could be their franchise player. But now that Fitzpatrick is back and fresh off another four-touchdown game against the Panthers, make whatever mental adjustments you need to make to convince yourself he is one of the premiere fantasy options at the position. In fact, Fitzpatrick is up in the Patrick Mahomes stratosphere of fantasy points per dropback and well ahead of the Tier 2 quarterbacks like Cam Newton and Philip Rivers.
Fantasy Points Per Dropback Leaders, 2018
Player
Points Per Dropback
Patrick Mahomes
0.73
Ryan Fitzpatrick
0.71
Cam Newton
0.64
Philip Rivers
0.63
Drew Brees
0.61
Matt Ryan
0.60
Jared Goff
0.60
Mitchell Trubisky
0.59
Russell Wilson
0.58
Deshaun Watson
0.54
That's really all the reason you need to start Fitzpatrick every week, but his owners get the added boost of an incredible fantasy schedule over the next month-plus. Four of the Buccaneers' next five games are at home. Their only road game in that stretch is against a Giants team that allows 35% more passing touchdowns per than a typical team. And each of their next four opponents promotes passing yards and touchdowns per attempt. Trade for Fitzpatrick if you need a string of wins to position your team for the fantasy playoffs, just be mindful of the fact that his Week 14 and 15 matchups are against the stingy Saints' and Ravens' pass defenses.
Limitations
If the scariest words in baseball are "Pitcher X sees Dr. James Andrews," then the scariest words in football are "Player Y sees Dr. Robert Anderson." Dr. Anderson is a foot and ankle specialist, and his latest client is A.J. Green. My read on the situation is Green is likely to miss several weeks at a minimum, and that opens the door for another teammate to join Tyler Boyd in fantasy relevance.
The pedigree pick is clearly Ross, who is finally practicing after managing just one target since September because of a groin injury. But if Ross is unavailable or too expensive in your deeper leagues, consider a flier on Erickson. Erickson has primarily been a special teams player in his career, but over the last two seasons, he's been the only efficient Bengals receiver other than Boyd. And like Ross, his slot percentage and average depth of target have been close enough to Green that you could imagine him as the team's primary outside option.
Bengals' Wide Receiver Breakdown
2018
2017-18
Player
Slot%
aDOT
CTgts
Yards Added
Tyler Boyd
73.1%
9.2
84
+19
Alex Erickson
17.9%
9.9
24
+13
John Ross
10.8%
14.8
11
-7
Josh Malone
17.9%
7.0
12
-11
Cody Core
13.9%
12.0
7
-22
A.J. Green
29.6%
13.8
177
-87
Carson was knocked out of the Seahawks' Week 9 loss to the Chargers with his lingering hip injury, and it's unclear whether he will be ready to return to the lineup Sunday. Normally, this is where I'd suggest you try to acquire a talented backup, but in this unusual case, I think Carson is the best value back on the team. Carson's and Mike Davis' totals of 111 and 67 carries on the season suggest a workload split that I don't think is really there. Davis has served as the team's primary ball-carrier in two games, but Carson missed the first and was knocked out of the second. Davis' other two instances of double-digit carries came in games where Carson piled up 19 and 25 attempts himself. That's going to happen for a team with a 53.5% run-pass ratio, 3.3% higher than the second-place team.
Seahawks' Rushing Attempts, 2018
Week
Carson
Davis
Penny
1
7
DNP
7
2
6
3
10
3
32
0
3
4
DNP
21
9
5
19
12
0
6
14
6
9
8
25
10
0
9
8
15
4
Carson has averaged 22.5 carries per game over his last four healthy games, which is two carries per game more than Todd Gurley is averaging this season. And that makes sense. Carson has been way more efficient adding 20 yards for the team while Davis and Penny have cost them 4 and 17 yards, respectively. As soon as he's ready to play, Carson will return to being an RB1. This is the rare case when you may be able to afford a trade for that class of player this late in the season.
Efficiency trends
If Carson does miss a week or two, the Seahawks may finally be ready to push their run-pass ratio back a bit toward pass. Baldwin has had a fantasy season to forget thanks to a knee injury that cost him the bulk of September and has lingered and because he has yet to score a touchdown. I think that should turn around in the second half. Even when Baldwin has played this season, he has seen fewer targets than he's used to. But in terms of efficiency, he has been as good as ever. He has 16 Yards Added on just 21 catchable targets, good for a 0.78 ratio that bests the team's No. 1 target on the season, Tyler Lockett (0.68). The Seahawks' upcoming gauntlet of the Rams, Packers, and Panthers isn't any easier than the Chargers just were, but they all are friendlier for passing scoring than for rushing scoring. Baldwin is one of a small handful of wide receivers outside the positional top-50 in fantasy scoring this season who has a real chance to be in the top-20 the rest of the way.
Ivory was carted off the field after sustaining a shoulder injury late in the Bills' blowout loss to Chicago on Sunday, but early indications are that the injury will not keep him out of the team's game against the Jets this weekend. That's great news because Ivory has started to build momentum that might actually turn him into a usable fantasy player.
Yards Added has never liked LeSean McCoy as much as traditional measurements like yards per carry do because of his typical avoidance of the short-yardage carries that drag down the rates of most backs in the league. Well, this season, McCoy's yards per carry has fallen sharply to 3.1 to match up with his -15 Yards Added. Ivory has beaten that with 3.5 yards per carry despite his short-yardage usage, and Yards Added views him as a definite plus contributor with 20 on the season. Rushing touchdowns will likely be hard to come by, but Ivory should see more of them than McCoy. Meanwhile, Ivory has even seen his target share bump up in recent weeks. He has 12 targets over the team's last three games. Any Bills player is at best a deep-league consideration, but I could see Ivory earning at least 10 touches per game over the rest of the season, and that has value in certain formats.
Affectations
Montgomery's Week 8 kickoff return fumble cost Aaron Rodgers a chance to lead a much-needed comeback victory over the Rams. It's hard not to read Montgomery's subsequent trade to the Ravens as a banishment. But however costly that one play, it shouldn't erase the fact that he has been an exceptional receiving back. His average of 9.8 yards after the catch is fourth-best among the 44 backs with at least 35 catches since the start of last season behind just Todd Gurley, James Conner, and Austin Ekeler. Way down in last place with an average of 5.2 yards after the catch, half a yard shy of second-worst? Incumbent Ravens' receiving back Javorius Allen.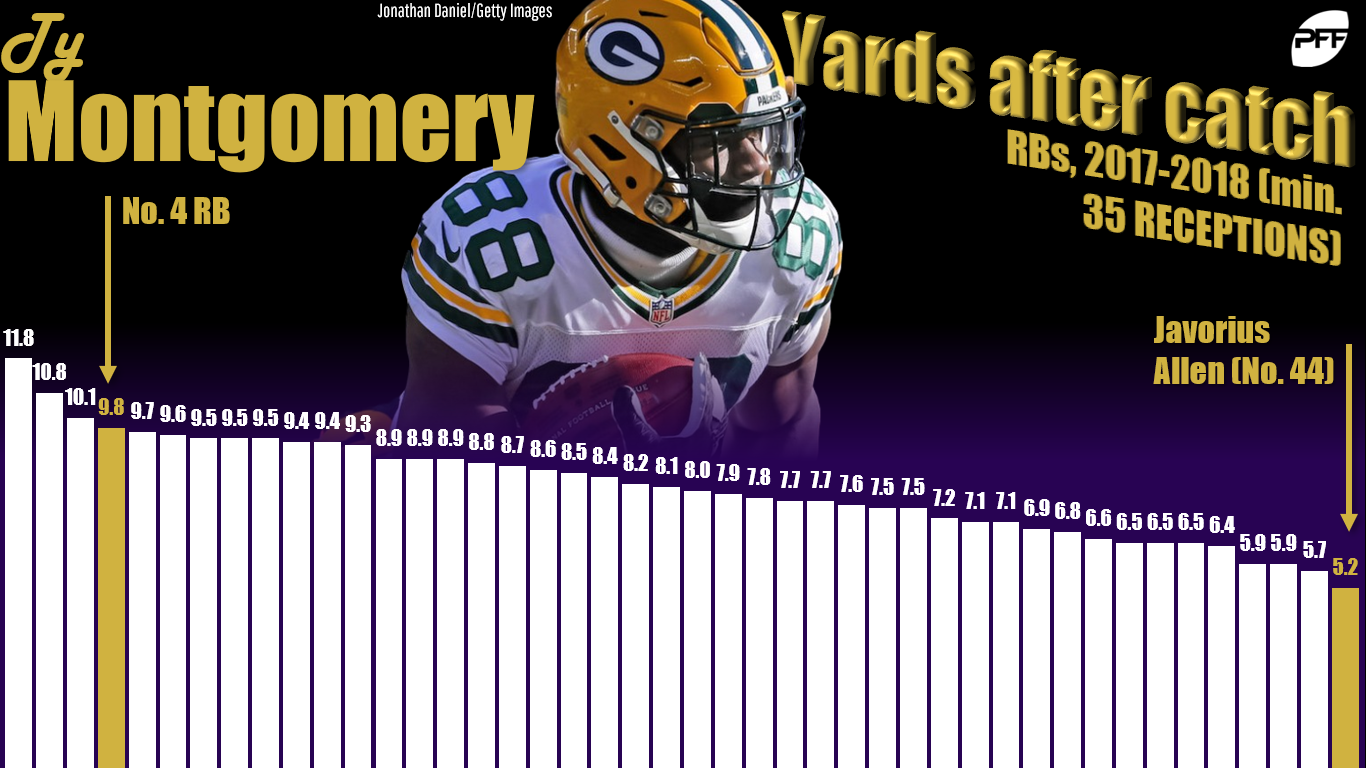 Montgomery did not play in the Ravens' Week 9 loss to the Steelers, but he will have a chance to learn the playbook and integrate into the offense with the team on bye this week. Starting in Week 11, I expect Montgomery to become the team's primary third-down back, a role that has carried Allen to 95 PPR points so far this season, top-25 at the position.