What can fantasy owners learn from the type of data PFF has to offer? There are so many premium tools available here at PFF that can give you edge in your leagues.
Over the past few weeks we've taken a look at some of the top fantasy producers over the past three seasons and identified some PFF Signature Stats they excelled in during that period.
In addition, we've uncovered some other players that have enjoyed similar success in those areas in smaller sample sizes, flagging some potential rising stars.
We've already looked at some factors for success at quarterback, running back, and wide receiver. Let's close things out by examining the fantasy landscape at tight end.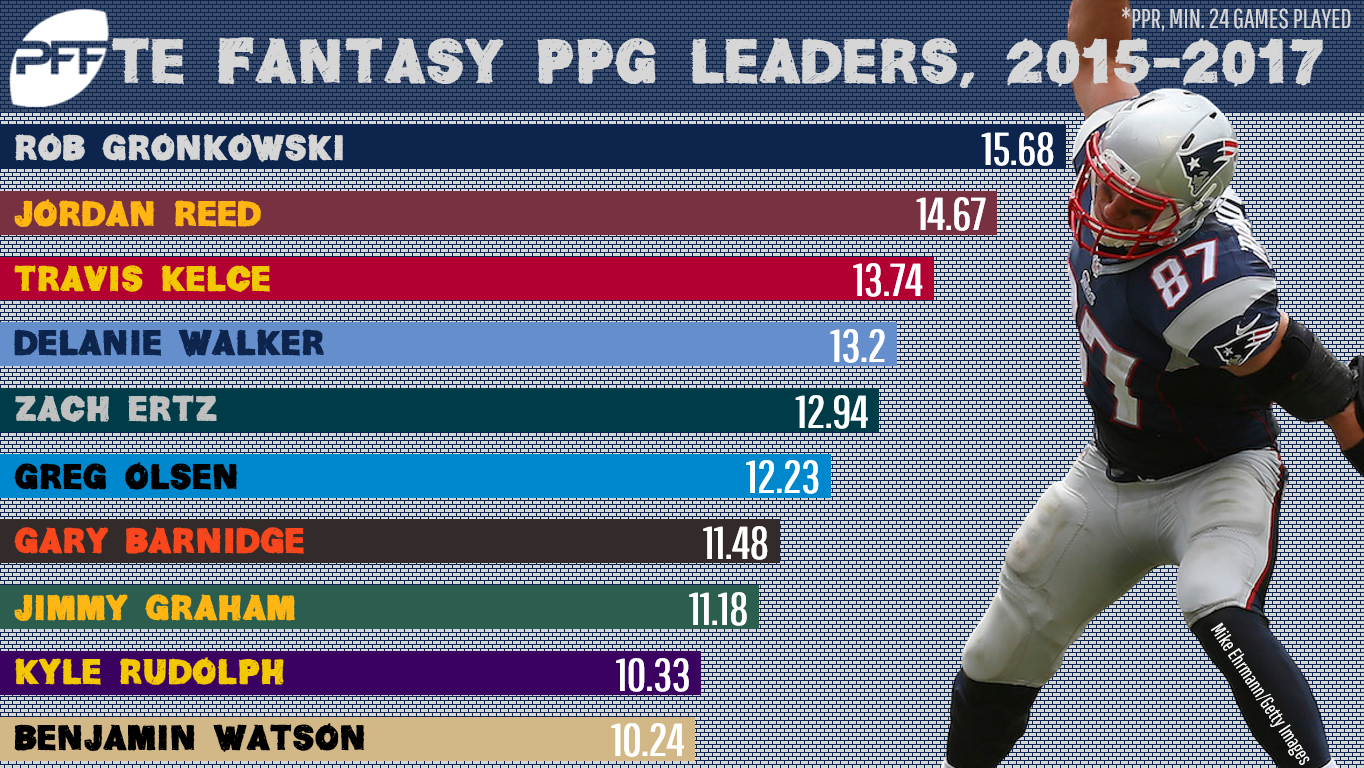 2015-2017: 15.68 fantasy points per game (First)
Gronkowski has not led the position in PPR points the past two seasons, but he has scored nearly two points more per game than the player that did, Travis Kelce. When Gronk is on the field and healthy he's second to none at the position. He's enjoyed top-five finishes in several deep-dive statistics in that time.
PFF Signature Stat: Deep ball catch rate
For the third straight year the Patriot tight end finished third in catch rate percentage on deep-ball targets. He pulled in seven of his 14 targets (nine catchable balls) a year ago for 205 yards. Since 2015 Gronk has caught 21 of his 23 catchable deep-ball targets.
Trend spotter
There's no doubting David Njoku's downfield ability or run-after-the-catch skills. During his rookie campaign he saw 25.9 percent of his targets come on deep-ball passes, which led all regulars at the position. Njoku caught seven of the 15 passes of 20 yards or more thrown his way. He'll need to see an increase in his targets (58) though to sneak into TE1 range for fantasy owners.
2015-2017: 14.78 fantasy points per game (Second)
Injuries have derailed a once-promising career for the Redskins' tight end. He missed a career-high 10 games in 2017 and now missed 28 of 80 games over the past five years with nine different injuries, including three concussions. However, 14.78 fantasy points per game is better than everybody not named Gronkowksi.
PFF Signature Stat: Drop rate
Like many of the other elite fantasy producers at the positon, Reed has seen success in more than one metric, with top-five finishes in drop rate and yards per route run. The most recent incidence of success was in 2016 when he caught 66 of 67 catchable balls and posted a stellar 1.49 drop rate.
Trend spotter
Cameron Brate also finished in the top five in that stat in 2016 and ranked ninth there a year ago. The sure-handed Brate has pulled in all but five of the 110 catchable passes thrown his way over the past two seasons. During his breakout campaign in 2016 he was especially reliable inside the 10-yard line, where he pulled in seven of his nine passes for six touchdowns.
2015-2017: 13.74 fantasy points per game (Third)
Kelce has finished as the top-scoring tight end in PPR formats in each of the past two seasons (averaging 84 receptions for 1,082 yards) and enjoyed a TE8 finish in 2015. He saw a league-high 17 deep-ball targets and pulled in nine of those passes for 266 yards and three touchdowns last year.
PFF Signature Stat: Slot performance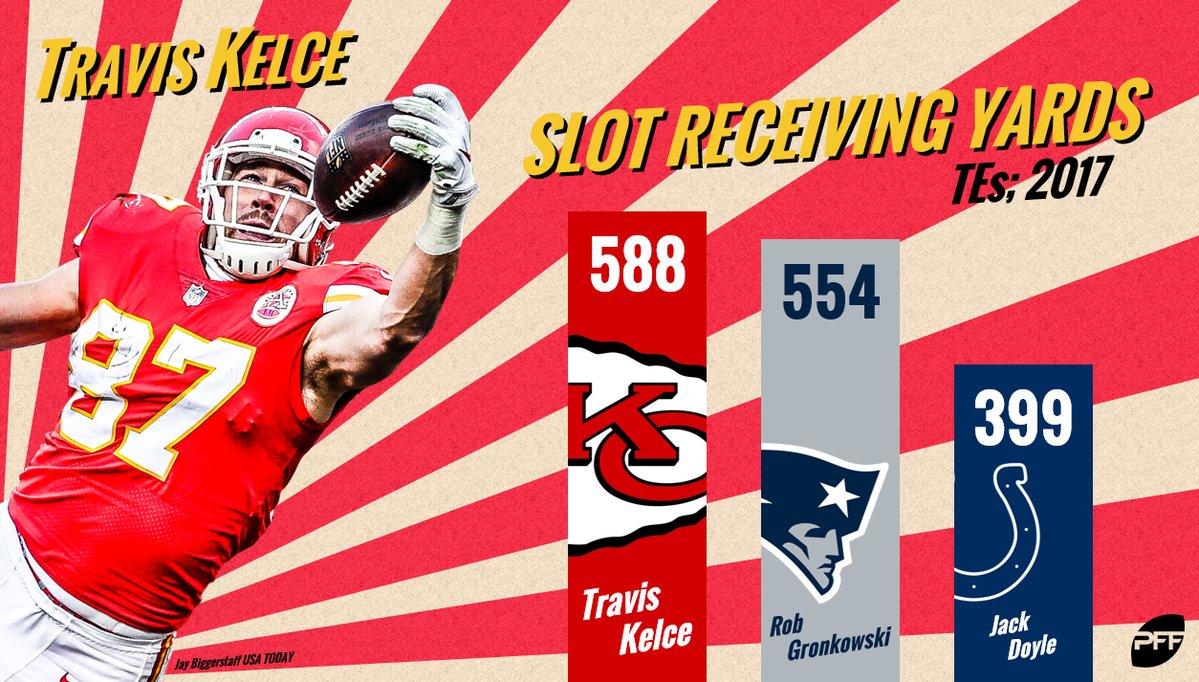 The Chief has been a top-five finisher in tight end slot performance in each campaign during that span, including a 79.2 percent catch rate (fifth) in 2017. He led all tight ends with 588 receiving yards from the slot and was targeted on 21.0 percent of the routes he ran from the slot last season.
Trend spotter
Another tight end who enjoyed success in the slot year ago was Jack Doyle. He was targeted on 55 (20.9 percent) of his 263 routes run from the slot. No tight end had more receptions (46) from the slot in 2017. The Colt finished as TE6 in PPR leagues last year after a TE13 finish in 2016.
2015-2017: 16.37 fantasy points per game (Fourth)
Walker is the only tight end to finish inside the top five in PPR points in each of the last three seasons. Now 34 years old and with a new offensive coordinator in Matt LaFleur, there are some questions on whether or not the veteran will continue to produce at that level. In 30 starts with the Titans over the past two years he's scored 13 times and averaged 52 yards.
PFF Signature Stat: Yards per route run
Walker's red-zone usage isn't terrible with six catches and six scores on 15 targets inside the 10-yard line since the start of 2016, but it's what we does all over the field that has led to Walker's success. He finished fifth with 1.83 yards per route run in 2017 and finished fifth and third in that category in the previous two seasons.
Trend spotter
Charles Clay tied Walker in yards per route run (1.83) a year ago. Buffalo hired Clemson offensive coordinator Brian Daboll after firing Gregg Dennison after just one season. Daboll served as the Patriots' tight end coach during the team's 2014 Super Bowl run. Clay should continue to be a focal point in the team's passing attack, especially when you consider the depth chart at wide receiver.
2015-2017: 10.33 fantasy points per game (Ninth)
Only Gronkowski has more receiving touchdowns at the positon over the past three seasons than Rudolph, who ranks 14th in the league among all players with 16 TD catches during that span. He did see a big drop targets in 2017 (76 targets, after 120 in 2016), but still finished as a top-eight TE or better across all formats in fantasy in 2017.
PFF Signature Stat: Pass-blocking efficiency
PFF's pass-block efficiency rating measures pressure allowed on a per-snap basis with weighting toward sacks allowed. Rudolph has ranked second in the category in each of the last two seasons with a 97.4 PBE in 2017 and 97.0 mark a year earlier. A tight end with an ability to block well can often see that translate into more snaps.
Trend spotter
O.J. Howard ranked eighth as a rookie with a 96.4 PBE last year for the Buccaneers. On first glance that surprising considering his pass-blocking grade rated 69th out of 74 qualifying tight ends. What seeing Howard's name on this list does tell us definitely is that despite not being a great blocker, the Bucs used him a ton in those situations. He did not allow a sack on 84 pass-block snaps.