Every February, fantasy football analysts start building out a set of rankings for the incoming class of rookies and continue to adjust it up until the draft. Once the draft hits, those rankings become dangerously wrong. While original evaluations should always play a major role in rankings, landing spot becomes the biggest factor.
Not only is team landing spot important, but so too is where in the draft a player is selected. The higher a player is drafted, the more likely he is to achieve fantasy success. It makes sense in theory too — teams have more invested in these players, and thus, are more invested in seeing them succeed.
Taking these factors into account, here is a look at the prognoses for the 2019 draft's most notable fantasy tight ends.
As a reminder, note that we shouldn't expect too much from tight ends in their rookie seasons. As I noted here, "on average, tight ends shift from 33% of their career baseline average in rookie years to 94% in sophomore seasons." This is why, in rookie dynasty drafts, I typically don't select tight ends very highly, and instead attempt to target them at a discounted price in the offseason of their sophomore years.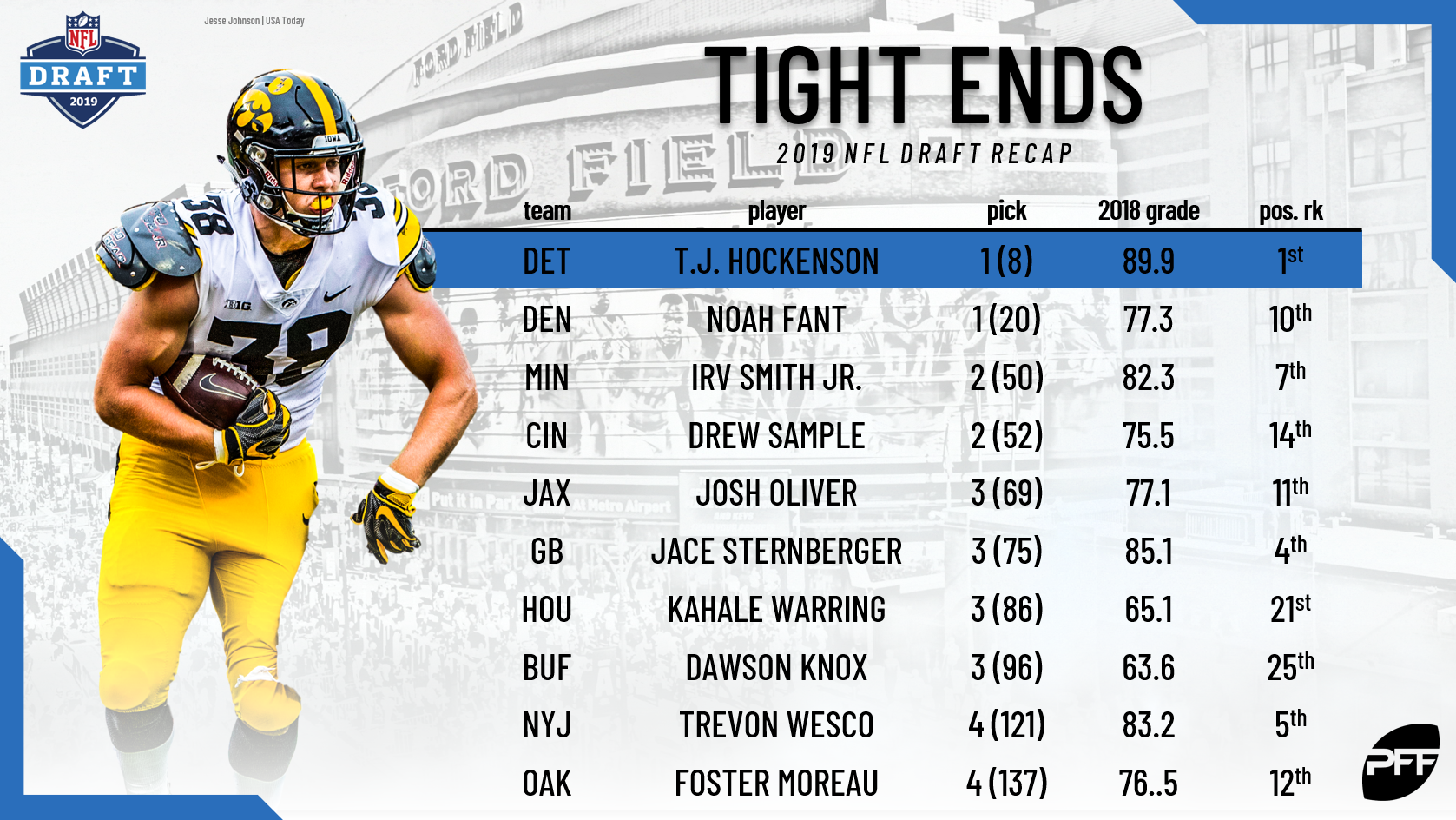 Hockenson was our highest-graded tight end in 2018, excelling both as a receiver (our second-highest-graded tight end via the pass) and as a run blocker. Hockenson led Iowa in receiving yardage last year, ahead of Noah Fant, a predominantly pass-catching tight end.
During Detroit's press conference following the selection, GM Bob Quinn confirmed what the top-10 selection implied, that Hockenson will be a "big part of [the] offense moving forward." Quinn complimented Hockenson's abilities as a blocker and as a receiver (specifically on third down and in the red zone). However, he also noted there's typically a steep learning curve for rookie tight ends, adding "we'll let him go through the process and not do it too fast."
Subscribe to PFF Edge to continue reading

Already have a subscription? Sign In