Player prop bets offer perhaps the easiest transition for traditional fantasy football players into the world of gambling. Think about it. In fantasy football, we evaluate individual player performance. That's the exact same skillset required to be successful in player props. And better yet, unlike in a season-long league where you have 11 other opponents or a DFS GPP where you're facing thousands of lineups, you only have one opponent in player props: the sportsbook.
Gone are the days where people just played redraft season-long fantasy football. DFS revolutionized the game over the last decade, and we're in the midst of another game-changer with the rise of best ball leagues. With the legal landscape shifting in the US, player props is the next big thing.
Adding player prop wagers into your broader sports portfolio is a wise move for seasoned fantasy players. Of course, this certainly means playing props during the NFL season, but you can also get in on the action in the offseason. Below you'll find some interesting individual season-long player prop bets that are currently available and how we're playing these bets.
[Editor's Note: PFF's projections referenced in the body of this article are available to all EDGE & ELITE subscribers. Sign up today!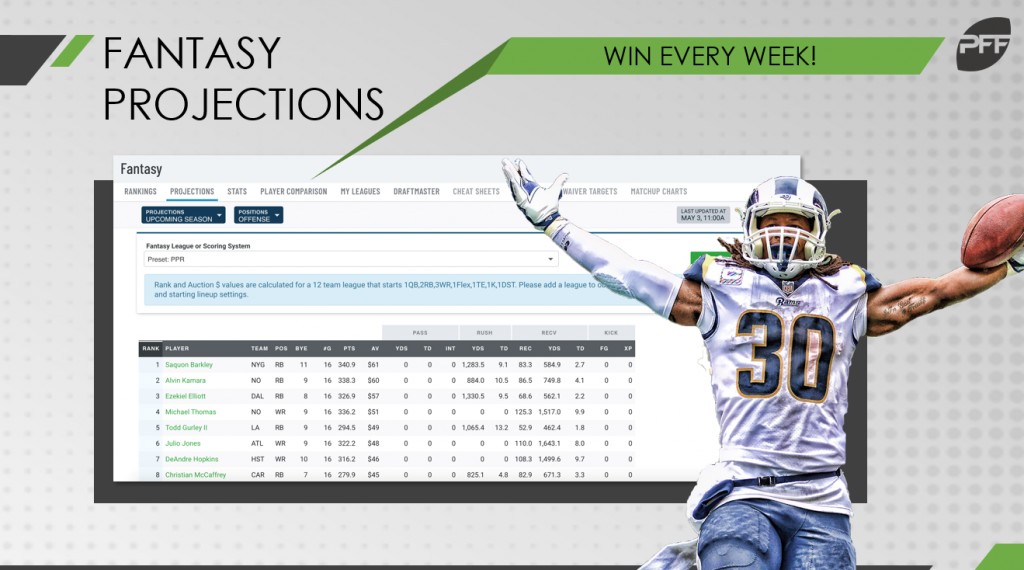 Kyler Murray — 3100.5 regular season passing yards
Over (-250)/Under (+190)
He's the hottest name in fantasy to come out of the draft, but there's a wide range of expectations for Murray in his rookie season. However, what we can expect is that he'll be under center for the Cards in Week 1. This line would require Murray to average just 193.8 passing yards per game over the course of the season. While Josh Rosen averaged just 162.7 passing yards per game last season, Murray is a different player who not only shined as a runner in PFF grades last season, but also as a passer.
OVER – Despite not getting the best odds on this play, we're making it with confidence. Our current projection of 3,466 passing yards for Murray has this is an over by a healthy margin.
Smith-Schuster (+175)/Brown (-220)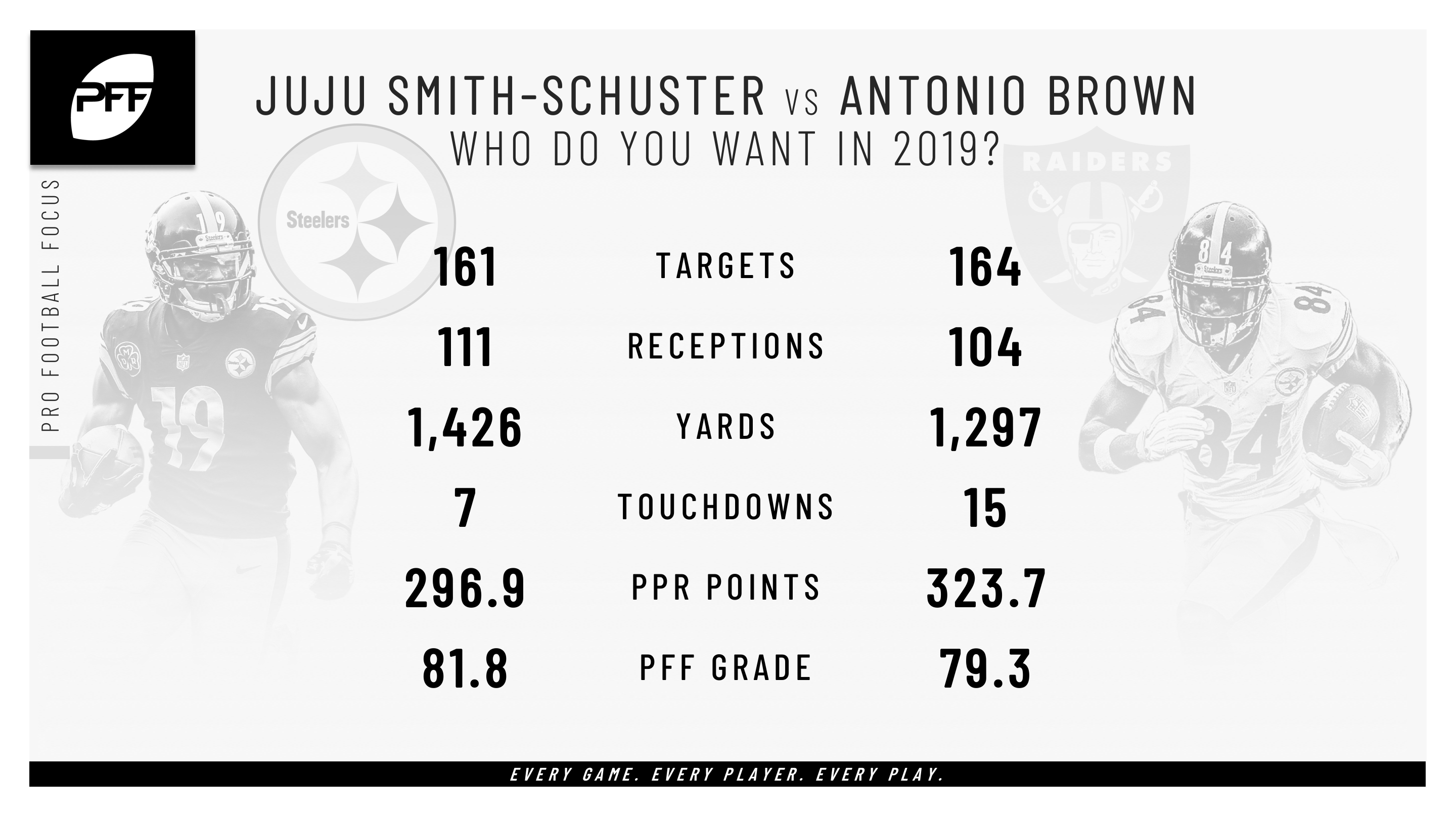 One of the easiest player comparisons to make in 2019, this wager pits these two former teammates against each other. If Brown remained in Pittsburgh, he'd be the heavy favorite following his league-leading 15 receiving scores last year. But touchdowns will likely be harder to come by for Brown in Oakland, as Derek Carr tossed just 19 last year and 22 the year before. To be fair, he wasn't throwing to a player of Brown's caliber, but this move still narrows the gap between Brown and Smith-Schuster.
PASS – While the odds have Brown as the favorite, PFF projections have Smith-Schuster on top 9.5 to 9.3 That razor-thin margin simply isn't enough to justify a wager. Likewise, we'll pass on Brown's individual receiving touchdown line of 9.5.
Antonio Brown — 1,200.5 regular season receiving yards
Over (-110)/Under (-110)
It's true that we're expecting some touchdown regression for Brown this season, but that doesn't mean we think his volume decreases. Last season, he ranked second among wideouts with 164 targets. The Raiders aren't as pass-happy as Pittsburgh, but there's still enough meat on the bone for Brown to come in with 155 targets in our projections. Given his career catch rate tendencies, he has a good chance of cracking 100 catches, which means he'd need to average just over 12.0 yards per catch to top this line.
OVER – Brown has a career average of 13.4 yards per catch and hasn't been under 12.0 for a season since 2012. Our projections have him at 1,419 yards, which is a nice cushion on the over for this line.
Le'Veon Bell — 9.5 regular season rushing TDs
Over (+120)/Under (-150)
Brown's former teammate currently has two props available. We're going to pass on his rushing yards line of 1,032.5, which is just 5.5 yards over our current projection. But Bell's rushing touchdown line is very interesting. Based on the odds, the under is the favorite, but maybe not by as much as it should be. Fantasy players will likely know all too well that while Bell was one of the most heavily used backs in the league in his time with the Steelers, he wasn't a prolific touchdown scorer. In fact, his career best was nine rushing scores in 2017.
UNDER – This might be the top wager on the board. Bell has never topped double-digit touchdowns for a season in his career, and it's hard to envision that changing this season. PFF projections have him at just 5.3 rushing scores in 2019.
Odell Beckham Jr. — 1,100.5 regular season receiving yards
Over (-200)/Under (+155)
Like Brown, we're going to pass on Beckham's touchdown prop of 8.5. That's spot-on with our current projection. His yards prop is much more appealing. Beckham is in a prime situation to produce as the top target for ascending QB Baker Mayfield. Of course, Beckham does come with some injury risk, as the wideout missed a combined 16 games over the last two seasons. That said, he topped this line in each of his first three years in the NFL.
OVER – Because of the injury risk, we aren't going to make this one of our bigger plays. But if Beckham plays a full season, we're confident he goes way over this line. We're currently projecting Beckham at 1,370 receiving yards.
Jason Witten — 470.5 regular season receiving yards
Over (+120)/Under (-150)
One of these bets is not like the others. We have a star-studded list of players above, so this is a bit of an oddball. That's not to say that Witten wasn't one of the top tight ends of his generation, but this line doesn't quite pop off the screen like the others. But don't let looks deceive you — this is an intriguing line. Sure, Witten spent last season in the booth, but he should step right back in as the Cowboys' top receiving tight end. And while we don't expect a revival of his production from 2007 to 2012, this line requires him to average 29.4 yards per game. When we last saw Witten in 2017, he averaged 35 receiving yards per game.
OVER – The current PFF projection on Witten has him coming in at 522 yards. While that may not do you much good in fantasy, it's a healthy 11% cushion on the line. Better yet, taking the over will give you a reason to root for a 37-year-old tight end every week this season.