("Today's Crazy Fantasy Stat" is an occasional offseason offering from PFF that highlights something that catches our eye and aids in our preparation for the 2017 fantasy season.)
Drew Brees has been a good fantasy quarterback for a long time. That's not new information. But in a world that includes other big-name QBs, it's possible Brees' incredible consistency and durability has become underrated.
To wit, Brees has five of the top 11 player-seasons in fantasy passing yards in the last five years.  Take it back 10 years, and Brees has seven of the top 16, and all 10 of his seasons come in the top 50. The only players who keep Brees from holding the top six spots on the last-10-years list were 2013 Peyton Manning (5,477 yards) and 2011 Tom Brady (5,235). Brees' worst season for passing yardage in the last decade — 4,391 yards in 2009 — would have been fifth in the NFL in 2016.
The numbers continue to impress no matter how you frame them. Brees' worst season for passing yardage in the last five was 2015, when he played only 15 games. Despite that, he still recorded the No. 11 player-season for yardage; no other quarterback who failed to play 16 games comes inside the top 40.
(Subscribe to all our fantasy content, or get everything PFF offers with an All-Access subscription.)
The thing about Brees is, yardage aside, he's perpetually been second-best:
He's incredibly durable (played 158 of a possible 160 regular-season games 2007-present) … but Eli Manning and Philip Rivers have both played 160.
He's very old to still be such a successful quarterback (turned 38 in January) … but Tom Brady just won a Super Bowl as the league's top-graded quarterback at age 39, a year after Peyton Manning won it all at the same age.
He's been a top-six fantasy quarterback for 10 years in a row, including four second-place finishes … but he hasn't been the No. 1 fantasy QB since 2008.
He's thrown for 32 or more touchdowns in nine straight years … but has only topped 40 twice, maxing out at 46, while Brady and Peyton Manning have both reached 50-plus.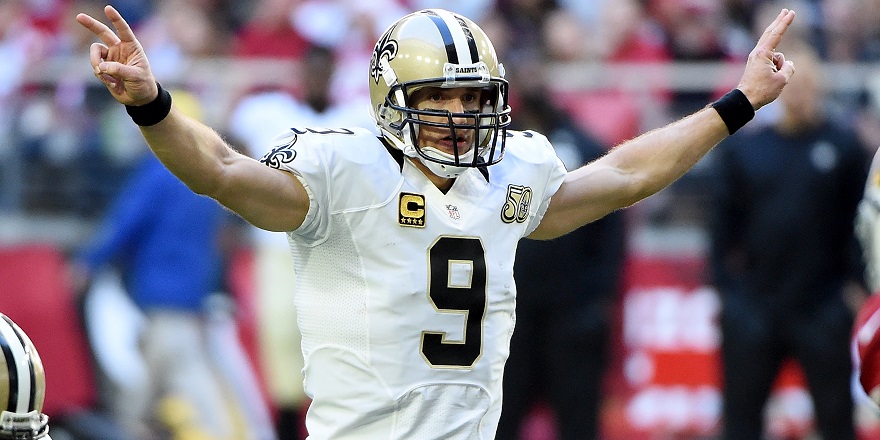 The end result is, Drew Brees is the Amy Adams of fantasy football. Adams, a hard-working and successful actress, has been nominated for five acting Oscars, starting with her role in 2005's Junebug (which, apart from everything else, you need to see, as it is awesome) through 2013's American Hustle, but she's never won. Similarly, Brees enters every season as one of the best fantasy quarterbacks, but rarely has he been seen as the best. It puts him in an awkward spot for draft position. Pouncing on quarterback early? Well, you're probably going to take Aaron Rodgers, or Cam Newton, or fancy quarterback du jour. Waiting on a quarterback? Well, Brees will be long gone by the time you make your move.
The thing about any draft, though, is balancing risk and reward. Newton was the No. 1 quarterback off the board last year, but as we saw, he carried more risk than expected, because of regression and a marginally reduced role in the running game. On the flip side, someone like Matthew Stafford, who has never finished better than fifth among fantasy quarterbacks, but has been 10th or better five of the last six years, isn't likely to win you your fantasy league, but he's certainly likely to keep you involved.
With Brees, it's a bit of both. He might not ever have the incredible season of Newton in 2015 or Tom Brady in 2007, but he's almost certain to remain in the top tier.
In early average draft position results (from Fantasy Football Calculator), Brees is going 39th, the third quarterback off the board after Rodgers and Brady. Around him are relative enigmas like Allen Robinson, LeGarrette Blount and Sammy Watkins. Some will tell you the quarterback position is so deep you should wait it out, and there is some argument for that. But with Brees, you get more security than just about anybody in the game, with a higher ceiling than most, and for that, he's worth bumping up a handful of spots in the draft. Don't be afraid to pounce on the New Orleans signal-caller.