PFF's 2022 Fantasy Football Draft Guide is LIVE!
All PFF+ subscribers now have access to our revamped fantasy football draft guide, which has been specifically designed to help users dominate their fantasy football league.
Sign up today and get a step-by-step guide that helps with the most important part of the season: the draft.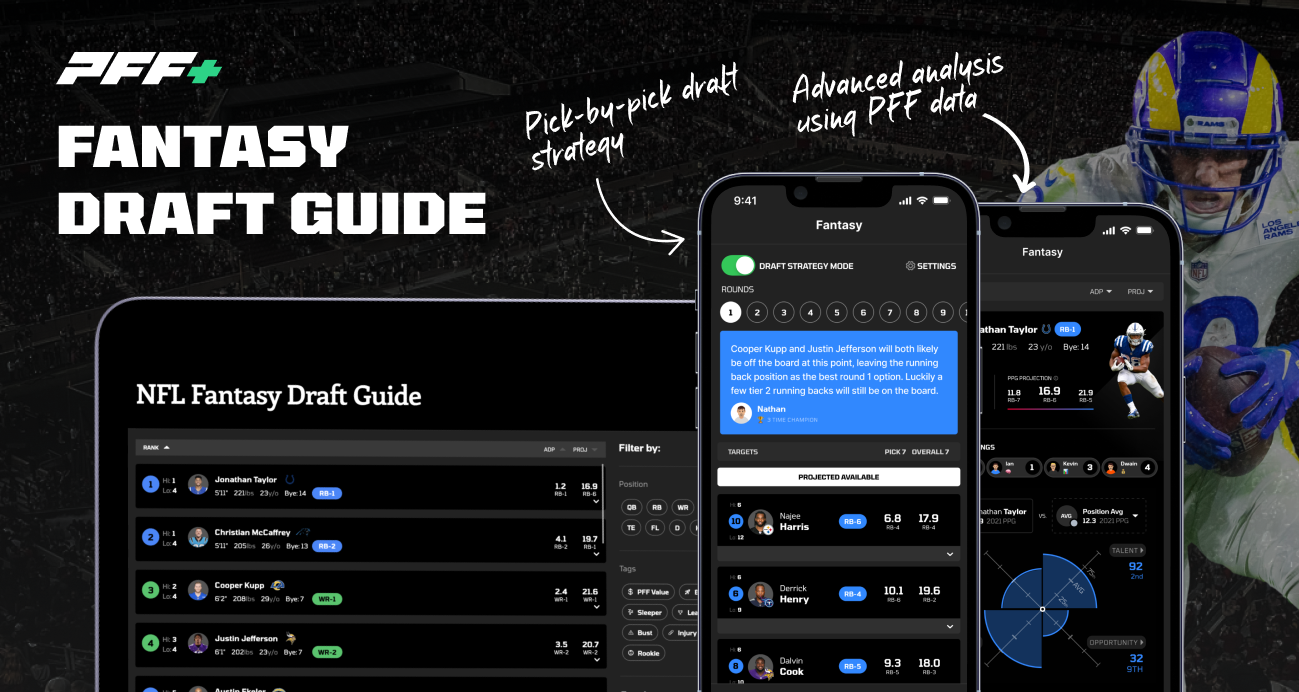 Upon selecting "Draft Strategy Mode," you will be asked to input your league settings:
League size

: 8, 10, and 12 team league options are available.

Scoring type

: Full-PPR, half-PPR, and standard scoring formats are available.

Pick Number

: Select where your first-round pick falls.

Analyst

: Select a PFF analyst whose strategy you specifically want, or go with the consensus.
Now, the fun begins.
In every round, the guide will prompt the user with a different guideline to follow based on the projected available players and PFF targets. The advice depends on all the pre-selected variables in order to best set up the user for success.

Take a look at some examples of the round-by-round guidelines in a 12-team league from the 1.01 pick in full-PPR scoring:
Rounds 1-3
 "The best start for Rounds 1-3 will be to draft at least 1 RB and 1 WR/TE, depending on which players fall to you. Don't be shy to go RB-RB-RB or WR-WR-TE if those are the cards you are dealt."
There isn't one single be-all-end-all strategy to fantasy football drafts. As  PFF's Dwain McFarland likes to say — every season is different, and every draft is a dynamic, living organism.

This thought process allows the user to confidently target the best available value in lieu of letting a pre-determined draft process shake their decision-making.
In this example, I personally prefer Christian McCaffrey as the 1.01 but selecting the player shows which specific analysts are for or against the pick. I also scooped up Leonard Fournette and Tee Higgins at the turn to lock in an RB-RB-WR start.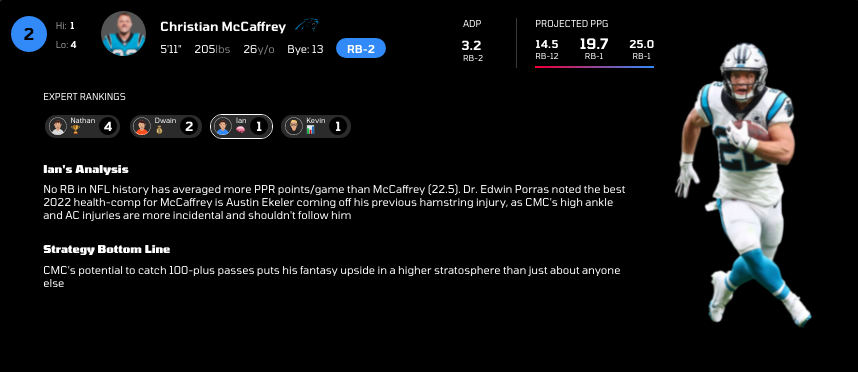 Round 4
"Volume is king in fantasy football, and there aren't many running backs left who are expected to be among the league leaders in volume."
The steep drop-off in running back volume after the first 20 or so options makes New York Jets rookie RB Breece Hall a PFF value here. Still, I started with two running backs in the first two rounds, so I feel comfortable going with the other suggested value D.J. Moore here.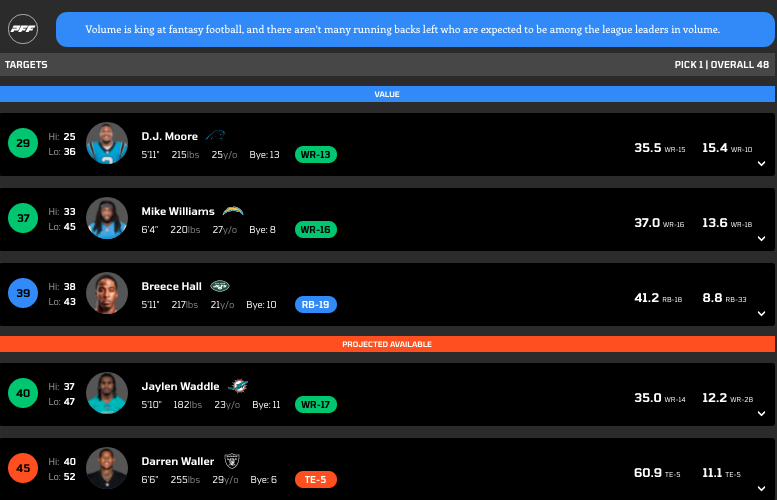 This is a good example of letting the draft come to you and not reaching early to fill a need.
Round 5-6
"The best round to take a QB is 5-6. The WR talent available is superior to RB and TE at this point in the draft."
There are numerous good wide receivers projected to be available, such as Mike Williams, Jaylen Waddle and Chris Godwin, but the general strategy here is to realize that this is a fairly large tier of similar-upside WR2/WR3 types.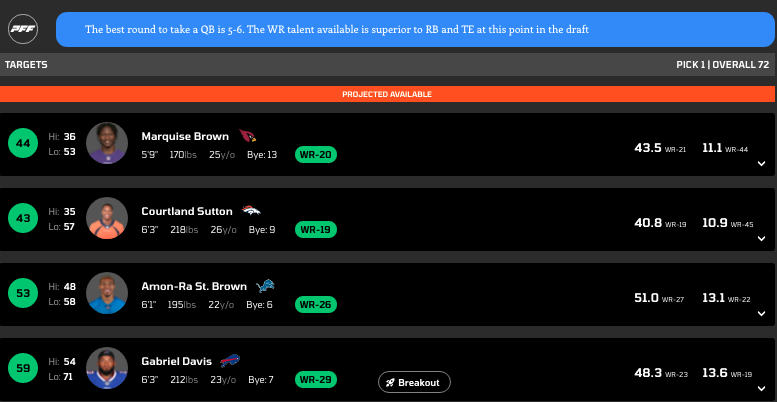 Obviously, certain analysts are higher on certain receivers but just realize the top-tier quarterbacks are all potentially still in play with the exception of Josh Allen. I will scoop up Lamar Jackson in Round 5 before taking the next-best available wide receiver — Courtland Sutton — in this example.
Round 7-10
"Drafting at least one QB and TE by the end of rounds 7-11 is a must if you don't have one already."
My current roster has one quarterback, two running backs and three wide receivers, meaning this is a good time to prioritize tight end.

Marquise Brown is too good to pass up on at the beginning of Round 7, but in my next two picks, a full-depth chart is achieved courtesy of PFF sleeper James Cook and Zach Ertz. I finished the stretch with another PFF sleeper in wide receiver Kadarius Toney.
---
Round 11-13
"At this point, you should fill your depth with RBs and WRs. You should avoid taking a D/ST or K until the very last round."
I wrap up this demonstration with Chris Olave, Tyler Boyd and Tyrion Davis-Price, leaving myself with the following theoretical squad:
Of course, different drafts and mindsets will produce different results, so it's just important to realize where the pockets of value in any draft begin and end.
That's ultimately the allure of the new PFF+ Fantasy Draft Guide's "Draft Strategy" mode — to help users make educated decisions during the course of an entire draft in terms of both roster construction and specific player selection.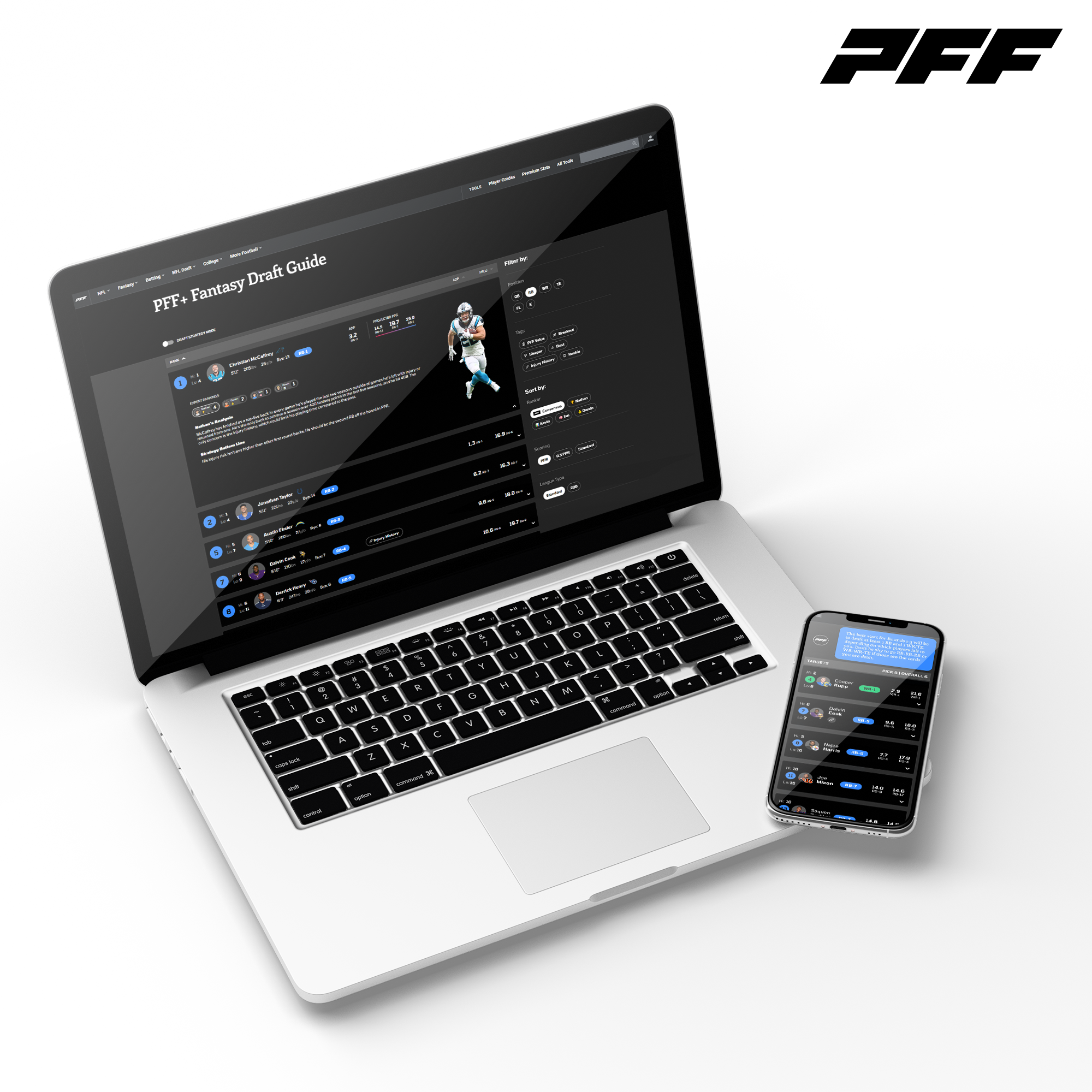 Reminder: This was just an example from the 1.01 — there are a whole host of possibilities tailored to your specific draft. So what are you waiting for? It's a great day to be great inside of the new PFF+ Fantasy Draft Guide.