Each week in this space, we're going to take a quick fantasy football trip through that week's DFS slate, offering up initial thoughts and reactions to the pricing and situations of that week. We'll look at some big salary changers of the week, some obvious plays, some guys to avoid, and some of the week's prime situations.
This isn't meant to be a comprehensive, one-stop-shop for all things DFS in Week 10. Rather, it's just an early look at the notable takeaways. Check back later in the week as our team offers up full breakdowns of every approach to the slate. But you can start your DFS week here.
Salary changes
FD price: $8,200 -> $8,200
DK price: $7,300-> $7,400
Godwin was the receiver leading the way for the Buccaneers through six games, but Mike Evans has retaken the claim as the No. 1 receiver on the team. Evans has had double-digit catches and over 180 yards in each of the last two games. That said, this week against the Cardinals presents a good opportunity to pivot to Godwin over Evans in DFS. It will be Godwin getting the more favorable matchup against Tramaine Brock Sr., who has allowed the most yards in coverage on the Cardinals. He has given up 401 yards (16th-most among CBs) and 3 TDs. Patrick Peterson had his struggles last week, but he still is a proven top-end cornerback and could limit Evans in this matchup. The Cardinals fast pace of play in a neutral gamescript and stout Buccaneers run defense should allow plenty of plays for the Buccaneers offense this week.
FD price: $7,300 -> $7,400
DK price: $5,200 -> $5,700
Jones has had his struggles in games this year, but he still offers great weekly upside especially in a good matchup. His two best fantasy games have come against the Buccaneers and Lions, who are both top 10 in fantasy points allowed to QBs. This week he draws the Jets, who are derailed from injuries and have allowed 6 passing TDs to Ryan Fitzpatrick and Gardner Minshew over the last two weeks. Jones still has a floor and ceiling built in with his rushing ability, as he has run for 26 yards per game started. Against the train wreck that is the Jets, Jones should have a bounceback at a cheap salary.
FD price: $5,800 -> $5,700
DK price: $4,800 -> $5,200
Kirk has been up and down with his fantasy production this year, but it is hard to see him struggling again against the Buccaneers pass defense this week. This season, Tampa Bay has allowed the most fantasy points per game to WRs, as a solid run defense has created a pass funnel. The tough matchup against the 49ers last week did no favors for Kirk and the Cardinals offense, but it is a complete reversal in the right direction considering the matchup. In the four games Kirk has been 8 or more targets this year, he is averaging 16.1 fantasy points per game. Larry Fitzgerald has really slowed down with a game-high of 69 receiving yards since Week 2, and Kirk has the opportunity to be the top option against the Bucs' pass funnel.
Ronald Jones, RB, Tampa Bay Buccaneers
FD price: $5,600 -> $6,300
DK price: $4,100 -> $4,300
With the mention of Kirk and Godwin already, this Cardinals/Bucs game is definitely one to target. It has the highest over/under of the week at 52.5 points, and Jones is another intriguing player in this game. Bruce Arians all but confirmed Jones is the starter going forward saying that he has "earned the right to start." The usage from last week also points to that, with Jones seeing 55% of the snaps and 20 touches to Peyton Barber's 4. When Jones has been given the majority of touches this year, he typically has done good things with them. In his three games with 15 or more touches, he is averaging 14.8 fantasy points. In another high-scoring affair likely on tap, Jones offers good upside at his salary.
Chalk
With how good McCaffrey has been so far this year, he likely will be chalk the remainder of the season. However, he is worth noting this week as he draws a favorable matchup against Green Bay, allowing the fifth-most fantasy points to RBs. McCaffrey has been matchup-proof so it might not even matter, but more people should gravitate toward him, especially with Dalvin Cook not on the main slate. McCaffrey is averaging a crazy 32.7 fantasy points per game this season.
Thomas has been the model of consistency this year. Despite not having Drew Brees for a big chunk of the time, he has topped 15 PPR points every week. He now has a great matchup against the Falcons and should be able to rack up catches and yardage again. The over/under sits at 51 currently, the second-highest on the slate, making this another game that should draw healthy ownership.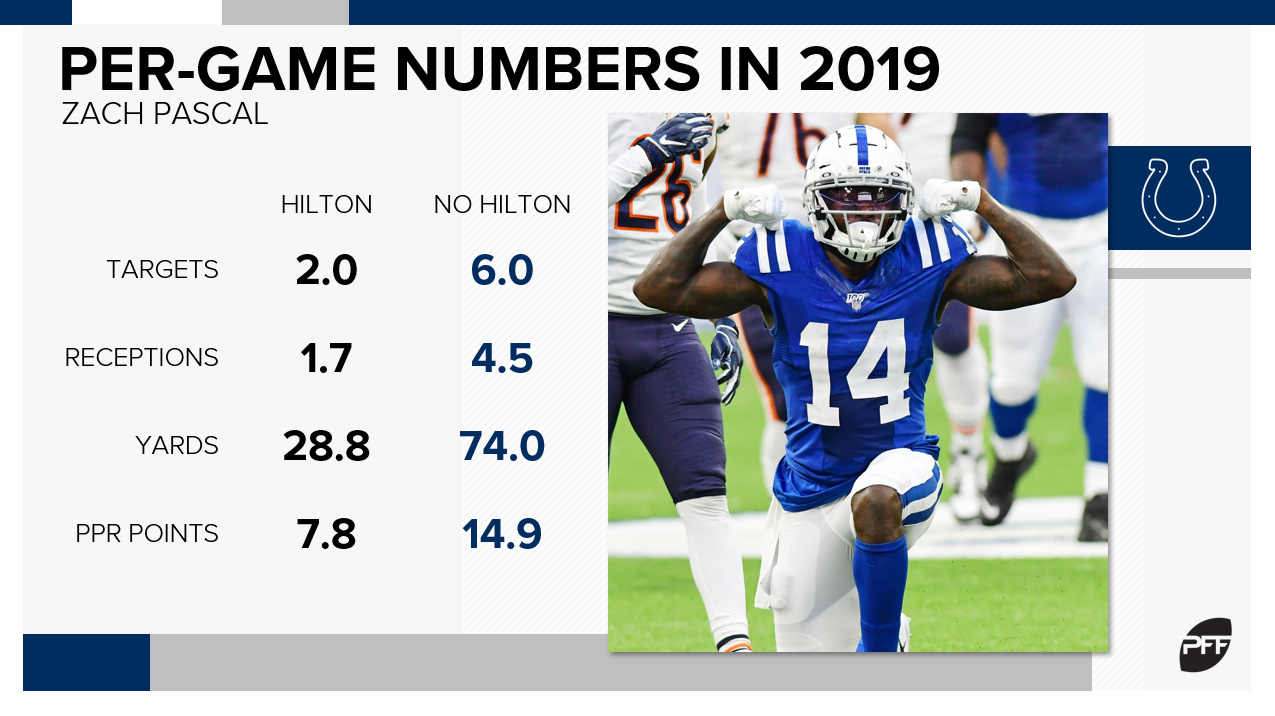 With limited options in the second and third tiers of salary at WR this week, Pascal is a player who has enough intrigue where he could draw a good amount of ownership. He is coming off a good performance with 5 catches for 76 yards and a TD. T.Y. Hilton is expected to be out for this game based on his 3- to 4-week timeline. In both games without Hilton, Pascal has had over 70 receiving yards. He gets the Dolphins without Xavien Howard this week.
Hooper's consistently good fantasy performances have made him very trustworthy this week. This game should offers a positive gamescript, as the Falcons are 13-point underdogs and the game has the aforementioned second-highest over/under on the slate. Hooper has gotten a good amount of fantasy points in comeback mode this year and will likely do it again this week.
Given how bad the Buccaneers pass defense has been, Murray should be on people's radar. He is coming off a solid fantasy day against the 49ers and will have an added ceiling against the Bucs. We know he has the rushing ability and with the passing ability this week he could set new highs for yardage to go along with however many TDs he can score in this shootout.
Fades
Stafford has been really good lately, but expectations should be tempered against the Bears. This game will be on the road and not in a dome, which will take away the perfect conditions that a dome atmosphere can provide for a passing attack. The Bears should likely go all out on stopping the pass as the Lions running offense is nothing to be worried about as well. Considering the struggles of the Chicago passing game, the Bears are likely to go run-heavy in this game, keeping the ball out of Stafford's hands.
Johnson is likely to come back this week, but there still is some cause for concern that he will not be 100%. It will be important to keep an eye on the practice reports, but with how well Kenyan Drake did last week, Drake could still take away some touches from Johnson to maybe even keep the starter fresher. The question mark that looms over the allocation of touches in this game makes it hard to trust Johnson. Also, as mentioned before, this is a pass-funnel defense so we could see little running room for Johnson. He is capable of being a great receiver, but without the floor of rushing and the injury and workload question marks, it is a fade this week.
Larry Fitzgerald, WR, Arizona Cardinals
We touched on Fitzgerald in the Kirk section above. The veteran has had a similar pattern in recent years of declining production as the season goes on. He started this year with back-to-back 100-yard games, but has only cleared 50 yards twice since. This is a good matchup against the Bucs this week, which should put more ownership on him, but Kirk and the other pieces of the Cardinals receiving game should do the majority of the work in this game.
Kamara is another player with injury question marks. There has yet to be an official report if he is playing this week, but based on previous reports he is expected to do so. However, it remains to be seen how much they might actually use Kamara if he's active, given how good Latavius Murray has been in his absence. Murray had back-to-back 100-yard games and has been reliable as a receiver. The gamescript is in favor of a Murray-led second half if the Saints get up big against the Falcons, as the 13-point spread implies. If they do get up big, it is likely the Saints don't overwork Kamara and use Murray as their clock-killer this week.
Matchups
Calvin Ridley, WR, Atlanta Falcons (@ NO)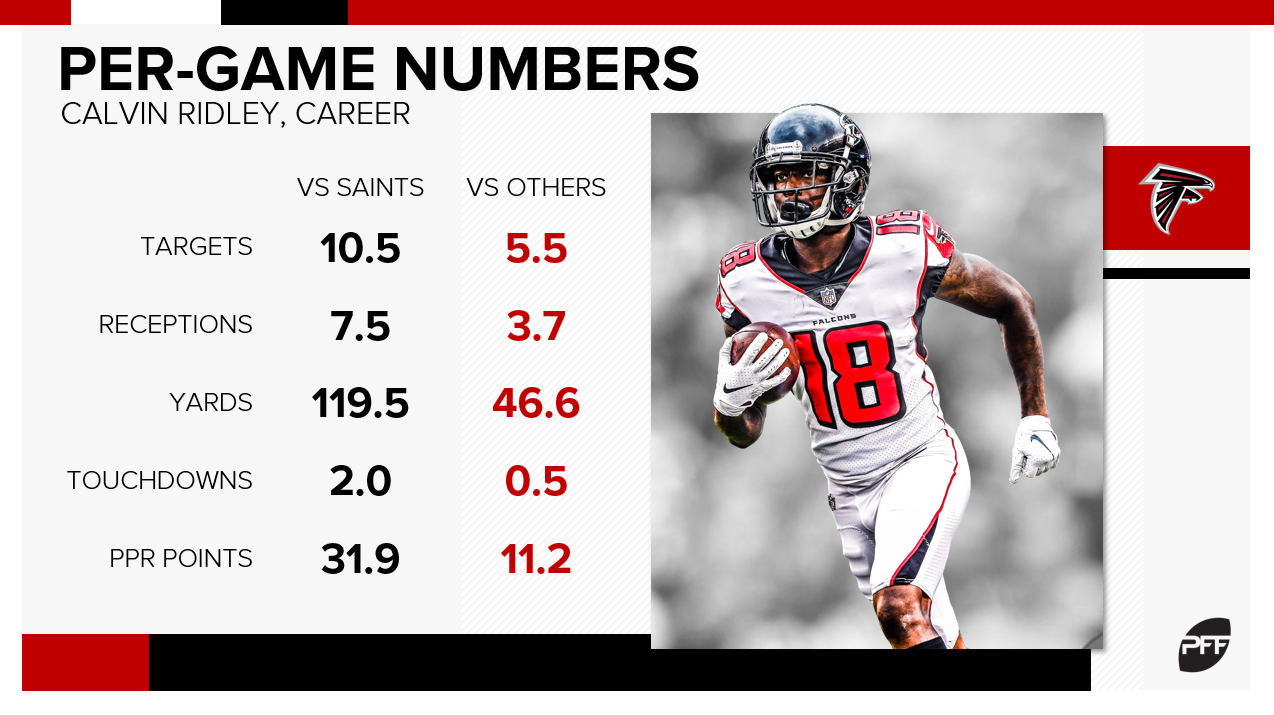 Ridley definitely enjoyed himself against the Saints last season. In the two games against them, he posted two stat lines of 8/93/1 and 7/146/3. Julio Jones will likely see Marshon Lattimore in coverage, and he's a good enough CB to at least limit him, and with Mohamed Sanu being traded, there is the added upside of Ridley's target share. It will also be a positive gamescript for the Falcons offense meaning plenty of passing attempts again. Ridley has 100-yard upside this week.
Despite one of the toughest matchups this past week for RBs against the Eagles, Montgomery made good of it with 76 total yards and 2 TDs. There was some good fortune with two 1-yard TD runs, but this matchup against the Lions should allow him to be much more effective as a runner. The Lions are allowing the most fantasy points per game to RBs and the third-most receiving yards. A positive sign for Montgomery was that he had 73% of the snaps in what was a negative gamescript this past week. The Bears should be in more a neutral to positive gamescript to allow Montgomery to see at least 15 touches again this week.