Week 6 brings a ton of good matchups from a fantasy perspective and a bunch of value plays as well, which means building cash lineups this week will feel much more comfortable.
We have five teams favored by at least 9.5 points, four of which are at home. That makes finding games with true "shootout" potential harder to discover, but it does make pinpointing players in smash spots a little easier.
(It's PFF Fantasy's Free Content Week. Keep up with all the offerings here.)
Here's a look at several FanDuel cash game strategies you can deploy in Week 6.
(For the FanDuel tournament guide, click here)
Week 6 outlook: FanDuel pricing and projections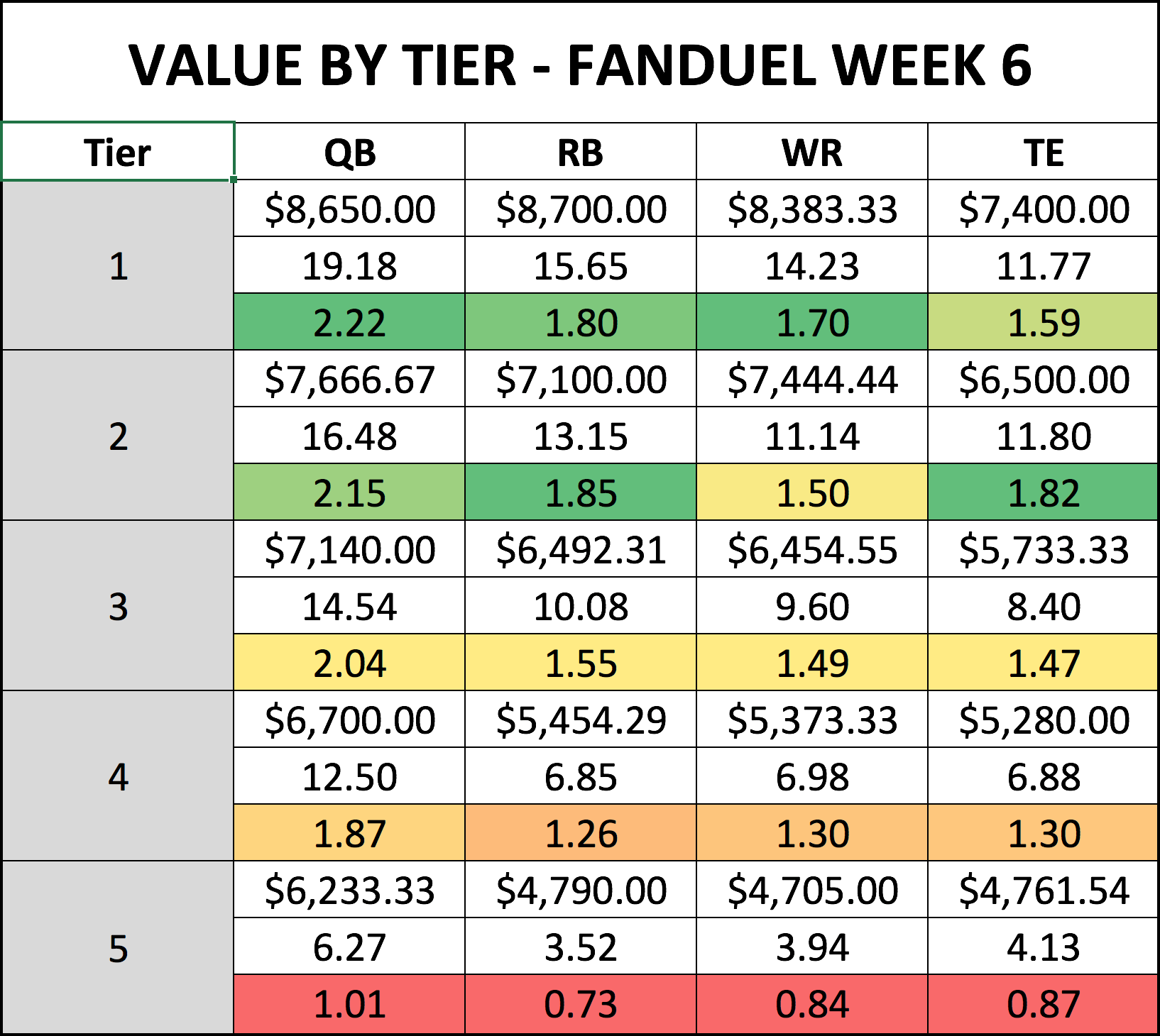 Tier Definitions
1
2
3
4
5
QB
$8000+
$7500-$7900
$7000-$7400
$6500-$6900
$6100-$6400
RB
$8000+
$7000-$7900
$6000-$6900
$5000-$5900
$4600-$4900
WR
$8000+
$7000-$7900
$6000-$6900
$5000-$5900
$4600-$4900
TE
$7000+
$6000-$6900
$5500-$5900
$5000-$5400
$4600-$4900
The Box: The first row within each tier represents the average salary of every player in that tier. The second row represents the average projected fantasy points for every player in that tier. The third row is the average value of each player in that tier (points/salary*1000). The Box is also color coordinated within each position throughout the tiers.
Quarterbacks: Watson will be the most popular, but there are viable guys all over the map
Deshaun Watson has been lighting the fantasy world on fire, and this week he gets a cake matchup against the Cleveland Browns, and he's still only $7,900. If you're looking for the safest cash quarterback, Watson is your guy.
But there are some guys more expensive than Watson — namely Drew Brees ($8,600) — and cheaper than Watson that are worth a look as well. Brees is playing at home against Detroit in a game that probably has the most shootout potential, plus he's coming off a bye. Brees has been in peak form this year, tossing seven touchdowns in his last three games with no interceptions on the year.
If you want to go super cheap, I actually don't hate Kevin Hogan in cash. As 9.5-point road underdogs, the Browns will be passing the ball a ton. And now Houston's defense is without J.J. Watt and Whitney Mercilus. Hogan added four rushes for 30 yards last week, which raises his floor, and he's only $6,100.
Most people will gravitate toward Watson. There's nothing wrong with that strategy this week.
Running backs: Cheap will be the chalk
Everyone is abuzz about cheap running backs this week, and The Box shows us that mid-tier running back are indeed significantly more valuable than mid-tier wideouts this week.
One highly touted player this week is Mark Ingram down at $5,900. Ingram has logged 16 and 18 touches over the past two weeks, and now Adrian Peterson has been shipped out of town, freeing up a few additional touches. Ingram could push for 20 this week, which is great volume for a player priced so low. I expect him to be a chalky cash game running back.
Jerick McKinnon ($5,600) is also underpriced after playing on Monday night. He scored 23.6 FanDuel points in that game while logging 22 touches, 146 total yards and a score. Even if we remove his long touchdown run, McKinnon still flirted with 100 total yards on 20-plus touches.
Ingram-McKinnon cash game stacks will be popular this week. It's easy to see why, and I have no major qualms with doing so.
At the same time, playing guys like that has never been my personal style for FanDuel cash games. I almost always pay up at the position. With that in mind, Leonard Fournette is an option at $8,600 against the Rams, who have given up the second-most fantasy points to running backs this year.
Kareem Hunt ($9,300) draws the Steelers, a seemingly tough matchup. But Fournette trounced Pittsburgh last week and the Steelers have given up the fourth-most fantasy points to the position.
Differentiating cash game lineups isn't the biggest deal in the world, but it's not irrelevant. This is the week fewer people will be paying up for two stud running backs. Sticking to the usual script and jamming in two big names is still a viable route this week, I think.
Wide receivers: You'll want to pay up … but can you?
Paying up for wide receivers seems to be the best thing to do this week, and The Box supports that notion. Julio Jones and Antonio Brown have two of the three best individual WR-CB matchups this week, and Michael Thomas is a home favorite in the game with the highest projected over-under (50).
If you go the chalky route and roll with Watson-Ingram-McKinnon at the top of the lineup, you can actually fit in all three of Thomas, Brown, and Julio, assuming you don't go crazy on a tight end and punt on a defense.
I'm not going to lie — that actually sounds pretty enticing.
No matter what you do at quarterback and running back, you can fit at least one of those studs into your lineup, and that certainly seems like an optimal play this week.
Chris Hogan ($7,500) is about $1,000 or more cheaper than those studs, but he arguably presents the most touchdown upside of any of them (or of any receiver). With touchdowns in four of five games this year and an extremely predictable yardage totals (78, 68. 60, 78 over the past month), 2017 is basically 2015 Eric Decker, who was a cash game staple.
Beyond the top tier, however, it actually gets pretty ugly. Larry Fitzgerald ($6,600) has a good matchup at home against the Bucs, and can be considered in cash. I never play Jarvis Landry ($6,500) in cash on FanDuel, but this might be the week that changes. Landry is potentially viable, assuming DeVante Parker sits. We saw Landry get a red zone target last week in Parker's absence. More of that would boost his floor.
If you're looking to punt at the position, I don't hate Jamison Crowder down at $5,400 or Ricardo Louis at the minimum $4,500. Crowder is healthy and has been talked-up by Washington coaches, while Lewis is Cleveland's only viable wideout at the moment, and he's a player who has seen at least eight targets in two straight weeks.
Tight ends: Staying near the top (or at least halfway to the top)
Rob Gronkowski and Travis Kelce (if he's active) are always good cash game tight ends if you can fit them into the lineup, which actually might be difficult to do this week. You can go to last week's chalk (who hit) in Austin Seferian-Jenkins ($5,600), who has a plus draw against the New England Patriots.
Call me crazy, but I actually think George Kittle is cash game viable this week. The 49ers are 10.5-point road underdogs, which means they'll be passing a ton. Kittle broke out last week with a line of 9-7-83-1, and the Redskins have given up the third-most fantasy points to opposing tight ends.
I want to like Evan Engram this week, given that he's New York's only pass-catcher left (seemingly), but it's extremely hard to trust him in cash after he caught no passes last week. He did, however, has at least 40 yards in the first four games of the year, and he saw at last seven targets each week from Weeks 2-4. I'm not sold on Engram as a cash game option yet, but I'm considering it.
I'm finding it really hard to punt at tight end this week. Zach Miller at $5,000 might be as low as I'd be willing to go. Even guys like Antonio Gates, classic pray-they-catch-a-TD tight ends, have just abysmally low floors (he has fewer than five points in three straight games, and four of his five games this year). Even a touchdown from Gates doesn't put him over 10 points.