Dec 7, 2017; Atlanta, GA, USA; Atlanta Falcons running back Devonta Freeman (24) scores a touchdown against the New Orleans Saints during the first half at Mercedes-Benz Stadium. Mandatory Credit: Dale Zanine-USA TODAY Sports
Week 16 is upon us, but we once again have a short main slate in FanDuel, thanks to a handful of games on Saturday and Monday this week. But it's still a 12-game slate with plenty of goodness to go around.
Here's a look at several FanDuel cash game strategies you can deploy in Week 16.
(For the FanDuel tournament guide, click here)
Week 16 outlook: FanDuel pricing and projections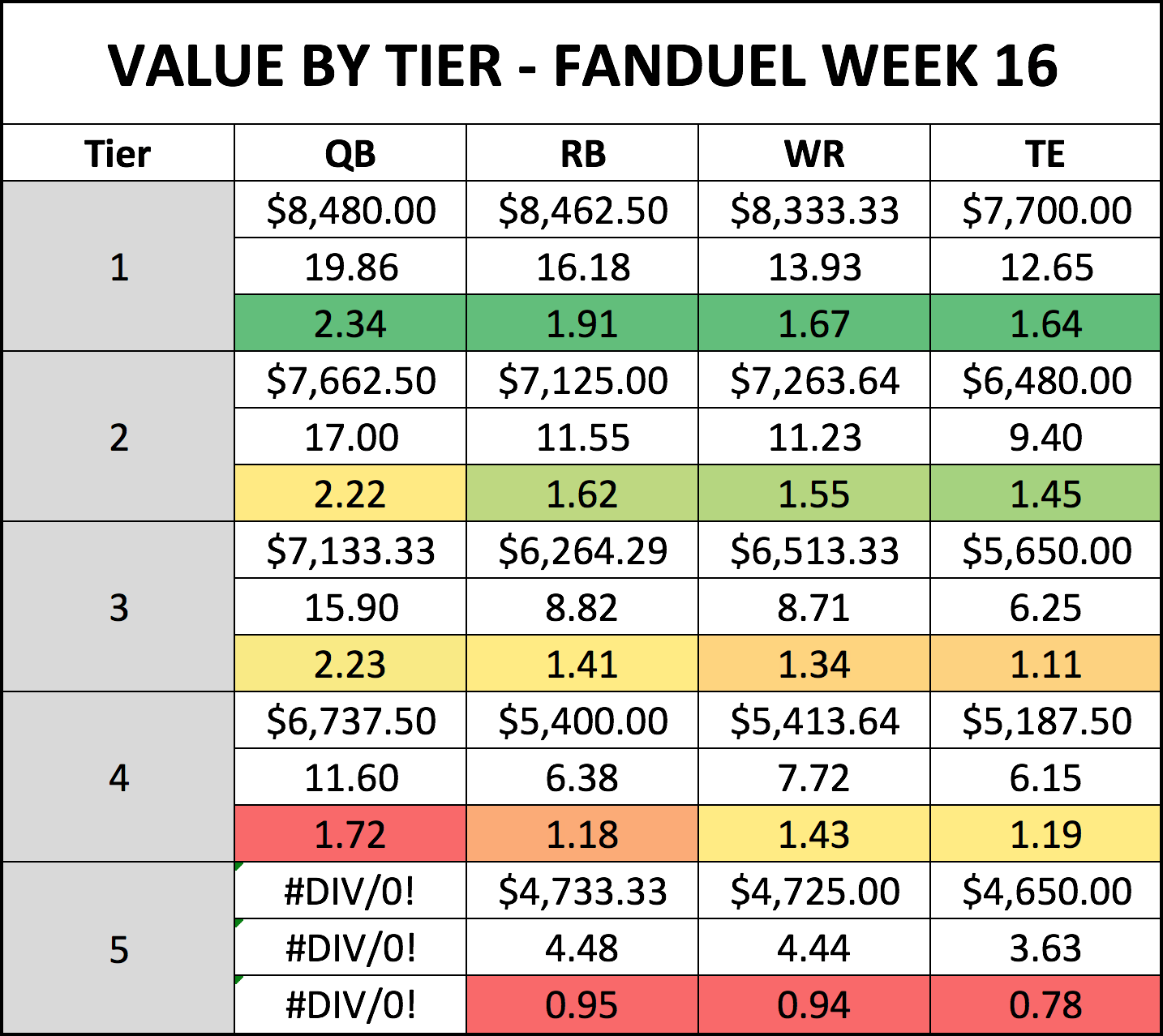 Tier Definitions
1
2
3
4
5
QB
$8000+
$7500-$7900
$7000-$7400
$6500-$6900
$6100-$6400
RB
$8000+
$7000-$7900
$6000-$6900
$5000-$5900
$4600-$4900
WR
$8000+
$7000-$7900
$6000-$6900
$5000-$5900
$4600-$4900
TE
$7000+
$6000-$6900
$5500-$5900
$5000-$5400
$4600-$4900
The Box: The first row within each tier represents the average salary of every player in that tier. The second row represents the average projected fantasy points for every player in that tier. The third row is the average value of each player in that tier (points/salary*1000). The Box is also color coordinated within each position throughout the tiers.
Quarterbacks: Paying up isn't needed, but the top dogs are in prime spots
The Box shows us that quarterbacks within Tiers 1-3 are worthwhile this week. We'll go over some of the prime options in this range.
If you're paying down at quarterback in cash games this week — always a favorite strategy proposed in this article — you can't comfortably go too low this week.
Jameis Winston at $7,100 is a passable option, but it does feel a bit suboptimal. He's probably as low as I'd realistically go this week, although he wouldn't be my first option.
As strange as this is to type, Blake Bortles up at $7,600 is probably my favorite cash play this week. He's been a top-two fantasy quarterback for the past month, and he has a great matchup against the 49ers this week, who have given up the third-most fantasy points to opposing quarterbacks so far this year.
Jared Goff is only $100 more, and he has a good matchup against the Titans (25th in pass defense). Goff has multiple passing scores in six of his past seven games. The only concern here is that the Rams could blow out the Titans, rendering Goff unneeded in the second half.
You must have PFF Edge to continue reading...