When building DFS lineups for fantasy football, knowing who to play is crucial. But perhaps just as crucial is knowing who not to play, which players you should cross off your list for that slate. Paring down the player pool makes the rest of the lineup decisions that much easier.
Each week in this space, using the information and data available to PFF subscribers, I'll highlight the players in that week's main slate that I think should be crossed off for that week, or at least used very sparingly. These are the Week 4 fades.
Quarterback
How many times did Watson top two passing touchdowns in a game in 2018? I bet you'd get the answer wrong. Because he did it exactly once. He finished as last year's No. 4 fantasy quarterback despite only one game with more than two passing scores. A big part of that was his rushing — outside of a five-game stretch in the middle of the year when he was injured, he averaged more than 40 rushing yards per game and scored on the ground five times. He's scored twice on the ground this year, but only has 23 rushing yards total the last two weeks. Add in the Panthers only allowing 189 passing yards per game, and this is a good week to fade Watson.
The over/under on this game is 44, and my wife would not approve of how much of our money I want to put on the under. This is a Bills offense that is good-not-great going against what has so far been the best defense in the league (and not by a little; the Patriots' 90.3 PFF defense grade is well ahead of the second-place Packers' 82.7). Meanwhile, the Bills have the No. 7 graded defense, while the Patriots have a banged-up Julian Edelman, a picked-apart offensive line, and a fullback that is a big part of the offense now on IR. Bet the under on every offensive player in this game.
Running back
In two home games this year (both wins), the Vikings have run the ball more than 70% of the time. In their one road game (a loss), the ran it only 45%. The Bears have an excellent run defense (an excellent everything defense, to be fair). If the Vikings want to win in Chicago, they will at least need to have more of a varied attack than "Here, Dalvin, do it for us please." And considering Cook's the second-most-expensive running back who will actually play on this week's main slate, that's too big a price to pay in a bad matchup.
Don't bail on Gurley. Better days are ahead. But those days will come after Week 4, with the Rams facing a Tampa Bay run defense that has been an extreme pass-funnel so far this year, with a league-leading 21 tackles at or behind the line of scrimmage and the No. 2 PFF run-defense grade. Use the Rams' passing offense this week. Avoid the running game.
Sony Michel, New England Patriots (@ Buffalo)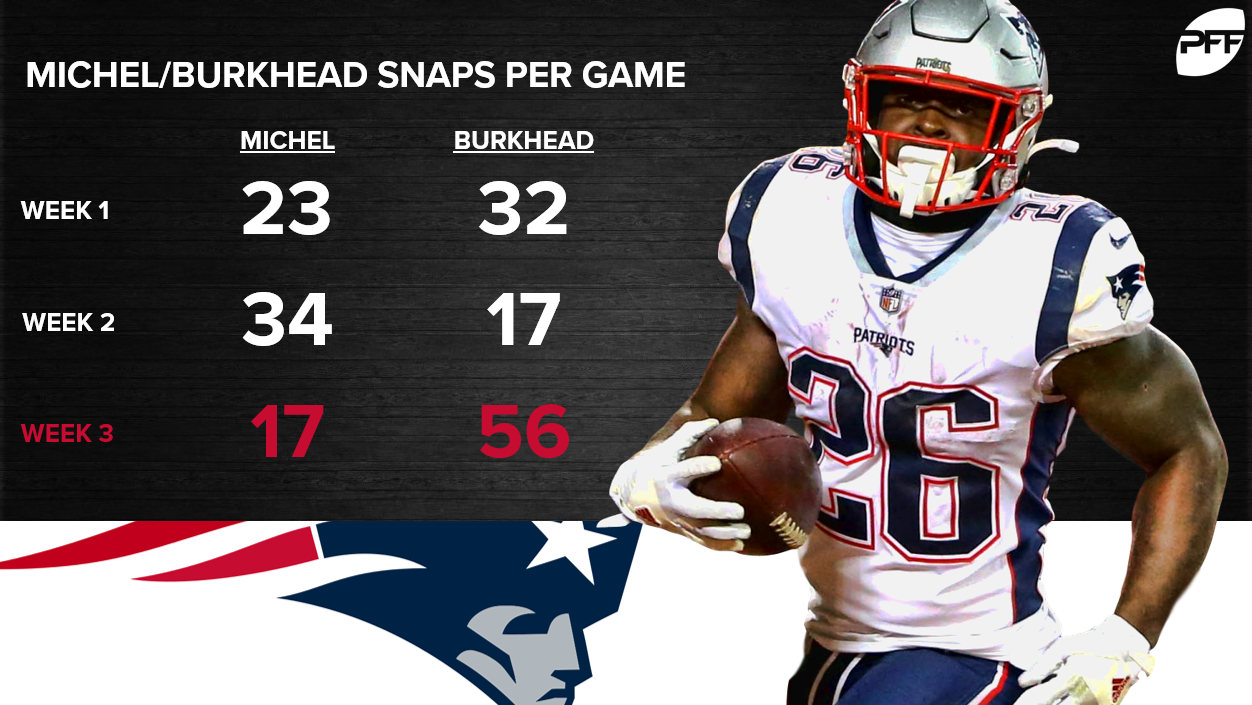 I mentioned above to avoid almost every player in this game, but it's worth particularly mentioning Michel. He scored a touchdown in Week 3 with James Develin out. Prior to that, each of his last 10 rushing touchdowns had come with Develin as his lead blocker. Develin's on IR now. Even in a game the Patriots won comfortably and with James White out in Week 3, Michel played only 17 snaps to Rex Burkhead's 56.
Gallman is going to play Sunday, and he's going to play a lot, because the Giants have basically nobody else. And even in a game that promises a lot of passing, there's a fine chance he'll be productive. But even at a relatively discounted rate (he's $4,600 on DraftKings), Gallman will be hard-pressed to return the 3-4x value you're looking for out of a DFS back; in three seasons, he has three touchdowns and has never had a 100-yard game. And with Gallman promising massive, over-the-top ownership this week (per our DFS Ownership Projections), the best you can hope for is a decent game that is massive overrepresented. Differentiate yourself and find someone with more upside.
Wide receiver
Evans is going to primarily see Marcus Peters in coverage Sunday. And when he doesn't, he'll see … Aqib Talib. That's rough. Those are two of the top 10 cornerbacks so far this year in coverage snaps per reception (Peters is fourth at 29.8, Talib is ninth at 19.5). The Rams have been a lights-out pass defense.
John Brown, Buffalo Bills (vs. New England)
Brown's been fantastic since joining the Bills, top-20 in the league in receptions and receiving yards through three weeks. That should grind to a halt this week, likely to draw shadow coverage from Stephon Gilmore (per our WR/CB matchup chart) and if all goes well getting Jason McCourty or Jonathan Jones the rest of the time. There's not a situation there you like.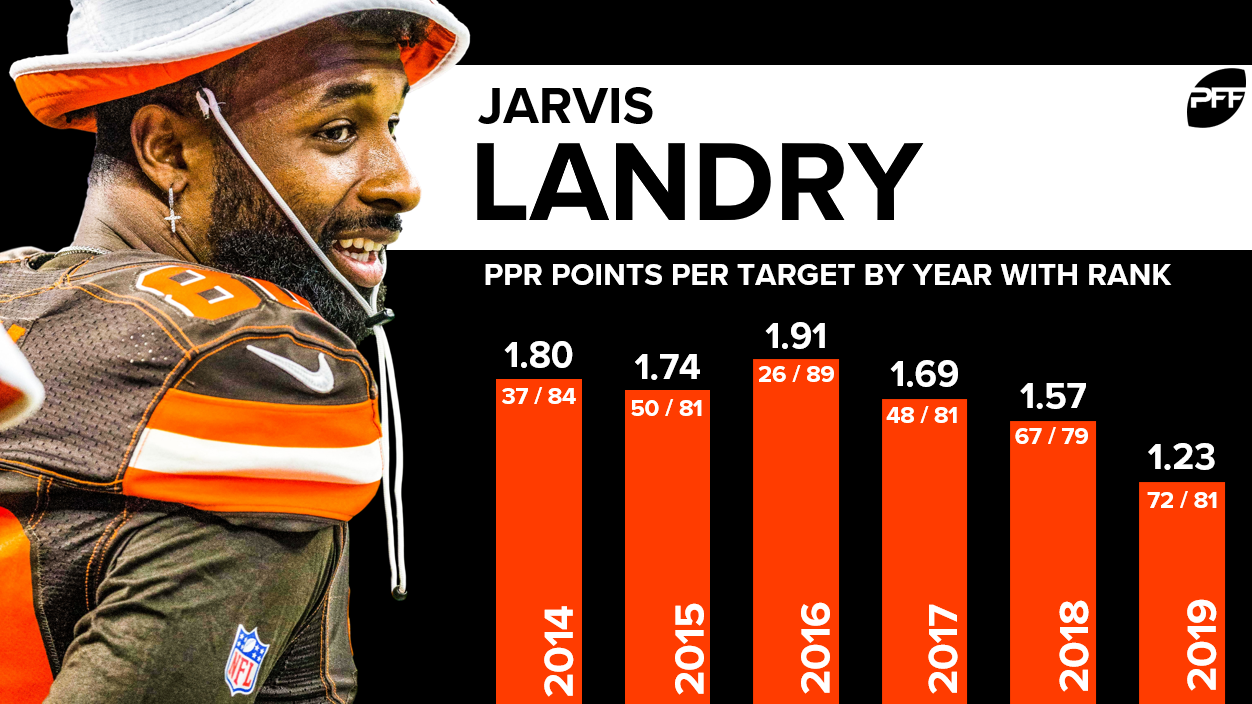 At his peak in the Dolphins, Landry was a short-depth target monster. That naturally meant he wasn't as productive on a per-target basis as some of the biggest names at the position, but he did peak at 1.91 PPR points per target (26th of 89 qualified receivers) in 2016 and has been over 1.50 every year of his career. This year? He's at 1.23, 72nd of 81 qualifiers. And to make matters worse, Landry is averaging only 7.3 targets per game this year, his lowest average since he was a rookie.
The Gardner Min-show has carried D.J. Chark and even Chris Conley to heights we might not have forecast. Not along for the ride? Westbrook, who isn't even to 80 yards in total this year. Only his Week 1 touchdown in a shootout against Kansas City has kept his fantasy game from being a total disaster this year. This week, he's likely to draw Denver slot cornerback Kareem Jackson in coverage, who has the No. 12 PFF grade among cornerbacks this year and has only allowed 12 yards after the catch all year.
Tight end
Don't get me wrong, Andrews has been fantastic this year. He leads the position in fantasy points per snap, and he leads it by a lot. But betting on strict efficiency without massive playing time is asking for it, and Andrews is playing barely half the snaps that the leaders at the position are playing. Until his snap count rises, I'm just going to be nervous relying on him in DFS tourneys.