When building DFS lineups for fantasy football, knowing who to play is crucial. But perhaps just as crucial is knowing who not to play, which players you should cross off your list for that slate. Paring down the player pool makes the rest of the lineup decisions that much easier.
Each week in this space, using the information and data available to PFF subscribers, I'll highlight the players in that week's main slate that I think should be crossed off for that week, or at least used very sparingly. These are the Week 14 fades.
Quarterback
Deshaun Watson rushed for 12 yards against the Ravens. Russell Wilson rushed for 27. Kyler Murray for 4. The only quarterback to score a rushing touchdown against them was Andy Dalton. Allen is a better runner than all of those, but still, this is a defense that doesn't allow quarterback to tally many rushing yards, and with the team allowing under 10 fantasy points a game to quarterbacks since the Week 8 bye, it's not a good time to bet on Allen.
Brady is a popular play this week, coming off of a big fantasy total in Week 13 and against a Kansas City defense allowing the 12th-most fantasy points to the position, but I'm skeptical on both of those. Brady's Week 13 numbers were largely based on garbage-time production, a situation we wouldn't expect this defense to get into very often. And this is a game where Brady's lack of trust could bite him. The Chiefs allow the second-fewest PPR points per game to wide receivers, including holding opposing No. 1 receivers to 3.1 points per game below their season average. With little for Brady to count on beyond Julian Edelman, it's hard to see a path to big-time production.
Running back
Speaking of pooh-poohing popular plays, Kamara is getting buzz for this week up near the Christian McCaffrey/Derrick Henry types, and I don't see that at all. Since returning from injury, Kamara's forced missed tackles per game have dropped from 6.3 to 1.3, and his yards per reception have dropped from 8.8 to 5.5. He's simply not escaping like he has in the past. And against a San Francisco defense that has allowed only 3 touchdowns to running backs all year, I'm much more likely to invest in Michael Thomas this week than his Saints teammate.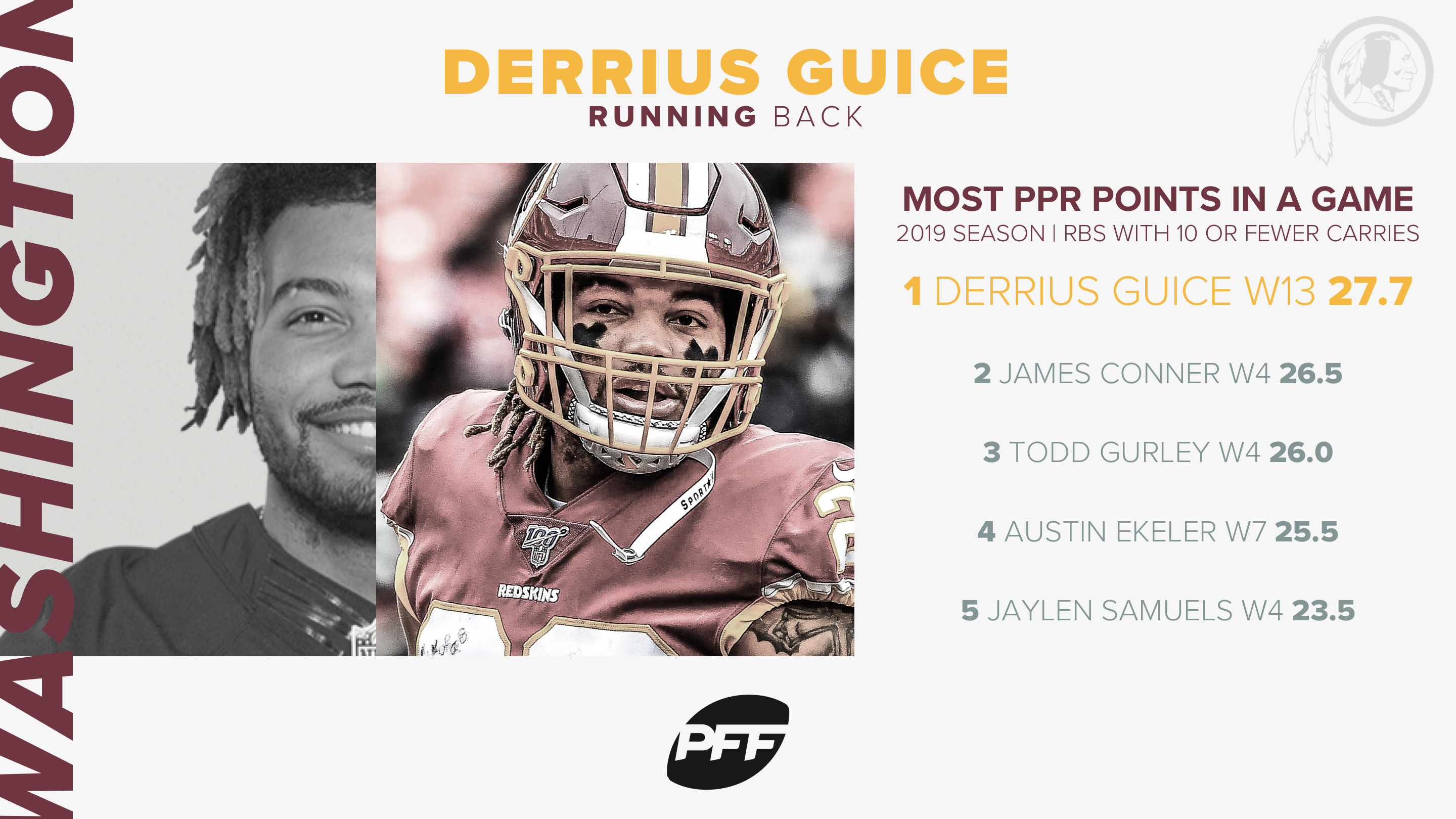 Guice might be a popular play this week for the point-chasers, coming off a 10-carry, 129-yard, 2-score Week 13 game against Carolina. And while the "129" and the "2" there are definitely noteworthy, the "10" should stand out. That's just not enough carries for a player you would want to build a DFS roster around, even in what looks like another good matchup. Guice was No. 2 in PPR scoring among running backs last week, but 50th in snaps played.
I have to admit, I do not understand the Laird hype. This is a guy who couldn't overtake Kenyan Drake, Mark Walton, or Kalen Ballage for the job, who only really got work once those guys were all out of the way, and whose "big" game consisted of 10 carries for 5 yards and 4 receptions for 43 yards. Yes, he might have the job all to himself this week, but we saw how that went for Ballage before him, and the Jets are one of the league's best run defenses. If you are using Laird it is almost literally only for the savings, and I'd rather just spend up on a back with more potential and find savings elsewhere.
Wide receiver
Our WR/CB matchup chart forecasts shadow coverage on Chark from Casey Hayward, and while that didn't slow Courtland Sutton down last week, Hayward's been a strong shadow corner before that. Meanwhile, the Jaguars offense has gone in the tank lately, averaging under 12 points over the last month and lowering the ceiling of all its weapons.
Both Scott Barrett and I have theorized whether Landry should jump Beckham in the PFF Fantasy rankings on the heels of six consecutive games with more points than his bigger-name teammate, but this week I'm not sure you really want to invest in either. The Bengals have allowed the 10th-fewest points to opposing wide receivers but the sixth-most to running backs. A lot of that is gamescript-related, obviously, with the Bengals trailing far more than they've led this year, but that's not exactly likely to change this week, considering the Browns at 7.5-point favorites.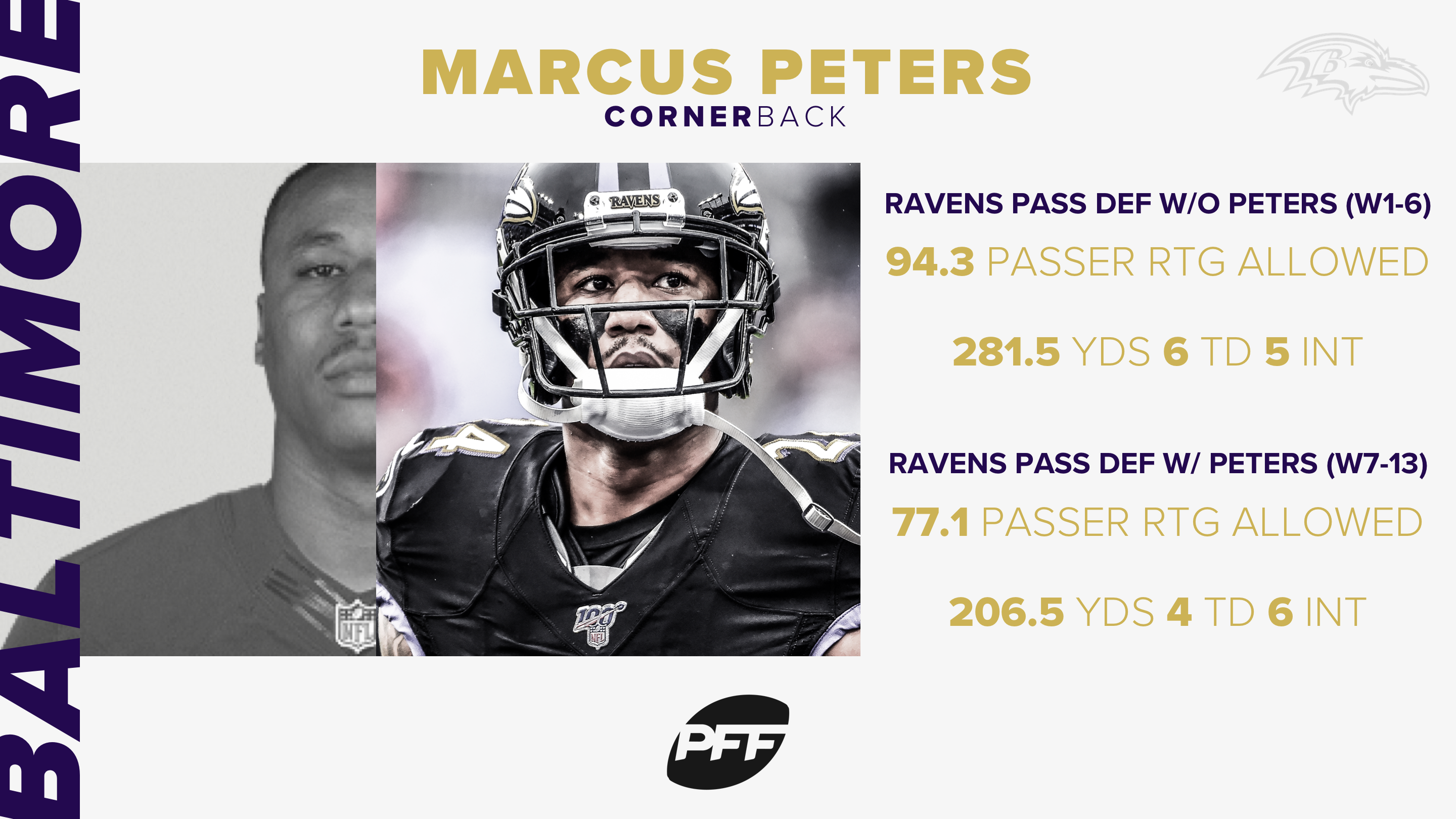 The Ravens are middle of the pack against wide receivers this year, but a big chunk of that production came early in the year, before the pass defense was at full strength. The Ravens haven't allowed a 100-yard receiver since Landry in Week 4, and only three wide receivers (Tyler Lockett in Week 7, Mohamed Sanu in Week 9, Deebo Samuel in Week 13) have scored on them since acquiring Marcus Peters. This is a better pass defense than it appears at a season-long glance.
Tight end
Kelce's not a bad play this week, but given the appeal of George Kittle's situation as a fellow high-priced tight end and a surprising number of appealing lower-cost options this week, spending up on Kelce against a Patriots defense famous for taking away what the opponent does best seems like a bad investment.