By this point in the college football season, most devy and dynasty players likely have a pretty strong grasp on which players will be among the top prospects of the 2019 NFL Draft class. Many of the familiar names are ones we've been tracking not only since this past offseason, but for several years because they were highly touted high school recruits.
This piece isn't about any of those guys. This one is about late bloomers, forgotten players, and smaller-school prospects who either weren't top recruits or didn't truly break out until 2018. Everybody loves an underdog – so here's a quintet for you to keep your eye on the rest of the season and throughout the draft evaluation period.
Karan Higdon, RB, Michigan
(senior, 5-10, 202 pounds)
Higdon put himself on the map in 2017 with a trio of 150-yard rushing performances, but failed to reach 70 yards in any of his other 10 contests despite averaging over 13 touches per game. In 2018, however, Higdon has emerged as a dependable and productive workhorse back. He boasts an active seven-game 100-yard rushing streak and has at least 20 touches in six of eight games. In a Big-10 conference thatfeatures a handful of talented backs, Higdon ranks second in rushing yards and yards from scrimmage. With Michigan ranked in the top five and vying for a college football playoff spot, he'll get more national attention over the final month of the season. Higdon sneaked into my top-25 positional rankings a few weeks ago and has already climbed a bit higher since then. Quicker than he is fast, and lacking elite size and athleticism overall, I'm starting to liken Higdon to a budget version of Dalvin Cook.
Qadree Ollison, RB, Pittsburgh
(senior, 6-2, 225 pounds)
Ollison had an incredible freshman year, compiling a line of 212/1,121/11 on the ground while James Conner was battling cancer. He faded to the background during his sophomore year when Conner returned to the team, and then struggled to regain a command of the starting role as a junior. Fortunately for Ollison, his senior season has been much more in-line with his freshman campaign. He's averaging over 90 rushing yards per games and should finish with around 1,200 if everything stays on course. He's currently ranked third in the ACC in rushing yards and yards from scrimmage. He'll finish his college career with over 50 receptions as well and shouldn't be viewed as a one-trick pony. He will be one of the bigger backs in the draft and could appeal to team looking for an early-down hammer or late game grinder. Ollison is a great name to keep filed away as a late-round dynasty rookie pick if he wasn't picked up in your devy league after his freshman season.
Hakeem Butler, WR, Iowa State
(senior, 6-6, 225 pounds)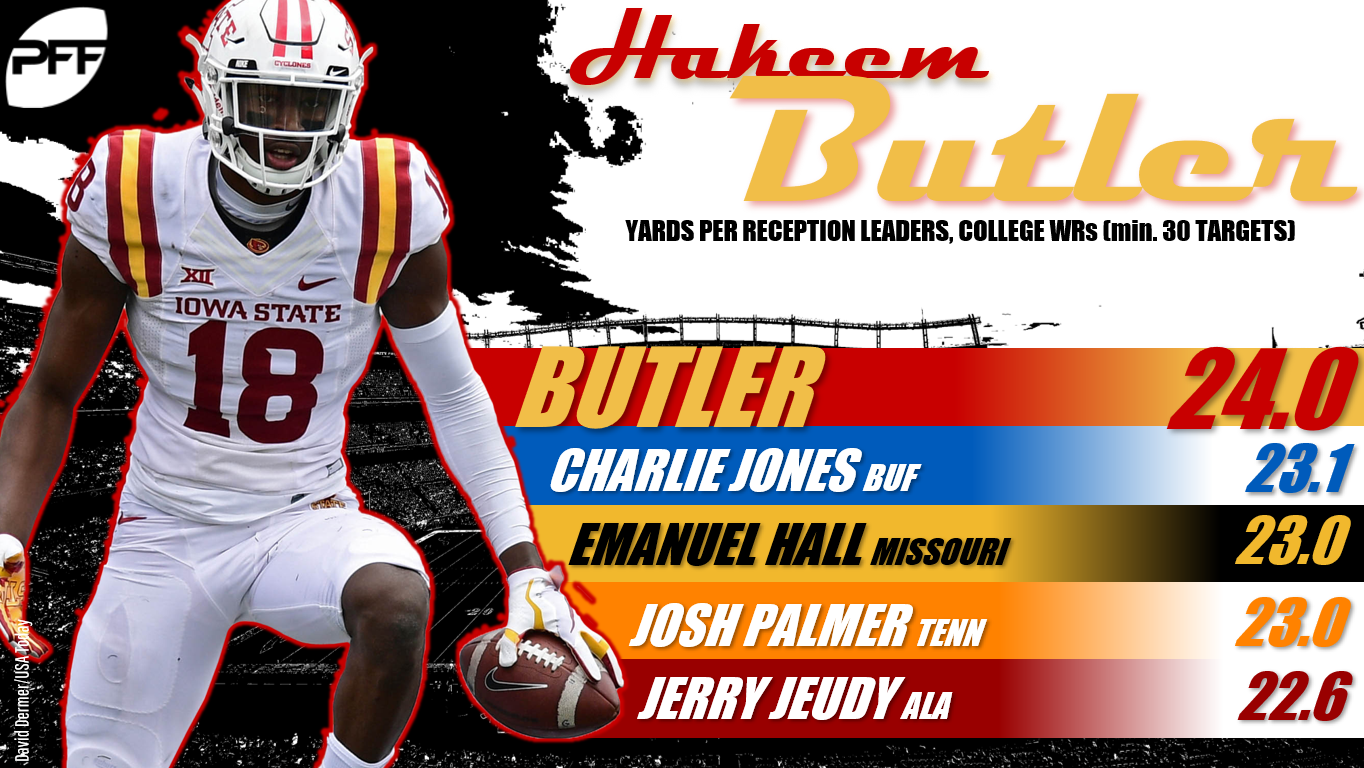 A mountain on the field, Butler has risen to new heights over the past month of the season. He's scored five touchdowns in his past four games, averaging 120 receiving yards per game over that span. A player with his size is one you'd want to feature as a scoring weapon and he hasn't disappointed in that category either. Butler has scored 13 of his 17 career touchdowns against Power-5 schools. He's been able to make big plays with regularity over his college career, sporting a healthy 19.5 yards per reception. He's kicked it up a notch higher in 2018, though, as he ranks first in the nation with 24 yards per reception. With a decent combine performance, I really think Butler could end up as a day-two NFL Draft pick, which means he'll command a heftier price in dynasty rookie drafts than most would have projected a year ago. If he can be had in your devy league today, it will probably be for cheaper than he'd cost in April.
Tyre Brady, WR, Marshall
(redshirt senior, 6-3, 206 pounds)
Here's an example of a once-sought-after player who had to start over. Brady originally enrolled at Miami (FL) and also received offers from Florida and Florida State. He transferred to Marshall following the 2015 season after only appearing in four games his first two years at Miami. After sitting a year, Brady took Conference USA by storm as a redshirt junior in 2017, posting 942 receiving yards and eight touchdowns. He torched North Carolina State for 11/248/1 in a game that scouts will surely look at since it's one of his only games against Power-5 competition. He's on a similar statistical pace in 2018 with a line of 47/588/6 through eight games. Brady will be one of the older players in the class, as he's already 23 years old. With a strong combine performance, Brady could find himself selected in the middle rounds of the NFL draft as somewhat of a surprise to many dynasty owners.
K.J. Hill, WR, Ohio State
(redshirt junior, 6-0, 198 pounds)
Hill didn't make much noise until his junior season, leading the Buckeyes with 56 receptions, He only averaged 9.8 yards per reception as the team struggled to push the ball down the field in J.T. Barrett's final campaign. His senior year has been a bit of a different story though, as all of the Ohio State receivers have benefitted from Dwayne Haskins' aerial attack. Hill will easily post the best numbers of his career as he's already amassed 51/695/4 though nine games, once again leading the team. If he maintains his current yards-per-game averages through the end of the season, Hill will be the first Buckeye since former second-round NFL pick Devin Smith to clear that bar. Hill works well in space after the catch (he also returns punts) and reportedly runs a forty in the very low 4.4 range. He looks like he could be an ideal fit for many of today's more modern passing offenses in the NFL.