There's an old saying that NFL stands for "not for long." There's perhaps no place that's truer than at running back in dynasty fantasy football. Case in point: David Johnson and Todd Gurley. Just two years ago, this duo were among the few elite dynasty options. Today, both players are in a very different place. So what should we do with both of these guys in dynasty leagues?
Recently rumblings that the Cardinals could release Johnson led to a firestorm across the interwebs. While it was widely being discussed as a report, this information actually came from a bold predictions piece from the ESPN reporter Josh Weinfuss. It's an important lesson in always knowing where your information is coming from when you read fantasy football news.
In this instance, the Cardinals have not said anything about releasing Johnson, but that is ultimately beside the point for dynasty purposes. Johnson was the No. 1 non-quarterback player in all of fantasy in 2016. He followed that up by missing most of 2017 due to injury and posting lackluster numbers in the Cardinals' forgettable 2018 season under Steve Wilks.
There was tons of optimism surrounding Johnson heading into last season. Kliff Kingsbury was supposed to breathe new life into Johnson's fantasy value. He got off to a decent start with the sixth-most PPR at the position through the first six weeks of the season. But an injury and the surprise acquisition of Kenyan Drake relegated Johnson to a backup role and he was essentially unstartable down the stretch.
While Johnson's downfall came as a surprise for many in fantasy circles, perhaps it shouldn't have. Sure, he put up a decent amount of fantasy points over the first six weeks of the season, but that was largely due to his ability as a receiver. As a runner, Johnson was generally ineffective, producing just 298 rushing yards on 76 carries (3.92 yards per carry) with an abysmal 1.99 yards after contact per attempt. By comparison, Drake averaged 5.29 yards per carry with 2.88 yards after contact per attempt since joining the Cards.
We also have to acknowledge perhaps the biggest elephant in the room: Johnson's age. He turned 28 back in December. Like it or not, that makes him one of the league's elder statesmen at the position. Typically, we start to see decline at or around age 27 for running backs, and Johnson certainly fits that timeline.
Johnson's declining efficiency numbers plus his age make him an immediate dynasty sell. Ideally, you would have jumped off this ship after his age-26 season, but there's still time to get something in return for him. If you can find a willing trade partner, it's advisable to swap Johnson for younger talent or rookie draft picks. Keep in mind that you probably aren't going to get much for him, but something is better than simply cutting him when he inevitably isn't a viable fantasy option any longer. That could happen as soon as this season, so try to unload him as soon as you can.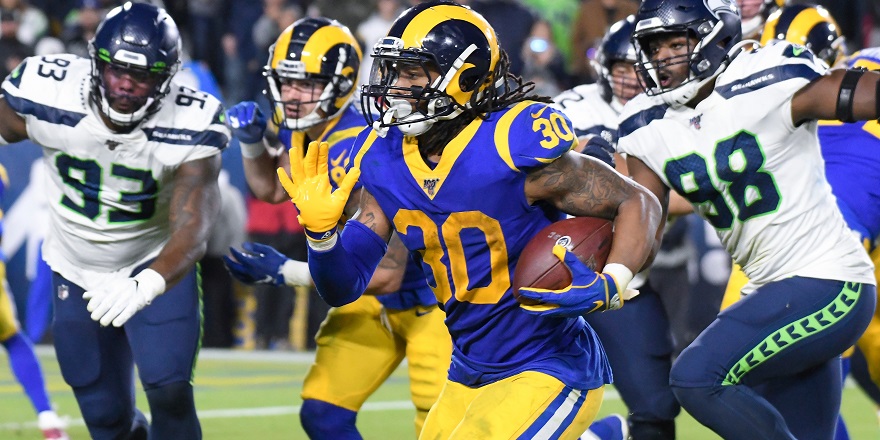 As for Gurley, we're in a somewhat similar position for dynasty purposes. He's was the most electric player in the league for a season and three-quarters in 2017 and 2018. But a lingering injury hampered his play in the Rams 2018 playoff run and for much of last season. To his credit, Gurley did finish the season well, ranking ninth among running backs in PPR scoring over the final seven weeks of the season.
Gurley's future with the Rams seems to be up in the air with reports suggesting the team plans to meet with Gurley before he receives a guaranteed $10.5 million on March 20th. There's a chance Los Angeles requests a renegotiated deal, which at least puts on the table the chance that Gurley walks and tests the market.
But like Johnson, Gurley's immediate future doesn't actually impact how we handle him in dynasty leagues. While Gurley is two-and-a-half years younger than Johnson, he's been in the league for just as long (five years) and has logged 495 more touches over that span. In 2017, Gurley was among the league leaders with 15 explosive runs of 15-plus yards. He followed that up with 17 in 2018. Last year, he managed just eight. We've also seen a decline in Gurley's actual on-field performance. He graded out as the No. 4 overall back in 2017. That number dipped to 20th in 2018 and dropped off a cliff to 57th last season.
The good news with Gurley is that you at least have some better selling points than you do with Johnson. You can point to Gurley's solid numbers down the stretch and might even been able to sell a trading partner based on the fact that he's still just 25 years old. The goal here remains the same. We need to recoup at least something in exchange for Gurley.
Don't be afraid to unload aging running backs even if you think they may still have a little tread left on their tires. Waiting too long and having to cut older players in dynasty leagues has a deleterious effect on your roster. There's almost no way you can regain their value off waivers, but a trade could net you younger players on the upslope of their careers or, better yet, rookie draft picks.