The Minnesota Vikings will look a little different this season with Stefon Diggs now in Buffalo, but the general nucleus of last year's squad is still in place. In 2019, we saw the Vikings pound the ball on the ground with the sixth-most rushing yards (2,133) in the league. That focus on the run game led to good things for Dalvin Cook's fantasy value. Will the good times continue for Cook? Let's take a look at what our initial 2020 fantasy football projections have to say about the Vikings offense.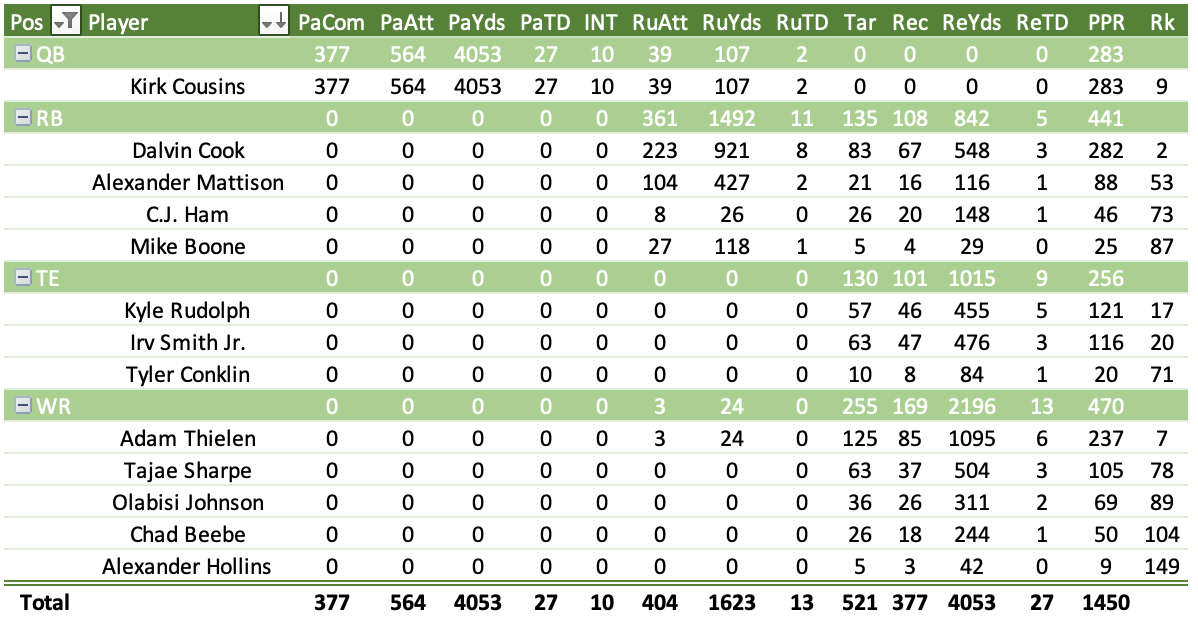 Cook is coming off a breakout 2019 campaign during which he ranked third among non-quarterback skill position players in fantasy points per game (21.2). Only Christian McCaffrey (29.3) and Michael Thomas (23.4) were more productive on a per-game basis. Our numbers absolutely love Cook and suggest he picks right up where he left off. 
While Cook's projected 4.13 yards per carry doesn't necessarily pop, his 67 receptions ranks fourth among running backs. Cook also figures to be heavily involved in the red zone after leading the league with 21 goal line carries last season. That means touchdown upside. Let's be clear: Cook isn't going to hang around very long in 2020 drafts, but his current ADP of RB4 suggests there's some modest value to be had in Cook at pick 1.05 base on these projections.
It isn't just Cook. Our projections come in very high for Kirk Cousins. This one deserves some unpacking, especially given his much lower position in our fantasy football rankings at QB24. Cousins is a tricky player to deal with. There were times last season when he looked like a borderline elite fantasy option. From Weeks 5-11, only Lamar Jackson had more fantasy points. But if you look at his fantasy performances in his other eight games, Cousins ranked just 24th at the position in scoring.
So our rankings lean more toward the latter result, especially with Diggs out of the mix. However, projections clearly like him much more. Part of this almost certainly has to do with how well Cousins graded out last year. Our analysis team has Cousins as the No. 4 signal caller in PFF passing grade. Despite the favorable projection, it's unlikely I'll be endorsing Cousins as anything more than a late-round flier in 1QB leagues given the Vikings' run-heavy approach and Cousins' 2019 fantasy volatility. 
We also need to take Adam Thielen's favorable projections with a grain of salt. Yes, he does come in as the No. 7 wideout in our initial projections, but this is largely due to taking Diggs out of the mix. Without him, Minnesota has an extremely thin depth chart at the position. The team did sign Tajae Sharpe in free agency, but he hardly fills the void left by Diggs. If the Vikings address the position early in the draft, we can all but guarantee some shares will shift away from Thielen. By the time fantasy drafts roll around in August, he'll likely slot in as a WR2 option.
While the Vikings are thin at wideout, they do have two very capable pass catchers at tight end in Kyle Rudolph and Irv Smith. As our projections show, we expect volume to be fairly evenly distributed between the two, but this could be the season where we see the scales tip in Smith's favor. The seeds for this transition were planted down the stretch last year when Smith out-targeted Rudolph 14-12 over the final five weeks of the season. Unfortunately, it's tough to get behind either player for fantasy purposes with the strong likelihood they'll be cannibalizing each other.
[Find the full collection of analysis and insights on PFF's 2020 fantasy football projections for all 32 NFL teams. Check back as more articles will be added each day.]