This week, for the Divisional Round of the playoffs, we'll be looking at each positional grouping at each team and examining their DFS value and fantasy football upside on both DraftKings and FanDuel. Below is the look at the quarterback position.
(Click for quarterbacks, running backs, wide receivers)
Before digging too deep into the specific players on this slate, I did want to mention two important notes this week:
On a typical full-game slate, I want to feel comfortable with every player I'm rostering. Ideally, even my punt-plays are tremendous values with high-upside. On a shorter slate like this (four games, eight teams) it's okay to roster a relatively "gross" name if you feel they give you a stronger lineup overall – allowing you to pay up elsewhere.
I can't stress enough the importance of late-swap on these smaller slates. If you have any tournament lineups that, after a bad game or two, seem unlikely to cash, you have nothing to lose and everything to gain by adding exposure to some "riskier" lower-owned players.
Notes: All numbers in parentheses refer to a player's salary rank on each site.
Matchups: Matchups matter less than most people think, but more than most analysts think when at the polar extremes. Zach Ertz, Eric Ebron, and Travis Kelce are not just the three best tight ends on the slate, they've also been three of the four best fantasy tight ends all season. Their matchups are all especially interesting. Ertz's matchup – the Saints – are the toughest possible matchup for a tight end, and I feel very confident in saying that. The Saints have ranked best in schedule-adjusted fantasy points per game allowed to opposing tight ends in each of the past two seasons. On the other end of the spectrum, Indianapolis ranks worst (Kelce) and Kansas City ranks a close second-worst (Ebron), with a sizeable gap between them and next-closest defense. Indianapolis has also seen 30% of their total pass yardage allowed go to tight ends, which is easily the most among all defenses. Ebron leads all tight ends in touchdowns (14), and the Chiefs lead all defenses in touchdowns allowed to opposing tight ends (10). The Patriots and Rams rank are also attractive matchups, ranking eighth- and 10th-worst, respectively, in schedule-adjusted fantasy points per game allowed. Meanwhile, the Eagles and Chargers are tougher matchups, ranking third- and seventh-best, respectively. Dallas is a perfectly neutral matchup.
tl;dr: Eschew uncertainty and look only to the top of a top-heavy and uncertain position. Either target Kelce and/or Ebron, or punt the position entirely.
(DK: TE1, FD: TE1)
Kelce just put together the fourth-best fantasy tight end season of all-time and now gets a best possible matchup. Kelce isn't just the top option at the position, but he tops all receivers in our projections. He's the third-highest-priced receiver on DraftKings and ranks as the fifth-most-expensive receiver on FanDuel. I'll heavy exposure to him this week.
(DK: TE3, FD: TE3)
While I do love Kelce, I expect to have heavy exposure to Ebron as well, even if that means I'll be rostering more than one tight end on a number of my lineups. I wrote last week, "In games with Jack Doyle inactive, Ebron averages 15.7 expected fantasy points, 13.2 actual fantasy points, 0.61 expected touches, 0.60 actual touchdowns, 90.5 air yards, and 8.6 targets per game. Among all tight ends, respectively, here are where those numbers rank: third, fourth, first, first, first, third. 15.7 expected fantasy points per game also ranks 13th-best among all receivers."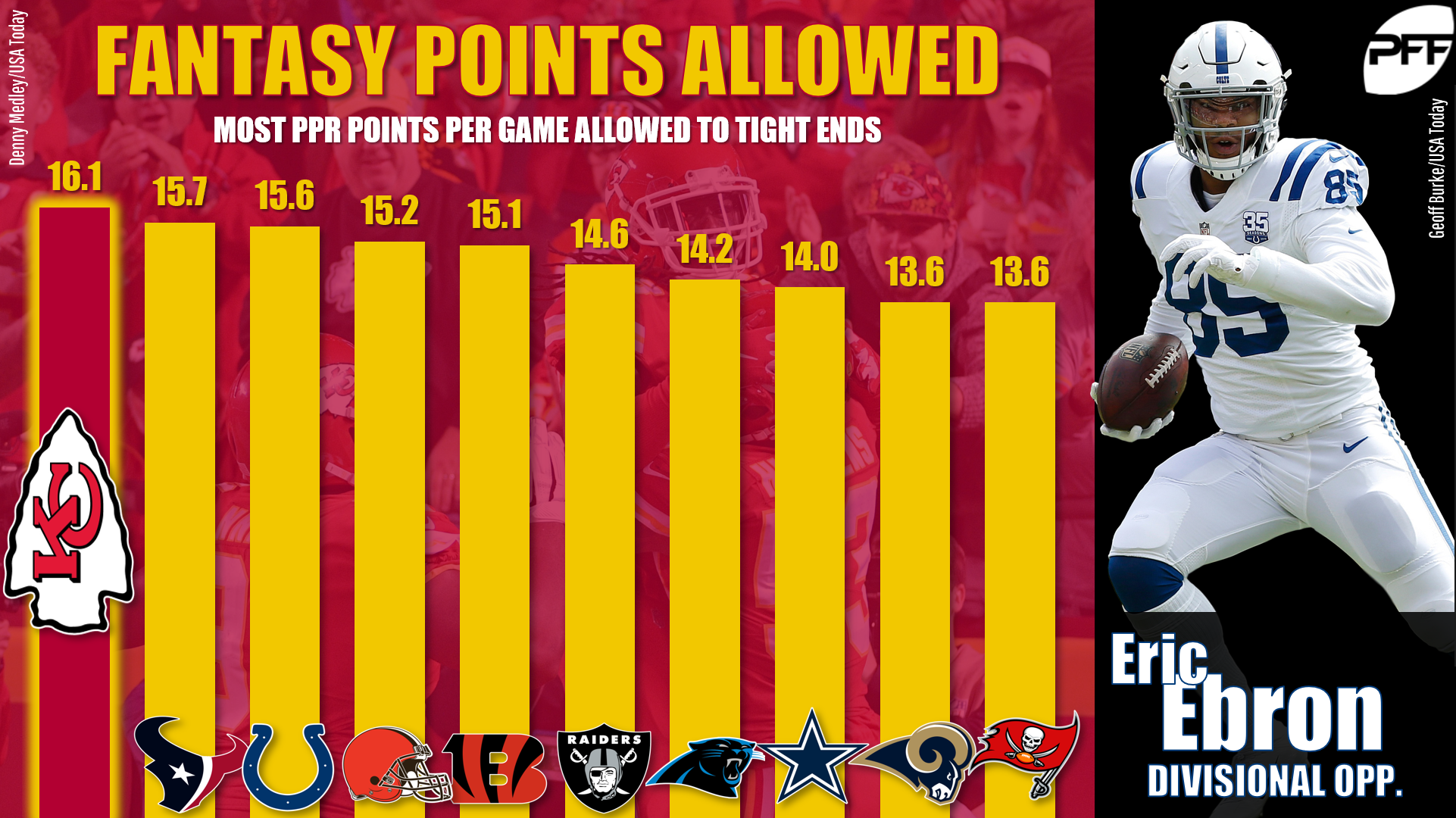 Ebron gets the best possible matchup a tight end can have this week. He had the second-best possible matchup last week, and somewhat disappointed. Against the Texans last week, he caught three of six targets for 26 yards and a touchdown. He's not entirely to blame, however. Indianapolis held a massive lead early and shifted toward a more run-heavy approach, as they've done all year. A positive blowout seems highly unlikely this week, as 5.5-point underdogs against a prolific Kansas City offense. Instead, we can expect Andrew Luck to be passing early and often with Ebron as one of the main beneficiaries. At price, he's a strong value as the 12th- and 13th-most-expensive receiver on DraftKings and FanDuel, respectively.
(Everett DK: TE10, FD: TE10; Higbee DK: TE11, FD: TE14)
Everett is vaguely in play, drawing six or more targets in three of his last four games. But he's only vaguely in play, because for the near-entirety of the season he's done nothing … and still more than Higbee.
(DK: TE5, FD: TE6)
Jarwin lost his mind in Week 17 against the Giants, scoring 39.9 DraftKings fantasy points. That was more than he totaled in all other regular-season games this year. Last week he caught all three of his targets for 15 yards, while being outsnapped by fellow tight end Dalton Schultz. Week 17 looks like and was a massive outlier fueled by the team sitting Ezekiel Elliott and leaning towards more of a pass-heavy approach. He's not really someone to target this week.
(DK: TE4, FD: TE4)
The once-great Gronk seems a shell of his former self. He's been held under 6.0 fantasy points in four of his last five games. He's reached 15.0 fantasy points only twice this year. In any other season, I could sell myself on a narrative that the Patriots were preserving Gronkowski during the regular season only to unleash him in the playoffs. His postseason numbers are terrific (20.7 fantasy points per game over his last seven postseason games), but I'm too distracted by his PFF grades to buy into that narrative. After seven straight seasons of grading as "elite," Gronkowski was only "above average" this year. I won't knock you for playing him, even in a below-average matchup, but I'll be looking elsewhere.
(Henry DK: TE8, FD: TE8; Gates DK: TE6, FD: TE8)
Henry is still cheap enough to warrant consideration on DraftKings even if limited on a snap count. He's a tougher sell on FanDuel and still risky overall. Gates is a boom-or-bust option with a subterranean floor.
Benjamin Watson averages 2.5 fantasy points per game over his last eight games. As low as that is, that's still more than Josh Hill over that same span. Dan Arnold has zero catches over his last three games. Hard pass on all tight ends from this team.
(Ertz DK: TE2, FD: TE2; Goedert DK: TE8, FD: TE5)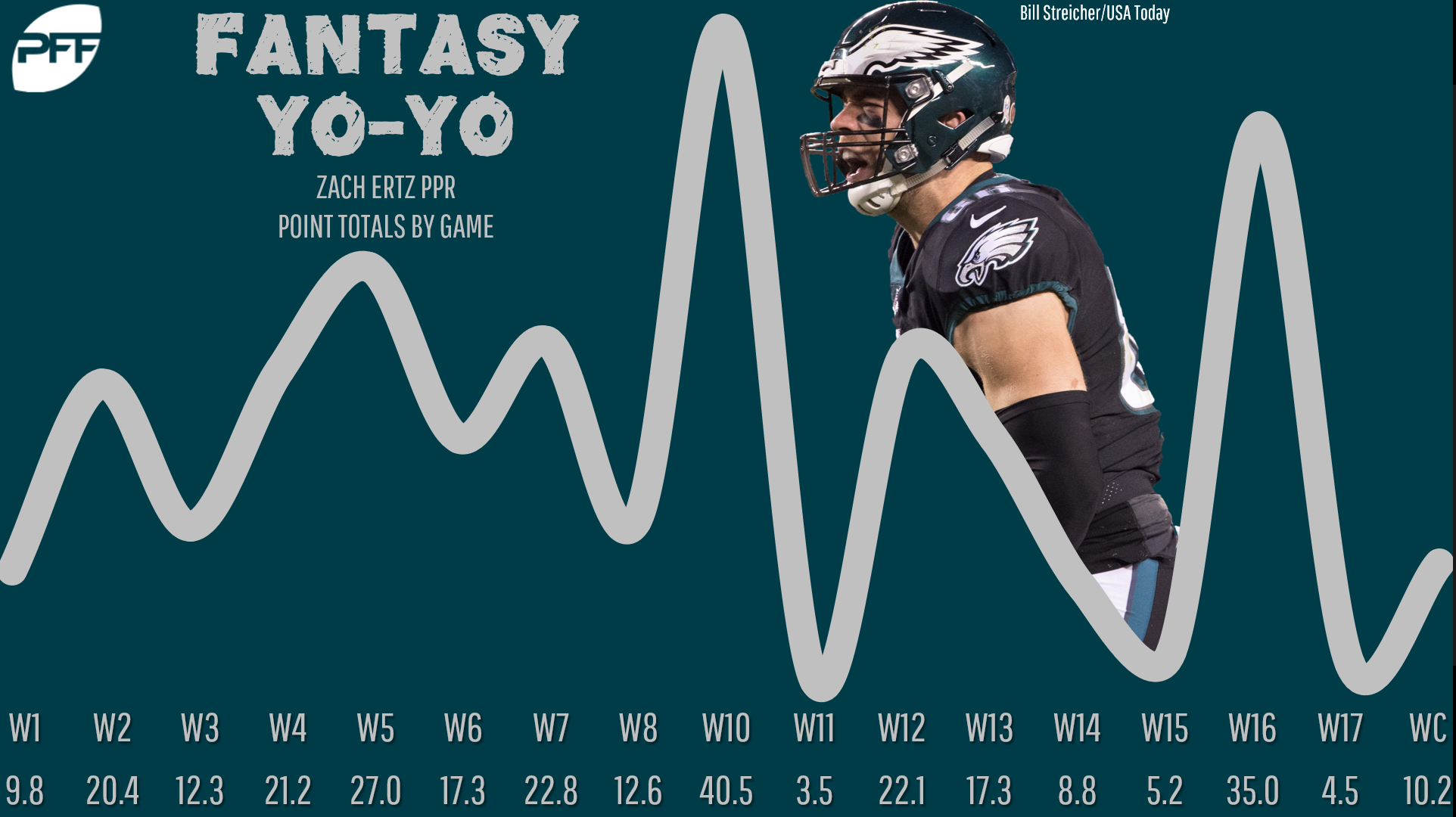 Since Nick Foles has reclaimed starting duties, Ertz has seen fantasy outputs of 5.2, 35.0, 4.5, and 10.2. In Week 11, against the Saints, Ertz saw three targets, catching two for 15 yards. Goedert saw two targets, dropping one and seeing the other intercepted by a defender. I don't think it's a coincidence this was Ertz's worst game of the season. New Orleans is easily the toughest tight end matchup in the league (as highlighted above). Ertz still deserves consideration given his historic success this year. However, given price, matchup, and expected ownership, I'll mostly be avoiding him this week.
Goedert played only 16 snaps in Week 11 against the Saints but has been averaging 38.0 snaps per game since. It's hard to know if this matchup negatively affects him as much as Ertz, I lean slightly in the negative. I'm also a big fan of his talent in general, but still, he's a bit overpriced as just a touchdown-or-bust option this week.