This week, for the Divisional Round of the playoffs, we'll be looking at each positional grouping at each team and examining their DFS value and fantasy football upside on both DraftKings and FanDuel. Below is the look at the running back position.
(Click for quarterbacks)
Notes: All numbers in parentheses refer to a player's salary rank on each site.
Matchups: Based on schedule-adjusted fantasy points per game allowed to opposing running backs, the Chiefs, Eagles, and Chargers rank sixth-, eighth-, and ninth-worst. The Patriots and Colts rank average. The Saints, Cowboys, and Rams rank seventh-, 10th-, and 11th-best. … In yards allowed per carry, the Chiefs rank worst, the Rams rank fourth-worst, and the Patriots rank sixth-worst. The Saints rank second-best, the Cowboys rank fifth-best, and the Colts rank sixth-best. The Eagles and Chargers rank average. … In receiving fantasy points per game allowed, the Chiefs (third-most), Chargers (fourth-most), Eagles (sixth-most), Patriots (ninth-most), Colts (10th-most), and Saints (12th-most) are especially vulnerable.
Damien Williams/Spencer Ware, RBs, Kansas City Chiefs (v. IND)
(Williams DK: RB7, FB: RB11; Ware DK: RB11, FD: RB8)
Williams is hard to analyze with Ware returning from injury. Week 13 was Kareem Hunt's first missed game; Ware played late into the fourth quarter of Week 14 (a game that would eventually go to overtime) before exiting with an injury he hasn't yet returned from. Over this span, Ware out-snapped Williams 90 to 62, out-carried him 29 to 13, while Williams out-targeted him seven to six.
In Weeks 15-16, with Ware out, Williams played on 69% of the snaps, drawing 23 of 26 carries and 13 of 18 targets. He was hyper-productive over this span, averaging 28.7 fantasy points per game. In Week 17, a meaningful game but a massive blowout, he played on only 52% of the snaps, drawing 11 of 23 carries and the team's only target out of the backfield.
Ware was a full participant in every practice leading up to Week 17 before ultimately being inactive. He was limited in practice this week, as of Wednesday. Williams signed a contract extension shortly before Week 17. Will this be more of a committee backfield with Ware returning? Or does Williams' performance, Ware's inactive Week 17, the limited practice on Wednesday (implying he's still not 100%), and the new contract signal that this is now Williams' backfield to own?
I think yes, but either way, he's the superior option, and especially on FanDuel. He's the better receiver out of the backfield (by a good margin) and Indianapolis' defense ranks bottom-10 to running backs through the air and top-10 to running backs on the ground. Even with the threat of Ware stealing touches (this didn't hurt Williams too much in Week 14), he's still too cheap on both sites. If Ware is out, Williams is one of the best all-around plays on the slate.
Marlon Mack/Nyheim Hines, RBs, Indianapolis Colts (@ KC)
(Mack DK: RB5, FD: RB6; Hines DK: RB20, FD: RB17)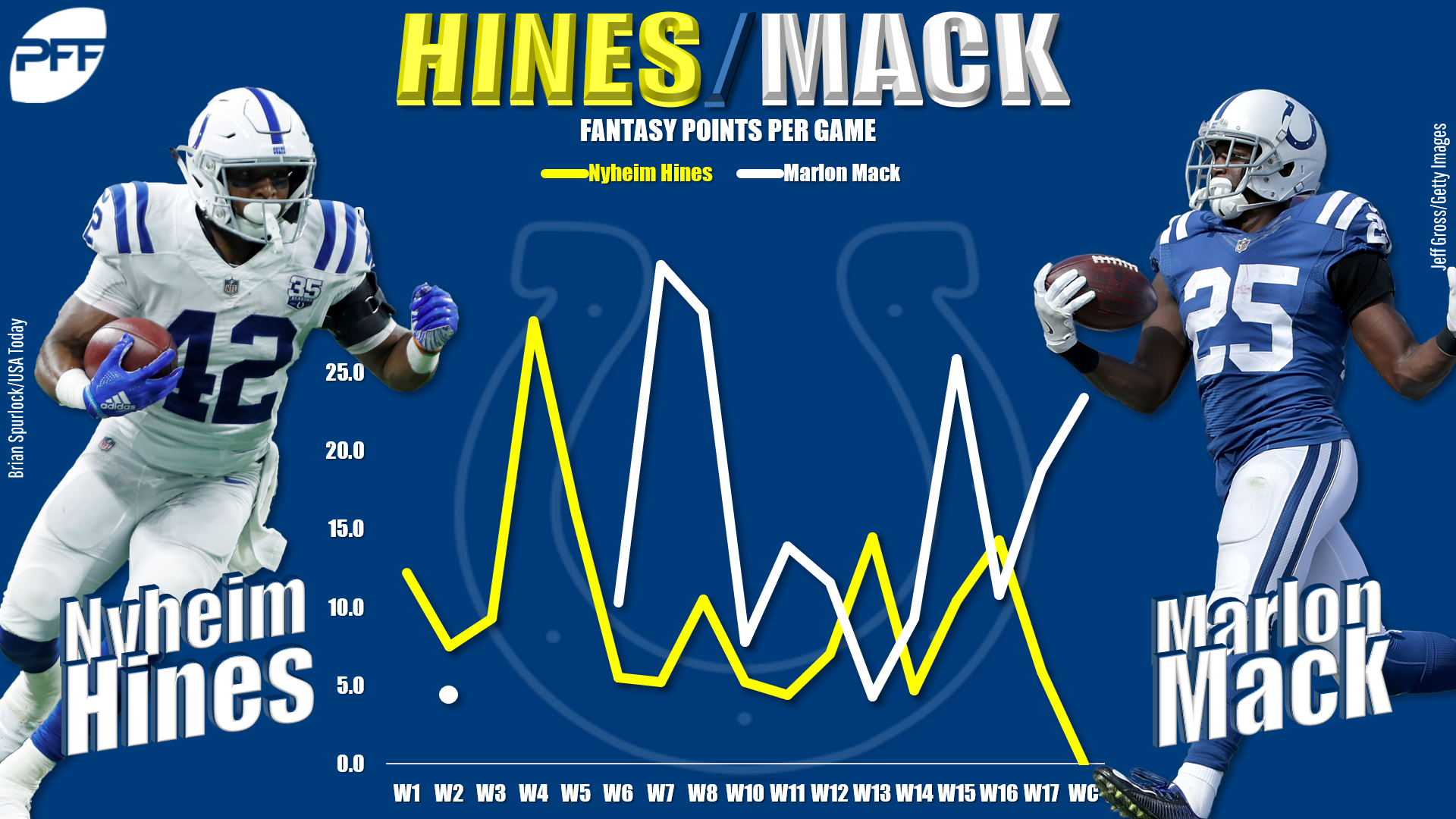 I wrote last week, "Outside of the occasional blowout victory, Mack has been an unequivocal bust. Since returning from injury in Week 6, he averages 17.6 expected and 24.3 actual fantasy points per game in victories by 14 or more points (five such games). In all other games he averages just 9.5 expected and 8.7 actual fantasy points per game." Well, what happened last week? The Colts won in a blowout and Mack crushed (23.4 fantasy points). That seems even less likely this week, as 5.5-point underdogs against the Chiefs, in what should be a pass-heavy shootout. Despite what looks like a great matchup on paper, Mack is too gamescript-sensitive for me to consider. Projected gamescript and the fact that the Chiefs are so vulnerable to pass-catching running backs make Hines intriguing. In those other non-blowout games, Hines averages 10.0 expected fantasy points per game, 6.0 carries, and 4.5 targets per game. He's a fine salary-saving punt-option, especially on DraftKings or Luck lineups.
Todd Gurley, RB, Los Angeles Rams (v. DAL)
(DK: RB1, FD: RB2)
Gurley seems likely to play this week, but I'm not convinced he's close to 100% (this tweet seemed pessimistic). Before injuring his ankle in Week 11 (he's now dealing with a knee injury), he led all players at all positions in expected and actual fantasy points per game, expected fantasy point market share, touchdown market share, and expected touchdown market share. If he was fully healthy, I likely would have spent close to 500 words arguing between him and Ezekiel Elliott. Since he's not, Elliott seems like the far superior option. However, even banged up, he might have the most touchdown-upside on the slate, and now has added contrarian appeal, with Elliott shaping up to be the highest-owned player on the slate. He makes sense in cheaper and larger-field tournaments, but I suspect I won't have him on too many of my own lineups.
Ezekiel Elliott, RB, Dallas Cowboys (@ LAR)
(DK: RB2, FD: RB1)
Elliott has seen truly absurd and historic usage in the latter half of this season. Since Week 10, he leads all players at all positions in expected fantasy points per game (23.3), which is 4.9 points better than the next-closest player on this slate (Gurley). The same is true for his actual production, averaging 26.8 actual fantasy points per game over this span, which is 4.4 more than the next-closest player on the slate (Gurley again). So, even if Gurley were 100%, there'd be a strong case to make for Elliott as the No. 1 player on the slate. He also seems to have the better matchup, despite being tied for the lowest implied point total on the slate. Los Angeles ranks fourth-worst in yards allowed per carry (4.87) and the Cowboys are the 10th-most-run-heavy team in the league. Even if Los Angeles pulls away with a lead big enough for Dallas to partially abandon the run, Elliott has seen five or more targets in 10 straight games. The only case against Elliott is ownership-related.
James White/Sony Michel/Rex Burkhead, RBs, New England Patriots (v. LAC)
(White DK: RB8, FD: RB4; Michel DK: RB10, FD: RB7; Burkhead DK: RB17, FD: RB13)
The Patriots are 4.0-point home favorites against a Chargers defense that is solid all around but slightly less efficient versus the run. They're also giving up the fourth-most receiving fantasy points per game to opposing running backs, which appears to set up nicely for White. However, this backfield has been far less attractive for fantasy since Burkhead's return. Since that return in Week 13, White averages 11.3 expected fantasy points per game, Michel 9.3, and Burkhead 7.5. (White averaged 17.8 expected fantasy points per game prior to Burkhead's return.) In terms of actual fantasy points per game, those numbers look similar – 12.5 for White, 8.4 for Michel, and 7.4 for Burkhead. Michel would be the best play if this game ends up being a (positive) blowout, but that seems unlikely given the spread. White, then, is my favorite play among New England's running backs, but still not particularly high overall.
Melvin Gordon/Austin Ekeler, RBs, Los Angeles Chargers
(Gordon DK: RB4, FD: RB5; Ekeler DK: RB12, FD: RB10)
Like Gurley, Gordon is banged up with knee and ankle injuries and is likely not close to 100%. As we rightfully predicted last week (based on historical usage), he did not see a typical workload. In terms of raw touches, his numbers looked okay, but he was out-snapped by Ekeler. In terms of market share, he saw only 17 of the team's 30 carries and only one of the team's five targets out of the backfield. Ekeler saw 11 carries and four targets while Justin Jackson played on only three snaps. Gordon was just as banged up the last time he played New England (2017), when he exploded for 139 yards on 15 touches.
I'd bet against that happening again this week, and would gravitate toward Ekeler as the better value, though still somewhat risky in his own right. Ekeler has seen target totals of 11, 8, 5, 1, and 4 over his last five games (playing hurt or getting hurt in the latter three games). Given projected gamescript, target volume should be good again this week. New England also ranks sixth-worst in yards allowed per carry and ninth-worst in receiving fantasy points allowed per game. He's a solid value on both slates, but a good deal better on DraftKings.
Darren Sproles/Wendell Smallwood, RBs, Philadelphia Eagles (@ NO)
(Sproles DK: RB13, FD: RB14; Smallwood DK: RB14, FD: RB12)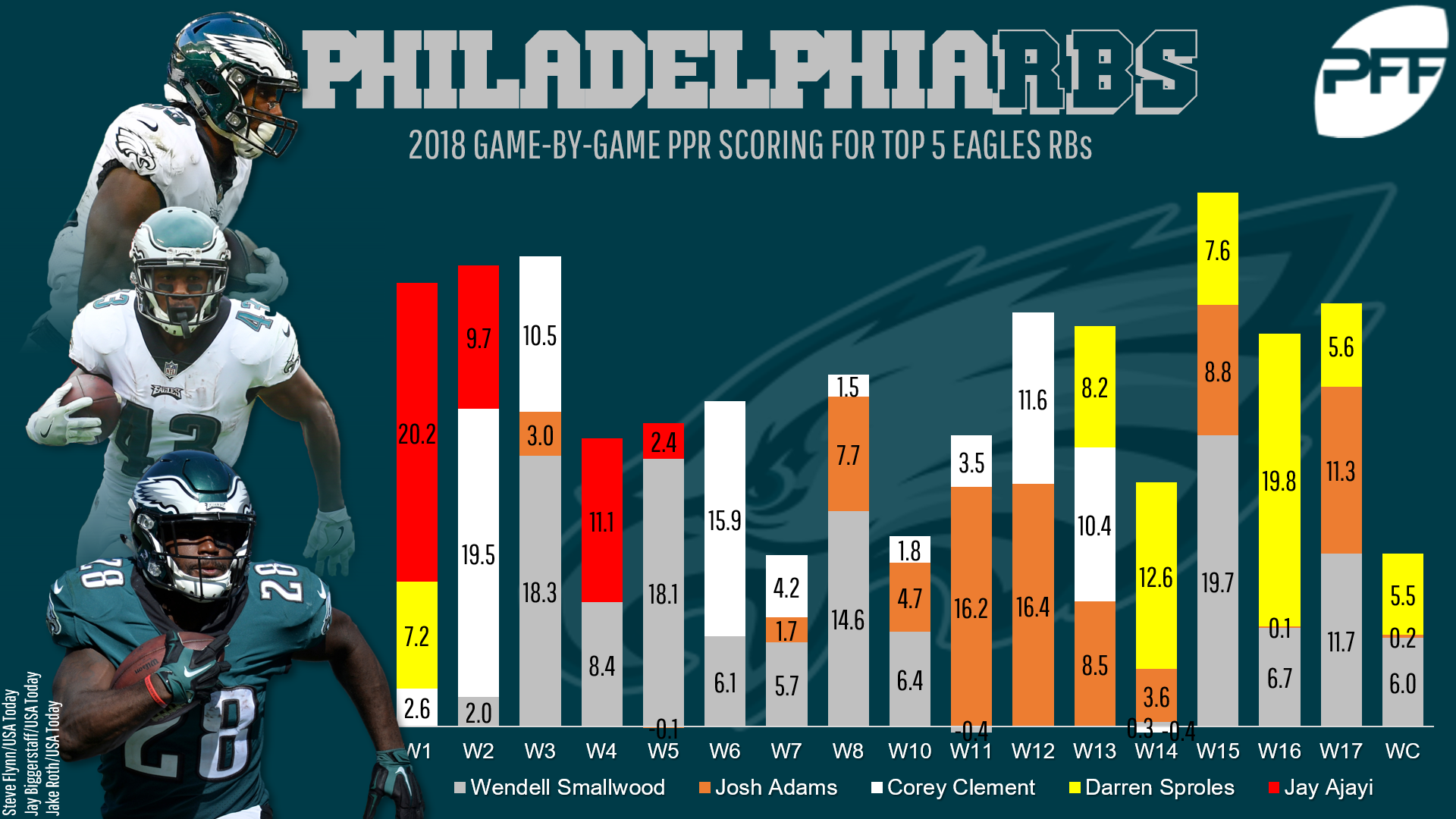 Last week, Sproles played on 55% of the snaps while Smallwood played on 42% of the snaps. Sproles saw 13 carries and three targets, while Smallwood saw eight and three. Given New Orleans' stout run defense and the fact that the Saints are favored by 8.0 points, Sproles is clearly the superior option. Still, I wouldn't expect anything more than 8-10 carries and 5-7 targets as a best-case scenario. He's just a lower-tier option this week.
Alvin Kamara/Mark Ingram, RBs, New Orleans Saints (v. PHI)
(Kamara DK: RB3, FD: RB3; Ingram DK: RB6, FD: RB9
In Week 11, when these two teams faced off in a 48-7 blowout, Kamara saw 13 carries and one target, while Ingram saw 16 and zero. Ingram scored 22.3 fantasy points and Kamara scored 17.8. We wrote last week, "Across their last five games, Philadelphia ranks fourth-worst in schedule-adjusted fantasy points per game allowed to opposing running backs… Over the last eight weeks of the regular season, they're allowing 29.9 fantasy points per game (sixth-most) and 5.33 yards per carry (second-worst). Though they've been inefficient on the ground, 50% of their fantasy points allowed (to running backs) have come through the air, while the league average rate is only 30%." That said, Jordan Howard and Tarik Cohen combined to score only 9.2 fantasy points against them last week.
Since Ingram's return, and excluding Week 17 when Kamara earned a day of rest, Kamara outsnaps Ingram 428 to 331, outcarries Ingram 138 to 133, and out-targets him 54 to 23. Over this span, in games New Orleans won by seven or more points, Kamara averaged 14.3 expected fantasy points per game to Ingram's 12.6. In all other games, Kamara averaged 18.4 to 15.5. Either way, Kamara was far more productive, averaging 19.6 actual fantasy points per game to 12.6, but this shows you'll have to bet on efficiency with Kamara. Still, he has slate-busting upside, and he's far exceeded his volume-based expectations all throughout his career. Though the spread (8.0 points) works more toward Ingram's favor, on paper, the matchup lends itself more toward Kamara. Over the full season, Philadelphia ranked fifth-best in rushing fantasy points per game allowed to running backs, but fourth-worst in receiving fantasy points per game allowed. That discrepancy was even more dramatic in 2017.
Perhaps resting Kamara in Week 17 implies heavier usage for the playoffs. I'm not sure, but Kamara is certainly a top tournament option on both sites. I think he'll be lower-owned than most people suspect and he's shown time and time again he has tournament-winning upside. Ingram is a terrific value on FanDuel.