This week, for the Wild Card Round of the playoffs, we'll be looking at each positional grouping at each team and examining their DFS value and fantasy football upside on both DraftKings and FanDuel. Below is the look at the running back position.
(Click for quarterbacks, wide receivers, and tight ends)
Notes: All numbers in parentheses refer to a player's salary rank on each site.
Matchups: In terms of fantasy points per game allowed, the Chargers rank 11th-worst, Seattle ranks 15th-worst, and every other team ranks top-10. All teams also rank top-12 in rushing yards allowed. If adjusted for opponent, Philadelphia is the softest matchup, ranking eighth-worst in schedule-adjusted fantasy points per game. If adjusted for opponent and across the last five weeks, Seattle (third-worst) and Philadelphia (fourth-worst) both stand out as top matchups to target. Though all teams are much better against running backs on the ground, Seattle leads all 32 teams in receiving fantasy points per game allowed to opposing running backs. The Chargers rank fourth-worst, followed by Philadelphia (sixth-worst), Houston (eighth-worst), and Indianapolis (10th-worst). In terms of yards allowed per carry, Philadelphia ranks worst on the slate, but only 12th-worst overall, while all other teams rank average or better. With all positions, matchups really only matter at the extremes, and it doesn't get much more extreme than Baltimore and Chicago. Both rank top-three in schedule-adjusted fantasy points per game allowed to opposing running backs.
(DK: RB6, FD: RB10)
Across Miller's last five healthy games, he's played on 67% of the team's snaps, while averaging 16.4 carries, 3.0 targets, and 16.0 fantasy points per game. That's borderline RB1 production and volume, and stands out on this small slate, and especially within the context of his salary. Indianapolis is much tougher against running backs on the ground (seventh-best) than through the air (10th-worst), and Miller ranks in the bottom-33% of running backs in targets per snap. There's also a chance he could get scripted out of this game if the Colts manage to hold a lead or turn this into a pass-heavy affair (which I think is likely). He also averages just 10.6 fantasy points per game in his two games against Indianapolis this year. All of that said, he's still one of the better dollar-per-touch values on both sites, priced below other running backs with a less-than-certain workload. However, he's not a must-play by any means, with an invisible ceiling, in a game I think I'll be attacking as though it were a pass-heavy shootout.
(Mack DK: RB4, FD: RB5; Hines DK RB15, FD RB19)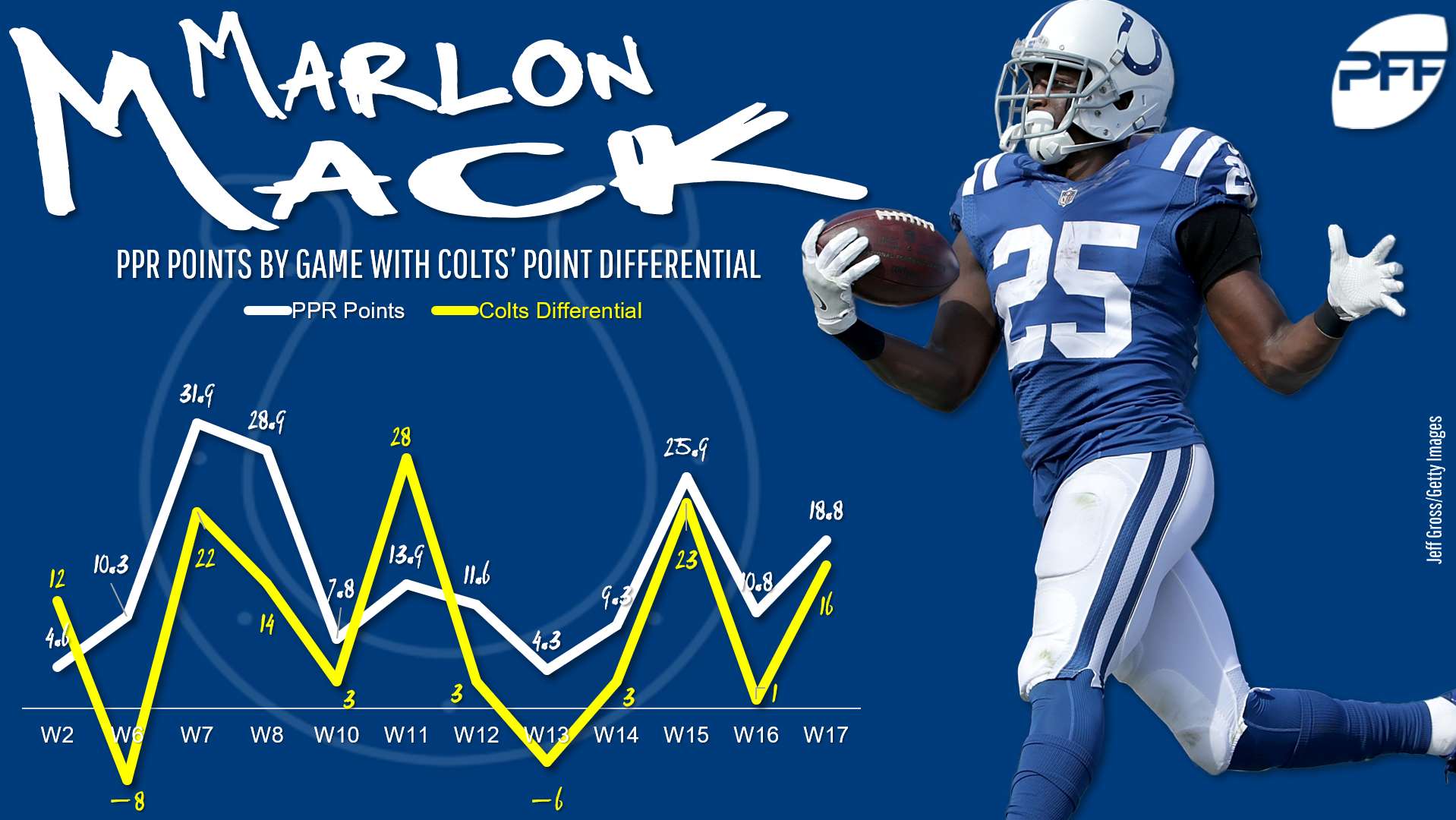 Outside of the occasional blowout victory, Mack has been an unequivocal bust. Since returning from injury in Week 6, he averages 17.6 expected and 24.3 actual fantasy points per game in victories by 14 or more points (five such games). In all other games he averages just 9.5 expected and 8.7 actual fantasy points per game. Houston is favored by a point, implying a positive blowout for Indianapolis is unlikely. On top of that, Houston ranks third-best in rushing fantasy points allowed to running backs, but eighth-worst to running backs through the air. All of this implies Hines is a better value. In those other six non-blowout games, Hines averages 10.0 expected fantasy points per game, 6.0 carries, and 4.5 targets per game. Still, Hines is only vaguely in play as a salary-saver.
(DK: RB1, FD: RB1)
Fading Elliott only makes sense within the context of ownership. He'll be the highest-owned player on the slate, and by a wide margin. If he flops and you fade him, you now have a massive edge on the field. That said, it's hard for me to imagine a winning lineup without Elliott. As alluded to at the top, Seattle might be the best matchup for any running back this week, and especially for Elliott who has seen six or more targets in seven straight games (Seattle is especially vulnerable to running backs through the air). Since Week 10, among all players, Elliott ranks first in expected fantasy points per game (23.1) and second in actual fantasy points per game (26.8). That's by a wide margin over the next-closest player and especially the next-closest player on the slate. With an added week of rest and good efficiency when these teams met in Week 3, Elliott is rightfully the chalk.
(DK: RB3, FD: RB4)
Carson had his coming-out party against Dallas in Week 3, drawing 34 touches while totaling 124 yards and a score. Over the last four weeks, Carson ranks seventh among all running backs in expected fantasy points per game (17.2) and sixth in actual fantasy points per game (21.3). He saw six targets in Week 15 – their lone loss over this span – but just one other target across the other three games. The lack of target-volume is a concern on DraftKings, or maybe it's not, with the implication being he was heavily targeted in their one game with poor gamescript. Keep in mind, Vegas is expecting a victory for Dallas, which is worrisome for Carson, but the spread is close enough (2.0 points) that it's not hard to imagine Seattle walking away with a victory.
(Edwards DK: RB9, FD: RB6; Dixon DK: RB11, FD: RB8)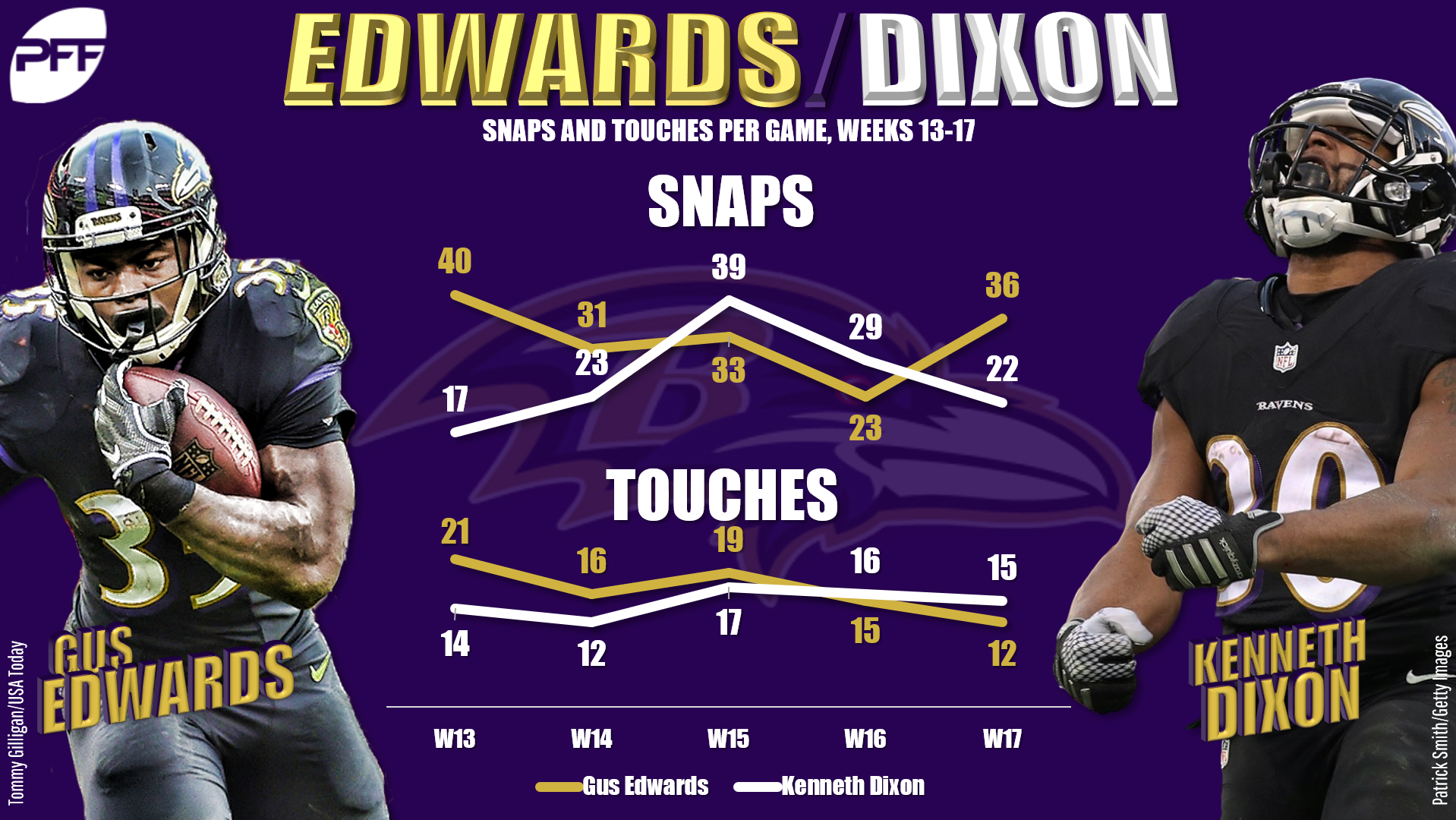 Since Week 14, Edwards outsnaps Dixon only 123 to 113 but trumps him in touches 62 to 44. Edwards saw just one target over this span, while Dixon saw six (same as Ty Montgomery). Remarkably, over this span, Edwards averages 5.6 yards per carry, while Dixon averages 6.5. Still, their production hasn't been as good as their efficiency, with Edwards averaging only 10.6 fantasy points per game and Dixon averaging only 9.7 over this span. Of course, this makes Edwards seem like the slightly better play, but Dixon out-touched Edwards 13 to 12 in Week 17. Ultimately, both running backs are touchdown-or-bust options this week, and with a low ceiling due to the committee, but I do think I'll wind up with a good deal of exposure to Dixon. This is due to price, recent usage, and personal bias. If somehow Vegas is wrong about projected gamescript (Baltimore is favored by 3.0 points), Dixon becomes an even better play – he's the preferred receiver and would receive an even larger share of the work over Edwards.
Melvin Gordon (DK: RB2, FD: RB2) is going to play this weekend, though he'll be less than 100% after re-injuring his ankle in Week 17. Over the past two seasons, Los Angeles has shown a willingness to lighten Gordon's load when he's been banged up. Over this stretch, Gordon has averaged 16.3 touches per game when on the injury report, as opposed to 21.6 in all other games. This makes Austin Ekeler (DK: RB8, FD: RB9) more interesting, though he was almost out-snapped by Justin Jackson (DK: RB12, FD: RB15) in Week 17 (15 to 12). For all of these running backs, this is one of the toughest possible matchups – Baltimore ranks best of all 32 teams in schedule-adjusted fantasy points per game allowed to opposing running backs. When these two teams faced off in Week 16 (Ekeler was out), Gordon played on 42 snaps, drawing 12 carries and three targets. This was good for only 54 yards and a score. Jackson, meanwhile, played on 21 snaps, drawing one carry and eight targets. He caught seven of those targets for 47 yards. Of these names, I'm most drawn to Ekeler, but the situation is murky enough that I might just avoid it entirely.
(Howard DK: RB7, FD: RB3; Cohen DK: RB5, FD: RB7)
Howard and Cohen have the benefit of a top matchup, as Philadelphia has really struggled against running backs in recent weeks. Over the last eight weeks of the season, they're allowing 29.9 fantasy points per game (sixth-most) and 5.33 yards per carry (second-worst). Though they've been inefficient on the ground, 50% of their fantasy points allowed (to running backs) have come through the air, while the league average rate is only 30%. This implies a top matchup for both Howard and Cohen.
On paper, gamescript should work more toward Howard's favor, with Chicago favored by 6.0 points. However, that hasn't really been the case this year. Cohen crushes Howard in usage with negative gamescript, but also in blowout victories. Over the last four weeks, Cohen out-targets Howard (as expected) but only 12 to five, while Howard trumps Cohen in carries 72 to 25. That makes Howard look like the superior play (though still, maybe not within the context of salary), but I'm left with a feeling that Chicago may have been limiting Cohen in recent weeks only to unleash him in the postseason. Volume is king at running back, and though Howard has dominated volume in recent weeks, it's hard to imagine Chicago's offense wouldn't be better served with Cohen seeing a larger share of the work. Cohen leads all running backs in yards per route run (2.37), while also trumping Howard in yards per carry (4.5 to 3.7).
Last week, in a game with massively good gamescript (a 40-0 shutout), we saw Wendell Smallwood (DK: RB20, FD: RB14) total 16 touches and 77 yards. Josh Adams (DK: RB14, FD: RB11) wasn't far behind at all, totaling 14 touches and 83 yards. That's what we should expect to see if Philadelphia walks away with a victory — Smallwood and Adams being used in a committee. That seems unlikely, and their upside seems minimal, cannibalizing each other, in a worst-possible matchup. What's more likely is what Vegas suspects, an easy victory for Chicago (the Bears are favored by 6.0 points). This makes Darren Sproles (DK: RB10, FD: RB13) the more compelling option. In a pass-heavy shootout against Houston in Week 16, Sproles played on 50% of the snaps, totaling 19.8 fantasy points on nine carries and six targets. Last week, he saw seven carries and three targets. Even for him, where most of his upside comes through the air, the matchup is tough, and though he's the best bet of the three, he's not necessarily a top option on this slate.