The Jacksonville Jaguars didn't enter 2019 with a lot of expectations from fantasy players, so it was a pleasant surprise when we saw Garner Minshew and D.J. Chark emerge as standout fantasy options early in the season. But this is still a team in transition, despite the fact that Doug Marone managed to retain his job, and those sorts of situations can sometimes be tricky for fantasy purposes. Let's take a look at what our initial 2020 fantasy football projections have to say about Jacksonville this upcoming season.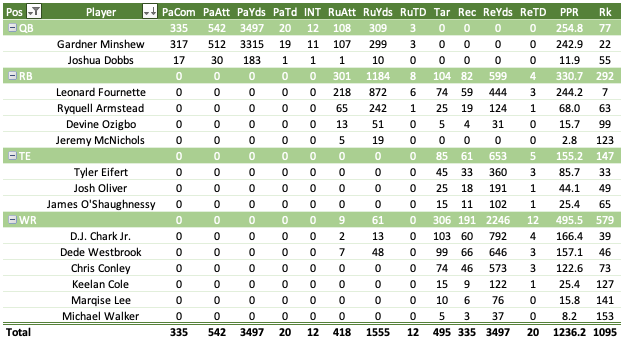 With Nick Foles out of the mix, it's officially Minshew's show in Jacksonville. The second-year man was one of the biggest fantasy surprises of 2019, as he went from unheralded sixth-rounder to a top-10 fantasy quarterback over the first nine weeks of the season. While our numbers aren't that bullish on Minshew, we do like him to put up QB2 production in 2020. It might be pushing it to consider him a late-round option in 1QB redraft leagues, but Minshew is very much in play as an upside option in 2QB leagues and in best ball formats.
But it wasn't just Minshew last season. Chark also came out of nowhere and emerged as the Jags' top receiving option. Like Minshew, Chark was also top 10 at his position over the first nine weeks of the season. While his numbers did regress down the stretch, he still managed an 18th-place fantasy finish. Not too shabby for a guy who went undrafted in most fantasy drafts. 
While the breakout was certainly encouraging for Chark's long-term outlook, our short-term projection on him isn't as favorable. We have his touchdown efficiency regressing significantly, and Chark ranks just 39th among wide receivers. To be fair, our 2020 fantasy football rankings take his high ceiling into account and position him much better as a front-end WR3 at 25th among wideouts. As for Dede Westbrook, I tend to agree with projections that he's more of a boom-or-bust WR4/5 option given what we've seen from Westbrook thus far in his career.
A year ago, there were many fantasy players who wanted nothing to do with Leonard Fournette following his extremely disappointing 2019 season. That perspective drove Fournette's draft stock down into the early-third round in most drafts, which ended up being a nice value given his seventh-place fantasy finish among running backs. Our projections have him in exactly the same spot with a healthy nine total touchdowns. Of course, we can't expect to get him as late in drafts this year, as Fournette is currently coming off the board in the middle of the second round.  
The Jags signed Tyler Eifert in free agency, giving the team a veteran presence at tight end. While Eifert has flashed moments of fantasy potential over the course of his career, he's also always seemingly one play away from injury. His propensity to get banged up makes Eifert a streamer at best in 2020.
[Find the full collection of analysis and insights on PFF's 2020 fantasy football projections for all 32 NFL teams. Check back as more articles will be added each day.]