Over the past 15 seasons, only a handful of tight ends have really dominated in fantasy. In 2007, PFF's first year, Jason Witten, Antonio Gates, and Tony Gonzalez were the top three fantasy tight ends. In 2008, it was Gonzalez and Witten (Gates was fourth). This was the pattern for most of the 2000s.
Gates, Gonzalez, and Witten were at or near the top every year before they were joined by Rob Gronkowski and Jimmy Graham in 2010/2011. Greg Olsen joined the fray in the early 2010s as Gonzalez's career wound down, and Travis Kelce recently ranked up to the elite level. Some others are knocking on the door, such as Zach Ertz and Evan Engram.
But with Witten hanging up his cleats, Gates roaming as an unsigned free agent halfway through May, and Gronkowski taking it year by year at this point, we seem to be at a changing of the guard at the position. Or maybe it's just a funeral, and we don't really know it yet.
An ode to Jason Witten and Antonio Gates
They became the butt of dad runner jokes in the final years of their careers, but Witten and Gates were dominant fantasy tight ends for a long time.
Witten started in 2003 and began putting up big numbers in 2004, posting an 87-980-6 line during his sophomore season.
Gates — a former basketball player, in case you didn't know! — also started in 2003. Also like Witten, Gates started doing major damage in 2004, posting an 81-963-13 line — good for the No. 1 overall tight end finish that season.
Since 2004, Witten and Gates were no-brainer top-10 fantasy tight ends, while posting top-five numbers (and sometimes first-place numbers) more often than not. Witten even put up top-10 numbers in 2017.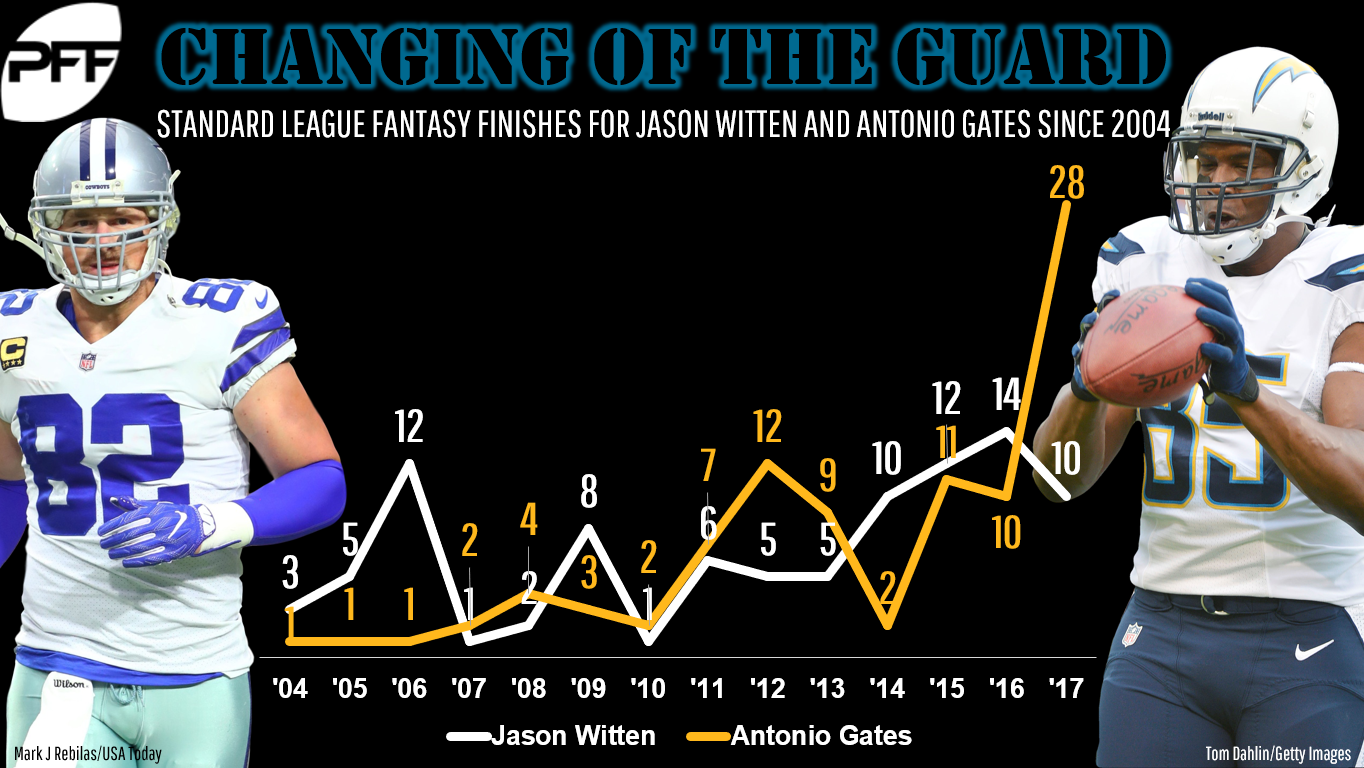 These are historical runs. Gates' peak was higher than Witten's, but both players dominated for a long time. Gates produced three straight top overall finishes 2004-2006, and he was top-five every year 2004-2010. Not even Gronkowski has pulled off the three-peat. Gates added another second-place finish in 2014 for good measure.
Witten was top-five in seven of 10 years 2004-2013. Excluding his rookie season, Witten never finished outside of the top 15 fantasy tight ends — and he only once finished outside of the top 12 (in 2016).
Putting Witten and Gates' runs into historical context
Witten and Gates are the connecting threads between the Gonzalez era and the Gronk and Graham era of fantasy dominance at the tight end position. Maybe the trick is to just have a last name that starts with the letter 'G.'
Here's how Witten and Graham rank in terms of average fantasy finishes at the tight end position compared to some of their peers (standard leagues):
2004-2017
Player
Avg. TE Fantasy Rank
Tony Gonzalez
3.7
Jimmy Graham
4.3
Travis Kelce
4.8
Rob Gronkowski
6.1
Antonio Gates
6.6
Jason Witten
6.7
In other words, Gates and Witten have averaged fantasy finishes of 6.6 and 6.7, respectively, which rank fifth and sixth among this era's veteran tight ends (2004-2017). They did it for all 14 years in this period of time.
Gonzalez, the OG elite fantasy tight end, is first with an average fantasy finish of 3.7 in this span (and he started truly dominating in 1999). Graham is second, followed by Kelce — although Kelce only has four years; I almost excluded him for small sample size, but I thought it worthwhile to show the elite company he has kept.
Gronkowski slips in at No. 4 with an average finish of 6.1 despite missing large swaths of the 2013 and 2016 seasons. When not injured, Gronk's average ranking is actually 1.8.
From a fantasy perspective, Gates and Witten have kept elite company for the past 15 years. They were the elite company earlier in their careers.
What's next for the tight end position?
The tight end position is about to enter a weird phase — especially from a fantasy perspective. Witten and Gates have been cornerstone pieces, while the new GOAT on the block, Gronkowski, flirted with retirement this offseason.
Martellus Bennett, who was never truly elite but had some good years during his career, has also retired, which only adds to the changing-of-the-guard feel at the tight end position. Julius Thomas, a short-lived flash in the pan, also can't find work. Even Vernon Davis, who had a short — but high-end — run 2009-2013, is really just a valuable backup at this point in his career.
Of the other recently elite options, nearly all of them have question marks:
Gronkowski seemed to legitimately consider retirement this offseason. Despite the fact he is still only 29, we have to consider the real possibility that there's only a few years of Gronk left.
Graham is on yet another new team. Aaron Rodgers is the quarterback, though, so people aren't too concerned. But Graham does turn 32 this year, and while he's still been a huge red zone threat, he hasn't topped 1,000 yards since 2013.
Olsen, now 33, is coming off a lost season. He did sign a two-year contract extension, but he didn't look like the same player he was pre-foot injury. Will he be able to return to form for a few more years?
Delanie Walker has been a strong fantasy TE1 for five years, but he's turning 34 this season and the Titans have a plethora of youthful options on the offense now.
Gates hasn't technically retired, but even if he does sign with a team for the 2018 season, it's unrealistic to expect anything from him from a fantasy perspective outside of a few hope-he-scores-a-TD flier weeks in DFS.
Only a few tight ends seem unscathed:
Ertz has improved every year since entering the league in 2013 and he broke out in 2017 along with Carson Wentz. There's nothing to suggest Ertz won't continue to thrive.
Kelce may have to play with a new quarterback in Kansas City, but he has been consistently elite and there are no real questions about his longevity or desire to continue playing.
Engram will have to content with a healthy Odell Beckham Jr. and newcomer Saquon Barkley in 2018, but he proved himself to be an integral part of New York's offense last year.
There are some first- and second-year tight ends who will look to join the next wave of tight ends, including O.J. Howard, David Njoku, Hayden Hurst, Mike Gesicki, and Dallas Goedert.
The reign of Gronk and Graham is not yet over, but with Witten (and as of this writing, Gates) out of the picture — along with a handful of other usual faces either retiring, unable to land a job, or entering 2018 with major question marks — if some more new names don't step up soon, it might be more apt to call this phase a purging of the guard rather than a changing of the guard.