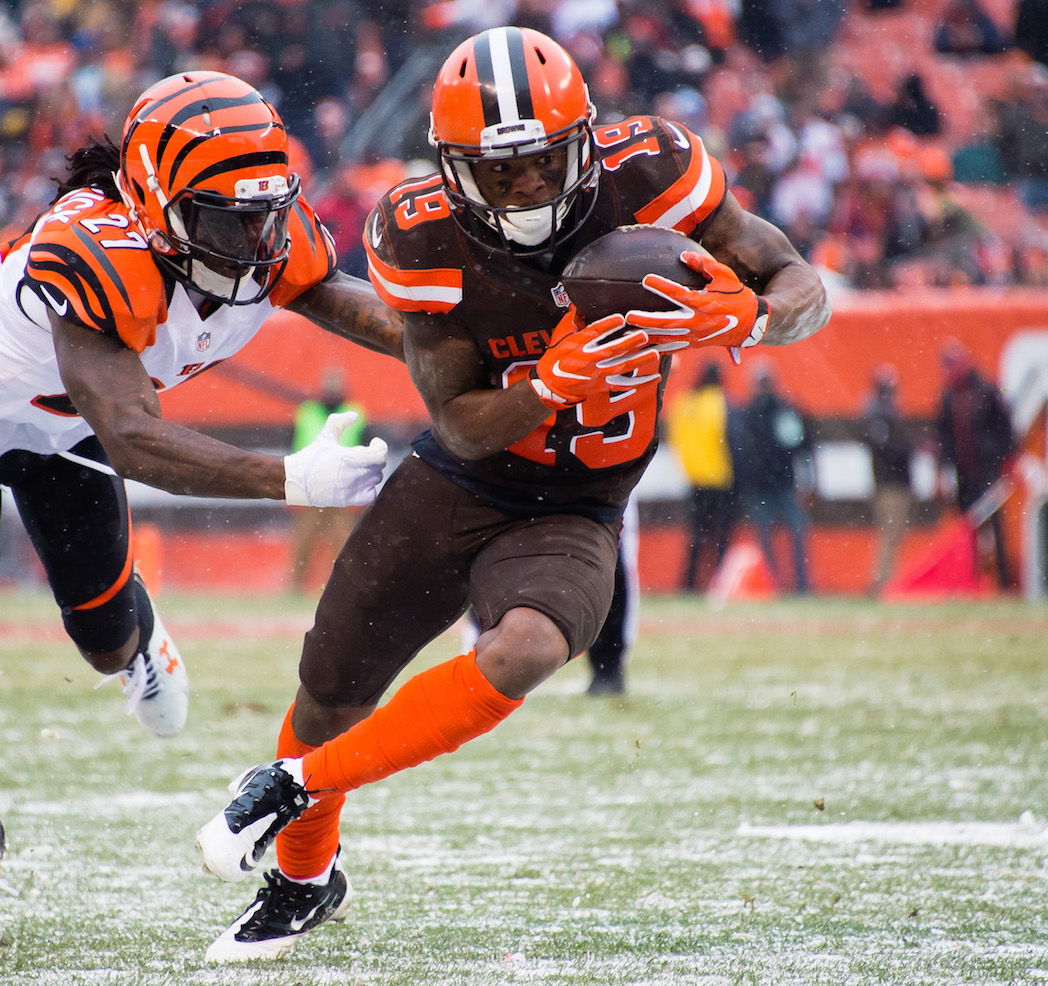 CLEVELAND, OH - DECEMBER 11: Cornerback Dre Kirkpatrick #27 of the Cincinnati Bengals tackles wide receiver Corey Coleman #19 of the Cleveland Browns during the second half at FirstEnergy Stadium on December 11, 2016 in Cleveland, Ohio. The Bengals defeated the Browns 23-10. (Photo by Jason Miller/Getty Images)
The fantasy football trade market is the fastest way to upgrade your team and the most efficient one. You can take advantage of poor tendencies and logic from other owners in your league who tend to overreact to past performance.
Every week we'll take a look at the top players to buy or sell in fantasy football. An elite fantasy owner is active in the trade market and always looking for value (plus ways to take advantage of his competition). We want you to become that elite manager and our goal is provide you with the players who you should be looking to trade for or away each week.
The trade deadlines in your leagues are fast approaching, so read closely.
Buy
Dak Prescott, QB, Dallas Cowboys
To the casual fan, Prescott's struggles can be pinned on the loss of Ezekiel Elliott, but it goes deeper than that. Prescott's struggles in fantasy and real life over the past two games can actually be pinned to the lost of elite left tackle Tyron Smith. The All-Pro blindside protector is expected back for Week 12 and this might be the only chance you'll have to buy in on the guy who was a top-five fantasy QB prior to Smith's absence. Play up the Elliott suspension in trade talks and you could likely land Prescott much cheaper than you expected to.
Devontae Booker, RB, Denver Broncos
The Broncos turned the offense over to their youth in Week 11 by handing the keys to Booker at the running back position. Booker played the ninth-most snaps of any RB last week and earned positive grades from us despite not showing up in the box score. With the Broncos entering Week 12 with a new offensive play-caller and Paxton Lynch at quarterback, it makes sense that they would continue to lean on Booker as they look forward to 2018 and beyond. In his expanded Week 11 role, Booker saw the third-most targets of any RB. Whenever you can get the opportunity to land a high-volume running back this late in the season for cheap, you should pounce on it.
Dion Lewis, RB, New England Patriots
Lewis continues to produce on limited touches and he has made it clear that he does not need a full featured-back role to be a fantasy RB2. In Week 11, the Patriots expanded Lewis' offering by getting him involved in the passing game. Lewis turned four targets into four receptions for 28 yards and a touchdown. Lewis has impressed in our elusive rating all season, and that's no surprise given his overwhelming success in this metric in 2015, and you can count on him to deliver RB2 numbers over the stretch run.
Samaje Perine, RB, Washington Redskins
Perine was one of CFB's most elusive running backs in 2015 before losing ground to Joe Mixon last season. He finally put some of that on display in Week 11 while operating as the Redskins lead back. Now, with Chris Thompson and Rob Kelley out for the season, Perine will be leaned on heavily over the final stretch run. Given the volume you can expect from Perine over the last six games, it's hard to imagine him not returning value on his current trade price.
J.D. McKissic, RB, Seattle Seahawks
The Seahawks are in a similar situation to the Redskins when it comes to injuries concentrated at the running back position. With Eddie Lacy struggling, Thomas Rawls a healthy Week 11 scratch, and Mike Davis now sidelined week-to-week, McKissic is the last man standing. In Week 11, that meant the seventh-most offensive snaps of any RB, a goal-line carry, and the third-most targets of any running back.
Corey Coleman, WR, Cleveland Browns
Coleman displayed an excellent chemistry with rookie QB DeShone Kizer throughout the preseason and before he went down with an injury during the regular season. That chemistry was on display in his return to action in Week 11. He led the Browns with nine targets and turned them into six receptions for 80 yards against a stingy Jaguars secondary. The matchups will get easier and Coleman is a WR3 with upside the rest of the way.
Mike Evans, WR, Tampa Bay Buccaneers
Things seem down in Tampa Bay with Jameis Winston week-to-week, but gunslinger reserve Ryan Fitzpatrick is still putting his receivers in the right spots to make plays. In recent weeks, DeSean Jackson has taken advantage of this by scoring touchdowns, but Evans can get on the scoreboard in the coming weeks and he's still heavily involved in Fitzpatrick's offense. In Week 11, he finished with the sixth-most targets and racked up 92 yards on five receptions. Buy him now for the price of a WR2 and you'll likely be rewarded with WR1 numbers.
Larry Fitzgerald, WR, Arizona Cardinals
Much like Coleman, the veteran Fitzgerald has found a nice rapport with new Cardinals quarterback Blaine Gabbert. The good news is that Cardinals coach Bruce Arians committed to Gabbert earlier this week and Fitzgerald could finally end the fantasy football narrative that he fades down the stretch. In Week 11, Fitzgerald looked like an early-season version of himself and racked up nine receptions for 91 yards and a touchdown on 10 targets. Expect double-digit target volume down the stretch as a high-end WR2.
Emmanuel Sanders, WR, Denver Broncos
The Broncos offense will shift under a new offensive play-caller and with Paxton Lynch at quarterback. Credit my colleague Scott Barrett for pointing out that Sanders hauled in more targets overall and red-zone targets from Lynch than Demaryius Thomas during their time playing together in 2016. Sanders' red-zone target rate doubled that over Thomas. Over the stretch run, Sanders can emerge as a locked-in WR2 if he becomes the target favorite of a young quarterback who is likely to lock on with one receiver.
Sell
Alex Smith, QB, Kansas City Chiefs
We're not reading the Pat Mahomes tea leaves just yet, but there's no denying that Smith has struggled in the windy and cold winter conditions over the course of his career. The Chiefs came out flat in Week 11 after a bye week and that's something new for head coach Andy Reid. While Smith has returned QB1 numbers for most of the season, it's time to deal him now with his remaining games in cold (and possibly windy) Kansas City and in MetLife Stadium for a road game against the Jets.
Melvin Gordon, RB, Los Angeles Chargers
Gordon's touchdown-inflated Week 11 fantasy score should give you an opportunity to sell now for a hefty haul in return. It's a smart move to do so considering the fact that No. 2 running back Austin Ekeler has increased his snap share in each of the last three weeks. Ekeler only played five fewer snaps than Gordon in Week 11, and although some of that was gamescript driven, the Chargers have made it clear via their actions and coach speak that Ekeler will have a big role down the stretch run.
Keenan Allen, WR, Los Angeles Chargers
Allen saved a ton of weeks for fantasy owners last Sunday, but his 30-plus-point outburst was only his third double-digit fantasy point game this season in standard scoring. Allen has soaked up the targets, but the Chargers passing offense has struggled and upcoming matchups with Josh Norman and Marcus Peters in the fantasy playoffs do not seem promising.
Delanie Walker, TE, Tennessee Titans
It's time to start wondering if Walker, who is now 33 years old, is reaching the end of his career as a fantasy-viable tight end. Although he still carries a ton of value based on his name and past success, Walker has struggled while battling through multiple injuries this season. He's no longer a legitimate red-zone threat and it's time to move him before he loses all value.