As we all know by now, not every player entering the league in their first year can, or will, hit the ground running and become fantasy football-relevant as a rookie — it often takes a year or more for the majority of players to find their legs and start to make an impact. This can happen for a number of reasons — guys spend a season or two learning behind the starters until it is their time to step up, or they just need time to develop and learn a new system at the next level. This is as true on the defensive side of the ball as the offensive.
Below, we are looking at 10 non-rookies who seem primed to take that next step and potentially outperform their previous seasons enough that they can become staples on IDP rosters for the next few years.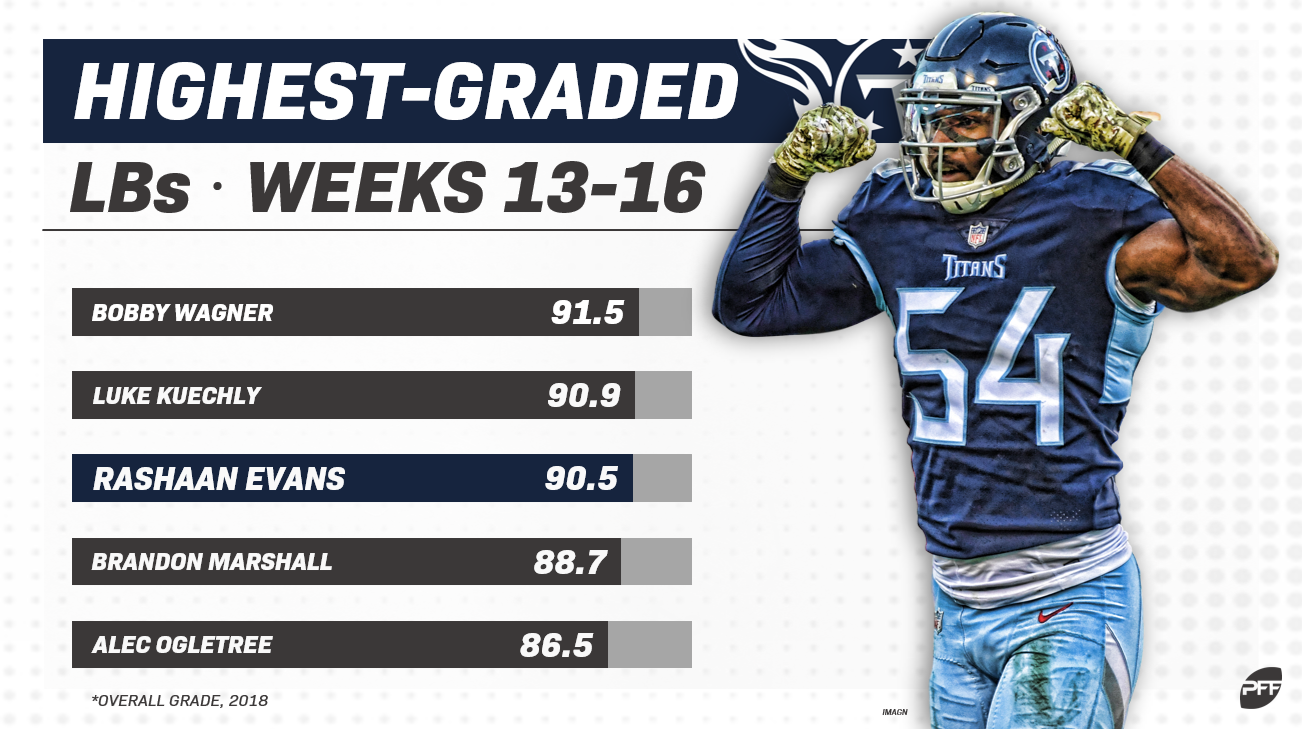 The Tennessee Titans traded up three spots in the first round a year ago to select Evans, who only ended up starting three games in 2018, playing behind Wesley Woodyard, and playing through a couple of pulled hamstrings — even still, he was able to rack up 33 solo tackles and 20 assists in a year where his usage was not fully utilized because of the injury. Heading into his second year, Evans seems to be fully healthy and ready to contribute in more ways to the Titans defense. With Woodyard getting older, it looks like Evans will get more opportunities for snaps and may even get to rush the passer more, which is something Evans excelled at in college playing for Alabama. Evans even finished as one of the top-graded LBs in Weeks 13-16 last year, when he was at his healthiest, earning a 90.5 overall grade and flashing signs that he is ready to take that leap in 2019.
Another former first-round LB, Reddick will be asked to be a pivotal part of the Cardinals' defense. Reddick was previously used as an edge rusher, where he wasn't overly productive, but enter a new defensive coordinator in Vance Joseph and a move to inside LB in that 3-4 scheme, and it may now be time for Reddick to breakout in Year 3. Reddick was able to double his production from Year 1 to 2, and now starting at ILB alongside Jordan Hicks, we can expect that production to likely increase even more in 2019. Reddick tested as an athletic freak coming out of college and will have plenty of opportunity to show off his speed and athleticism chasing down ball carriers and dropping into coverage more than he ever has before.
The Broncos seemed poised to take one of the top two LBs in this year's draft, but them trading out of the No. 10 overall pick was great news for any fantasy GMs who had Jewell shares for 2019. Jewell didn't miss a game for Denver last season and ended up starting in nine, so he has been able to flash some potential as an IDP star already in his young career. Now heading into his second season, the former fourth-rounder sits atop the depth chart alongside long-time Bronco and perennial breakout candidate Todd Davis, who finally did put up decent production last season. Jewell was even spotted wearing the green dot this preseason, meaning that he could be the Broncos playcaller in Vic Fangio's defense, leading to lots of playing time and plenty of fantasy points.
Possibly the longest-awaited breakout ever, Thompson is finally the starter alongside Luke Kuechly in Carolina, now that Thomas Davis has moved on to Los Angeles. Thompson was a first-round pick back in 2015, but he is still just 25 years old entering his fifth season in the league. The Panthers decided to exercise Thompson's fifth-year option back in April so they can really tell what they have in him as a full-time starter. Thompson has always performed well when he has gotten snaps so now it is just a matter of continuing that week in and week out and fill that hole left by Davis.
If we are to take any indications out of Ravens camp, it's that Onwuasor, not Kenny Young, may be the LB to own in IDP leagues for 2019. Onwuasor, now entering his fourth season, came into the league as an undrafted rookie and has battled his way into a starting spot ever since. With C.J. Mosley departing in free agency, the Ravens will be looking to rely on Onwuasor to hold their young LB corps to the standard set by Mosley previously, and Ray Lewis even before that. With Chris Board and Young likely splitting time in the middle, we should see lots of opportunities for Onwuasor to rack up production and even blitz the QB, which he has been known to do fairly well.
After failing to make a major impact in Cleveland the last two seasons, Peppers was traded to the needy Giants for a fresh start and hopefully to live up to some of the expectations he had as a first-rounder. It appears that Peppers will be the starting strong safety for New York, after the departure of Landon Collins in free agency, leaving a large number of tackles on the field to be scooped up by a talented DB ready to step up. Even wearing the same No. 21 as Collins, it will be hard to get used to recognizing that that isn't Collins out there, but if we can get anywhere close to that level of production that the former No. 21 put up then I think we'll be able to forgive Peppers for the confusion and previous season's inconsistency.
Another strong safety in a spot overflowing with potential, Harrison steps right in as the likely full-time starter for Jacksonville, a team that has holes at LB and will need someone like Harrison to jump in and pick up the slack. Harrison played inconsistent snaps in his rookie season and as a result, was not much of an impact player for fantasy. Now that Tashaun Gipson is gone, the SS spot is all his to turn out some good production. Harrison was used as both a FS and SS during his time at Alabama so we know that he is versatile enough that he can fill in where needed which should help keep his snap numbers high each week.
If writing this column last season, it is very likely McKinley would have been listed as a breakout candidate for 2018 as well, but after what we're hoping was just a bit of a "sophomore slump" last year, expectations are high for the former first-rounder entering a potential make-or-break Year 3. This year will be vital for the development of McKinley if the Falcons are hoping to get out of him what they invested in the 2017 draft. Now likely set to be the full-time starter for Dan Quinn's defense, we should see more production from McKinley as he'll have more opportunity to get after the QB and stay on the field longer for tackle potential. He put up six sacks his rookie season and eight last year (with three coming in one game), but he'll now be asked to contribute even more to those numbers so here's hoping he can live up to expectations.
Speaking of high expectations — after the Saints traded up in the first to grab Davenport 14th overall in 2018, it was almost impossible for the Saints organization, their fans and IDP owners to not expect big things from the former UTSA talent right out the gate. Unfortunately, that isn't how things worked out in his rookie season, especially after being limited for a few games due to injury which didn't allow for him to play like himself for the latter half of the season. Before the injury Davenport managed four sacks in six games and then just one in the remaining games after that, coming in Week 17. Now that Alex Okafor is off to Kansas City, the starting spot across from Cameron Jordan belongs to Davenport, where he should be able to build on what he did in the healthy half of his rookie campaign.
Vea makes the cut here as the lone DT who I feel is ready to take that next step and become a fixture in DT-required leagues. Vea missed the early part of his rookie season recovering from a calf injury sustained in training camp but started to hit his stride in the latter half of last season. From Week 10 on, Vea collected 3 sacks, 20 solos, 6 assists, 4 TFLs, and 4 QB hits, which would put him as a top-15 player in fantasy at the position. Although not known as a pass-rushing DT, it is a nice bonus to know that he is capable of doing so if asked. Assuming Vea can stay healthy in 2019 there's no reason we shouldn't expect to see similar numbers on a consistent basis throughout the season from this former 12th overall pick.