• San Francisco 49ers QB Trey Lance could be a slam dunk in fantasy football in 2022. PFF projections have Lance finishing as a top-five rusher at the QB position.
• Carolina Panthers WR D.J. Moore is at the age where wide receivers should be peaking, and he should finally have a quarterback who can unleash his potential. He can be a top-eight WR in 2022. 
• Stop showing up unprepared. Use PFF's expert strategy to dominate during your 2022 fantasy football draft. Subscribe to PFF+ to get the PFF+ Fantasy Draft Guide FREE for a week.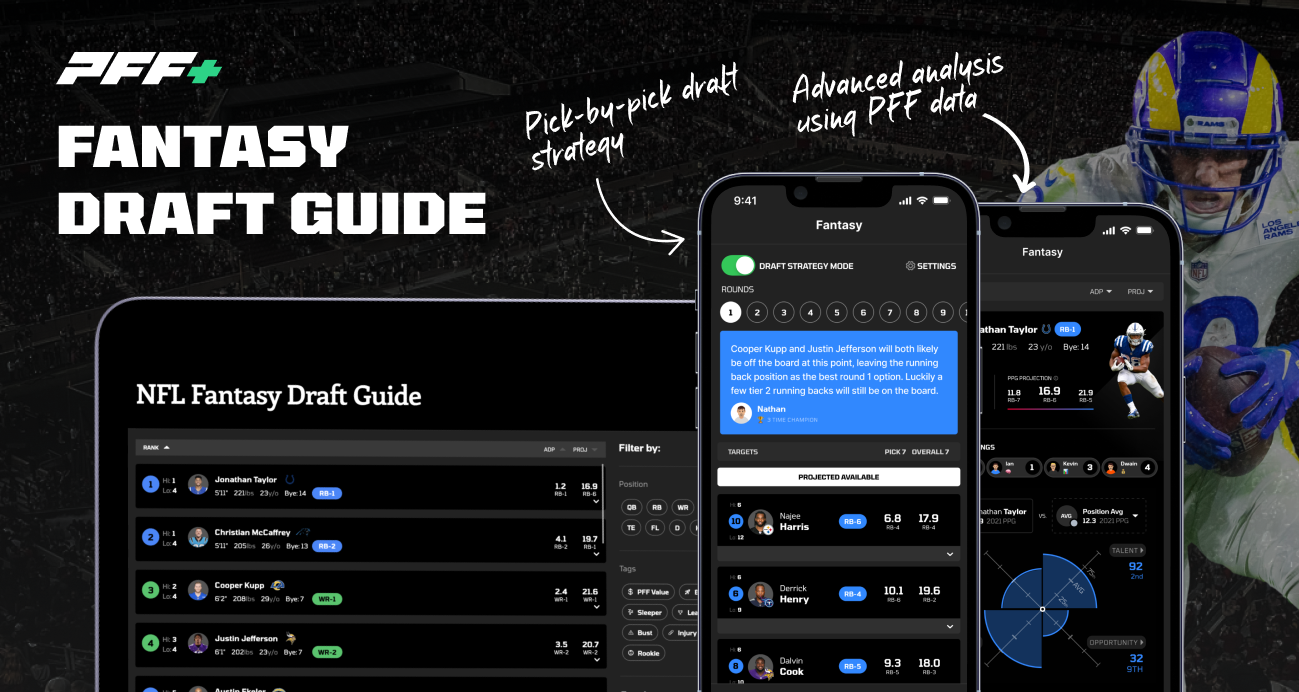 1. San Francisco 49ers QB Trey Lance finishes as a top-five quarterback in his first season as a starter
Back in 2018, the Baltimore Ravens spent a first-round pick on Lamar Jackson, who started a few games as a rookie before putting together an MVP campaign and one of the best fantasy football QB performances ever at 22 years old. The 22-year-old Lance will look to follow in those footsteps.
Lance was picked third overall by the 49ers in 2021 but largely sat and learned during his rookie season. He started only two games but ran 16 times in one and finished as a top-10 fantasy quarterback in the other.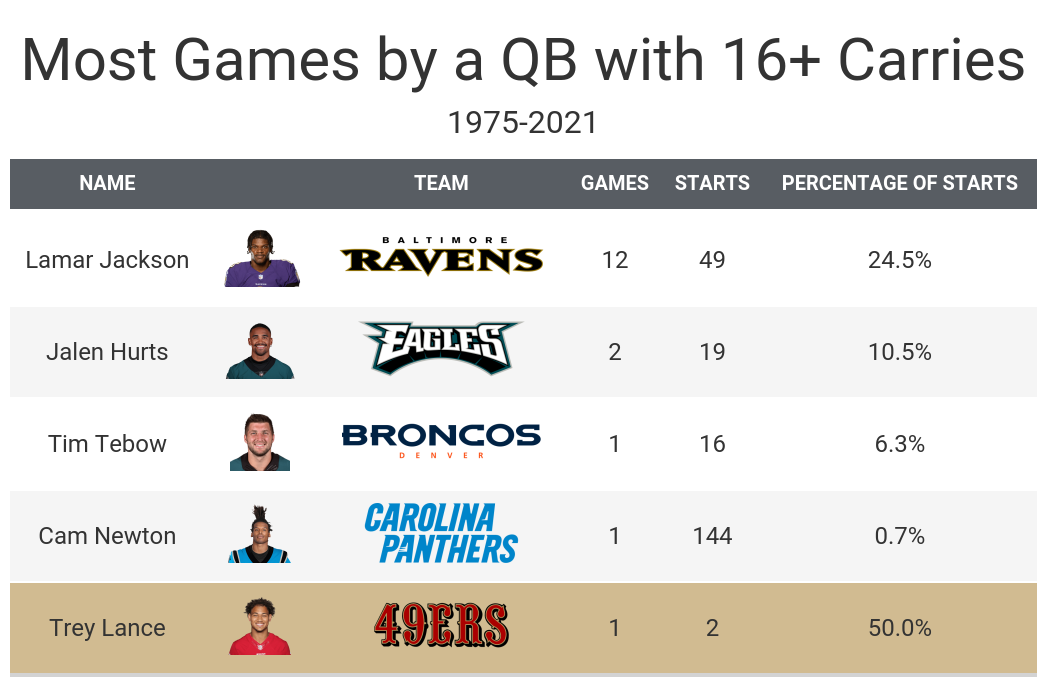 PFF's fantasy football projections have the Niners quarterback finishing in the top-five in rushing yards and second in rushing touchdowns. He still has a lot of potential as a passer, too, even if he has had some ups and downs in the passing game in his limited action.
Lance's surrounding talent in 2022 is somewhat similar to Jackson's, as well: Jackson had Mark Andrews at tight end and Ronnie Stanley at left tackle, both of whom posted 88.0-plus PFF overall grades. Tight end George Kittle and left tackle Trent Williams could easily hit those marks for the 49ers in 2022.
The one area where Lance has an advantage is wide receiver, as Jackson didn't have a wide receiver reach 600 yards, while Lance should have two in Deebo Samuel and Brandon Aiyuk. Samuel was among the top wide receivers last season, and Aiyuk has earned a lot of praise in training camp for his progression.
Even if Lance doesn't fully live up to the potential of Jackson, a top-five finish is still well within his range of outcomes.
---
Arizona ranked top-10 in goal-line plays last year, which helped Conner tally 16 carries and 10 touchdowns inside the 4-yard line. He ranked second to only Jonathan Taylor in both categories.
Conner's 2021 rushing production alone was enough to make him a fantasy starter for 2022, as he was RB21 in PPR over the first eight weeks despite only catching five passes in eight games. Then Chase Edmonds suffered a high ankle sprain in Week 9, which allowed Conner to take over the receiving role while keeping the rushing role. Over the second half of the season, he averaged 23.6 fantasy points per game, again second only to Taylor.
When you combine both halves of the season, he struck a strong balance between quantity and quality — something few other backs could achieve.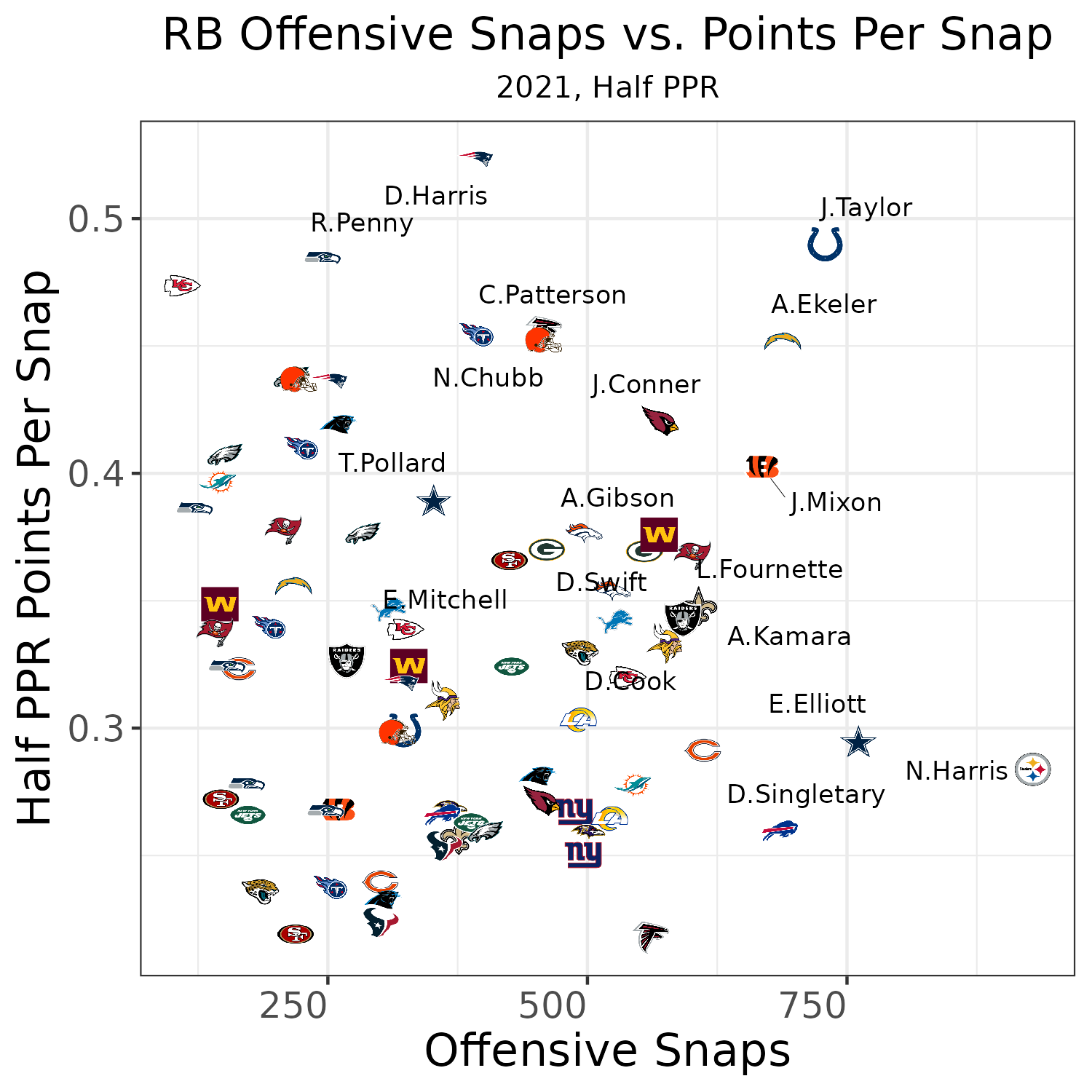 With Edmonds now in Miami, the door is open for Conner to maintain the role he held late last season. Yes, the Cardinals have four other backs on the roster, and at least one of them will get some playing time throughout the season. But as long as Conner plays a clear majority of snaps and stays healthy, he has a shot at ranking in the top five once again.
---
The fifth-year pro has been an extremely consistent fantasy football wide receiver over the last three seasons, gaining between 1,157 and 1,175 receiving yards and exactly four receiving touchdowns in each of the previous three seasons.
This has been incredible, considering that the Panthers passers have a combined 51.6 PFF passing grade over that time — the lowest for any team. In fact, Moore's 129 uncatchable targets over that span are the most among wide receivers.
Despite the quarterback play, Moore's 84.3 PFF receiving grade ranks 18th among wideouts. He rarely leaves the field and has still been able to put up impressive numbers.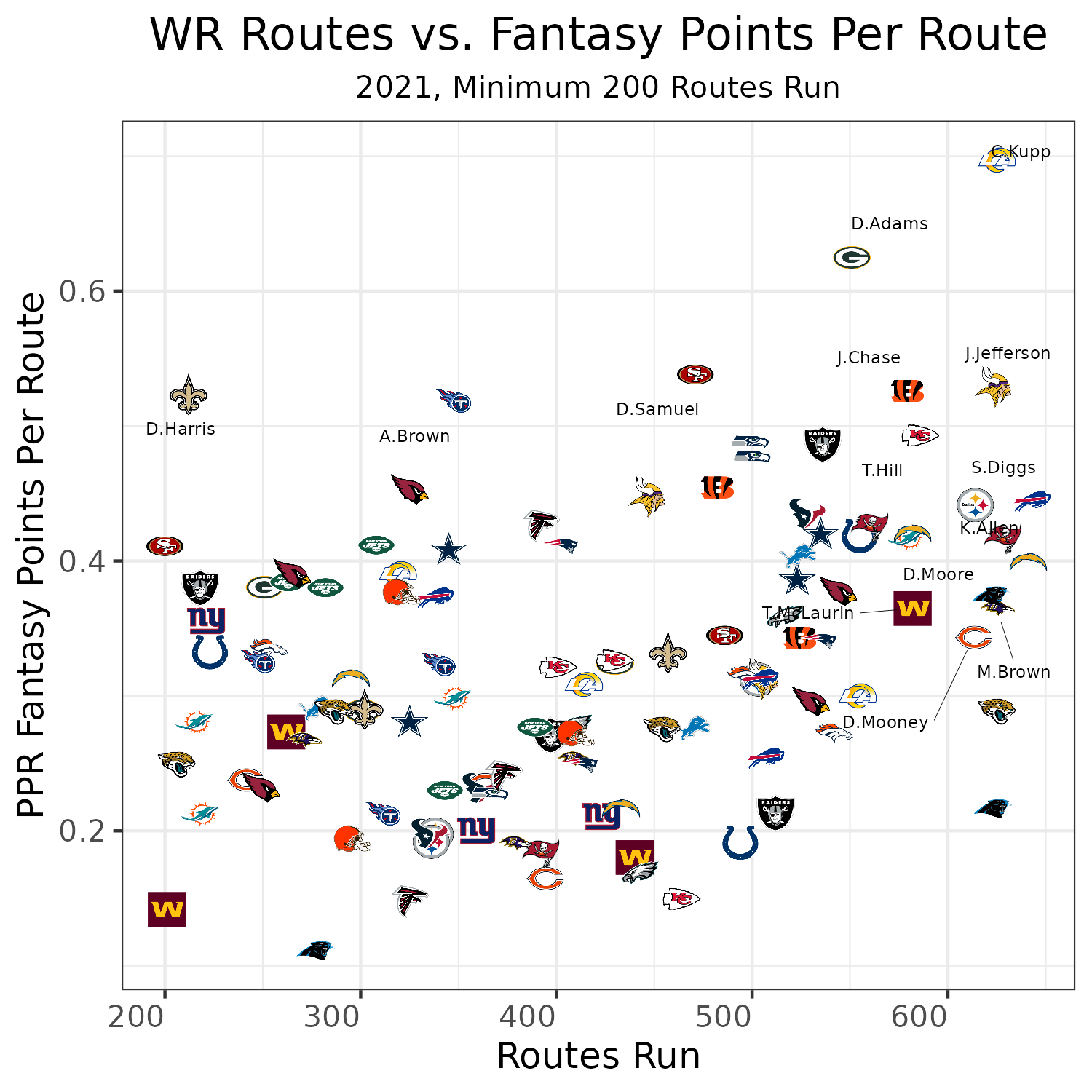 This season, life should be a lot easier for Moore with Baker Mayfield as his quarterback. The change should help Moore get back to business downfield, as he gained 681 receiving yards on deep passes over 2019 and 2020 but only 213 last year with Sam Darnold at quarterback. Now, Moore is going from the least accurate deep passer in the NFL to the second-most accurate over the last four seasons, which should mean several more big plays.
The one area where Moore can improve is as an end-zone threat. He's been the clear target among Panthers receivers in the end zone, posting 19 end-zone targets over the past two seasons. Unfortunately, he's only been able to catch four of those passes, as 10 were deemed uncatchable. Carolina only threw 47 passes in the end zone in that time, ranking second-worst.
Better passes will help, but an increased volume will help even more. In addition to a healthy Christian McCaffrey and an improved offensive line, Mayfield at quarterback should lead to more trips into the end zone.
Moore is at the age where wide receivers should be peaking, and he should finally have a quarterback who can finally unleash his potential.
---
4. Neither Denver Broncos receiver finishes in the top 25
The Broncos failed to field a top-40 wide receiver last season. In fact, from Week 8 to the end of the season (when Jerry Jeudy returned from his injury), none of the team's three wideouts ranked in the top 55.
With the addition of Russell Wilson at quarterback and former Packers offensive coordinator Nathaniel Hackett at head coach, everything is supposed to change for the Broncos offense this season. But while this should certainly help, the improvements might not be as big as some would like.
The first issue is that Courtland Sutton and Jeudy just aren't as good as D.K. Metcalf and Tyler Lockett. Metcalf and Lockett have earned PFF grades of 85.8 and 81.9, respectively — 10 points higher than Sutton's 71.9. Jeudy's grade is even lower, as he's among the bottom-five players in his class among those with significant playing time, and three of the other players in the bottom five are already with their second team.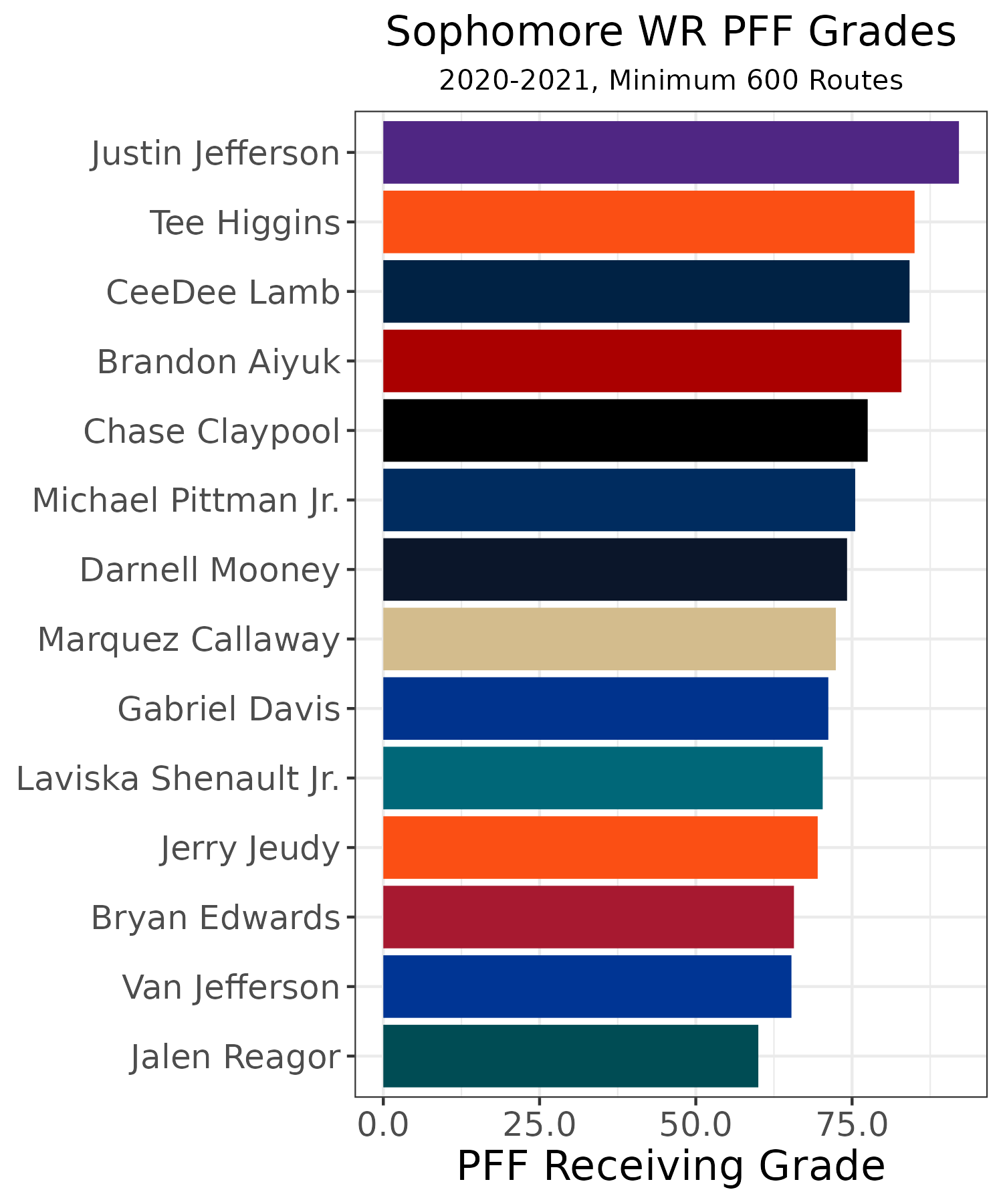 Their target total could also be a problem. K.J. Hamler seems best suited to take the Lockett/Doug Baldwin role that Wilson favors. And the more targets Hamler sees, the fewer available for the outside receivers.
The other problem is how much Javonte Williams will be involved in the passing game. From 2016 to 2018, the Packers were last in the league in targets to running backs where the back was the first or next read. Hackett came in, and the team became top-10 in the league. Green Bay ranked eighth overall in running back targets (334). The three years before that, Hackett's Jacksonville Jaguars ranked 11th, and Hackett's Buffalo Bills ranked fourth from 2013 to 2014.
Russell Wilson is similar to Aaron Rodgers in that he didn't have a history of throwing to running backs much, but that should change this season as the Broncos find ways to get the ball in their best playmakers' hands.
The Broncos offense should have a successful season, but that's with targets getting distributed throughout the offense rather than just the top two wide receivers. Because of that, it will be hard for any of them to finish among the top 25.
---
5. No Tight End Scores over 260 PPR Points
Both Mark Andrews and Travis Kelce finished above this mark last season, while no other tight end was within 50 points of it. An average of one tight end per season would hit the mark over the last decade if past seasons were extended to a 17th game, but it's unlikely anyone will hit it this season.
Andrews drew a ridiculous 149 targets last season, and he hauled in 107 of them for 1,361 yards. The problem this season is that Baltimore is likely to run more often, while Andrews might see his target share decline when the Ravens pass.
Baltimore ranked third in dropbacks last year after losing all three of their top running backs to injury before the first week of the season began. They ranked last the two years before that when their backs were relatively healthy.
The team added Mike Davis and Kenyan Drake this offseason to go along with J.K. Dobbins (who is questionable for week 1) and Gus Edwards (who will ideally return in October). So while they probably won't go back to last in the league in dropbacks, they are also unlikely to stay in the top five.
The Ravens also kept four tight ends on the roster, plus Patrick Ricard (a hybrid fullback/tight end/defensive lineman) and rookie Charlie Kolar is on injured reserve but can come back this season. They have significantly more depth than last season, which means they can rotate Andrews out a little more. The addition of preseason breakout Isaiah Likely will also allow Andrews to take another pass route or two off per game.
This still adds up to Andrews being the top tight end in fantasy football, but it will chip away at his fantasy value a little bit each game, lowering his value compared to last season.
Travis Kelce used to score significantly more than 260 points per season but just barely beat that threshold last season. He will be 33 years old in less than two months, and Kansas City is getting ready for it. The Chiefs rotated him out more often during the second half of last season, and that trend continued in the preseason.
The team's backup tight ends are showing that plan could be sustainable: Blake Bell caught a touchdown in the Chiefs' first preseason game, and Joe Fortson caught both touchdowns from Patrick Mahomes in Week 2.
Kelce will still be one of the best fantasy tight ends this season, but the decreased playing time will also chip away at his targets, catches and touchdowns enough to no longer make him a first-round value.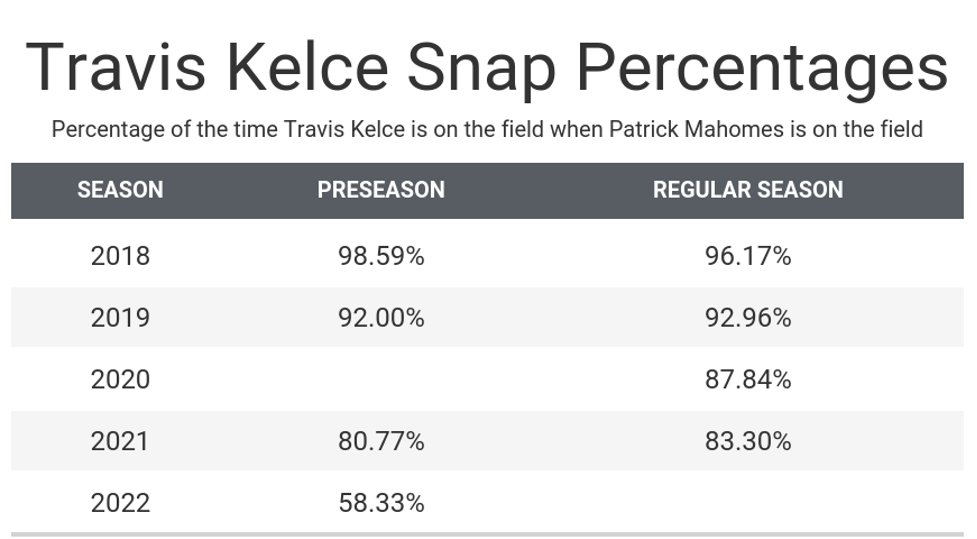 Tight ends such as Kyle Pitts, George Kittle and Darren Waller can all be expected to perform better this year than last, but all will remain restricted in one way or another. For Pitts, it's his quality of quarterback and offense that will hold him back, while Kittle and Waller will see too much competition for targets.
These five tight ends are still significantly better than other tight ends and are worth drafting early, but we might not see a historically great tight end season this year.