For those in dynasty fantasy football leagues, this time of year includes a lot of decisions. In addition to deciding on which rookies to add in the rookie draft, it's a time of year for dynasty owners to clear roster space or make moves for the future.
That can often include some painful decisions. Just like a real NFL team, a dynasty roster has to occasionally make the painful decision and move on from a longtime asset whose days as a contributor have passed. And even more painfully, but savvier, in true Belichickian fashion, sometimes it makes sense to move on from an asset before the bottom falls out, when there is still value to be squeezed out of the sponge.
Today, we're looking at dynasty options to sell on a year ahead of time. These guys might still have a productive 2019, but they might not, and either way, it makes sense to move on them now rather than wait until their value erodes.
(I'm ignoring the most obvious names here. You aren't going to wring significant value out of Tom Brady or Drew Brees or Adrian Peterson or Larry Fitzgerald. This focuses on the names you can still ideally get big return on.)
Quarterback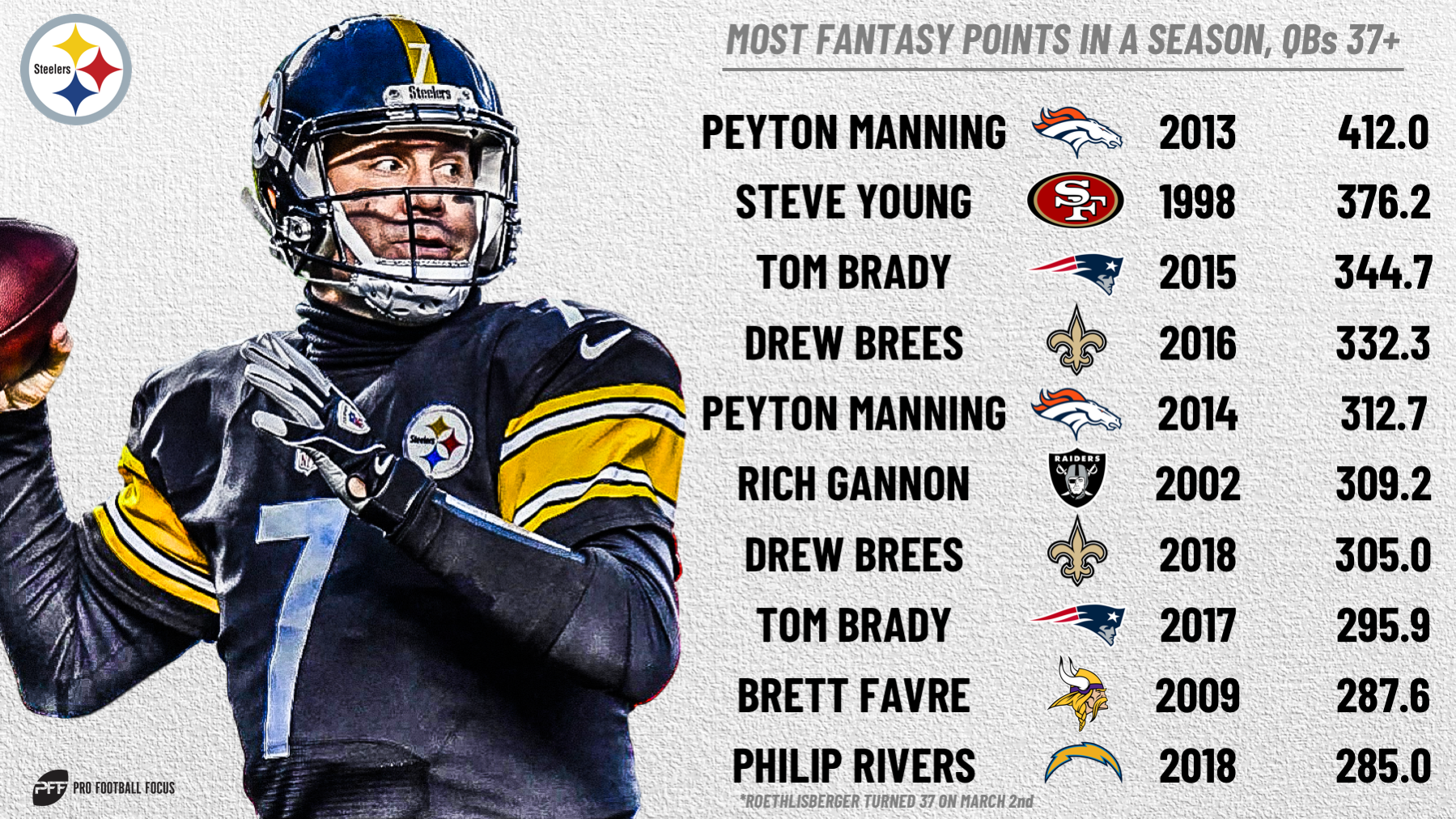 Nobody would be very surprised if the bottom falls out on Roethlisberger this year, not with him now 37 years old and without one of the best weapons of all time in Antonio Brown. On the other hand, he's coming off the best fantasy season of his career, finishing as QB3 with 353.0 fantasy points in 2018, and he just signed an extension that will keep him in Pittsburgh through 2021, so his trade value should still be strong.
But again, Roethlisberger is 37. We've been fooled by the Brady/Brees/etc. group into thinking quarterbacks have a shelf life as far as their mid-40s, but history tells us otherwise. In 2018, it took 294 points to finish as a top-10 quarterback. Exactly eight quarterbacks age 37 or older have ever hit that mark (Brady twice, Brees twice, Peyton Manning twice, Steve Young, and Rich Gannon). Despite his lofty fantasy point total in 2018, Roethlisberger actually put up his lowest-graded season by PFF grades since 2011, and his fourth-worst of the PFF era. And of course Roethlisberger is famously brittle — he's played all 16 games only four times in 15 seasons. If you can get anything like his end-of-2018 value in trade, it's a great time to sell.
Speaking of quarterbacks getting older and more brittle, Rodgers turns 36 late in the 2019 season and somewhat surprisingly has only one top-five season across his last four years, two in the last six. Some of that is due to injury (he missed significant time in 2013 and 2017), but he played 16 games in four of the last six years and still has a seventh- and an eighth-place finish in those seasons. The chances Rodgers falls all the way off the map in 2019 or just after are slim, but he's becoming a quarterback whose reputation outweighs his production.
As long as Newton's legs stay under him, he's going to be a productive fantasy option. Of course, as we know from the history of running backs, players' legs can go in a hurry. Newton turns 30 later this week, an age at which running backs are often put out to pasture. While Newton is obviously not a running back, he takes more abuse as a runner than anyone else at his position. Now that there are existing health concerns about him entering 2019 and the Panthers have drafted a backup (Will Grier) for the first time since picking Newton, we could be seeing the downward slope of Newton's run (pun intended) as a top fantasy quarterback.
Running back
By fantasy production, 2015 was Freeman's best season. By PFF grade, it was 2016. Either way, we're multiple years removed from Freeman being an elite back, and now he's a 27-year-old coming off of an injury-filled season in which he was limited to two unproductive games and 14 total carries. But the intrigue of a player searching for a bounceback, whose main competition for carries (Tevin Coleman) just signed elsewhere, behind a reinforced offensive line (Atlanta spent two first-round picks on O-linemen in the draft) means Freeman could enter 2019 with buzz, and that makes it a good time to see what kind of return you can get.
White finished 2018 as the RB7 in PPR leagues, and while his draft stock is predictably not that high entering 2019, that sort of finish carries cachet. White is only 27 and with less tread on his tires than the majority of running backs his age (he only has 207 career carries, 455 career touches across five seasons). On the other hand, he's on a Patriots team that has no issue cycling through players. The team has already brought in a new running back (Damien Harris) only a year after drafting Sony Michel in the first round. White's scheduled to hit free agency after the 2020 season but carries only a million-dollar dead cap hit if he is cut after 2019. If White is on any team other than New England, are you as excited about him? I'm not.
Wide receiver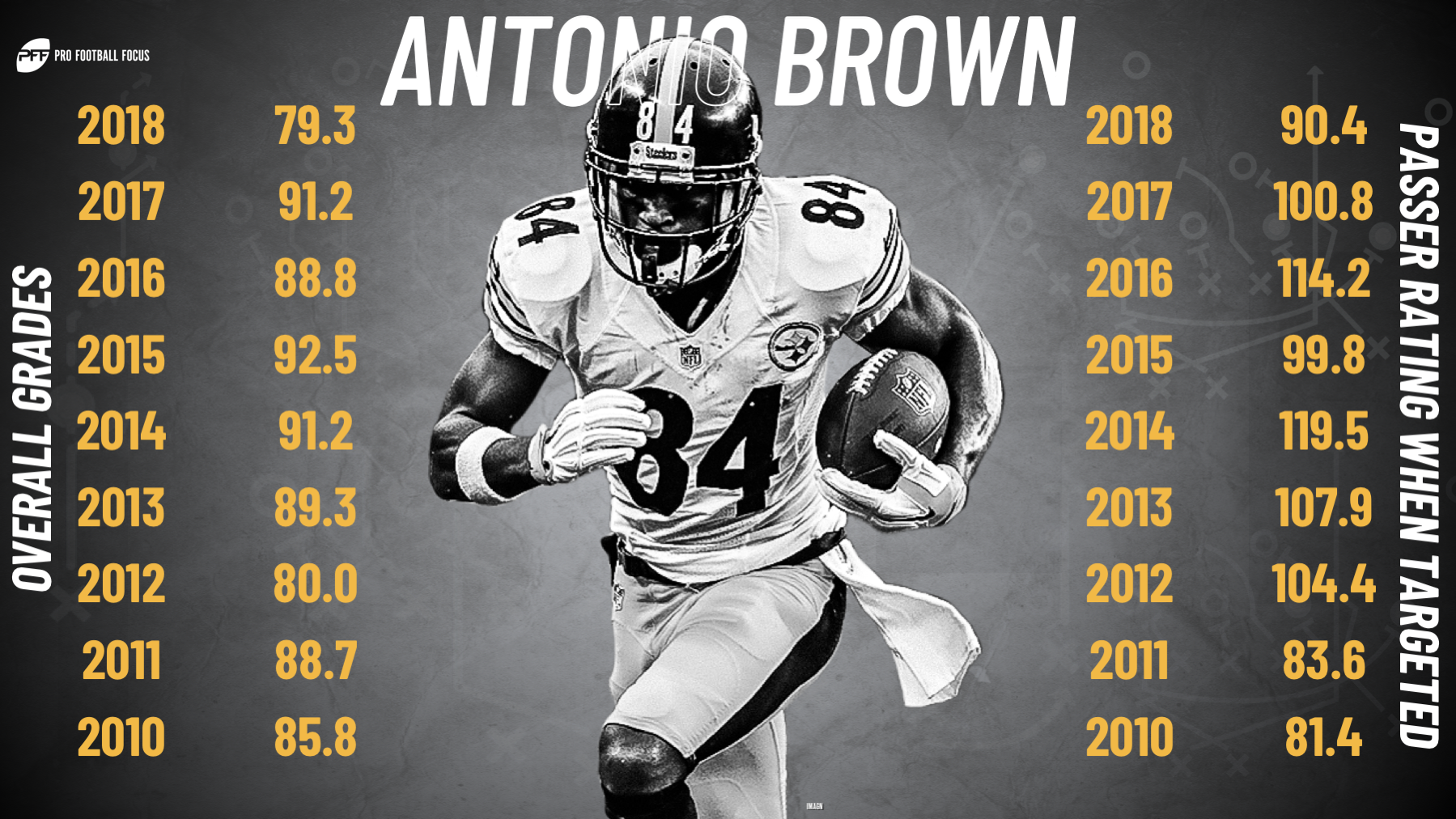 Maybe the most obvious name on this list, Brown goes from a borderline-elite quarterback in Ben Roethlisberger to a much more mediocre option in Derek Carr as he enters his age-31 season and coming off the lowest-graded season of his career. As the top offensive weapon on the Raiders (and the top one they've had in a long time), Brown almost has to be an elite fantasy option in 2019 by default. On the other hand, he's generated a 105.1 passer rating when targeted by Roethlisberger in his career compared to a 61.2 when targeted by anyone else. Carr is better than the Michael Vick/Landry Jones types, but he still isn't as good as Roethlisberger. If Brown still has Brown-like trade value, the time to sell is now.
You'd be forgiven for not realizing Thielen will be 29 by the start of the season. His low stock entering the NFL and the fact that he didn't really develop until 2016 makes him seem younger than he is. And that means other owners probably don't realize it, either. Thielen was tied for the top PFF grade among receivers (90.8) prior to the Vikings' Week 10 bye last year but was only 31st (73.4) after. His fantasy production fell as well; he was comfortable the WR1 entering the bye, then only WR19 in Weeks 11-17. With the Vikings rededicating themselves to the running game, Thielen has probably reached his ceiling.
Jeffery is 29 now and hasn't reached even 850 yards in a season since 2014. He's finished as WR22 and WR25 in two years with Philadelphia and hasn't had a top-20 fantasy year since that 2014 season. The Eagles have added J.J. Arcega-Whiteside and DeSean Jackson this offseason and still have Nelson Agholor at wide receiver, plus two tight ends who will command targets in Zach Ertz and Dallas Goedert. And while Jeffery would have taken up more than $20 million in dead cap space if the team had moved on from him this offseason, that number drops under $7 million in 2020. He might still have a year or two as a higher-level receiver, but the clock is ticking.
Tight end
When Rob Gronkowski announced his retirement March 24, he was 29 years, 10 months, and 10 days old. When the Chiefs kick off their Week 1 game, Kelce will be 29 years, 11 months, and 3 days old. In other words, Kelce will play the entire 2019 season older than Gronkowski was when he called it quits. Obviously, Gronkowski's body was wearing down faster than Kelce's has been, but the point is that Kelce is older than you probably realize, owing to a four-year college career and missing essentially his entire rookie 2013. Tight ends age better than some other positions but be careful about betting on Kelce still having that long a road before him.
Zach Ertz, Philadelphia Eagles
In other news of players being older than you probably realize, Ertz is entering his seventh season in the league and turns 29 in November of this season. He's actually played 12 more career games than Kelce has. Ertz was excellent in 2018, but more quantity than quality — he ranked only 28th among qualified tight ends in yards per reception and 25th in passer rating when targeted, but he set an all-time record in targets among tight ends. With Goedert set for a likely increase in targets in 2019, Ertz could see a slide. His stock will never be higher than it is right now.