Reactions to the trade between the Pittsburgh Steelers and Oakland Raiders that sent Antonio Brown to Oakland for third- and fifth-round draft picks have been strong, and the takes have been flying around left and right.
The Raiders have managed to add one of the most talented and productive wide receivers in the NFL over the past decade, and they have done so without having to invest a lot of draft capital. As good as Brown has been,  though, he has benefitted from having one of the best quarterbacks in the NFL throwing the ball to him, and it does bring up the key question: How much will the drop off between Ben Roethlisberger and Derek Carr hurt Brown's production in his new home in Oakland?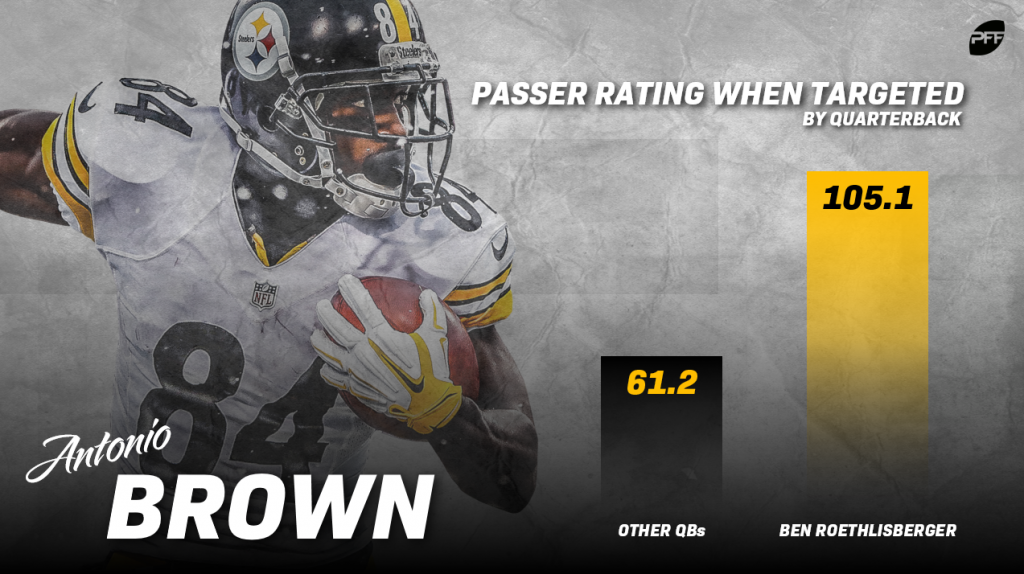 Roethlisberger-to-Brown has been one of the top quarterback-receiver duos in recent memory, with the pair combining for 78 touchdowns and over 11,496 yards on 845 receptions in Pittsburgh. With 39 Big Ben interceptions on plays where Brown has been the targeted receiver, Roethlisberger has produced an NFL passer rating of 105.1 when throwing to him.
Brown hasn't produced at the same level without Roethlisberger at quarterback, however, with no touchdowns and 548 yards from 43 receptions. Non-Roethlisberger Steelers quarterbacks have thrown four interceptions from 71 targets and have an NFL passer rating of just 61.2. That's a drop off of almost 44 points from when Roethlisberger has been the one throwing the ball to him. The caveat here is the quarterbacks who have been throwing him the ball, and how good they are. The three quarterbacks who have thrown at least 15 passes his way are Charlie Batch, Landry Jones and late-career Michael Vick, so some drop off is to be expected in production there.
So how big is the drop off between Roethlisberger and Carr? Big Ben has produced PFF passing grades of 73.0 or higher every season since 2011 and a passing grade of 80.0 or higher in eight of those seasons. Carr has topped 73.0 just twice in his five-year career and has missed that benchmark in each of the past two seasons. Carr was at his best back in 2016, where his 87.2 PFF passing grade was the fifth-best in the league, with his 28 touchdowns the second-best mark of his career and six interceptions his lowest in a season. That had many people thinking he could emerge as one of the top quarterbacks in the NFL, leading to a big contract that he hasn't played up to so far.
The drop off from Roethlisberger to Carr is not the same as from Roethlisberger to the other quarterbacks Brown has in Pittsburgh, but unless Carr can get back to his 2016 form, it is a drop off.  How big an impact that will have on Brown's performance remains to be seen, but combining that with his advancing age, it shouldn't come as a big surprise if he fails to reach the level we saw from him at his peak in Pittsburgh.