Championship Weekend delivered big time compared to last week's four-game slate. We saw way more offense from four of the game's best quarterbacks, which set the stage for a dream Super Bowl matchup between the Kansas City Chiefs and Tampa Bay Buccaneers.
High-end DFS performances were littered across the board during Sunday's action. Travis Kelce went for over 100 yards for the eighth time this season, cementing his status as a first-round pick in 2021 redraft formats. Tom Brady was the lowest-scoring quarterback — 280 passing yards, three TD passes, three interceptions — but his 12.4 aDOT, five big-time throws, 87.7 PFF passing grade and single turnover-worthy play are more indicative of his aggregate performance. The G.O.A.T balled out for all intents and purposes. 
Let's dig into both Sunday games to see who else stepped up as we look forward to Super Bowl LV and 2021 fantasy football redraft season. I'll hit on fantasy points, snap counts, routes run, goal-line usage, targets, target shares and other major takeaways. 
Similar to their Week 6 matchup in the regular season, the Buccaneers looked to blow out the Packers for the second-straight time. Tom Brady was untouchable in the first half, going 13-for-22 for 202 passing yards and two touchdowns while operating as a true assassin on third downs.
The Bucs quarterback went six-for-eight on third downs for a whopping 141 yards (17.6 yards per attempt). Tampa converted several third and longs after running 65% of the time on first down.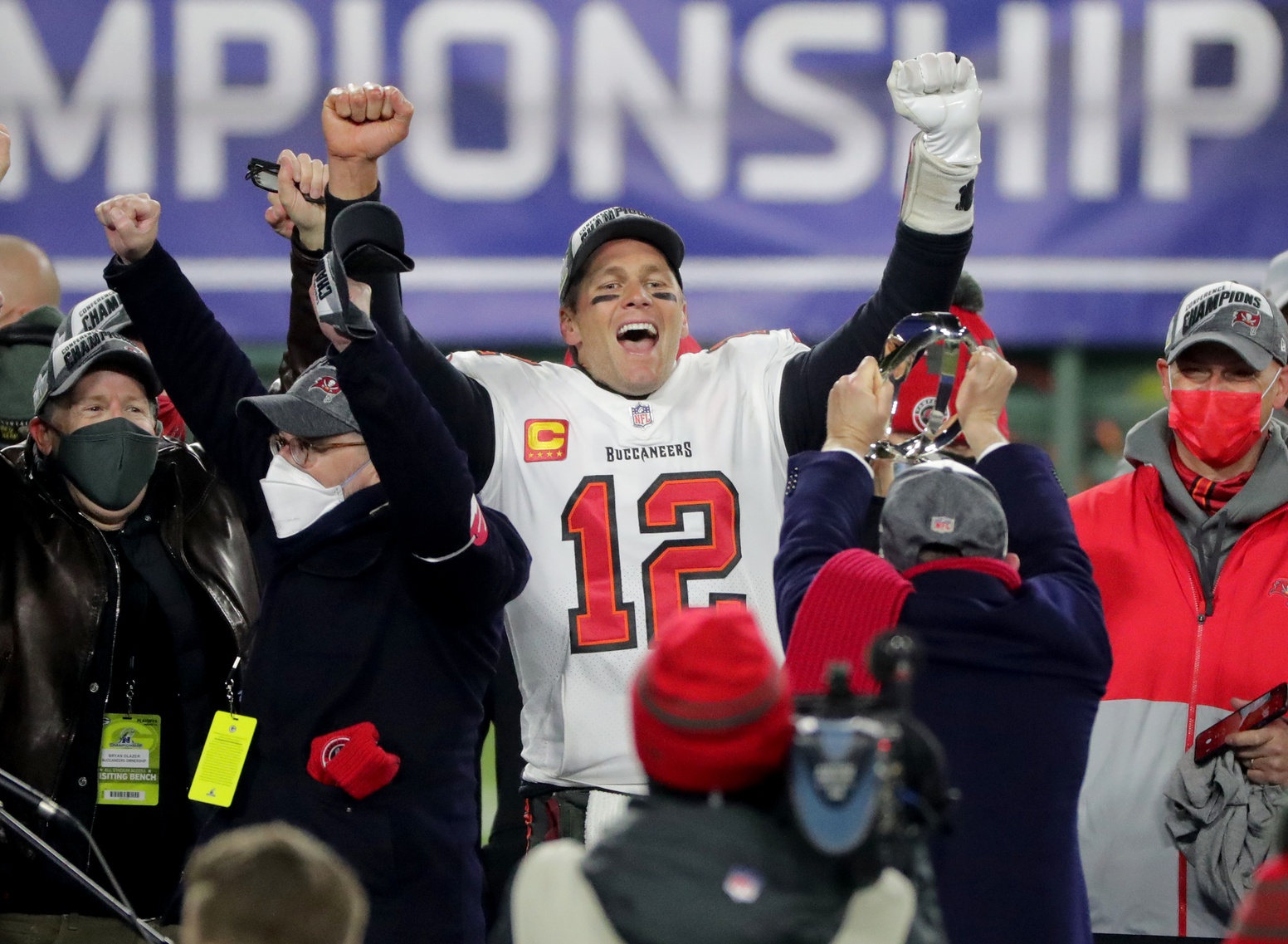 They have now followed the same heavy-run rate through all three of their playoff games, so expect them to utilize a similar approach in the Super Bowl.
That means we will get more of Leonard Fournette, who played a 69% snap share and out-touched Ronald Jones 17 to 10. Playoff Lenny was heavily involved in the passing game — five catches, seven targets, 25 routes run — and was surprisingly efficient on the ground.
He averaged 4.3 yards per carry after contact, forced five missed tackles and put Packers safety Adrian Amos through the spin cycle on his way to a touchdown.
It's become pretty clear throughout the postseason that Fournette is the No. 1 running back in the Buccaneers' backfield and has an edge over Jones because of his work in the passing game. That skill set should prove favorable versus the Chiefs, who allowed the most receiving yards to RBs during the regular season. 
Mike Evans (eight targets) and Chris Godwin (nine targets) were atop the pecking order in the Buccaneers passing game, with Godwin leading the team with five catches for 110 receiving yards. Scotty Miller (20 routes run, 42% snap share) and rookie Tyler Johnson (12 routes run, 30% snap share) filled in admirably for an injured Antonio Brown.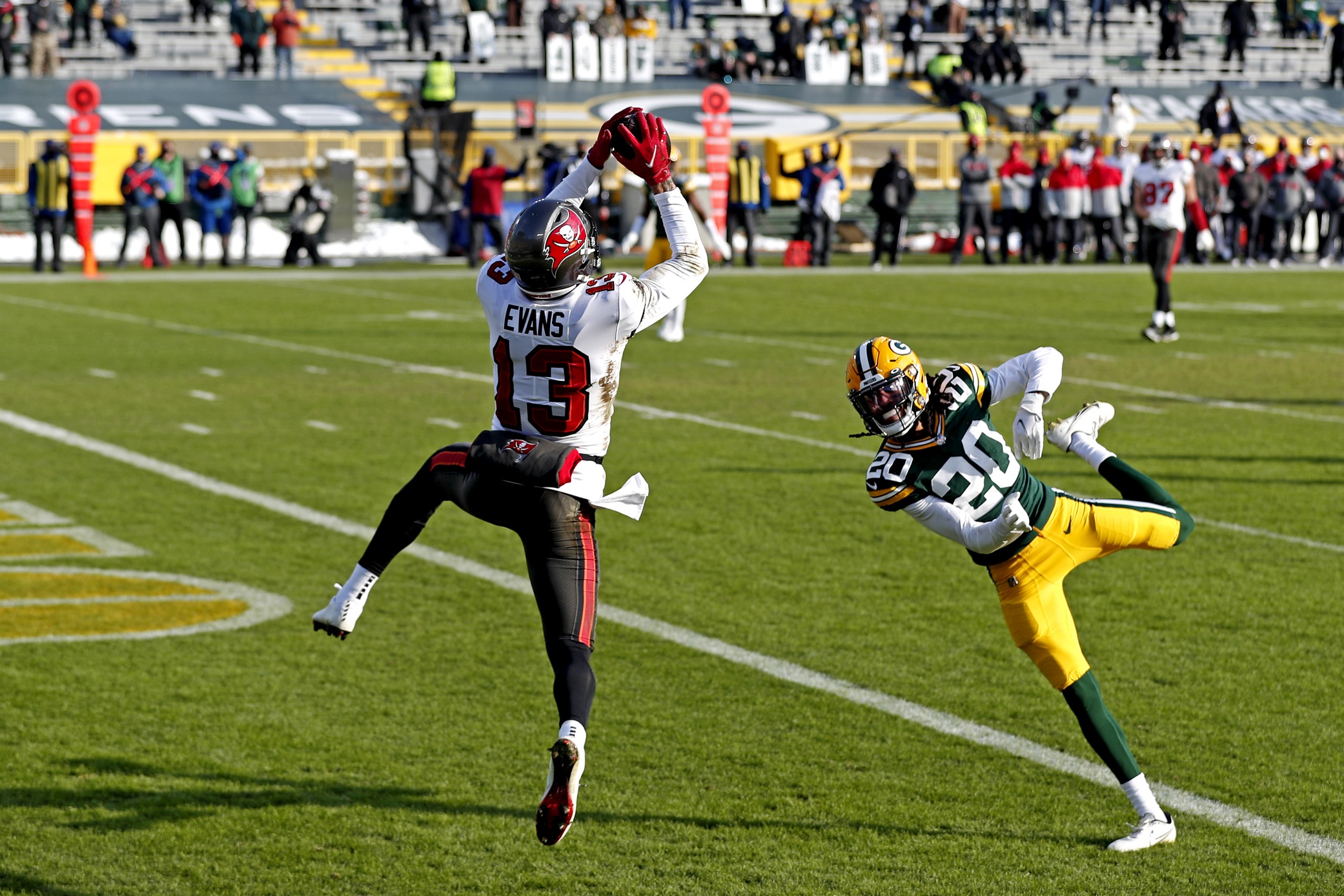 Both provided key contributions with Miller catching a touchdown late in the second quarter and Johnson forcing a pass interference call to clinch the game for Tampa late in the fourth. I don't expect either to get as much run next week with Brown presumably returning.
Rob Gronkowski was once again relegated to blocking duties, as he was tasked with blocking on 60% of his snaps. He was held to one catch on a screen that amassed 29 yards.
Even so, Gronk ran more routes than Cameron Brate (23 versus 13) for the second straight week. 
Aaron Rodgers had himself a fantasy day (24.8 fantasy points, 346 passing yards, three touchdowns), but it was not enough for the Packers to advance in the playoffs. The Buccaneers did what they could to keep Davante Adams in check — nine catches for 67 yards on 14 targets — but even Carlton Davis couldn't keep him out of the end zone.
Things aren't going to get much easier for Davis, either; Tyreek Hill ate his lunch the last time the Buccaneers played the Chiefs.
Week 12 Davis against Hill:
53% routes covered

9 targets

9 catches

208 yards

3 touchdowns
With Adams as the focal point of the Buccaneers' defense, we saw some ancillary players for Green Bay get more involved. Marquez Valdes-Scantling and Allen Lazard both commanded six targets, but MVS's 115 yards and deep touchdown made him the superior fantasy option. His performance is also a reminder to always chase the air yards from the week prior.  
The lone Packers player who was not involved and busted hard for DFS gamers was Aaron Jones. Jones was knocked out of the game early with a chest injury and remained on the sideline for the rest of the game.
As an impending free agent, this may have been Jones' last game in a Packers uniform. It makes too much sense for Green Bay to move forward with their second-round pick A.J. Dillon on a cheap contract than to sign Jones to a lucrative extension. 
Josh Allen finished the week as one of the highest-scoring players because he put up an insane 88 rushing yards. The Bills were trailing for the majority of this game despite jumping out to a 9-0 lead, which forced Allen to pick up chunk yardage with his legs.
He was the only semblance of a ground attack Buffalo could muster. Devin Singletary (six carries for 17 yards) and T.J. Yeldon (three carries for 15 yards) fell victim to being part of an offense that just does not feature RBs.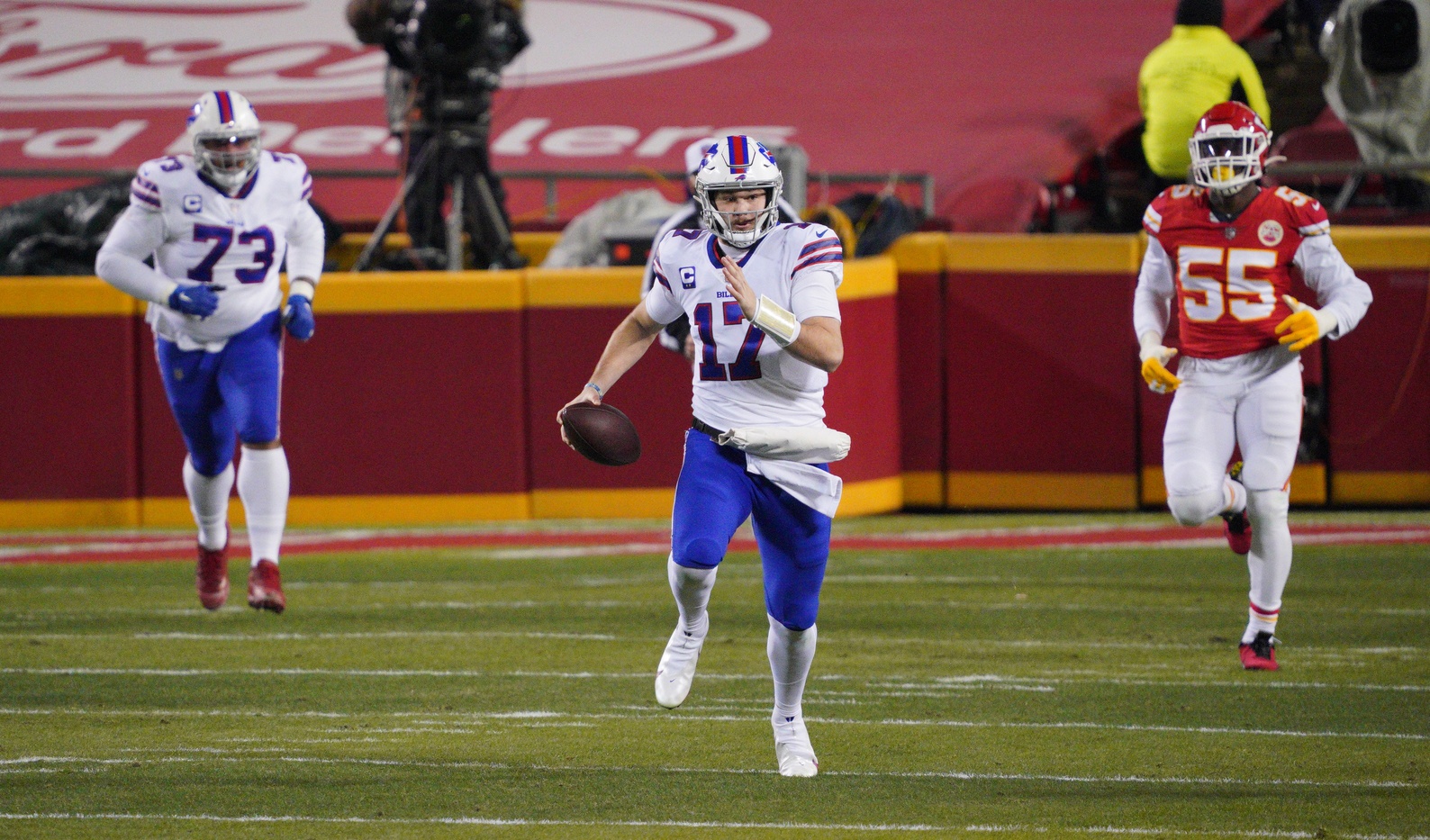 Heading into 2021, Bills running backs should not be highly sought after unless we hear/know about a systematic offensive change that would highlight the RB position more.
The Chiefs held Stefon Diggs to only six catches for 77 yards, and those numbers are a bit inflated after considerable production occurred during comeback mode. Diggs had just four catches for 28 yards through the first three quarters.
The most effective receiver for the Bills turned out to be Cole Beasley, who hauled in seven passes for 88 yards. Kansas City has been more susceptible to slot receivers all season, so keep that in mind when projecting Godwin in DFS for the Super Bowl. 
Dawson Knox was a tight end play I loved in DFS this past week, and he hit big for a player priced at just $2.8K on DraftKings. He commanded eight targets and had six catches, 42 yards and a touchdown. He'll be one of my tight end sleepers heading 2021. 
John Brown was an afterthought in this game — two catches for 24 yards — which begs the question of whether he might become a cap casualty in 2021. The Bills can cut him for just under $2M in dead money, and that would allow them to insert the up-and-coming Gabriel Davis into a full-time role.
The concern with Patrick Mahomes coming into this game was his toe injury, but it did not look to impact his ability to throw in the slightest. He threw for 325 passing yards and three touchdowns.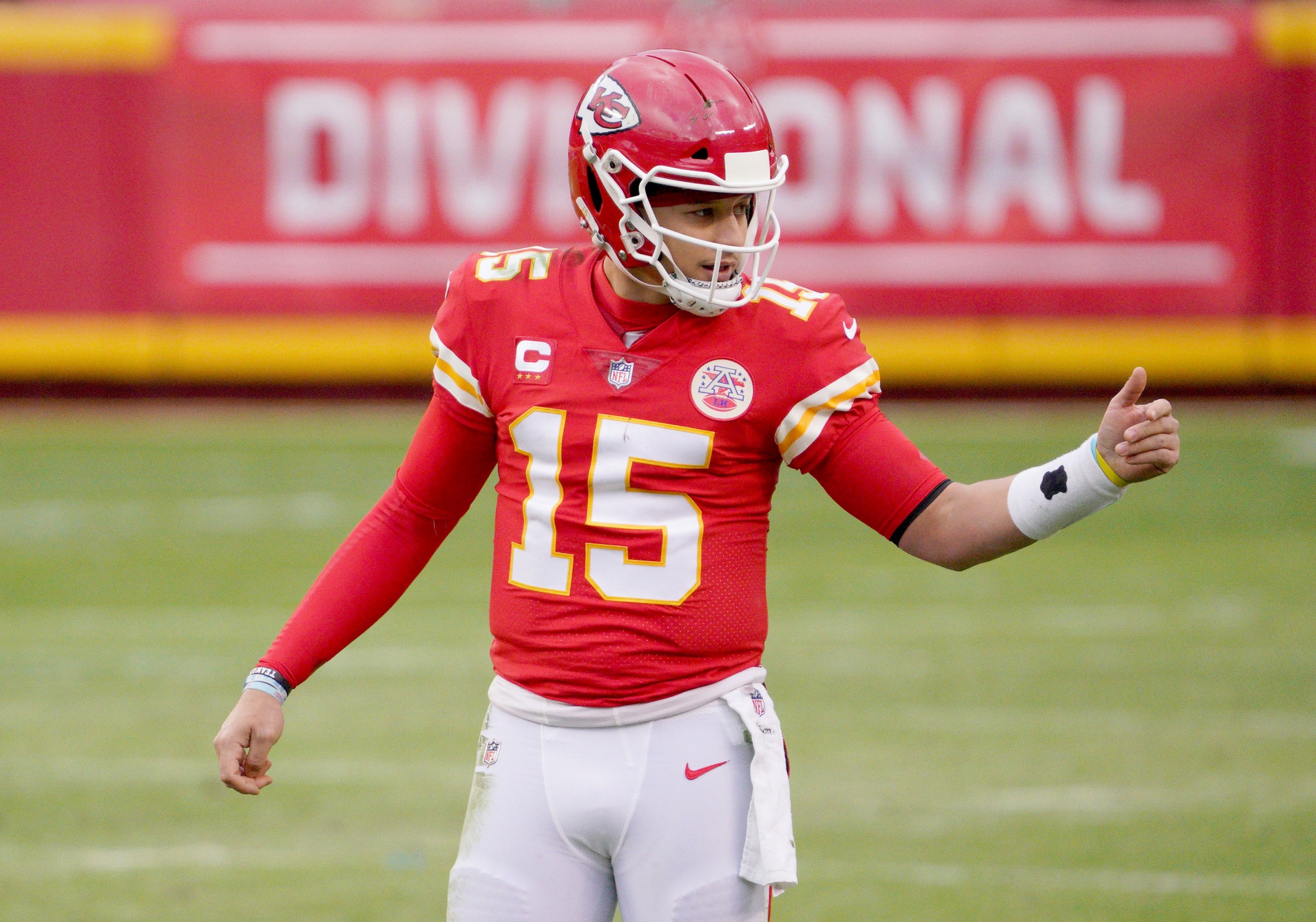 It's worth noting that Mahomes didn't rush much at all — five carries, five yards, zero scrambles — but with two weeks off he will probably be in a better position to pick up yards with legs come Super Bowl Sunday. 
Darrel Williams and Clyde Edwards-Helaire split snaps almost 50/50, but Williams had the edge in carries (13 versus six) and CEH led in pass game work (19 routes run vs. 13). Williams saw three of the four carries inside the 10-yard line.
Travis Kelce continued his stretch of dominance, but this week Tyreek Hill also got more involved. Hill roasted the Bills for 172 receiving yards on nine catches.
The Chiefs are such a concentrated offense that Hill/Kelce combined for 72% of the team's passing targets and 89% of the team's passing yardage.
Mecole Hardman ended up scoring and rushed for 50 yards, which saved his fantasy day, but his dip in routes run can't be ignored. After seeing such heavy involvement last week, Hardman ran fewer routes (16) than CEH (19), Demarcus Robinson (29) and Byron Pringle (31). 
Hardman will likely be a strong fade candidate next week assuming Sammy Watkins is back.