If you haven't reviewed the introduction to my new metric, "Actual Opportunity." I highly suggest looking that over before diving in here.
Today, I will be taking an in-depth look at the running back position through the lens of this exciting new metric.
After the "zero RB" draft strategy rose to prominence in 2016, running backs found their way back atop  fantasy leaderboards and in our Actual Opportunity rankings. On a per-game basis, the top three highest-scoring fantasy players were running backs – as were five of the top six. The author of the aforementioned "zero RB" article, Shawn Siegele, has since taken to referring to those top-three running backs (Le'Veon Bell, David Johnson, and Ezekiel Elliott) as the fantasy "uber-backs."
Bell and Johnson each outscored the highest-scoring wide receiver by more than five fantasy points per game. On a fantasy point per game basis, their 2016 seasons rank first- and second-best among all non-quarterbacks this past decade. In terms of Actual Opportunity per game, Bell and Johnson outscored the closest wide receiver by over 3.5 points per game. I'll outline below just how historically dominant their seasons were, and why Elliott's opportunity may not have been as immense as you may have imagined.
See below for a list of the running backs who ranked top-15 from an Actual Opportunity per-game basis.
Notes: Players needed six games to qualify. All references to Actual Opportunity and fantasy points are in terms of PPR scoring.

Le'Veon Bell and David Johnson — Bell's 2016 season ranks best of the past decade in terms of Actual Opportunity per game. Johnson's 2016 season ranks best of the past decade in terms of total Actual Opportunity across a full season. The key to their historic seasons was their heavy involvement in the passing game. Since targets became a statistic, in 1992, both Johnson's and Bell's 2016 seasons rank top-15 in targets per game among running backs. The uber-back label seems fitting here. Bell ranked second among running backs in rushing fantasy points per game, and would have ranked 30th among wide receivers in receiving fantasy points per game. When starting Bell in 2016, you were essentially getting the fantasy value of LeGarrette Blount and Kelvin Benjamin in one roster spot.
I believe that while both players are likely to see a regression in terms of raw opportunity, I still think both are deserving of the top two picks in 2017 drafts. They had two of the most attractive fantasy roles of the past decade, and even with natural regression built in, they're still so far above the rest of the field that they need to be given priority in your upcoming drafts. As for which player I'd prefer, I lean Bell, seeing as we have a larger sample of him in such a valuable role. He's the only player to rank top-10 in Actual Opportunity per game (among all positions) in each of the last four seasons. Still, it's a very close call, especially considering head coach Bruce Arians recently said he'd like to get Johnson to 30 touches per game. For perspective, Johnson averaged 23.3 touches per game last season.
Melvin Gordon – Like with the first two names on our list, Gordon benefited from being heavily used in the passing game – ranking just behind Bell and Johnson in receiving Actual Opportunity per game among all running backs with at least 150 carries. I'm unsure how highly he would have ranked here, however, had passing-down specialist Danny Woodhead not gone down with a season-ending ACL injury in Week 2. Gordon also benefited from heavy involvement near the end zone, ranking top-three in carries inside the 5-, 10-, and 20-yard lines per game. Earlier in the season, Gordon was one of my favorite first round draft targets. My reasoning was that Gordon's immense workload should continue in 2017 due to limited running back depth behind him on the depth chart. Following a more-recent study on the league's play-callers and recent comments from Los Angeles beat writers, I'm more pessimistic the volume repeats.
Ezekiel Elliott – Elliott finishing only fifth-best may come as a surprise. Though he ranked behind only Bell in carries per game, he was hurt in two major categories. First, he was not as heavily utilized near the end zone as you may imagine. He ranked outside the top-10 in carries inside the 5-, 10-, and 20-yard lines per game. More importantly, perhaps, was his lack of involvement in the passing game. His 2.47 targets per game ranked just 38th-best among running backs last season. We know Elliott is an outstanding pass-blocker and was a capable receiver during his collegiate career, but I'm unsure why he wasn't heavily utilized there despite ranking third-best at the position in receiving yards per target. What Elliott did benefit from in 2016 was hyper efficiency. In 2016, he posted the fifth-most fantasy points over his Actual Opportunity of any running back this past decade. Elliott also ranked top-five in yards per carry and led all running backs in touchdowns per carry when in the red zone. As I've written elsewhere, the key for Elliott to join Johnson/Bell-levels of upside (on a per-game basis) will be in him seeing a larger workload as a pass-catcher, and I am optimistic that regard. However, after the announcement of a six-game suspension, I'm likely never drafting Elliott. His Round 2 ADP still seems far too high. Pairing him with Darren McFadden (round six ADP), though likely to ensure top-three-level production at the position, is too much of an investment for me.
LeSean McCoy – McCoy's ranking of ninth in Actual Opportunity per game might be another surprise here, if you haven't dug deep into his numbers, but it makes sense. He ranked outside of the top-15 in rushing attempts per game, targets per game, and carries inside the 5-yard-line per game. Like Elliott, he benefited from efficiency (which may also have negatively impacted his opportunity numbers) – as did backup Mike Gillislee. McCoy and Gillislee ran behind the league's most-productive run-blocking unit in terms of average yards before contact and posted two of the most efficient seasons we've seen from running backs in recent memory. On a per-carry basis, Gillislee's 2016 season produced the single most efficient (rushing fantasy points per carry over rushing Actual Opportunity per carry) rushing season of the past decade (min. 100 attempts), while McCoy's 2016 was the 12th-best of the decade and second-best this year. I'm expecting a natural decline in efficiency for McCoy, but following Gillislee's departure to New England and recent comments that McCoy will be more-heavily used in the passing game this year, his Actual Opportunity numbers should improve and help to offset any efficiency decline. Scoring opportunities are a concern as well (after Buffalo traded away Sammy Watkins), but I still feel confident selecting McCoy in the early second round of drafts.
LeGarrette Blount – Blount ranked much lower Actual Opportunity than I expected, considering he ranked fifth in carries per game and first in carries inside the 5-, 10-, and 20-yard lines per game. Still, it wasn't enough to make up for his lack of involvement in the passing game, which is of critical importance in PPR leagues. He ranked first in rushing Actual Opportunity per game, but dead-last among running backs in receiving Actual Opportunity per game (min. 35 touches) – proving to be a much better pick in standard leagues than in PPR (but I'm sure you already knew this). Blount's upside takes a major hit after leaving for Philadelphia, but treat this blurb as a reminder of what potential may lay in store for Gillislee (or possibly Rex Burkhead) this season.
C.J. Anderson – Anderson was already shaping up to be one of my favorite sleepers at the running back position for 2017, and his ranking here cements it. Though his injury history is a major concern, Anderson had a highly valuable fantasy role before a Week 7 knee injury kept him off of the field for the rest of the season. Anderson ranked top-five in carries inside the 5-yard line per game and top-five in red-zone opportunities per game. His backup, Devontae Booker, was highly ineffective throughout the entirety of the season, posting 0.5 less yards per carry than Anderson. Anderson has been tremendous when on the field. Over the past three seasons, among 28 running backs with at least 400 attempts, Anderson ranks top-six in yards per carry, touchdowns per carry, yards after contact per attempt, and forced missed tackles per attempt. For perspective, Le'Veon Bell ranks top-six in three such categories and is the only other running back to rank top-six in more than two. Jamaal Charles was brought in as competition and may cement a minor role, but given how close he was to not even making the team, I'm not too intimidated.
Devonta Freeman – Despite operating in a timeshare with Tevin Coleman, Freeman maintained a valuable fantasy role. Though he ranked only 19th in carries per game and 14th in targets per game, he ranked top-five in total opportunities inside the 10- and 20-yard lines per game. After losing offensive coordinator Kyle Shanahan, it's likely his usage near the end zone declines as the offense as a whole takes a step back from its historically efficient 2016 season. Currently being selected as the fourth running back off the board in drafts, he hasn't found his way onto any of my teams this season.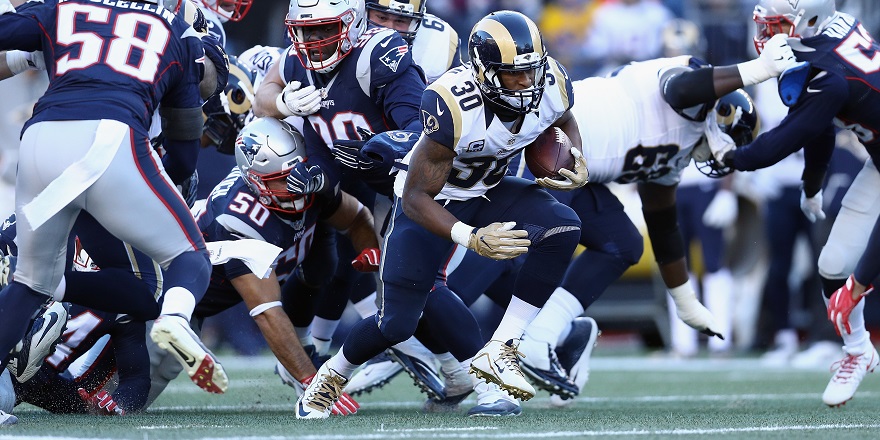 Todd Gurley – 2015's leader in per-carry rushing efficiency took a big step back last season. No running back left more fantasy points on the table (as opposed to their Actual Opportunity score) than Gurley. Despite his Actual Opportunity score climbing by 63.6 points in 2016, he scored 10.2 fewer fantasy points in 2016 than he did in 2015. With his workload unlikely to decline dramatically, I'd expect a regression closer to the mean in his favor in 2017. I wrote up a more in-depth analysis on Gurley here. As a mid-second round pick, he's currently a tad overvalued.
Others: Matt Asiata just posted the least efficient season of any running back over the past decade. … Doug Martin, though not as historically bad, ranked just behind him this season. … Jay Ajayi not making the list might be another surprise. He was hurt two-fold here. First, looking at his numbers on a per-game basis makes him look worse that his role actually was, considering he didn't earn his first start until his fourth game. Second, he ranked a lowly 40th among all running backs in total receiving Actual Opportunity. He ranked ninth among running backs in carries, but 38th in targets. Remember, the average running back carry is worth 0.59 fantasy points, while the average running back target is worth 1.57 fantasy points. Considering these two important factors, his ranking of 21st in Actual Opportunity per game at the position, though disappointing, shouldn't be too much of a surprise. Luckily, for fantasy owners, he made up for it as a very efficient as a runner last season – and his receiving workload should increase. … Due to heavy red-zone involvement and the third-most targets per game of any running back, Theo Riddick ranked highly in terms of Actual Opportunity per game. I'm not sure this will be the case in 2017, however, as Ameer Abdullah returns from a foot injury. Still, if Riddick's receiving workload remains at least somewhat consistent, he could be another late-round steal for zero-RB teams on the back of heavy involvement in the passing game. He ranked 45th in total running back carries, and 48th in total rushing actual opportunity. Ranking first among running backs in end-zone targets and targets inside the 10- and 20-yard lines per game, Riddick ranked a close third in receiving actual opportunity per game (by more than three points over the next-closest running back).