("Metrics that Matter" is a short feature that appears several times a week, highlighting a notable fantasy lesson to be learned from PFF's advanced stats.)
In our most recent episode, we talked about two of my favorite wide receiver statistics: missed tackles forced per reception and yards after contact per reception.
The running back equivalent to these statistics is yards after contact per rushing attempt and missed tackles forced per rushing attempt. Yards-per-carry average is the most commonly used running back statistic, but also one of the more incomplete. As I illustrated here in an attempt to improve the statistic, one of the flaws to yards per carry average is that it fails to divorce offensive line play from running back play. Yards after contact and missed tackles forced, instead, are a more accurate representation of a runner's ability with the ball in his hands, independent of the blocking in front of him.
Like in our last edition (shout-ut to Carlos Henderson) there is one player who clearly dominated both of these metrics last season – Jay Ajayi, who was also our highest-graded regular-season running back last season. (Yes, over David Johnson and Le'Veon Bell.)
Join PFF Elite for access to PFF Signature Stats across all positions.
Yards after contact per attempt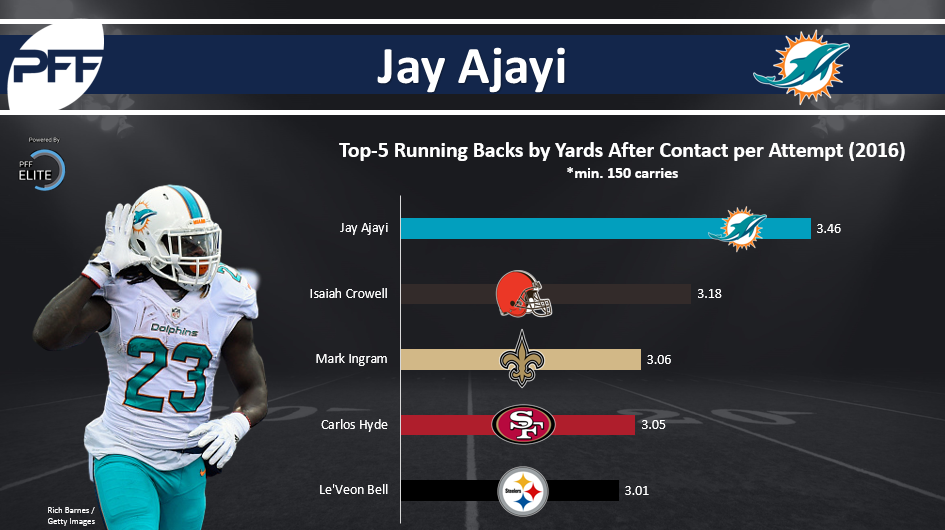 Missed tackles forced per attempt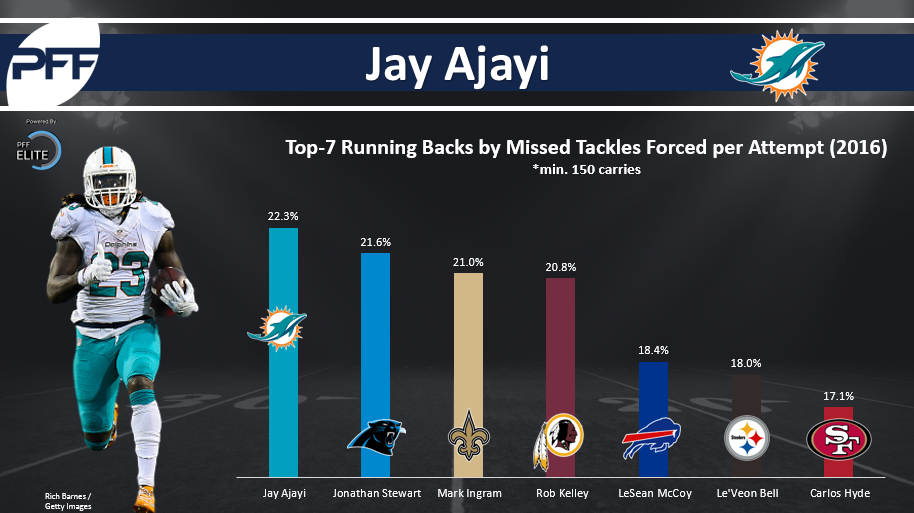 Combined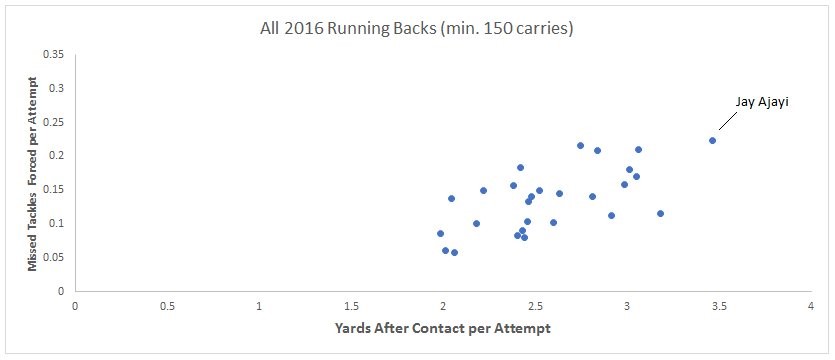 Okay, I know what you're thinking. "Sure, we all know Jay Ajayi was good last season, but was he good all season, or just in his three 200-yard games?" Great question. I'm glad I pretended you asked that.
Over the course of a full season, among all running backs with at least 150 carries, Ajayi ranked fifth-best in yards per carry (4.90.) If we take away those three games, he falls to fifth-worst (3.70) of 28 qualifying. That's an incredible contrast, but remember, yards per carry is a misleading statistic.
Ajayi also led the league in yards after contact per attempt last season. If we remove his three 200-yard games, he still ranks a very respectable ninth. Ajayi also led in missed tackles forced per attempt with 22.3 percent. If we strip away those three games, he actually improves, jumping to 23.4 percent. If we took away any player's three best games we should expect their numbers to fall, but it's surprising how well Ajayi fared in this exercise given the current prevailing sentiment among the fantasy community. According to the data, he wasn't just good in three games, he was great all season – and unlike other running backs, he wasn't just getting what was blocked for him, he was creating plays on his own.
In fact, over the course of the full season, Ajayi's blocking was poor. The Dolphins earned our third-worst run-blocking grade last season, and ranked seventh-worst in yards before contact per attempt.
Yards before contact per attempt by offensive line in 2016: pic.twitter.com/MpGBQtJmXp

— Jeff Ratcliffe (@JeffRatcliffe) March 13, 2017
There's some room for optimism in this regard, however. Center Mike Pouncey played in only five games last season, and hopes to be ready for Week 1. Pouncey was selected to the Pro Bowl in each of the prior three seasons. Over the five games he did play, Ajayi averaged 6.0 yards per carry.
Unfortunately, here's where we should be concerned. Jermon Bushrod was our worst-graded run-blocking guard last season. Ajayi averaged 2.97 yards per carry when rushing to either side of Bushrod last year. Remarkably, he averaged 6.04 yards per carry the rest of the time. The Dolphins made no moves to replace Bushrod this offseason, other than drafting a guard (Isaac Asiata) in the fifth round, and Bushrod projects to be their Week 1 starter at right guard. This was Bushrod's first season playing the position (he played tackle every other season of his career), so all we can do is hope he improves with more experience.
What does this mean for fantasy?
The hype for Ajayi has been out of control this offseason. Dolphins OC Clyde Christensen said, "Ajayi might be the most improved player on team, even as good as he was last year." Per ESPN beat writer James Walker, Dolphins HC Adam Gase said "Ajayi could get as many as 350 rushing attempts if [he] stays healthy and plays all 16 games." That's 90 more total carries and 4.5 more carries per game than Ajayi averaged last season. Gase also implied he wants a greater involvement from Ajayi in the passing game next season. Christensen would later say, Ajayi's receiving skills are "200 percent better [today] than a year ago." Ajayi reeled in 27 receptions for 151 yards and no touchdowns last season, but in his final year of college ranked fourth in receptions, second in receiving yards (535), fourth in yards after the catch (488), and third in receiving touchdowns (4). Among all 44 running backs to catch over 25 passes, Ajayi also led in yards-per-target average.
Gase has quite the extensive history of uplifting running back play. In 2013, Gase's first season as an NFL OC, Knowshon Moreno finished as the No. 4 running back in PPR leagues. In 2014, C.J. Anderson led all running backs in PPR fantasy points from Week 10 on. In 2015, Matt Forte finished as fantasy's No. 7 running back, despite playing in only 13 games.
So, clearly, Ajayi is very good at running the ball and his role on a running back-friendly offense appears to be expanding. I'd take the coach-speak with a grain of salt, seeing as how Miami's coaches have been effusive in praise of almost every player on the team this offseason, but still, I'm about as high on Ajayi as anyone else. I currently have Ajayi as my No. 6 running back in PPR leagues, and wouldn't fault anyone for taking him as high as the end of the first round.