How many fantasy football leagues do you play each year? Personally, I play more than 100.
That statement is often met with incredulity and one of two follow-ups: "Is that even fun?" or "How is that even possible?"
I then, of course, need to clarify. Each year I play in two or three dynasty leagues, six or seven redraft leagues, and about 100 best ball leagues. That may seem like a lot, but best ball leagues are really fun, easy, and addicting.
A best ball league is essentially a mock draft with a payout. It's centered around everyone's favorite thing about fantasy (drafting) while doing away with all of the more high-maintenance and annoying aspects of a fantasy league. In a best ball league, there are no frustrating start/sit decisions (your highest-scoring players get started automatically) and there's no time ever wasted rejecting insulting trade offers or laboring over difficult add/drop decisions.

If interested in playing in one of these leagues, I'd direct you to DRAFT.com or BestBall10s.com. Live drafts are running now on both sites. League size and payout structures will vary depending on the specific contest you've entered. On both sites you have the option of playing in a fast draft (30-second pick clock) or slow draft (eight-hour pick clock). The latter drafts typically take several days or up to a week to complete.
In DRAFT's format (half-point PPR), you're drafting for 18 rounds and you're starting 1QB, 2RB, 3WR, 1 TE, and 1 Flex each week. In the BestBall10 format (full-point PPR), you're drafting for 20 rounds and you're starting 1QB, 2RB, 3WR, 1 TE, 1 Flex, and 1 DEF each week.
After playing in well over 300 best ball leagues throughout my fantasy career, here are my top three tips for dominating a best ball league:
Tip #1: Roster structure
In most drafts, I almost always employ a "best player available" approach and try to let the draft fall to me. However, in this unconventional format, without the benefit of a waiver wire, I'm far more rigid in my approach. In nearly every draft I'm a part of, I try to be more regimented in the number of players I take at each position. In each draft, I want to roster:
Quarterbacks: 2-3
Running backs: 4-6
Wide receivers: 7-9
Tight ends: 2-3
Defenses (BestBall10): 2-3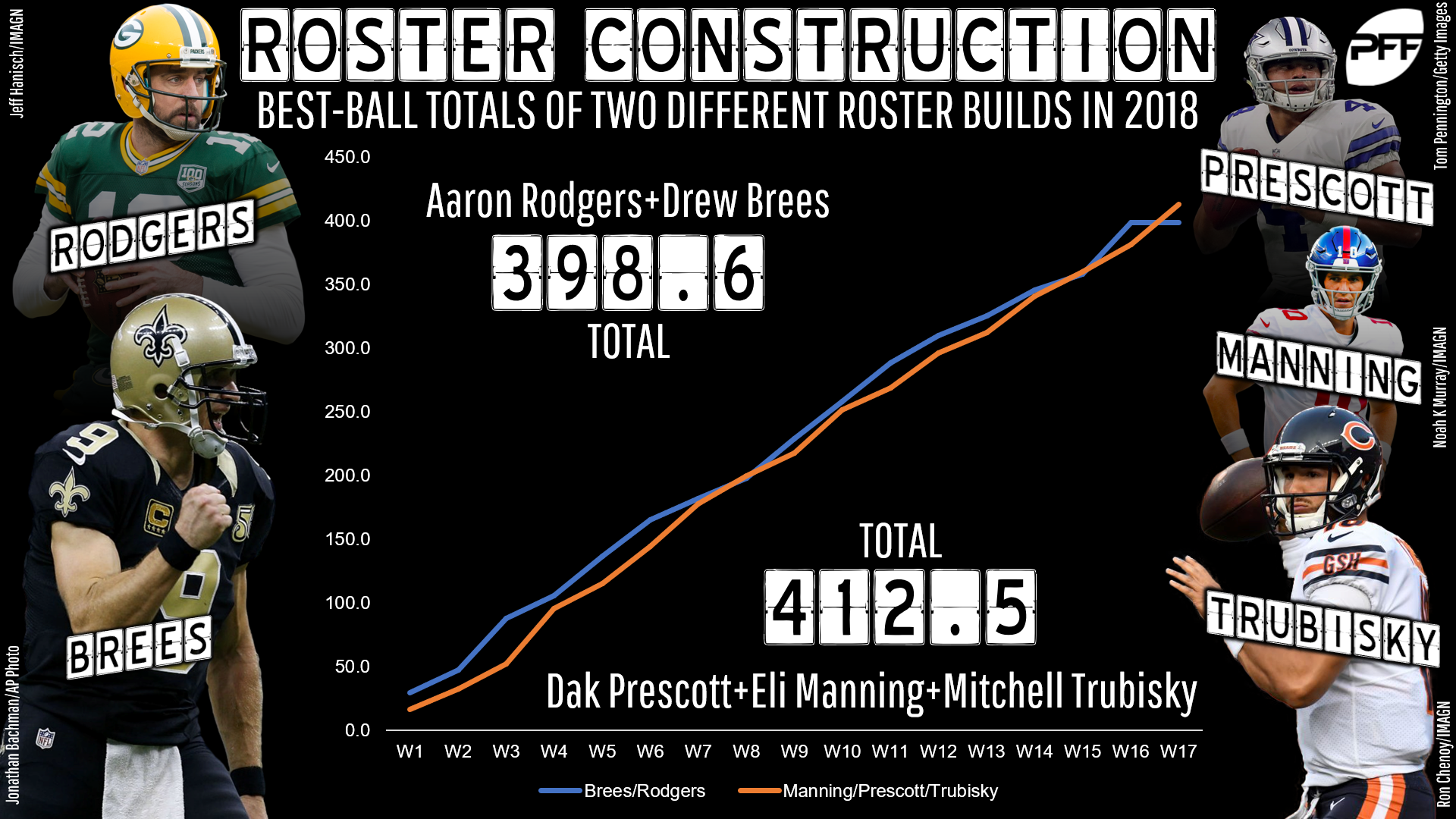 The current state of my roster and draft-capital invested at each position will always have an effect on how many players I select at each position. If I went early on quarterback with, let's say, Aaron Rodgers and Drew Brees (combined for just under 400 points in startable weeks last fantasy season) I wouldn't feel the need to draft a third. If I waited late before grabbing a quarterback (which I'd recommend), I'd try to grab three. For reference, Dak Prescott, Mitchell Trubisky, and Eli Manning would have combined to score 14 more than the Rodgers/Brees tandem. The same thing goes with tight ends. If I draft Travis Kelce in the second round, I'm not taking a third tight end. This will, hopefully, help me shore up a different position of need.
Tip #2: No Zero-RB
In my own drafts, I try to lean running back-heavy early on. Although I think the zero-RB strategy is certainly viable (if still unideal) in typical redraft leagues, I think it loses some efficacy in best ball given the lack of a waiver wire. The position itself is also far more top-heavy than the others. For this reason, I try not to leave a draft without grabbing at least a few running backs with bell-cow potential. I'm also more inclined to draft a running back's handcuff in best ball than I would in a standard redraft league
Seeing as how I lean running back-heavy early in this format, I also employ more of a quantity-over-quality approach at wide receiver. For instance, Corey Davis had more top-five weeks than Davante Adams last season. Tyreek Hill outscored Julian Edelman by 123 fantasy points but they had the same number of top-15 weeks. Mohamed Sanu had more top-36 weeks than Amari Cooper.
Tip #3: Upside
Embrace upside, but not too much. Don't treat your best-ball league like a top-heavy DFS tournament, unless the payout structure heavily skews toward the first-place finisher. The only format where that might be advisable is the BestBall10 (Classic) leagues, while the majority of leagues offer more robust prizes for second- and third-place finishes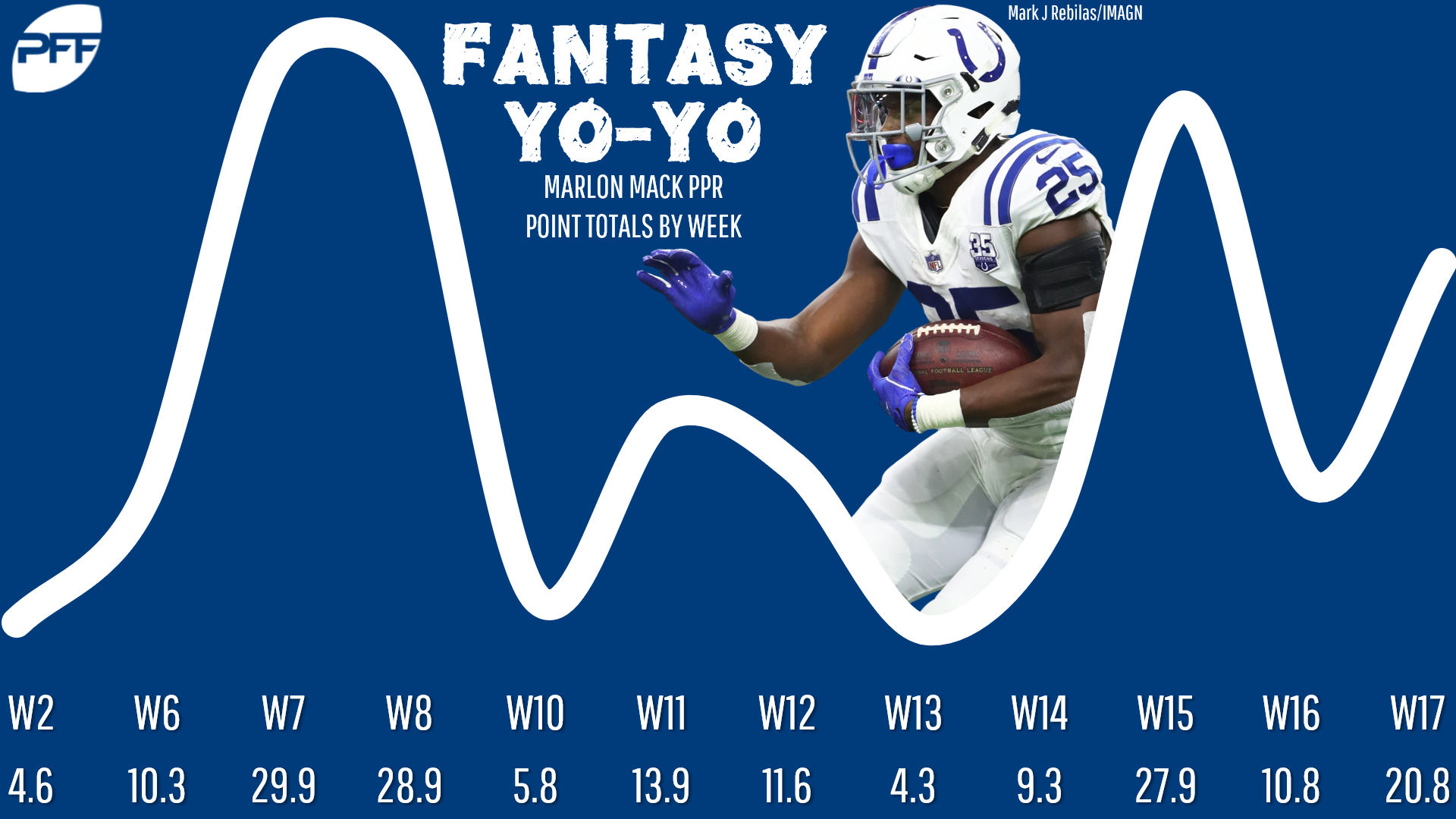 Embrace variance, but not too much. Since this format automatically starts your top players, selecting boom-or-bust players might work to your advantage. Best ball ADP is fairly in line with ADP for most traditional redraft leagues, so you can gain a slight edge by prioritizing more volatile fantasy players. For a list of the most high-variance players in 2017 (I'll update this for 2018 eventually), you can read my article here. Some of the players who stood out in this regard (for 2018) were: Amari Cooper, Tyreek Hill, Derrick Henry, Calvin Ridley, and Marlon Mack. While Cooper is almost maddening to own in a redraft league, he's far more valuable in the best ball format.
This being said, also try to mix in high-floor plays (Julian Edelman and Adam Humphries come to mind) to balance out your team and give yourself a reliable floor.