The most popular draft strategy for the 2020 fantasy football season is shaping up as follows: Grab starting running backs early, hammer wide receivers in the middle rounds and then turn to tight end, quarterback and fill out the roster from there. Fantasy owners will be scrambling to grab the seemingly safe top-20 running backs throughout the first three rounds.
Subscribe to PFF's EDGE or ELITE subscriptions to get access to the following tools, charts, etc. 
– All Premium Article Content
– Fantasy Football Rankings & Projections
– Fantasy Football Draft Guide, Cheat Sheets & Advanced Stats
– Fantasy Football Mock Draft Tool (DraftMaster)
– Fantasy Football Strength of Schedule Matrix
– NFL Player Grades
– NFL Premium Stats
Yet, no running back is truly safe — it's the most fragile position in fantasy football. Five top-20 running backs were outright busts last season, including two of the top six:
As the running-back-early groupthink reverberates through the fantasy football community, the average draft position of top-tier wide receivers will decline. If Michael Thomas, Julio Jones, Davante Adams, Tyreek Hill or Kenny Golladay start tumbling in your fantasy drafts, grab them and worry about running back later.
Fantasy championships are won every year by owners who secure the safety of stud wide receivers early and then uncover running back gems later in the draft (last season it was Miles Sanders, Austin Ekeler and Kenyan Drake).
Fantasy owners should be playing for first place. Imagine surrounding a wide receiver core of Adams, Jones and Golladay with two running backs that emerge as legitimate RB1s come fantasy playoff time. That team would be an absolute unit.
The following nine running backs are all excellent options for fantasy owners who hammer wide receivers early.
Taylor will not come cheap at his fourth-round ADP, but he has legitimate league-winner potential if things break right. He was a workhorse at Wisconsin with 3,920 rushing yards after contact since 2017 — 940 more than anyone else in college football — while racking up 92 missed tackles forced (fourth) and a 91.1 PFF grade (third) in 2019. Taylor's ADP is depressed because he is slated to split time with Marlon Mack (69.5 PFF grade, 28th among RBs), but there is no doubt about who is the better player.
The Colts are in win-now mode with a grizzled veteran in Philip Rivers at the helm. As the season progresses, it will become increasingly difficult for Frank Reich and the Colts coaching staff to keep their prized second-round draft pick off the field if he is outperforming Mack. When Taylor wrestles the starting role away from Mack, he will become an every-week RB1 running behind the NFL's second-best run-blocking offensive line with the league's sixth-easiest strength of schedule for RBs.
Additionally, Mack's shaky injury history (six missed games in the last two seasons) creates another avenue for Taylor to claim a bell-cow role. Damien Williams opting out ignited the rise of Clyde Edwards-Helaire, and Taylor would see a similar boost if something were to happen to Mack. That is the type of RB1 upside fantasy owners should be chasing.
Akers joins a muddled backfield in Los Angeles and is well positioned to seize an early-season role. During the Sean McVay era (the last three years), the starting running back for the Rams has been one of the most fantasy friendly roles in the entire NFL, particularly in the red zone — 277 carries (second-most) and 58 touchdowns (most). Akers was a force at Florida State in the red zone last season with 10 TDs and 16 missed tackles forced (second-most in college football).
The struggles of the Rams offensive line are well documented, and they had the 26th-ranked run-blocking unit last season. That should be no problem for Akers, who rushed for 907 yards after contact last year (13th). In fact, a whopping 79% of Akers total rushing yards came after contact (the second-highest rate in college football, min. 500-plus yards after contact). He will fit right in on the Rams
Even if Darrell Henderson makes this a running back by committee, there will still be plenty of rushing usage available for Akers to smash his RB27 ADP.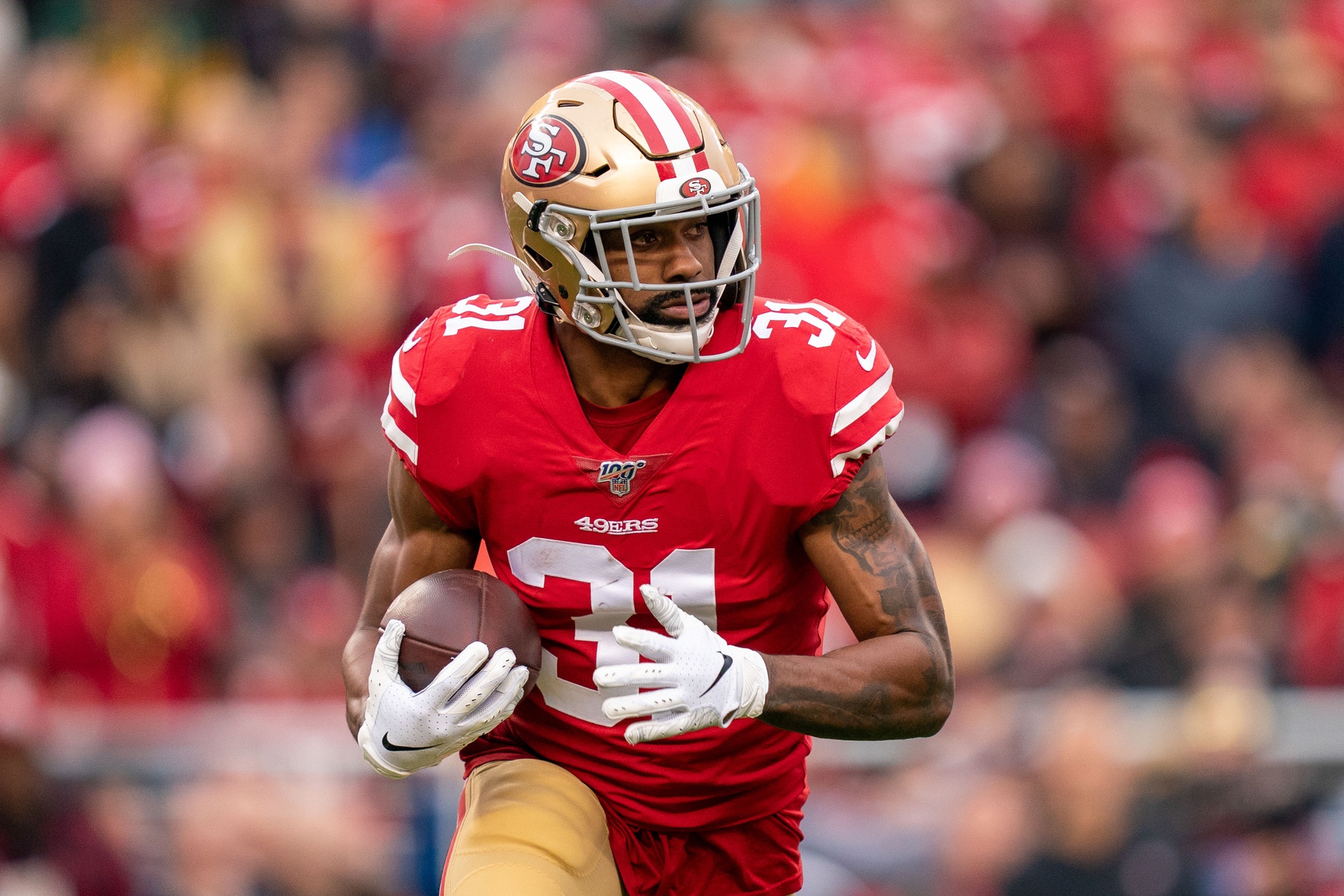 I wrote about Mostert last week as a dark horse running back with top-10 potential. In a recent fantasy draft, I snagged Mostert with the 6.11 pick, which is way too cheap for a player with a fair crack at the starting role on the NFL's best rushing offense.
Mostert is coming off a remarkable season with an 82.8 overall PFF grade (seventh among RBs) and 83.3 rushing grade (fourth). After emerging as the 49ers' lead-back in Week 12, Mostert ripped off six-straight games of double-digit carries while ranking as the RB7 over that stretch. He was a big-play machine, racking up 10 runs of 15-plus yards (two more than anyone else) and six touchdowns of 10-plus yards (second). Mostert and Tevin Coleman each had 137 rush attempts last season — Mostert forced 29 missed tackles compared to just 17 for Coleman.
Mostert has already demonstrated top-10 potential without a monster workload. His carry counts in Weeks 12-17 were: 6, 19, 10, 14, 11, 10. Imagine what Mostert could do over an entire season with a wholly reasonable 15 carries per game? He had at least 15 carries in two games last season, rushing for 146 and 220 yards.
PFF's projections are bullish on Mostert, with 1,039 rushing yards and 10 TDs. Mostert is a fantastic selection for owners who go wide receiver early and are shooting for upside with their middle-round running back selections.
Hunt was a fringe RB2 after returning from suspension in Week 10 last season, averaging a reasonable 12.7 PPR fantasy points per game (25th) which is just above his RB29 ADP. Surprisingly, that makes him an underrated fantasy asset for upside-chasers.
Hunt did not miss a beat after returning from suspension, recording a 76.7 PFF grade (11th among RBs with 80-plus snaps) in 89 offensive snaps last season. He was every bit the electric playmaker that he was on the Chiefs, forcing a missed tackle on 42% of his touches (highest rate in the NFL). Despite missing eight games last year, only Derrick Henry has forced more missed tackles on runs since 2017 than Hunt's 123.
Hunt has rushing and receiving equity every week — he averaged 6.1 targets and 6.3 carries per game last season. Those numbers will likely increase in 2020 now that Hunt had a full offseason to integrate into Cleveland's game plan. In fact, rumors swirled recently regarding the coaching staff hoping for 15 carries apiece for Nick Chubb and Hunt.
Of course, Hunt also has legitimate top-5 RB ceiling if something were to happen to Chubb. Hunt should be a weekly RB2, which aligns with his draft cost, while also possessing spike week upside courtesy of his game-breaking talent. 
Dobbins is my pick to be this year's Miles Sanders — a middle-round rookie running back who seizes the starting role midseason and runs rampant during the fantasy playoffs. His 2019 stats at Ohio State were mind-boggling: 1,208 rushing yards after contact (second), 4.01 rushing yards after contact per attempt (second) and 31 runs of 15-plus yards (first).
Baltimore drafted Dobbins in the second round to be the future at the position, but he is currently blocked by Mark Ingram. From Week 9 on (including playoffs), Ingram had only one game with more than 80 rushing yards. If Ingram starts breaking down in the middle of the 2020 season, a fresh Dobbins will be ready to pounce.
Dobbins will probably frustrate fantasy owners through the early part of the season, but you're drafting him for his fantasy playoff potential. Remember, Sanders averaged a paltry 6.1 fantasy points per game through the first five weeks last season. From Weeks 9-16, Sanders blossomed with a feature role — he was the overall RB8 over that stretch. A similar breakout for Dobbins is not too farfetched.
The Ravens have the fifth-easiest strength of schedule for running backs this season and the third-easiest during the fantasy playoffs. A late-season emergence by Dobbins could transform a wide-receiver-early team into a fantasy playoff juggernaut.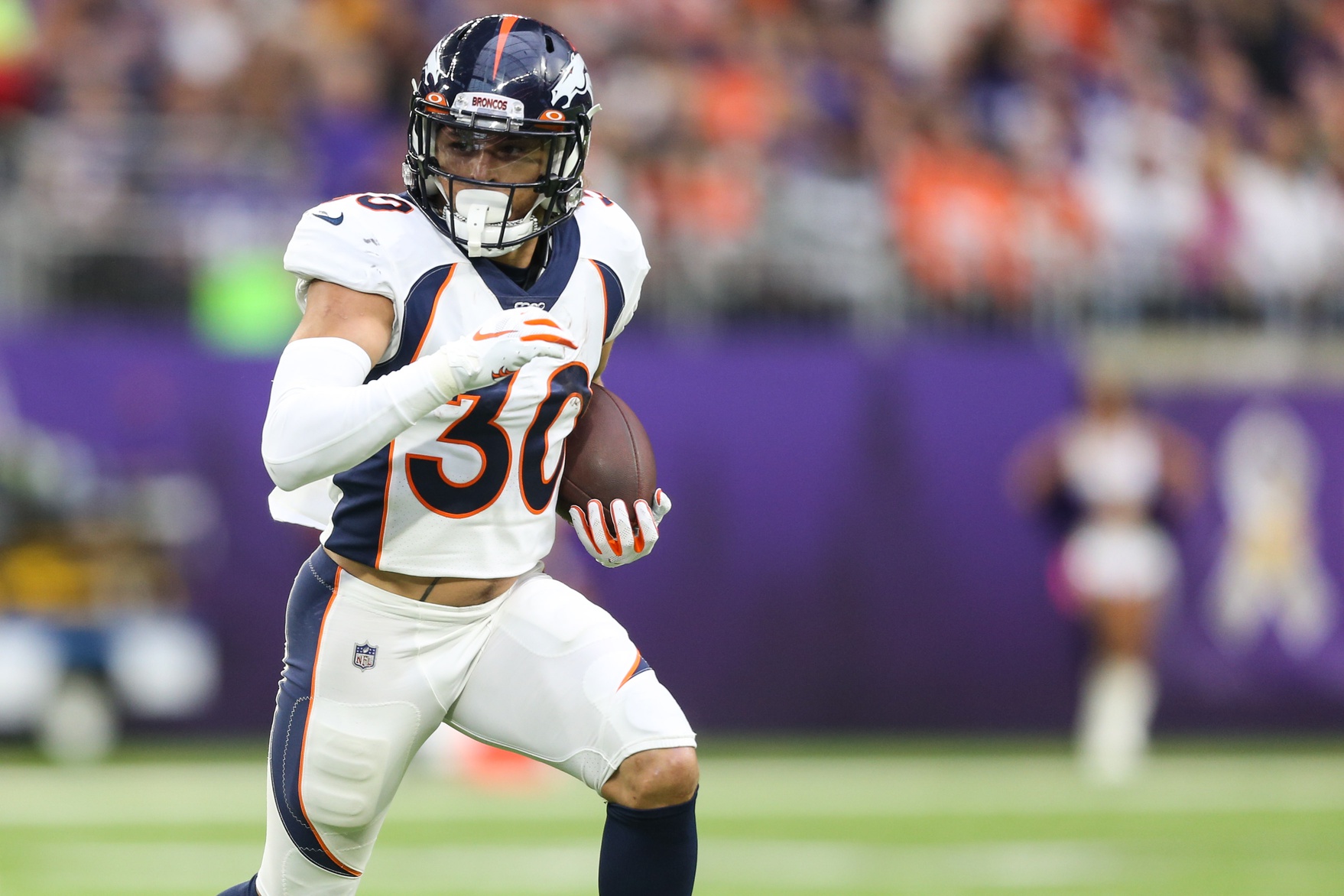 Lindsay has been a dynamic runner from the moment he entered the league, recording an 87.8 rushing grade since 2018 (third among all RBs). With running backs in such high demand, Lindsay is far too talented to be lasting into the ninth round and beyond of fantasy drafts.
Lindsay has the killer combination of elite vision with game-breaking wheels, making him a home-run threat every time he touches the football — he has 15 runs of 20-plus yards since 2018 (seventh), five of which have gone for touchdowns (second).
Melvin Gordon was a disaster on the Chargers last season (66.0 PFF grade, 41st) while averaging a pathetic 3.8 rushing yards per attempt (45th). Lindsay will have a role regardless, and he could easily outplay Gordon and usurp the Broncos starting RB gig. 
Breida is literally the fastest player in the league — NFL's Next Gen Stats clocked his 22.3 mph top speed as the faster than anyone else. He is coming off a solid year with the 49ers, recording a 73.1 PFF grade (23rd).
The Dolphins have nowhere near the rushing attack of the 49ers, but Breida has a much clearer path to touches with only Jordan Howard standing in his way. As Miles Sanders fantasy owners are keenly aware, fading Howard can be a profitable endeavor — his best season was all the way back in 2016 (73.8 PFF grade), and he has graded below 70 in every season since. Howard is virtually a zero in the receiving game with the following target counts the last three seasons: 13, 27, 31.
Breida's bread and butter will be outside the red zone, where he has averaged a healthy 5.5 rushing yards per attempt since 2018 (fourth-most, tied with Saquon Barkley and Christian McCaffrey). Breida has less ceiling than most of the running backs on this list, but his floor is much higher. Take a chance on Breida's game-breaking speed and fade Howard and his stone hands — Howard stunningly has 16 drops since 2016 (third-most) with over 100 fewer targets than the two players ahead of him. 
While Mostert is my favorite option of the 49ers' backfield, Tevin Coleman is a perfectly viable alternative especially considering his even cheaper ADP. Kyle Shanahan is known to play games with his personnel packages, and not even his own running backs know the workload split in any given week. Raheem Mostert was the presumptive favorite heading into the Divisional Round against the Vikings, yet Coleman erupted out of nowhere with a 22-105-2 rushing line.
Both backs will certainly be involved, but Coleman appears to be Shanahan's favorite in the red zone and at the goal line — he had 28 red-zone carries, nine of which came inside the 5-yard line (Mostert had 14 and five).
Coleman is much cheaper to acquire than Mostert and well worth a dart throw for fantasy owners willing to embrace the uncertainty of the 49ers backfield. There is a reasonable path to the lead role for Coleman.
Edmonds is more of a handcuff to Kenyan Drake right now, but he is a worthwhile late-round dart throw for running-back-needy fantasy teams. Drake had a career-high 171 carries last season — prior to that, his high was just 133 — and there is no guarantee that he can hold up with a 200-plus carry workload.
Would it be so crazy for Edmonds to share a 30/70 touch split with Drake? If so, Edmonds would have every-week flex value with spike-week potential — his four rushing touchdowns of 20-plus yards last season were tied with Christian McCaffrey for most in the NFL.
And if something were to happen to Drake? It would be Yahtzee for Edmonds as a locked-in RB1 with league-winning upside a la his 27-126-3 rushing demolition of the Giants.
The Cardinals have one of the most desirable backfield situations in the entire NFL and fantasy owners should be salivating at the thought of grabbing a piece of it. They have the fourth-easiest RB strength of schedule.