Now that a long season wrapped up with an anticlimactic Super Bowl, we fantasy football enthusiasts are left staring into the abyss of a seven-month offseason. Fortunately, there are several oases along the way, including the free agent frenzy, the NFL draft, and the raucous week when New Yorkers eat peyote and hallucinate about Eli Manning's viability.
The first stops on our long strange trip, however, are "way too early" best-ball drafts. We get to make loosely educated guesses about who will receive enough opportunity to produce fantasy points. These devilishly addictive drafting competitions start soon, so let's begin our loose education with a few quarterbacks with sullied reputations and traditional metrics that don't properly reflect positive underlying 2018 performance. In English: here are a few bounceback candidates at quarterback.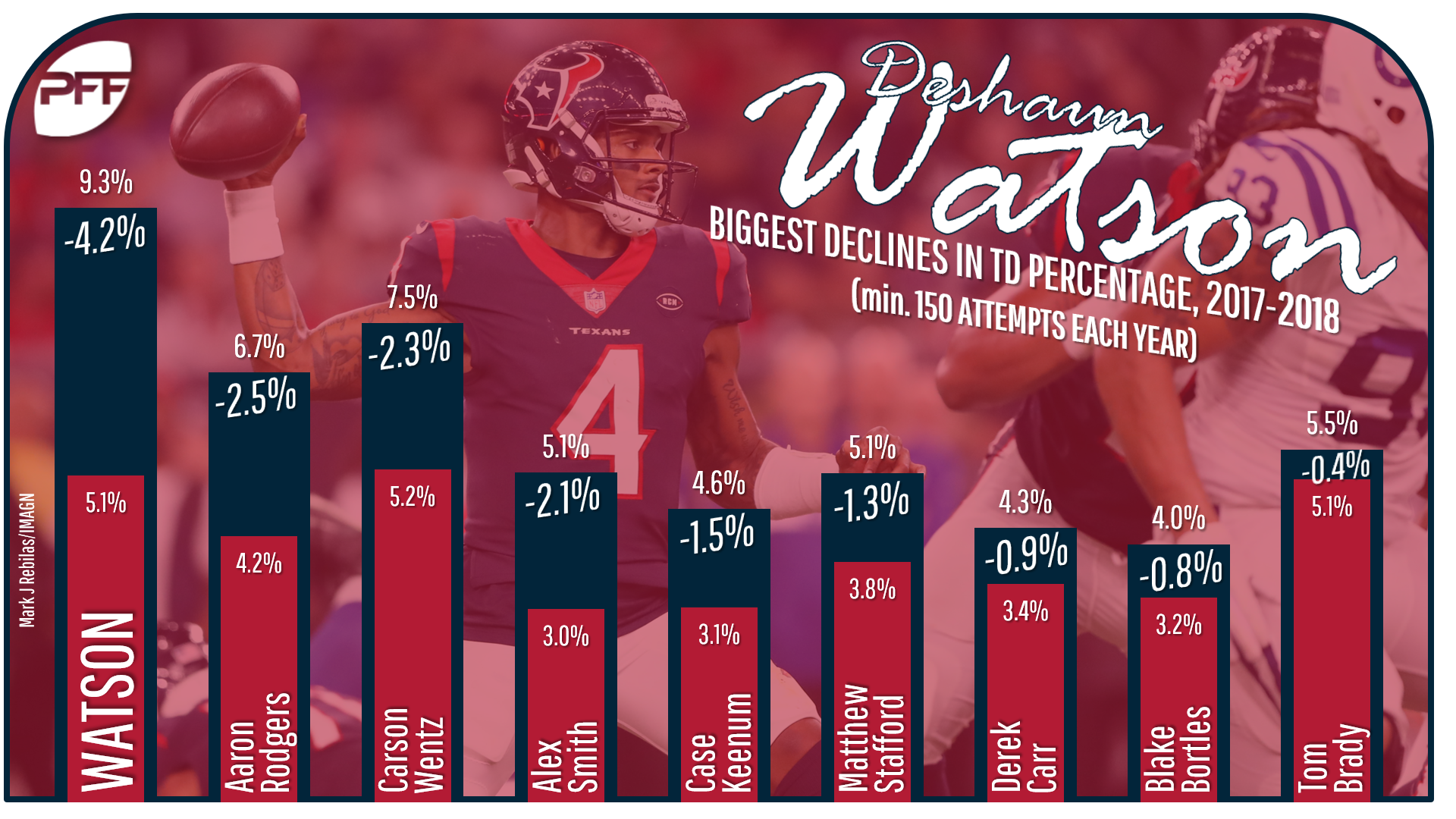 Watson saw his touchdown rate drop by a league-leading 4.2 percentage points. For reference, Aaron Rodgers' touchdown rate was 4.2% in 2018. It was a relatively lean year for Rodgers, and we'll talk more about him in a minute, but it illustrates how ridiculous of a dropoff Watson suffered. The regression was also entirely predictable, and nearly every fantasy article written about him before last season forecast the decline.
Watson's 5.1% touchdown rate in 2018 was far from disastrous. It's Ben Roethlisberger's career rate. Watson threw the 12th-most touchdowns, recorded the seventh-most fantasy points per dropback, and finished as the fourth-highest scorer among quarterbacks. His 100 rushing attempts for 550 yards and five touchdowns on the ground didn't hurt – and those talents haven't gone anywhere.
Watson also improved dramatically over his rookie-year performance, even if it didn't seem like it on the surface. His interception rate plummeted (3.9% to 1.8%), yards per attempt maintained (8.3 versus 8.2), passing grade leapt forward despite the league's second-worst pass-blocking offensive line (73.0 pass-block efficiency), and he suffered crushing injuries to nearly anyone worth a damn in his pass-catching corps. Watson, too, dealt with a nearly crippling rib injury early in the season.
Similar to his rookie year, however, the health of Will Fuller was a key to Watson's performance. With Fuller in the lineup, Watson had a 6.2% touchdown rate, versus 4.3% when the wideout sat out. His average depth of target was 9.9 yards with Fuller and 8.5 yards without him. Watson was the second-highest-scoring fantasy quarterback with Fuller, and a still-respectable fourth-best without him.
If Watson's average draft position dips next season because his performance seemingly dropped last season, he presents a juicy buy with a cathedral ceiling and elevated floor.
Following a season in which he failed to live up to his lofty average draft position as the first quarterback chosen – often in the top three rounds – Rodgers may wind up something of a bargain in 2019. He ranked 22nd in fantasy points per dropback last year, the first time he's ever fallen out of the top 15. Rodgers averaged a ranking of 4.6 during the decade prior to 2018. His touchdown percentage dropped significantly, from a career 6.4% mark to a relatively more pedestrian 4.2% rate. It was the league's second-largest negative discrepancy.
Now Rodgers will get a new head coach and, thankfully, a fresh offense to run. Whatever our view of Mike McCarthy, it is indisputable his offense had grown stale. As a card-carrying "friend of Sean McVay," Matt LaFleur brings a fresh perspective and new hope. Similarly, Green Bay's influx of young receiving talent has a year of seasoning under their belts, and both Equanimeous St. Brown and Marquez Valdes-Scantling showed enough promise as rookies to expect sophomore-year progress.
Rodgers' draft stock may still take a hit due to the uncertainty of his receiving corps behind Davante Adams – for whom a case can be made as the first fantasy wideout off the board. LaFleur also was part of a disappointing 2018 offense, albeit while subjected to a thinned-out Titans pass-catcher group, an inordinately tough schedule of pass defenses, and a quarterback who couldn't feel his hand most of the season. Anything that keeps Rodgers a potential bargain is positive news for fantasy owners – including the middling metrics he posted.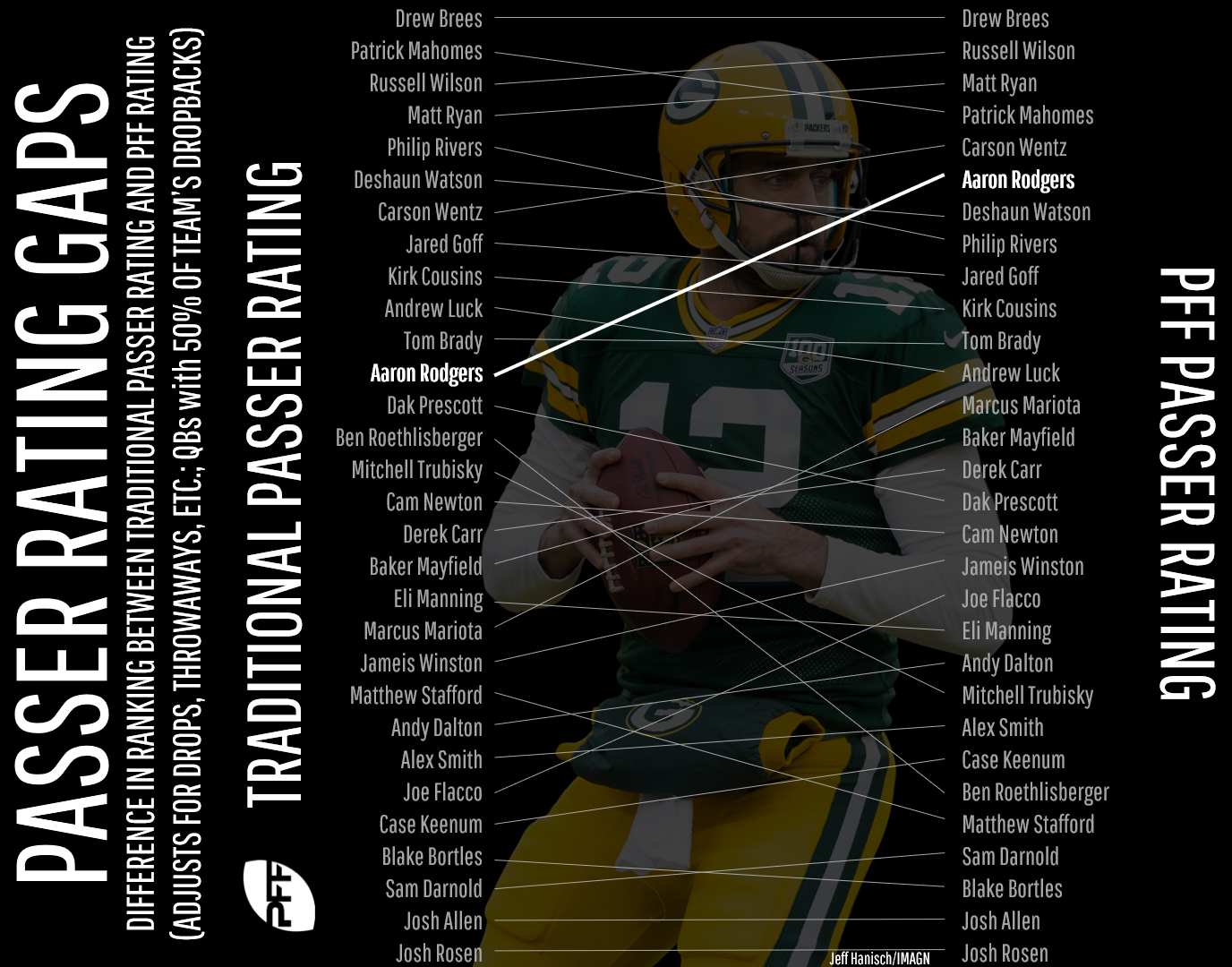 The NFL's passer rating is antiquated, especially compared to PFF's version – which filters out dropped passes, throwaways, and spiked balls, while factoring in air yards. PFF also grades every player on every play, and those marks offer greater insight into a quarterback's actual performance. When we compare Rodgers' ranking in traditional passer rating (13th of 38 quarterbacks) to where he stands in PFF's version (fifth-best) or how he graded (sixth-best), the gaps are among the largest in the league. In short, despite slumping stats – particularly touchdown rate – Aaron Rodgers' 2018 performance was not nearly as middling as many folks believe.
While Rodgers' new coach brings an air of anticipation of the unknown, Mariota's new offensive coordinator brings a dread of the same old story. Arthur Smith was elevated from tight ends coach, where he'd been since 2015. He stuck with the Titans through four different head coaches since 2011, during a time the Tennessee offense wasn't exactly lighting the world on fire. While Smith's appointment appears about as exotic as a second-and-10 handoff, there are reasons for hope when it comes to Mariota.
The miniscule cost to acquire the former first-rounder, after a season in which he was bent and the Titans offense was broken, will essentially be the burning of a roster spot in most leagues. Expectations will be lower than Dion Lewis' center of gravity, particularly when folks remember his backfield mate's late-season surge. Derrick Henry is the assumed focal point of the offense, making a return to hyper efficiency critical for Mariota's fantasy usefulness. Fortunately, several factors point to such a rebound.
Mariota had the fourth-largest negative disparity between his career touchdown percentage (4.6%) and his 2018 rate (3.3%). This should positively regress. Mariota also had the league's second-widest disparity in where he ranked in PFF's passer rating (14th) and the NFL's version (23rd). A similarly wide gap showed up between his NFL passer rating and PFF grade (17th).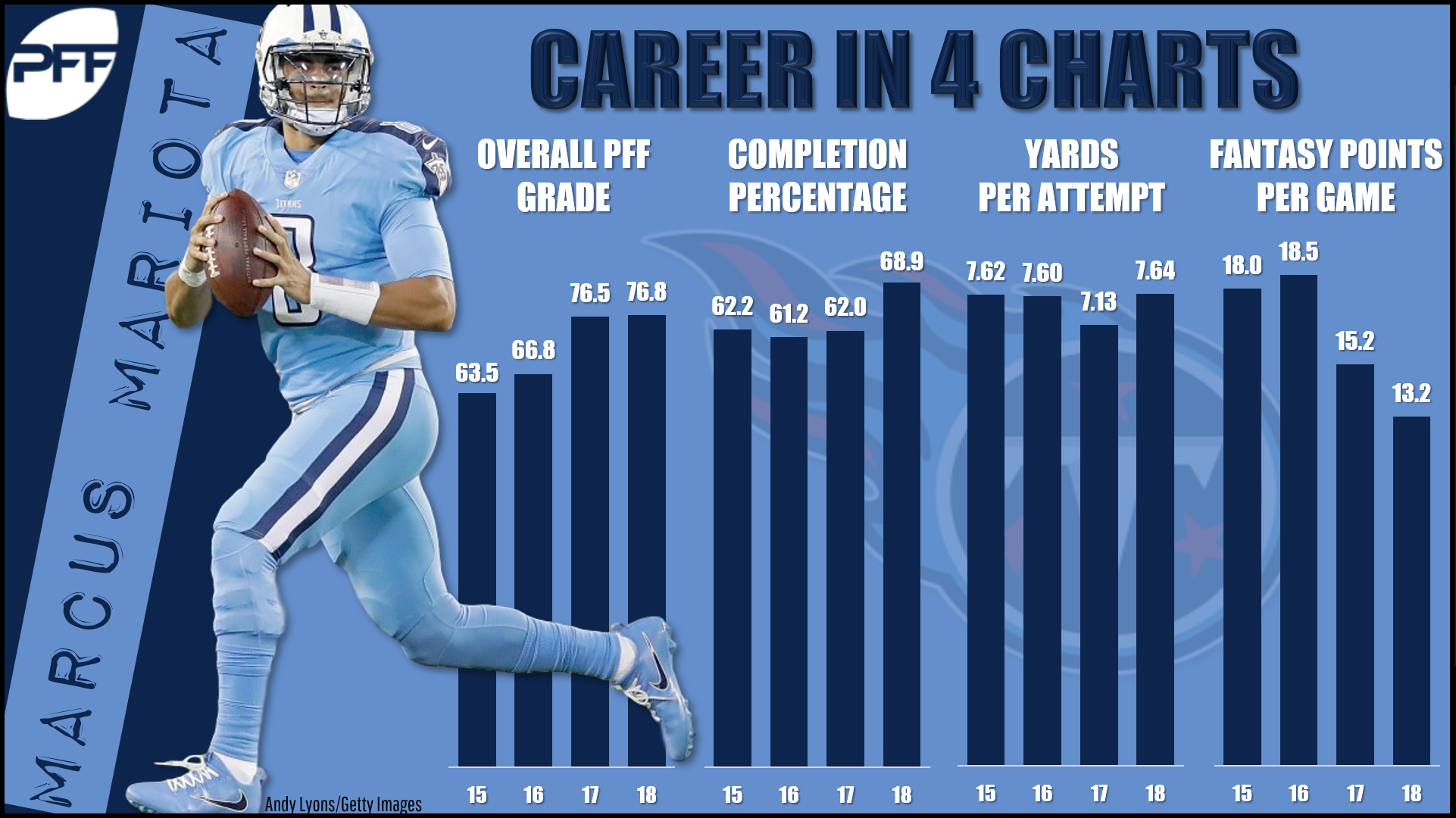 Mariota set a career high in completion percentage, a career low in interceptions, and tied his best yards-per-attempt mark – all while battling an injury that robbed him of feeling in his passing hand. The schedule makers did the Titans' passing offense no favors – particularly during the season's first half – and the football gods went a step further when they doled out offensive injuries. These can be viewed as "excuses" or "reasons," depending on what view we have of Mariota – but they can't be looked at as anything else but obstacles.
We can expect former tight ends coach Smith to continue making good use of Delanie Walker, who returns from a Week 1 broken ankle and has been Mariota's best weapon for years. Third-year athletic specimen Jonnu Smith showed promise in Walker's absence and could benefit from his former position coach's ascension. While the Titans will add talent at wideout, future stud Corey Davis took several steps forward in 2018 and Taywan Taylor came on late in the season. Whereas they were often a talent-deficient group of pass catchers last year, the foundation of a promising group remains.
Mariota is not a quarterback to specifically target at fantasy's deepest position. He is a likely bargain, however. At this early stage of the offseason, projecting a high ceiling for Tennessee's fifth-year signal-caller would be overly aggressive. There is too much unknown. However, writing him off after a season rife with misfortune would be ignoring underlying positives we can pin our hopes to in deeper or two-quarterback leagues.