The relationship between fantasy football average draft position (ADP) and real-life draft position is fairly strong and also linear. With that in mind, we will use the past three years of fantasy football historical data to build a valuation curve between real NFL draft positions and where rookies are taken in fantasy drafts. We can see when fantasy drafters have been too low on a player who went earlier in the NFL draft and vice versa. This piece will focus on rookie wide receivers, with another coming on rookie running backs.
Some of the value disconnection between the NFL draft and fantasy drafts is based on perceptions of poor landing spots, and some is due to a fundamental disbelief in how the NFL views a player's likelihood of success. Each is a valid concern, though both can be overplayed in the minds of fantasy drafters.
The ADPs on the plots are from drafts conducted since May 1, the day after the 2022 NFL Draft concluded.
HISTORICAL SUCCESSES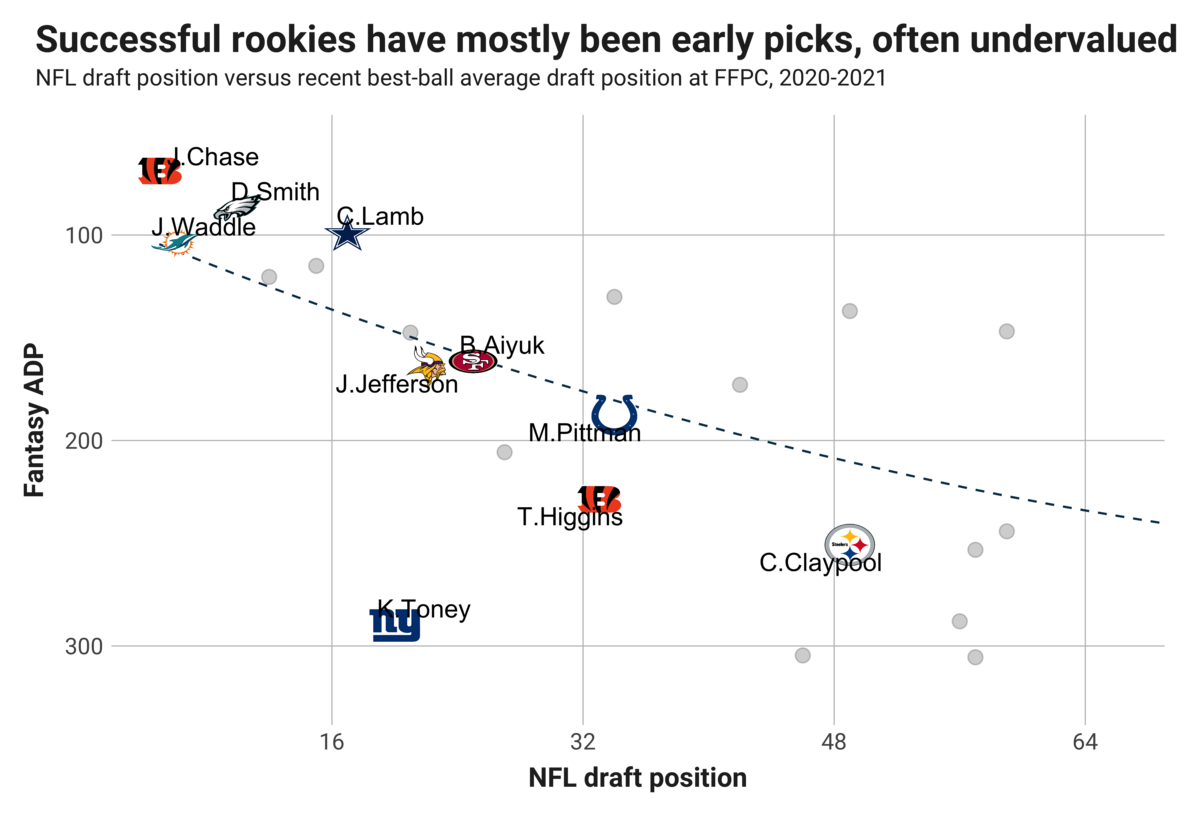 Looking back on the past few years, the successful wide receivers, especially those who performed well in their rookie seasons, were mostly taken in the first round. Ja'Marr Chase, DeVonta Smith and CeeDee Lamb were selected in fantasy drafts above the historical trend line based on NFL draft position, but they still ended up being strong values and highly productive rookies. 
Labeling Kadarius Toney a rookie success is a stretch, but he was dynamic in limited action, and he was a coveted player at points last year to start in fantasy leagues. Toney had the worst fantasy ADPs in relation to NFL draft position over the past few years, meaning his offseason issues and injury concerns were likely overplayed. Odell Beckham Jr. has an analogous start to his rookie offseason in 2014.
The three second-round successes of recent years were all undervalued in fantasy leagues versus NFL draft position, hinting we might be worse at identifying the impact of landing spots and talent in the second round versus what NFL front offices are telling us.
HISTORICAL DISAPPOINTMENTS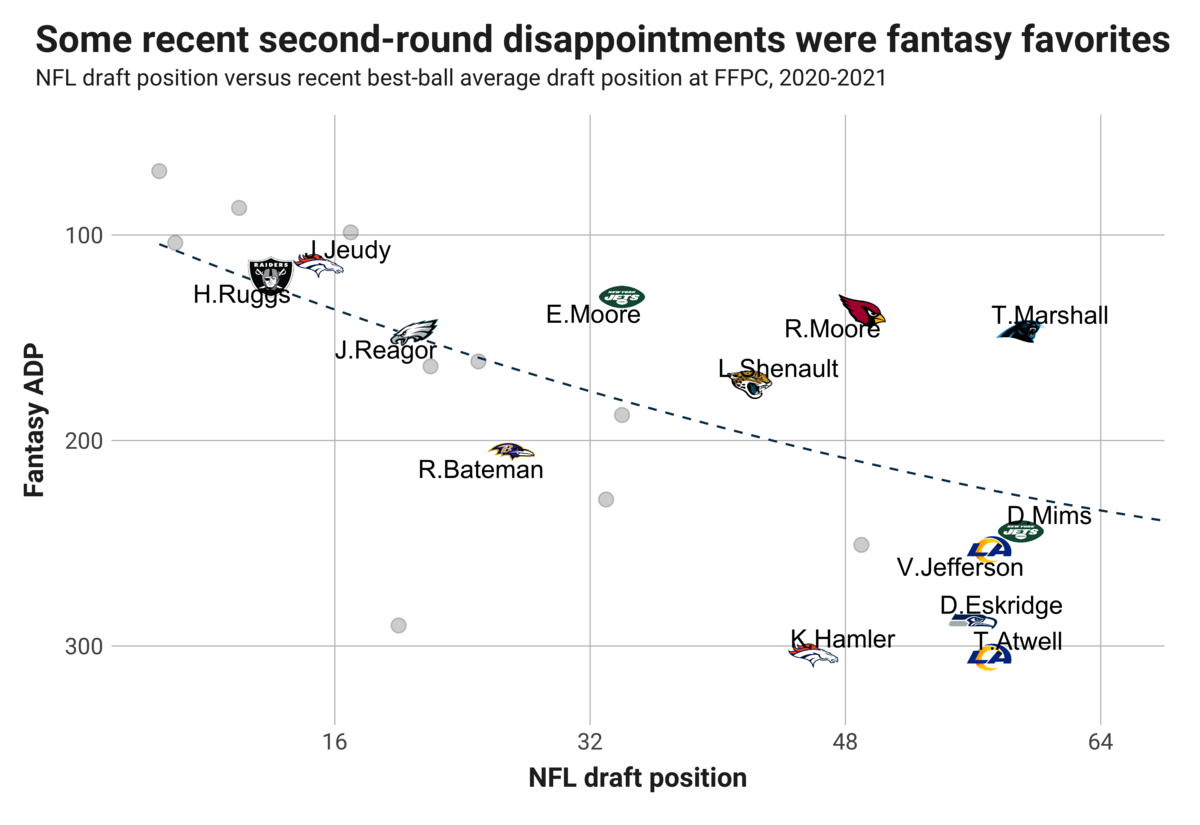 Looking at the players who would be considered rookie disappointments versus fantasy ADP, it's a mixed bag of over- and undervaluation in relation to NFL draft position. 
The biggest takeaway is the failure of second-round wide receivers who fantasy drafters were highly confident would outperform their NFL draft positions. None of the second-rounders over the past few drafts have had successful rookie years, despite the perception of strong landing spots and the NFL waiting too long on elite talent.
2022 ROOKIE WIDE RECEIVERS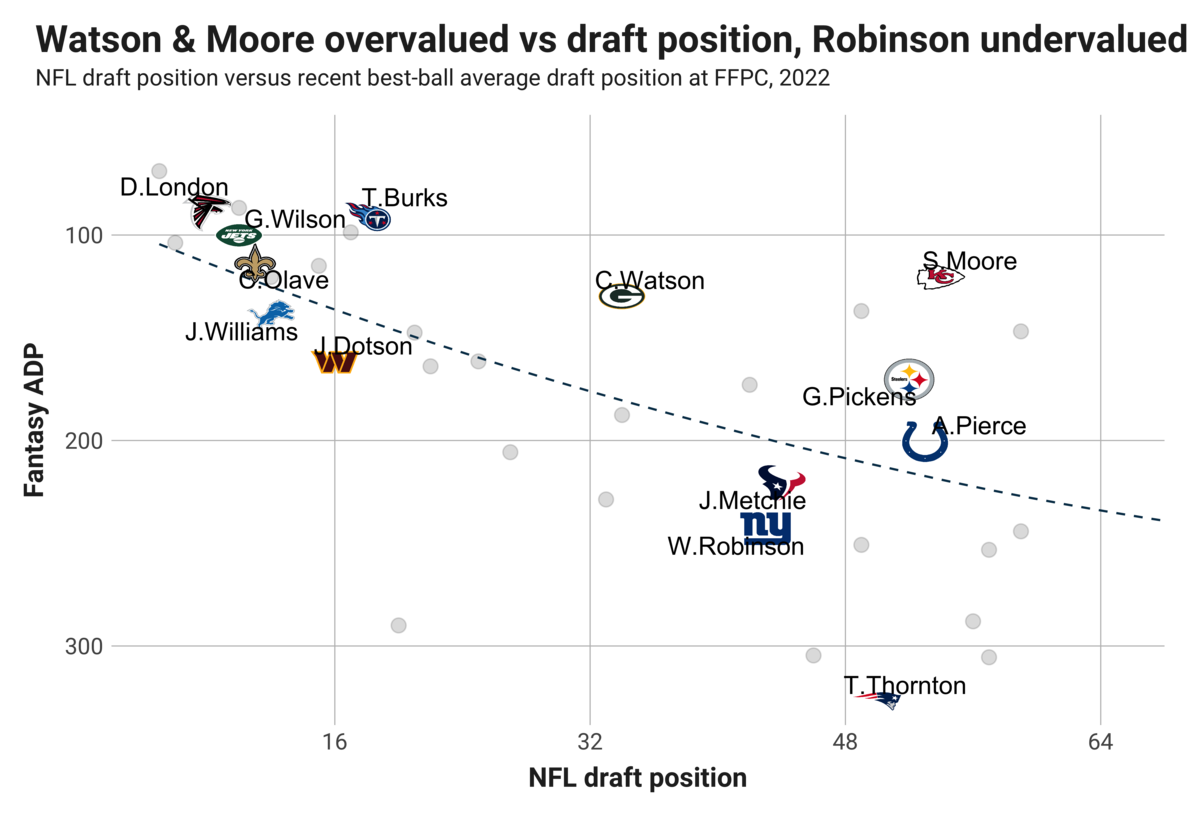 Wide receivers dominated the first two rounds of the 2022 NFL Draft, with valuations ranging widely. Jahan Dotson is the only first-round wide receiver who is undervalued versus NFL draft position, excluding Jameson Williams, who would likely be taken early if he wasn't recovering from an ACL tear.
The worrying fantasy picks from a valuation perspective are Christian Watson and Skyy Moore, plus George Pickens to a lesser degree. Moore is the most overvalued rookie taken over the past few drafts. 
Moore was the last wide receiver taken in the first two rounds but has a fantasy ADP better than the eight wide receivers taken in front of him. Yes, Moore plays for an explosive offense with the Kansas City Chiefs, but he's set to start the season as the fifth receiving option, which could severely limit his target volume, especially in the first few weeks.