The relationship between fantasy average draft position (ADP) and real-life draft position is fairly strong and also linear. Therefore, I used the last three years of fantasy football historical data to build a valuation curve between the real NFL draft positions and where rookies are taken in fantasy drafts. We can see when fantasy drafters have been too low on a player who went earlier in the NFL draft and vice versa. This piece will focus on running backs, following an earlier analysis on rookie wide receivers.
Some of the value disconnection between the NFL draft and fantasy drafts is based on perceptions of poor landing spots, and some is due to a fundamental disbelief in how the NFL views the players' likelihoods of success. Each is a valid concern, though both can be overplayed in the minds of fantasy drafters.
The ADPs on the plots are from drafts conducted since May 1, the day after the 2022 NFL Draft concluded.
HISTORICAL SUCCESSES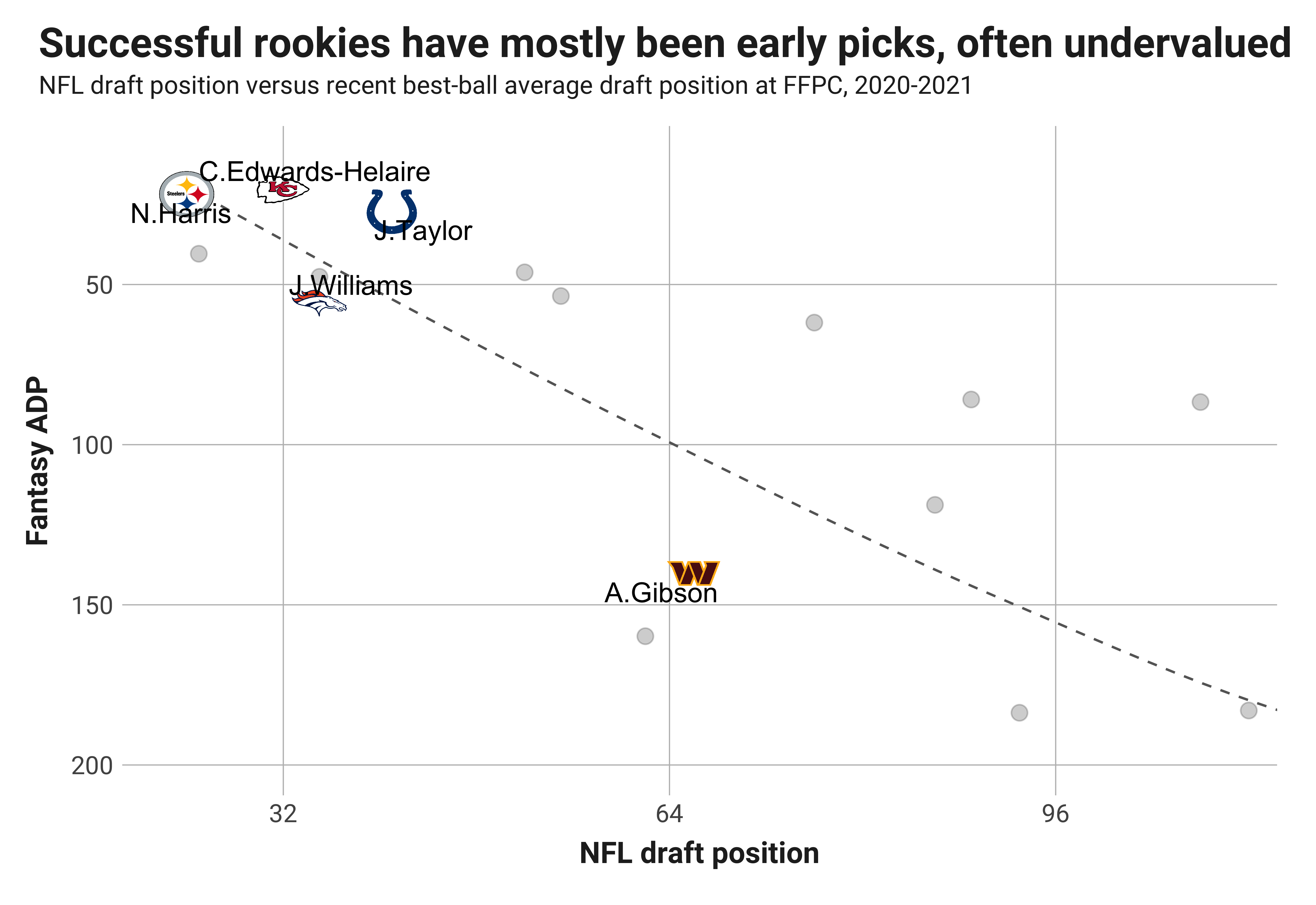 Only looking back a couple seasons means there aren't a ton of rookie successes to highlight, and even one such as Javonte Williams is a bit suspect. What you find, unsurprisingly, is that the productive rookies have mostly been high draft picks, and the relative overvaluation of someone such as Jonathan Taylor to his draft position didn't really matter.
Antonio Gibson was undervalued immediately after the NFL draft as an early third-round pick due to the uncertainty surrounding his rookie role. Similar opportunities could exist this season.
HISTORICAL DISAPPOINTMENTS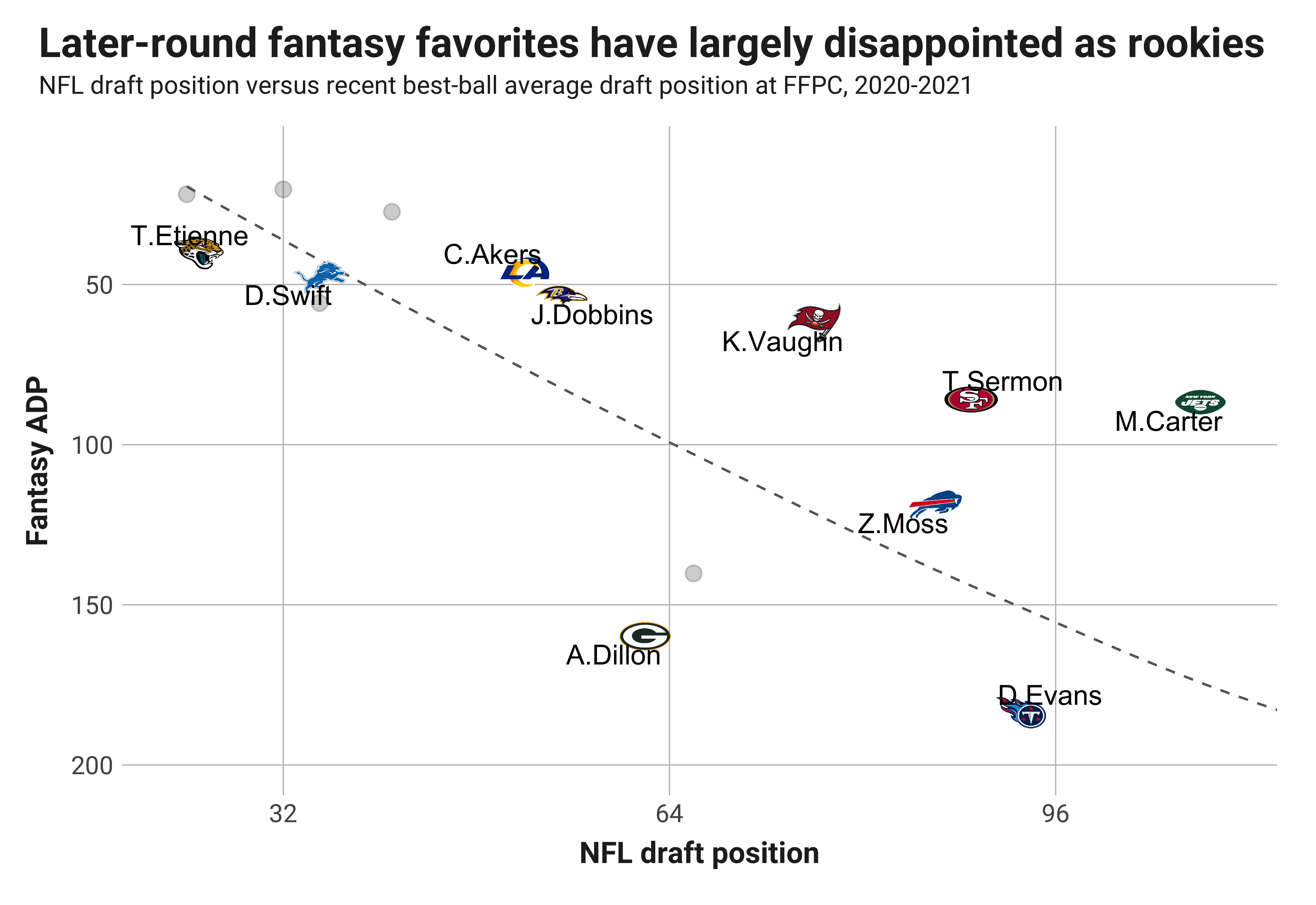 The biggest takeaway is how difficult it is to predict later-round value for rookie running backs, as a handful of higher-drafted rookies all failed to meaningfully produce as rookies.
Ke'Shawn Vaughn, Trey Sermon and Michael Carter are looking at sub-package roles, at best, in the 2022 season. A.J. Dillon was severely undervalued as a rookie but probably had a better contingent value with injuries than the others taken much earlier.
2022 ROOKIE RUNNING BACKS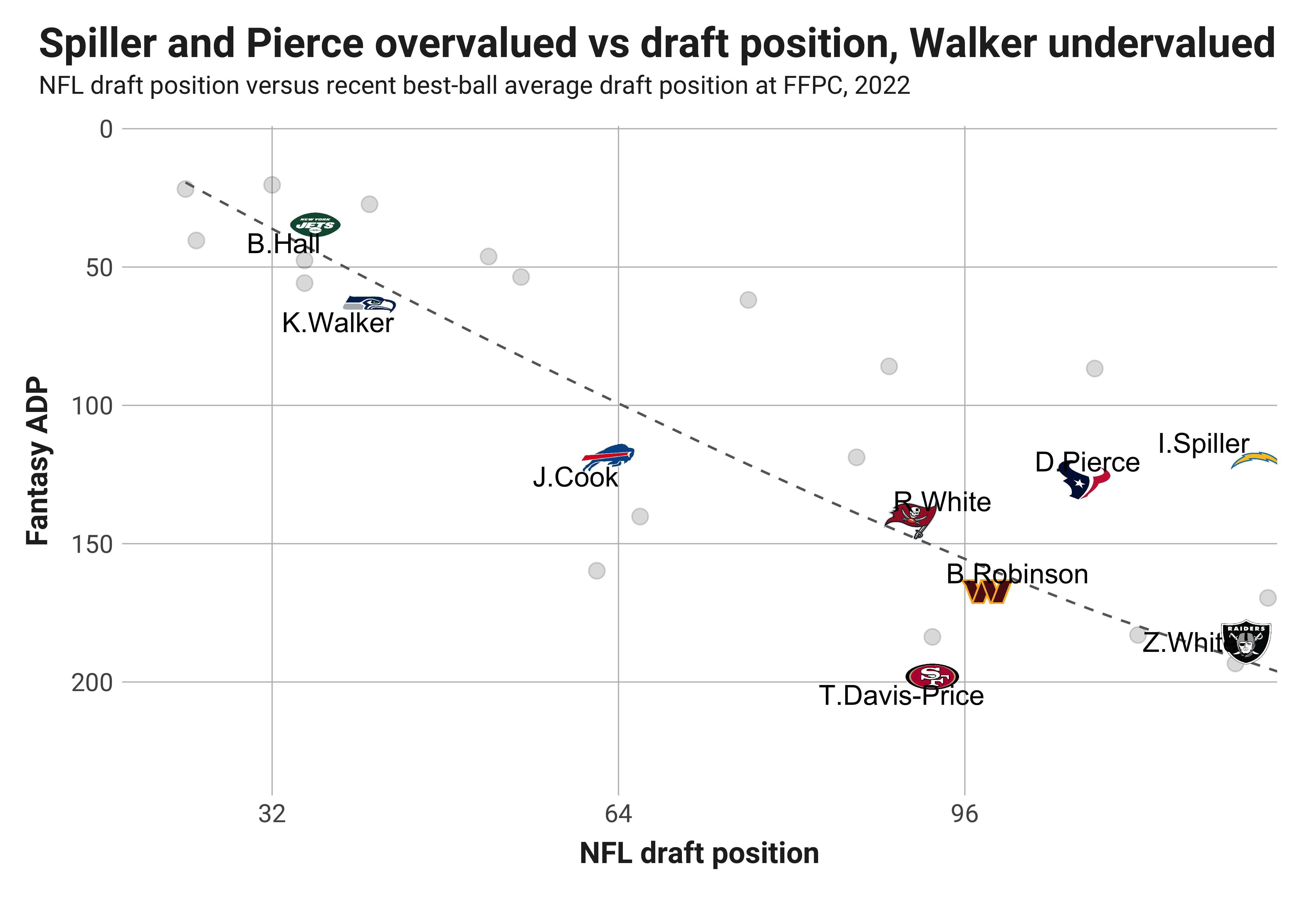 Dameon Pierce and Isaiah Spiller are the favorite later-round rookies among fantasy drafts, but neither has jumped into the top-100 picks at this point. It makes sense with Pierce's lack of competition and Spiller's handcuff value.
The Breece Hall love fest continues in the fantasy world, as his ADP rose post-draft to a point of relative overvaluation. Kenneth Walker has held steady, despite some poor optics on his landing spot.