(With training camps starting soon around the league, we're looking ahead at the 2019 fantasy football season and attempting to answer the burning questions around the league. For each team, we'll ask, and hopefully answer, 3-4 questions about their season to come in fantasy. This is 100 Questions.)
Washington scored 31 points in Week 3 or 2018, a 31-17 win over Green Bay that put the team at 2-1. The team never topped 23 points in a game the rest of the season. Over the last nine weeks of the season that saw the team go from 5-2 and first place to a forgettable 7-9, the team averaged only 15 points a game, went through four different quarterbacks, and had only one fantasy-relevant player anywhere on the roster, and even that was only sort of, as Adrian Peterson was the No. 23 PPR back from Week 4 on despite being on one of only two teams that played 13 games over that stretch.
In other words, if you played fantasy in 2018 and completely ignored the team in our nation's capital, not much would have changed. There are no guarantees the team has that much more fantasy potential in 2019, though there are two new quarterbacks and a new running back on the roster, in addition to a 2018 draft pick back from injury. So the team doesn't carry top-offense potential, but it does have a bit more to offer than it did a year ago.
#60: Should we continue taking a shot on Jordan Reed?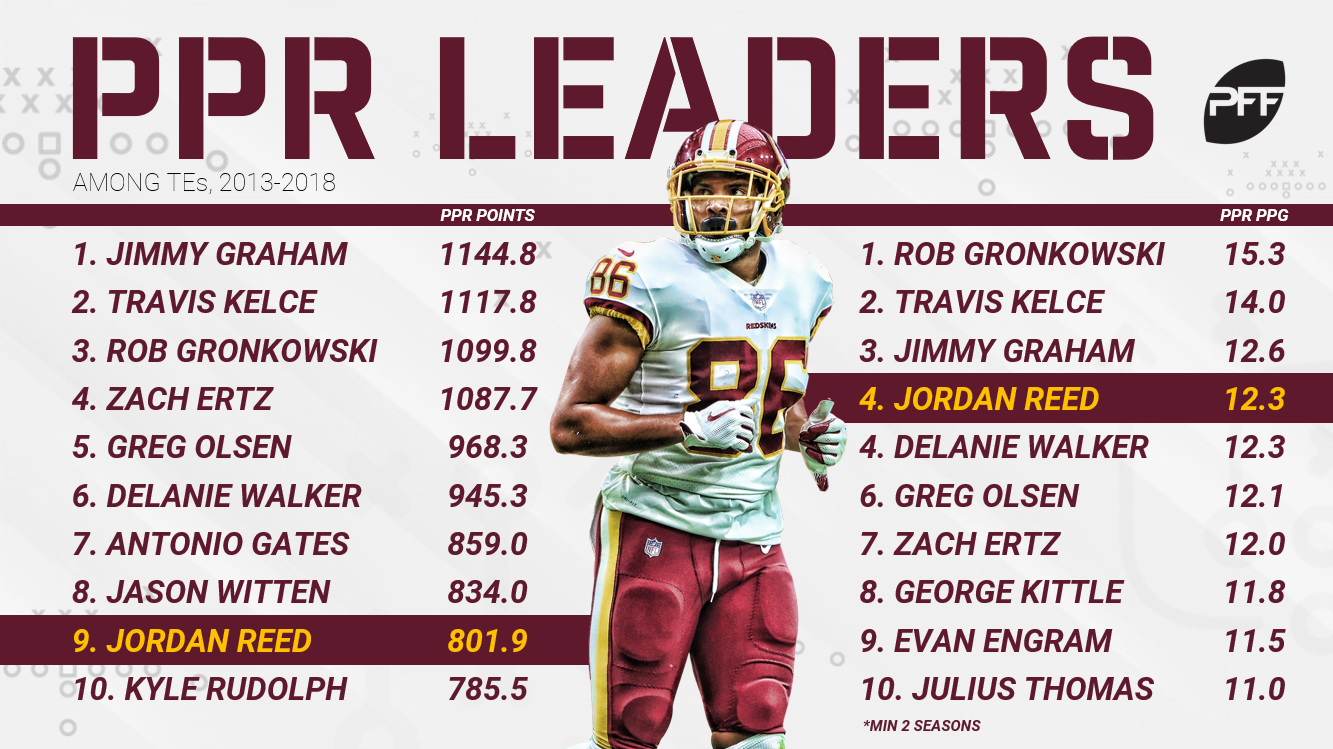 In 2014, Reed was the No. 19 tight end off the board in fantasy drafts (per Fantasy Football Calculator). He finished the season as the No. 2 scorer on the back of a career-best 14 games played and 11 touchdowns. It's also the only time since Reed's rookie year that his fantasy finish has topped his ADP. Injuries (he's only played 65 of a possible 96 career games) and worse touchdown efficiency (11 touchdowns on 111 targets in 2014; 13 on 321 for his career otherwise) have robbed Reed of the ceiling he displayed in his career year. Still, hope springs eternal, which is why his ADP has remained in the top-10 each of the last three years despite disappointing results. It's finally fallen this year, and he's currently going off the board 20th in drafts.
Best guess: The formula for Reed hasn't changed. Not really. Maybe the ceiling is lower, but that's about it. If he can stay healthy, he can finish in the second tier at the position if things break right. The problem is that he's never stayed healthy, and what sense does it make to bet on that happening now? Add to that the inferior offense he's playing in and we understand why his stock has fallen. On the other hand, our PFF Fantasy staff rankings have him as the No. 17 tight end — not what he used to be, but higher than he's going. If you're the type to draft multiple tight ends, pairing Reed with a low-upside type who has reliable playing time — think Austin Hooper or Trey Burton — could be an effective strategy.
#61: So the quarterback situation in Washington is definitely interesting — but is it good?
Case Keenum rode a career year with the Vikings in 2017 to a decent contract with the Broncos before last season … which didn't work out very well. In his lone year in Denver, Keenum finished 19th in QB fantasy scoring and 26th out of 39 qualified quarterbacks in overall PFF grade (70.0), leading to the Broncos sending him to Washington, where his new employer almost immediately complemented him by drafting Dwayne Haskins in the first round. Haskins led all of college football in passing yards (4,837) and passing touchdowns (50) a year ago.
Best guess: This year at least, you're ignoring this quarterback situation, and that would likely be true even if we knew for sure one of these guys would start 16 games. Keenum carries little fantasy upside, and while Haskins could be a big-time passer someday, it's far too early in his career to count on that, especially considering he adds essentially nothing with his legs. His fantasy upside is very Philip Rivers-y. Neither of these quarterbacks is currently going in drafts, while Haskins comes in slightly ahead of Keenum in our staff rankings, but in general, you aren't going to bother with Washington quarterbacks outside of bye weeks.
#62: Can Derrius Guice make up for lost time?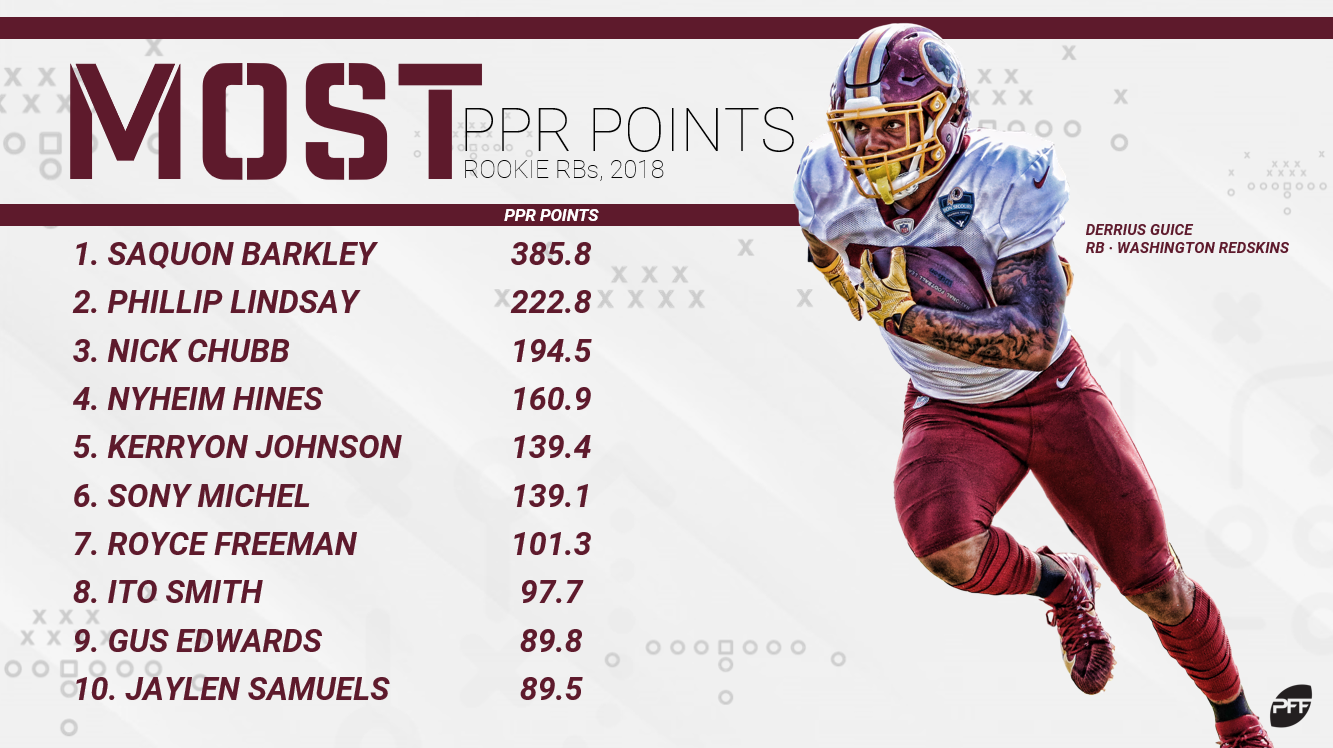 Was 2018 a successful year for rookie running backs? Obviously, Saquon Barkley, Phillip Lindsay, and Nick Chubb were acceptable-to-great, but at the same time, Ronald Jones was basically a disaster, Royce Freeman and Kerryon Johnson and Sony Michel dealt with injuries and ineffectiveness, and Guice never even saw the field. Only four rookie backs topped 150 PPR points. Guice, a second-rounder a year ago, was supposed to have been the team's early-down back before his offseason injury; after he got hurt, the team signed Peterson, and the then-33-year-old managed a top-20 finish on the season, perhaps indicating what Guice could have done.
Best guess: Obviously, timing is a big deal with ACL recoveries; I'm nervous, for example, about midseason tears like Cooper Kupp and Will Fuller. Guice? It will have been more than a year between his injury and Week 1, and while nothing is a sure thing, that reflects well. Guice's competition includes Peterson, recovering-from-injury-himself Bryce Love, and receiving back Chris Thompson. Thompson's presence probably limits Guice's ceiling, but his overall fantasy stock should be decent. Guice is going only 30th among running backs in ADP, but in our rankings he comes in 26th, with a high-water mark of 23rd. There's potential for value here