(With training camps starting soon around the league, we're looking ahead at the 2019 fantasy football season and attempting to answer the burning questions around the league. For each team, we'll ask, and hopefully answer, 3-4 questions about their season to come in fantasy. This is 100 Questions.)
The Rams and Saints each won 13 games in 2018. The Cleveland Browns have won 11 … in the last four seasons combined. But you knew that. The Browns' run of futility borders on the legendary. We're here to talk fantasy, and for fantasy … well, things have also been rough. There have been pops — Josh Gordon in 2014, Duke Johnson in 2017, Gary Barnidge in 2016 — but by and large, the Browns' struggles as a team have been reflected in their fantasy numbers.
For the best evidence of this, note that the rookie season by Baker Mayfield in 2018 — in which he didn't get his first start until Week 4 and finished the year as the No. 16 fantasy QB — was the best fantasy QB season the Browns have had at any point since 2007 and their third-best of all time. But there is buzz in Cleveland for 2019!
#32: What is Baker Mayfield's fantasy upside?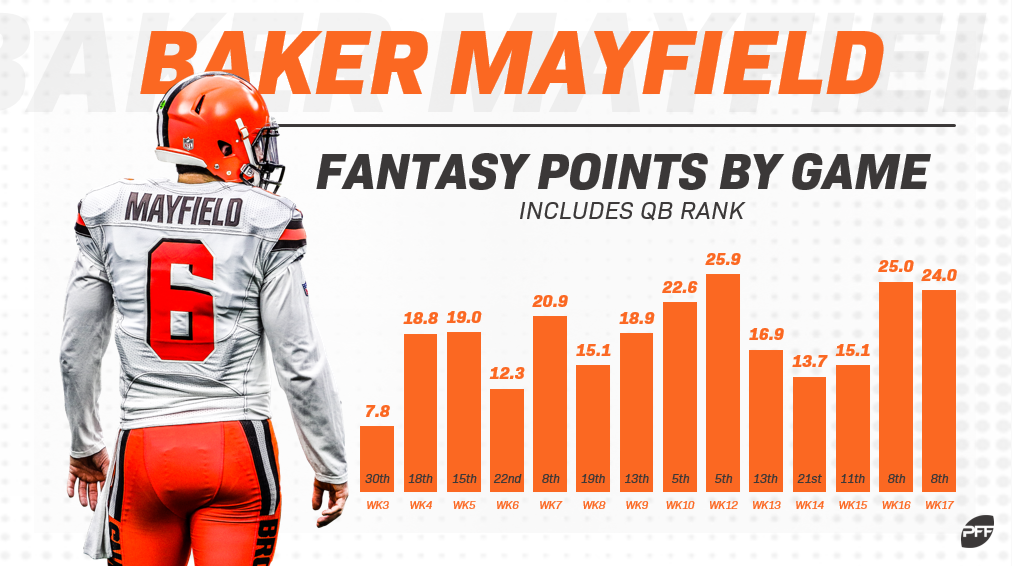 Mayfield had an impressive rookie season by most measures, especially considering he didn't start the season as the No. 1 and had to go through a coaching change midway through. But his fantasy stock didn't spike until the team traded for Odell Beckham Jr. in March, taking Mayfield's ADP (per Fantasy Football Calculator) from somewhere in the ninth round to its peak spot in the late-third/early-fourth. It's settled now in the sixth round, with Mayfield going off the board fifth at the position.
Best guess: He's being overdrafted. Not by much, but when you're talking about the upper echelon of the quarterback position, even a little bit of an overdraft is problematic. Mayfield's lack of rushing upside (he only 131 rushing yards with zero scores as a rookie and doesn't profile as much more than that) will make it harder for him to be a top-of-the-list fantasy guy. He's a QB1 (he's eighth in our PFF Fantasy staff rankings), but his buzz is a bit out of control.
#33: How do we handle the running backs?
Nick Chubb finished as the PPR RB17 in 2018. Duke Johnson was the RB11 in 2017. Kareem Hunt finished as an RB1 both seasons. And now (and for now), they're all teammates. Hunt is facing an eight-game suspension and there have been trade rumors around Johnson, but for those drafting right now, there's no real choice other than to approach it as though this is a three-headed monster.
Best guess: I've found that I'm coming out of drafts with Johnson a surprising amount this offseason. He's the last back with a draftable ADP (at No. 63), while he's the No. 49 in our staff rankings. Hunt, meanwhile, is being wildly overdrafted. His ADP is the No. 35 back. Remember, this is a guy who won't even see the field until Week 10 (at the earliest) and even then will only be a No. 2. He's No. 58 in our ranks. The vast majority of managers who draft Hunt will end up dropping him before he ever returns. As for Chubb, he's being drafted (and is ranked) as a high-end RB2, and while he makes sense there, he carries real risk of losing work in the fantasy playoffs when Hunt returns.
#34: What kind of ceilings do Odell Beckham Jr. and Jarvis Landry have as teammates?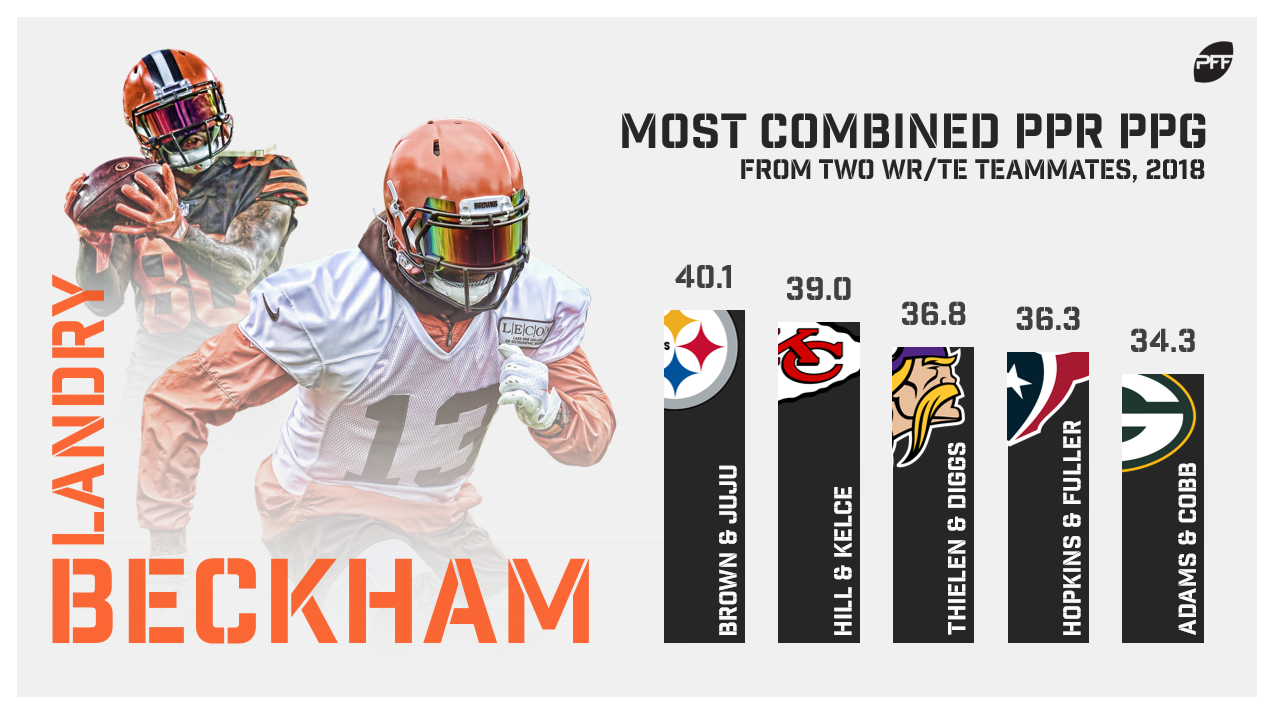 Teammates have both finishes as WR1s surprisingly often in the last decade —13 times in 10 years, including at least once every year but 2010 and 2015. So it's no stretch to imagine that these two could both finish as easy WR1s — Beckham was WR4 in 2016, Landry in 2017, and both were top-20 finishers in 2018. But what is a more reasonable expectation?
Best guess: Beckham is still a rock-solid WR1; his ADP and PFF ranking are both WR5, and he has genuine WR1 overall potential if everything breaks right. Landry is the wild card here. If he's used like he was in 2018 — a deeper threat than he was in his Miami days, less of a PPR monster — his value is in line with his ADP as WR24. If Beckham's arrival pushes Landry back into his slot role, his upside (especially in PPR leagues) is right up there with anyone's. For now, Landry is draftable as a back-end WR2 or slightly lower.