(With training camps starting soon around the league, we're looking ahead at the 2019 fantasy football season and attempting to answer the burning questions around the league. For each team, we'll ask, and hopefully answer, 3-4 questions about their season to come in fantasy. This is 100 Questions.)
For most of our recent NFL history, the Baltimore Ravens have been among the most pass-happy teams in the league. And then in Week 11 of 2018, it all changed. Lamar Jackson took over as the Baltimore starting quarterback, and the team became the run-heaviest team in football, and not by a little.
With Jackson still the starter for 2019, the new-look Ravens should continue on the same track. With that in mind, the fantasy questions about Baltimore follow a trend.
#26: Is Mark Ingram set to be a bell cow?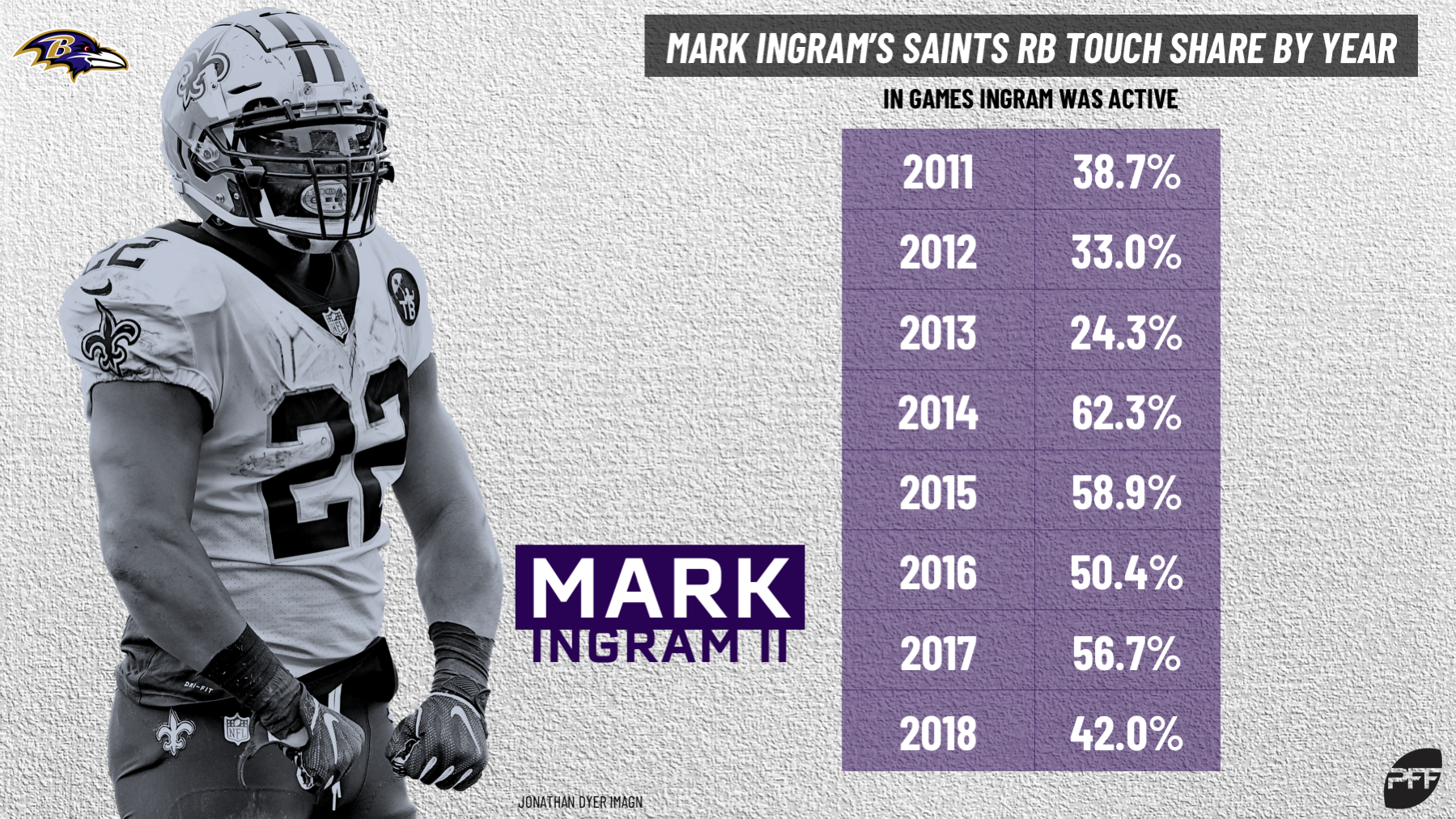 Despite ranking seventh in the NFL in carries over the last five years, Ingram has never been what anyone would call a bell cow back by virtue of spending his career with the RB-happy Saints. He got 62.3% of New Orleans' backfield touches in games he was active, the highest rate of his career. He dipped to 42% in 2018 (again, only in active games). The exact threshold to crack the realm of the bell cows is subjective, but you'd imagine a single back would need to top the two-thirds mark. Ingram has never even reached 250 carries in a season.
Best guess: No. Ingram will be the lead back in the Baltimore offense, but with Gus Edwards, Kenneth Dixon, and rookie Justice Hill on the roster now — not to mention Jackson himself — the work will be spread out too much for anyone to call Ingram a "bell cow." On the other hand, if the Ravens continue to run the ball as much as they did down the stretch of 2018, it might not matter. Ingram is the No. 20 back in our PFF Fantasy staff rankings, because he could easily set a career-high in carries this year.
#27: We know what Jackson can do as a rusher, but what about his passing?
Jackson led quarterbacks in rushing yards from Week 11, once he became the starter. He was 23rd in passing yards over the same stretch and, just as troublingly, 26th in PFF passing grade. If you want some signs for hope, you'd have to look at Jackson's college numbers, when he graded out much better (though still not elite) as a passer. Jackson's legs will keep him fantasy-relevant whenever he's on the field, but if he can't make it as a passer his ceiling will be capped for both the fantasy game and the real one.
Best guess: Cautiously optimistic? It was a bad year for Jackson as a passer, no question, but he also had to take over midseason for an entirely different quarterback on a desperate team that needed every win it could get. That he struggled so much as a passer isn't great, but it's not damning once you consider extenuating circumstances. Jackson's fantasy ceiling is still elite.
#28: Is there any hope for fantasy production out of the passing game?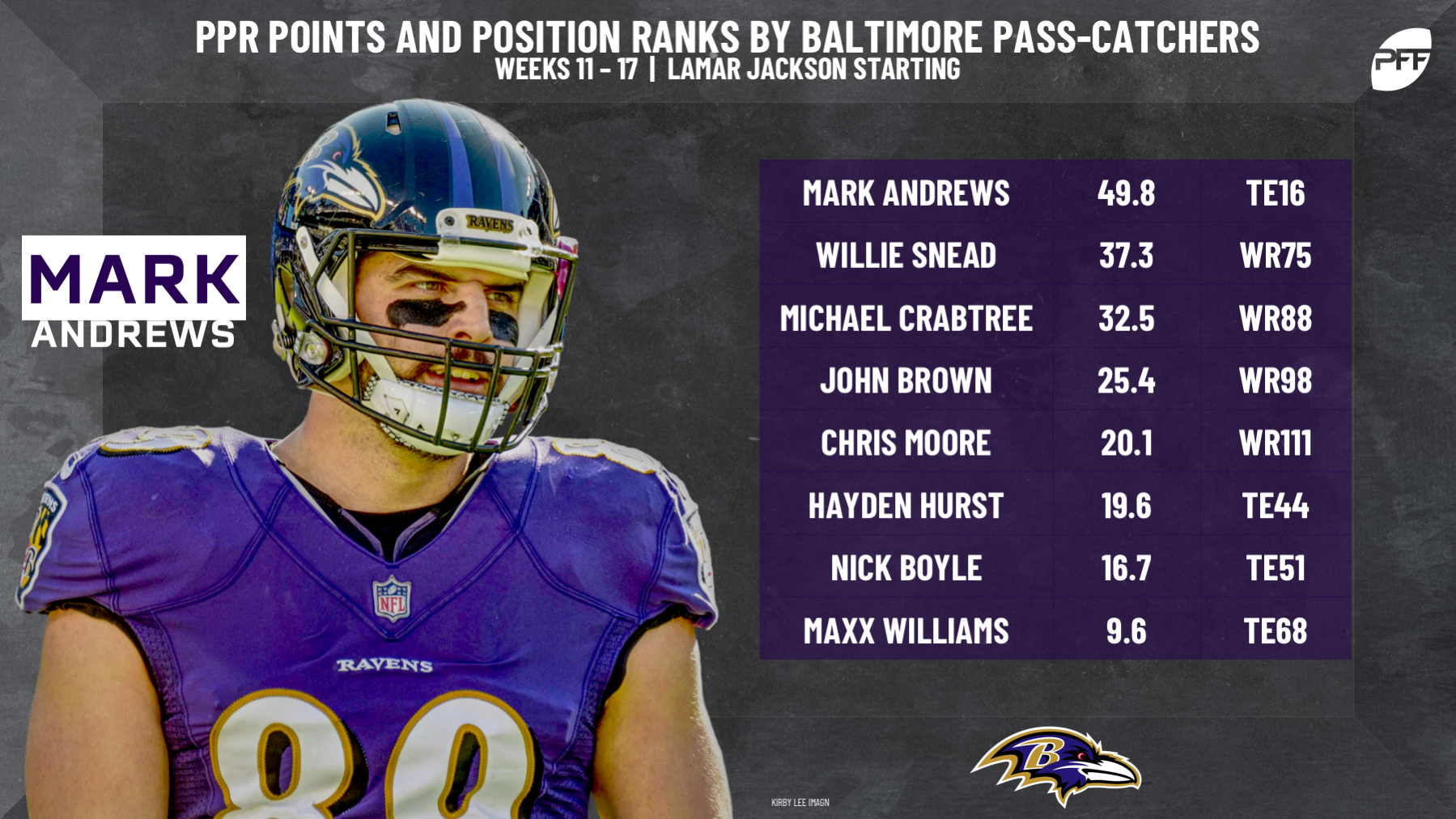 Obviously, this Ravens team is going to live and die by the ground. But a team can't have no passing, despite what we saw from Baltimore down the stretch in 2018, when TE Mark Andrews was the best producer at just over 7.1 PPR points per game. The team's best fantasy receiver in Jackson's starts (Willie Snead) was only the No. 75 WR leaguewide. The Ravens drafted Marquise Brown and Miles Boykin this year and signed Seth Roberts, so there are names here, if not massive fantasy potential.
Best guess: Our rankers aren't feeling it for the Baltimore receivers (Brown is the highest-ranked, at No. 52). Andrews gets just a little buzz, coming in 18th among tight ends. Ultimately, you probably aren't drafting a Ravens pass-catcher, but at the least we need to keep an eye on them in case Jackson does make strides as a passer.