(With training camps starting soon around the league, we're looking ahead at the 2019 fantasy football season and attempting to answer the burning questions around the league. For each team, we'll ask, and hopefully answer, 3-4 questions about their season to come in fantasy. This is 100 Questions.)
I started this series with the Bills, noting that judging the 2019 Bills on what the 2018 Bills is a fool's errand, as the team has experienced ridiculous turnover from last year to this. And it's true; the Bills' skill players have had a massive amount of turnover last year, as did the offensive line, and expecting anything to be the same in Buffalo is kind of silly. But no team saw more turnover in its fantasy outlook from last year to this than the Arizona Cardinals.
The Cardinals had a miserable offense in 2018, scoring the fewest points in the league at 225, more than a point a game worse than the second-worst offense. That led to a change in head coach, a first-in-the-draft quarterback, and two big-name draftees at receiver. You can start from the standpoint of "the Cardinals are worrisome" based on their 2018 output, but it's only a starting point. There's a lot more.
#88: Can the Cardinals fix their snail's pace?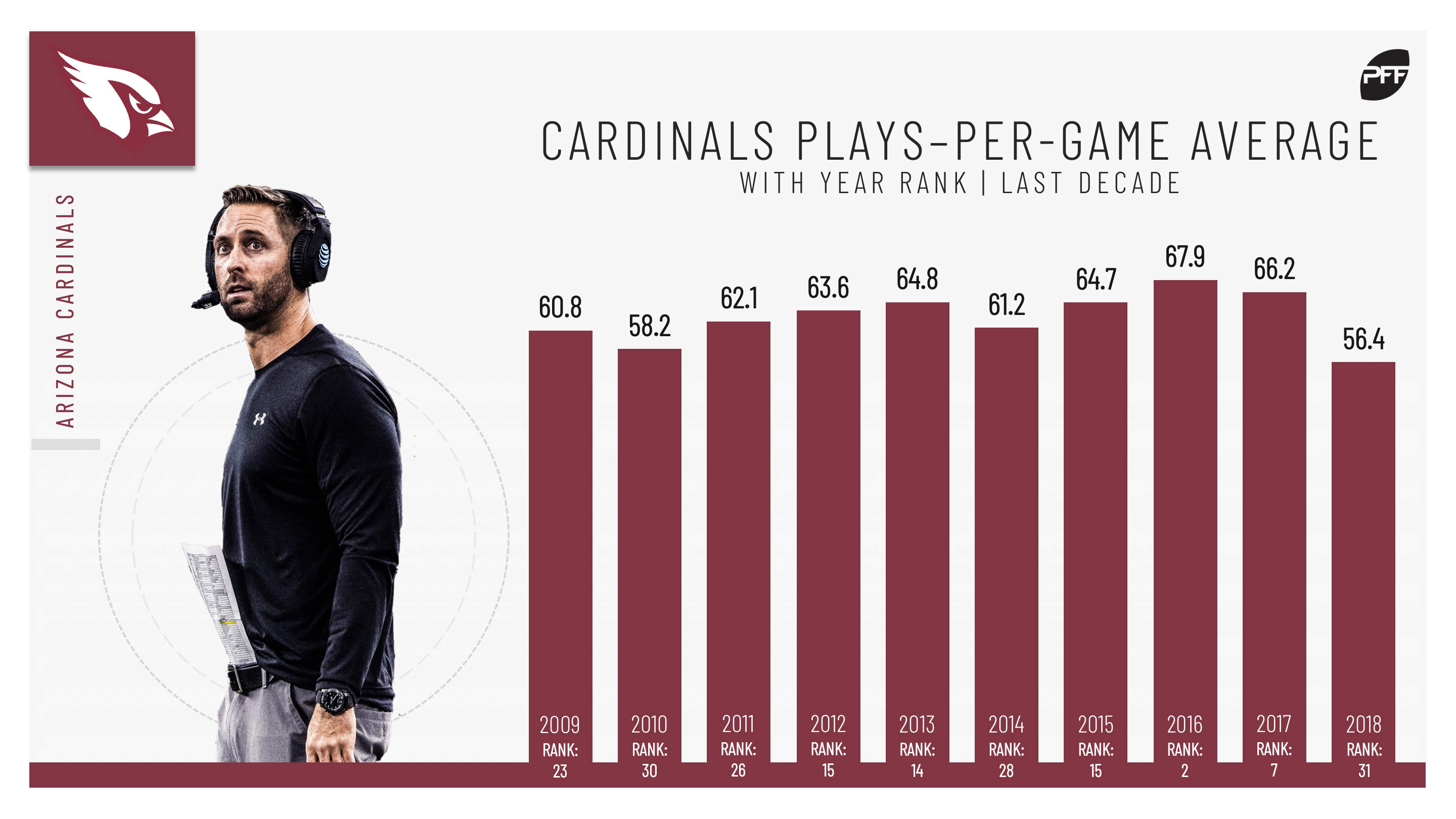 A year ago, under head coach Steve Wilks, the Cardinals probably could have managed fewer offensive plays per game, but it would have required help from the other side; on their own, they managed only 56.4 plays per game, almost 12 fewer per game than they averaged only two years earlier and the second-lowest average in the league. Head coaches don't mean everything, of course, but Kliff Kingsbury's offense promises to be as un-Wilks-like as it can be; his Texas Tech offense had the third-most snaps in the country in college in 2018.
Best guess: Obviously, the number should climb. It was likely to climb even if nothing else about the Cardinals changed this offseason merely out of the fact that it's genuinely hard to play that slow over a full season once, let alone twice. Add in a more electric set of offensive weapons and a commitment to use the existing assets more wisely, and while the 67.9-play average of 2016 might be on the high side, we can expect the Cardinals to comfortably jump back up over 60 plays per game, which would be an extra 50-plus offensive snaps over the course of the season at least. That doesn't guarantee fantasy improvement, but more plays can't really hurt things. That alone should make the Cardinals more interesting.
#89: So what can we expect out of David Johnson?
The Cardinals running back had an argument as the No. 1 overall pick in drafts in 2018, and while he finished the season as the No. 9 PPR back, it's hard to argue he wasn't a bit of a disappointment. He had 1,386 yards and 10 touchdowns, which are nice, but about 800 yards and 10 scores off his ridiculous 2016 performance. He's still the undisputed No. 1 option in the Arizona backfield, in an ascending offense, but the question remains whether he's likely to be more 2018 Johnson or more 2016 Johnson.
Best guess: The short version of this answer is that you should read our Scott Barrett's analysis of why 2019 should be a bounceback year for the Cardinals star. But the switch to Kingsbury should help Johnson rebound, as should the improvements in the offensive weaponry. Johnson's 2016 performance is probably out of reach — because that was a record-setting performance that is out of reach of just about everybody — but his ADP (per Fantasy Football Calculator) is up to the No. 5 running back, showing faith in him is strong despite the down 2018.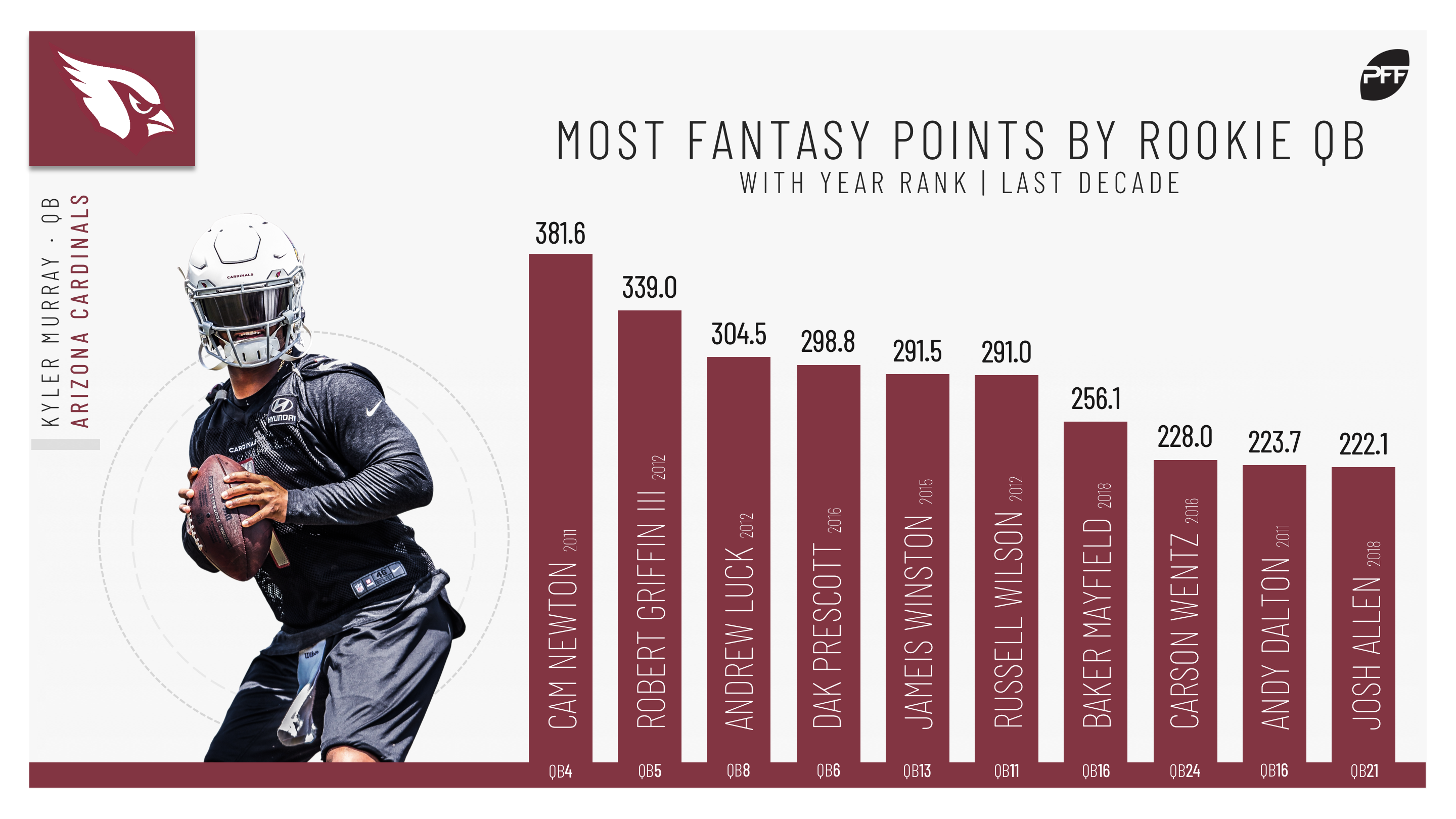 Cam Newton put up 381.6 fantasy points as a rookie in 2011. That's a crazy total for any quarterback, let alone a rookie. It's also one of only three seasons in NFL history (Robert Griffin III and Andrew Luck, both in 2012) in which a rookie has crossed the 300-point barrier. The top-10 rookie fantasy QB seasons of all time all belong to active quarterbacks, which is obviously a sign of the times, but even as our rookies have done more and more, there's a cap on what is realistic. If all breaks perfectly, though, Murray could put himself in position to challenge the upper end of that list, if not Newton's ridiculous year. His rushing ability in college in 2018 was incredible, and his passing chops were right there as well. If he can overcome the Cardinals' line deficiencies, his ceiling is enormous.
Best guess: Murray's a fascinating case. Between his rushing and his coach and the offense around him, "overall QB1" is absolutely within his world of outcomes — unlikely, to be sure, but not anything like impossible. But considering we saw only a season ago what a high-drafted quarterback can do in Arizona with a bad offensive line, and we have to admit Murray's floor could be pretty frustrating. Perhaps not "Josh Rosen's 2018" frustrating, but lower than the hype would have you believe. That helps to explain some of the gap between his ADP (QB9) and his current spot in the PFF Fantasy staff rankings (QB14). Murray absolutely could be a fantasy stud this year. Maybe even "should." But he carries so much risk that, in a fantasy world where you're likely drafting only one quarterback, his current draft spot means he's too risky.